Banana bread gets a bit of a tropical makeover with the addition of coconut and a sweet, citrus glaze in this Citrus Glazed Coconut Banana Bread. Lemon juice or lime juice both work well here, use whatever you have on hand.

Yum

I have decided that 3 years old is both my favorite age and my least favorite age. Camden has the biggest personality, and he sure does love to show it. He is seriously hilarious. I can already tell that he is going to be the class clown, as he is always trying to make everyone laugh.
He is super independent, which was a welcome change after Easton, since he has always been a mama's boy. But Camden wants to do everything himself. He'll get himself dressed (never really matching!) and wants to get himself snacks and brush his own teeth and buckle his own seatbelt. Heck, the first day of potty training, he kicked me out of the bathroom, wanting to do everything himself. But at the same time, he still loves cuddles and those moments after he wakes up and wants to snuggle are some of my favorite of the day.
But man – can that boy throw a temper tantrum. Whoever called them "terrible twos" obviously never had a 3 year old. Because I'll take a 2 year old tantrum over 3 year old tantrum any day. He kicks and hits and throws himself on the ground – you would think it was the end of the world. We are trying to teach him what is acceptable and what is not, but of course, he can only see his side. I actually think Camden is more familiar with time out than Abbi and Easton combined ever have been.
So it's a good thing he can make me laugh.






And it's a good thing when you have a delicious loaf of coconut banana bread. With a citrus glaze. Especially when you have been dealing with a temper tantrum-ing 3 year old. Hide me away in a closet with a loaf of this bread and I can forget all about all of the chaos happening outside.
But really, can one ever have too many adaptations of banana bread? I dare say no. This is not my first banana bread recipe here on Taste and Tell, and I can pretty much guarantee that it won't be the last. I have been buying bananas like crazy lately – because my kids can't get enough (I swear Camden is a monkey some days), because I love them in my smoothies, and I will never be sad to see a few bananas start to get dark, because it just means that there is banana bread in the future. And this Citrus Glazed Coconut Banana Bread is inching its way to the top of my favorites list.
We all know I'm a coconut addict. And a lemon addict. Combine them and you have banana bread bliss. A combo that can't be beat.
And the perfect way to escape (or embrace!) the craziness of life with a 3 year old.



Like what you see here? Make sure you are following Taste and Tell for more recipes and ideas!
Facebook | Pinterest | Instagram | Twitter | Google+ | Weekly Newsletter | Feedly | Bloglovin
Citrus Glazed Coconut Banana Bread
---
Author:
Prep Time: 20 mins
Cook Time: 50 mins
Total Time: 1 hour 10 mins
Yield: 1 loaf 1x
Description
Banana bread gets a bit of a tropical makeover with the addition of coconut and a sweet, citrus glaze in this Citrus Glazed Coconut Banana Bread. Lemon juice or lime juice both work well here, use whatever you have on hand.
---
Scale
Ingredients
1/4 cup coconut oil, softened
1 cup sugar
2 eggs
1 1/2 cups mashed bananas
1/4 cup plain Greek yogurt
3 tablespoons milk
1/2 teaspoon vanilla
2 cups all-purpose flour
3/4 teaspoon baking soda
1/2 teaspoon salt
1/2 cup plus 2 tablespoons sweetened, shredded coconut, divided
1/2 cup powdered sugar
1 tablespoon lime or lemon juice
---
Instructions
Preheat the oven to 350ºF. Coat a 9×5-inch loaf pan with nonstick cooking spray or line with parchment paper.
In a large bowl, beat the coconut oil and sugar together until crumbly. Add the eggs, one at a time, beating well after each addition. Beat in the bananas, yogurt, milk and vanilla.
In another bowl, combine the flour, baking soda, and salt. Stir the dry ingredients into the banana mixture. Fold in 1/2 cup of the coconut
Spread the batter into the prepared loaf pan. Sprinkle the remaining 2 tablespoons of coconut over the top. Bake until a toothpick inserted in the center comes out clean, 50-55 minutes. Cool in the pan for 10 minutes, then remove from the pan to cool completely.
In a small bowl, whisk together the powdered sugar and lemon or lime juice. Spoon the glaze over the top of the banana bread.
SHOP THIS POST!
More Banana Bread Recipes: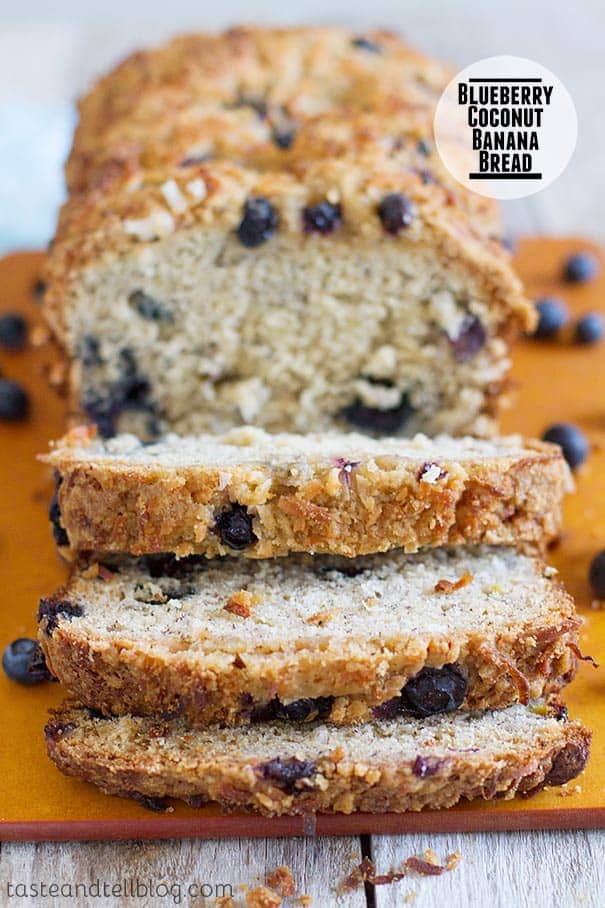 Blueberry Coconut Banana Bread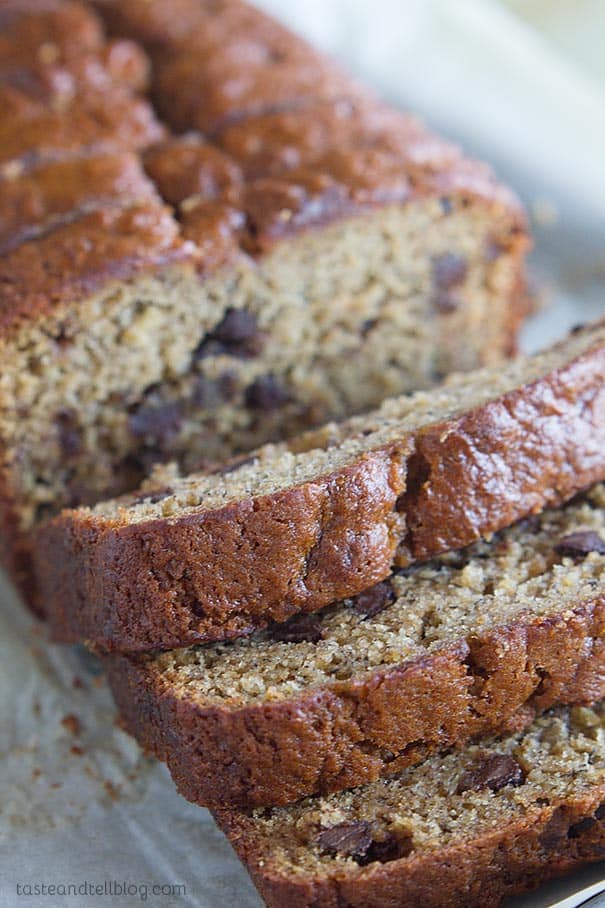 Peanut Butter Banana Bread with Chocolate Chips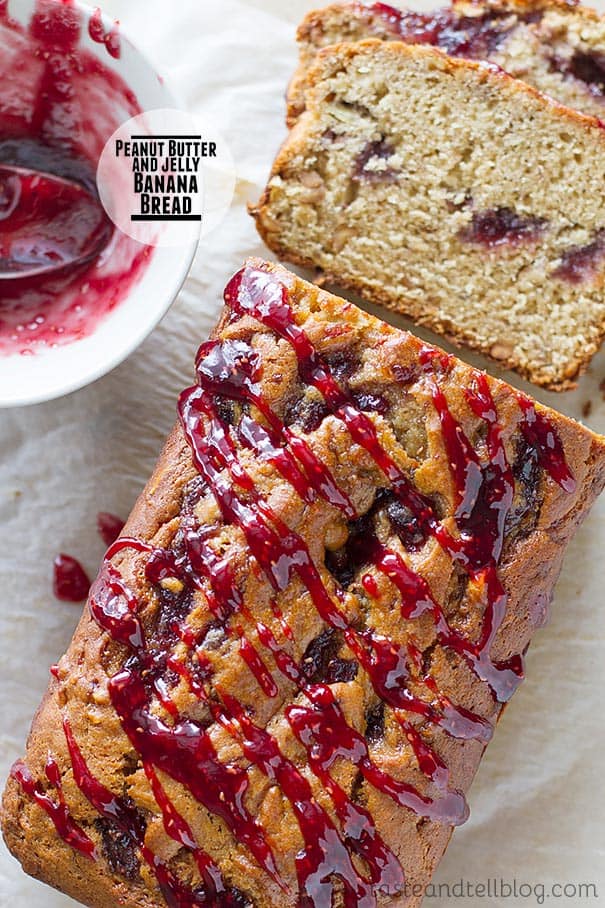 Peanut Butter and Jelly Banana Bread Recipe
Around the Web:
Chocolate-Hazelnut Banana Bread from Joanne Eats Well With Others
The Best Banana Bread from My Baking Addiction
Nutella Swirl Banana Bread from Roxana's Home Baking
Don't miss a thing! Follow me on Pinterest to see what I'm pinning!
Visit Taste and Tell's profile on Pinterest.