Mixing up a loaf of this Orange Blueberry Bread is so simple you'll want to keep it on the regular rotation! Move aside, banana bread — this delicious quick bread is perfect for breakfast or snack-time.
I have a love for blueberries – especially in baked goods like this quick bread, this Blueberry Crisp, or this Blueberry Banana French Toast Bake.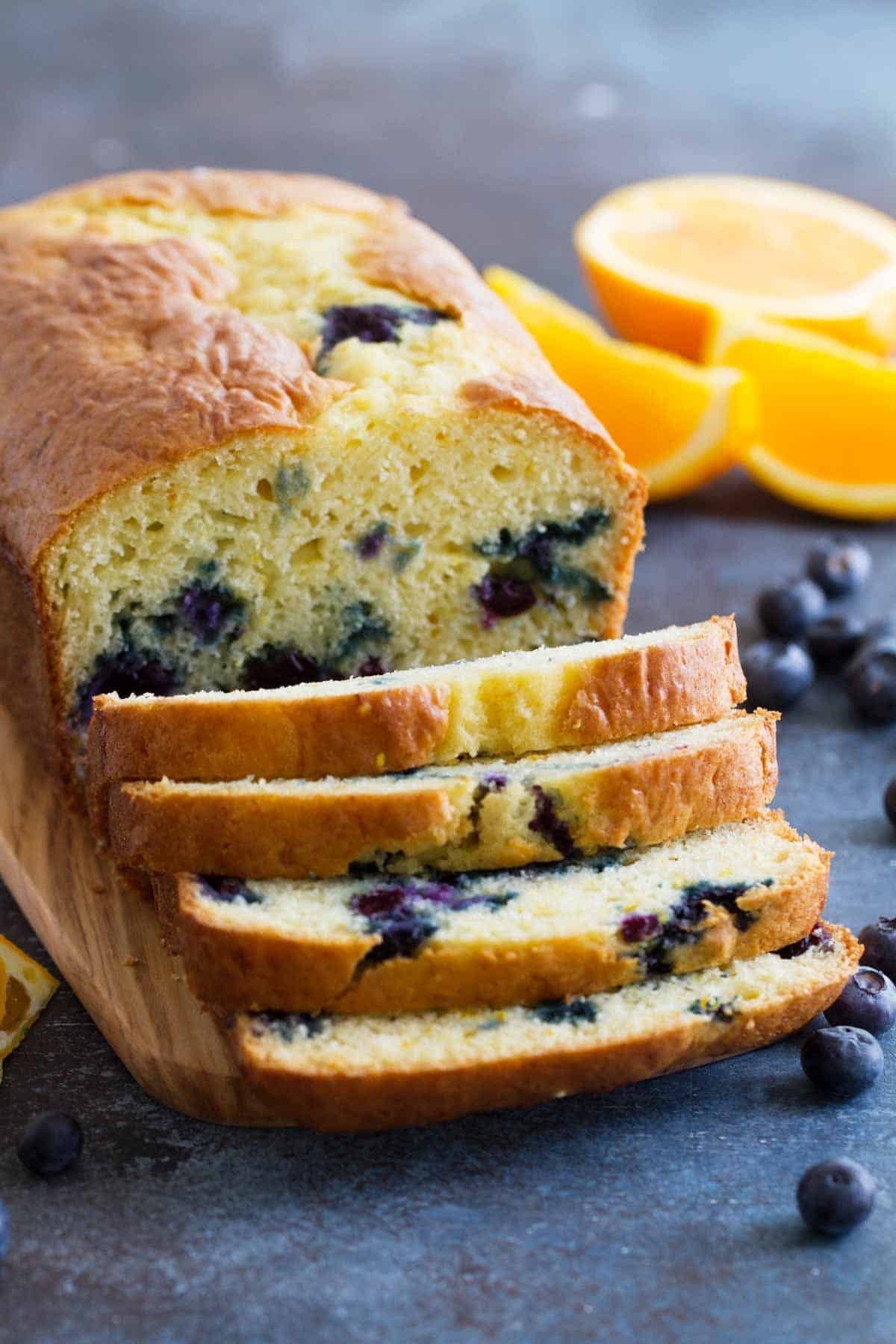 I have a handful of recipes here on the blog that I make regularly, but hadn't taken the time to update the photo (or the recipe!). This Orange Blueberry Bread falls into that category.
I've been making it since 2010, and love it! My husband is not a fan of banana bread (*gasp*) so when I'm making something for him to eat as well, I like to turn to quick bread recipes like this Orange Blueberry Bread. I love how little hands on time it takes, and it's so delicious that I can't say no to a slice! This is the perfect quick bread for breakfast or brunch, as it is not overly sweet. It's definitely sweet but not one of the indulgent quick bread recipes with crumb toppings or a glaze. (But I do love those as well!)
I'm pretty sure you'll fall in love with this Orange Blueberry Bread, too!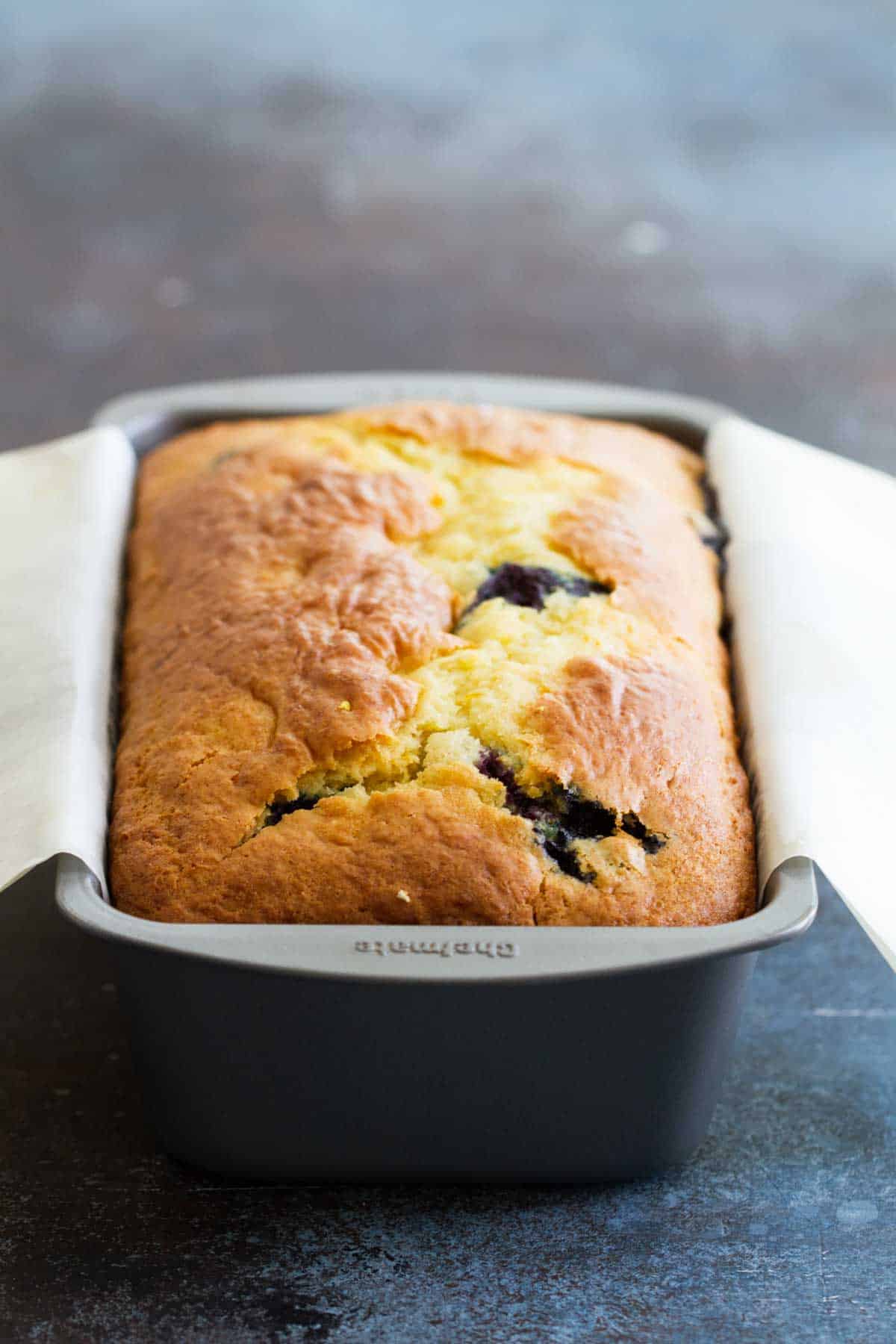 How to Make Orange Blueberry Bread
This Orange Blueberry Bread couldn't be easier! I think that is why I love quick bread recipes so much – they are a breeze to throw together. There are 3 basic steps to follow when making a quick bread:
Mix together the dry ingredients
Mix together the wet ingredients
Gently combine the wet and dry ingredients
The trick with making the perfect quick bread recipe is to not overmix the batter. If you overmix the batter, you will end up with a bread that is not as tender. The more mixing you do, the more the gluten is developed, which makes for a tougher quick bread in the end. You don't want any dry clumps of flour in the mix, but you want to be very careful not to overmix the batter.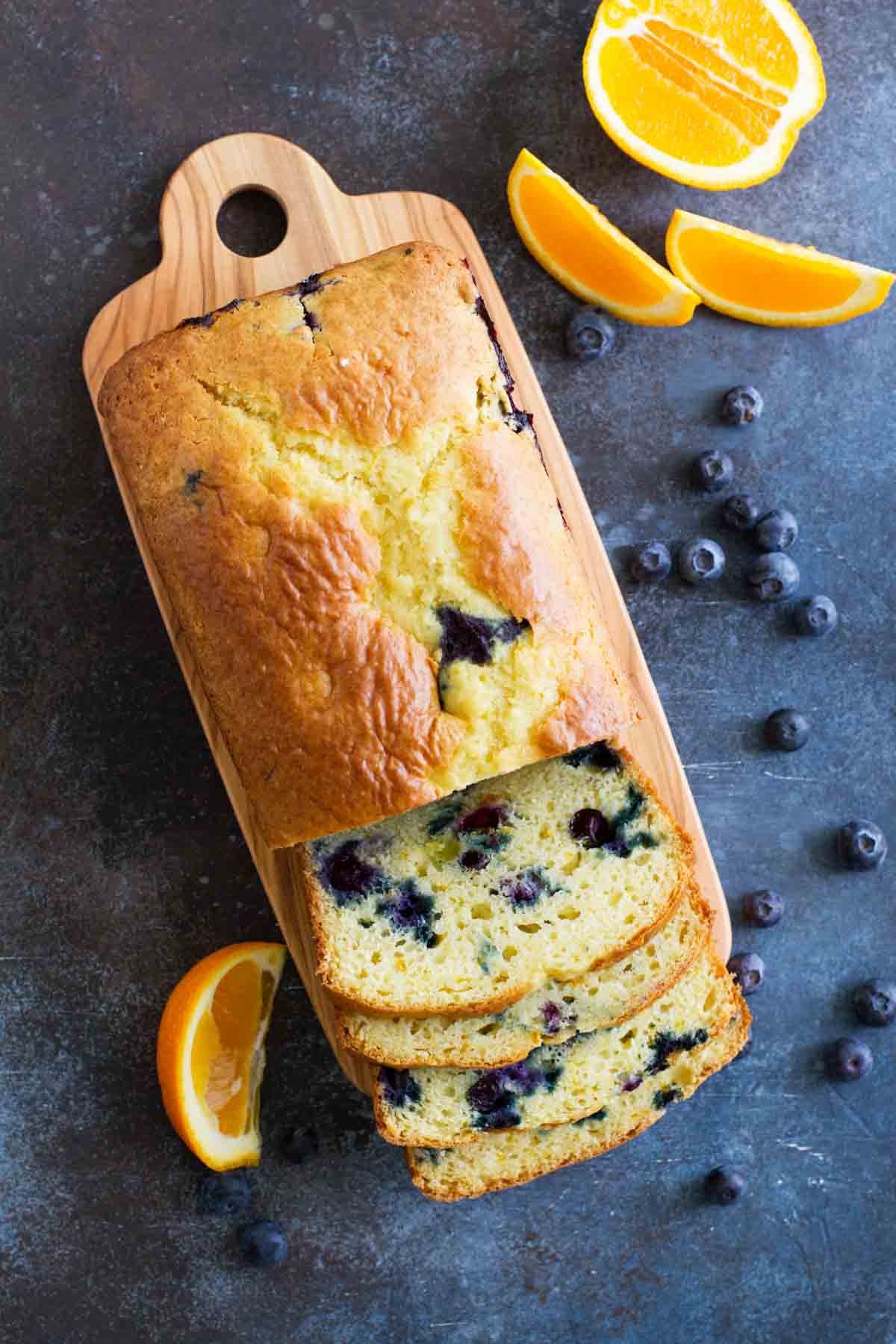 Can you substitute frozen blueberries for fresh blueberries?
Blueberries are one of those items in the produce department that always seem to be really expensive, or really on sale. I think that fresh blueberries are best, but you can definitely substitute frozen blueberries. Frozen blueberries do tend to bleed into the batter more, so do not thaw the blueberries before adding them to the batter. You'll want to make sure that you fold the blueberries in very gently, whether fresh or frozen, so that they remain big and whole.
How do you know when a quick bread is done?
To test to see if the Orange Blueberry Bread is done, take a wooden skewer and insert it in the center of the bread. You can use a toothpick, but you'll need to make sure you insert it deep enough to get the center of the bread. I find that a wooden skewer is easier for that, but a toothpick will work if that is what you have on hand. If the tester comes out clean or with only a few moist crumbs stuck to it, the bread will be done. If there is still batter on the tester, let it bake for a few extra minutes. Quick breads will normally crack down the center, so don't be alarmed if this happens — it's normal!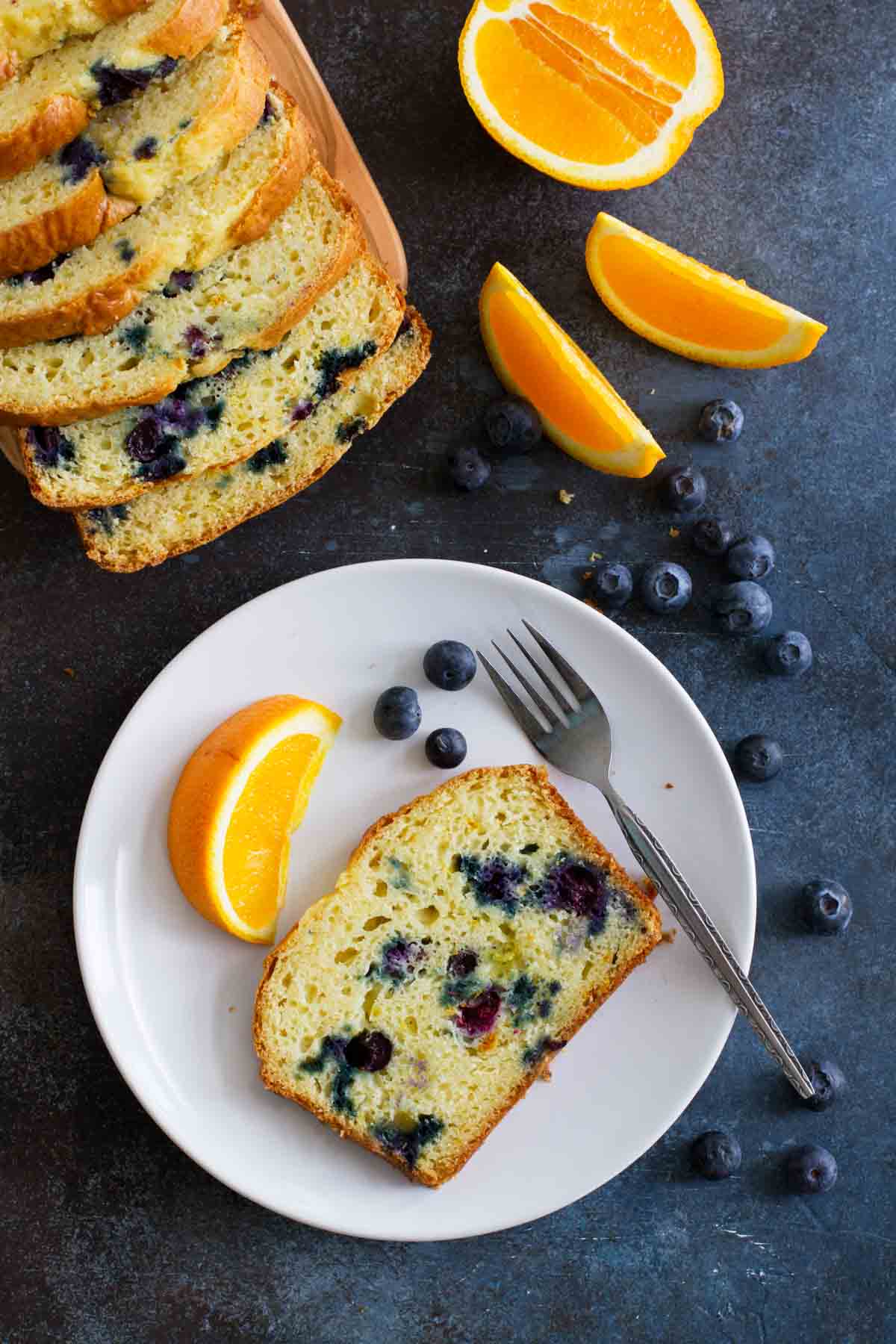 Looking for more quick bread recipes?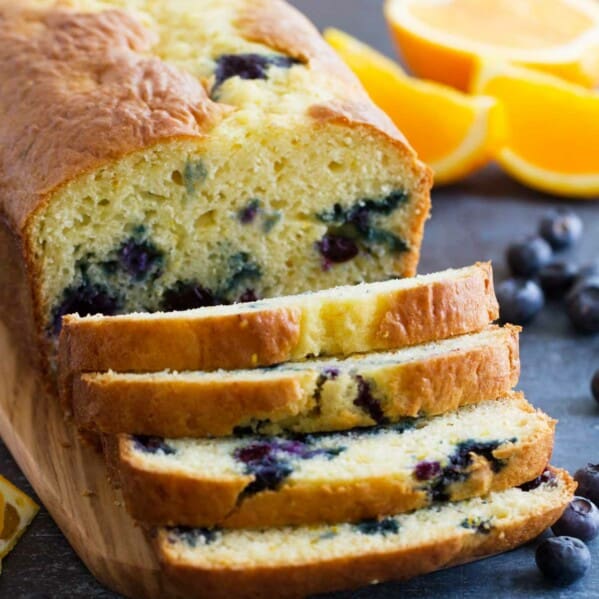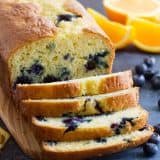 Orange Blueberry Bread
---
Author:
Prep Time: 15 minutes
Cook Time: 60 minutes
Total Time: 2 hours
Yield: 1 loaf (14 servings) 1x
Category: Breakfast
Method: Bake
Cuisine: American
Description
Mixing up a loaf of this Orange Blueberry Bread is so simple you'll want to keep it on the regular rotation! Move aside, banana bread — this delicious quick bread is perfect for breakfast or snack-time.
---
Scale
Ingredients
1 cup fresh blueberries
3 cups plus 1 tablespoon all-purpose flour
Zest of one orange
1 cup sugar
1 tablespoon baking powder
1/2 teaspoon baking soda
1/2 teaspoon salt
1 egg, lightly beaten
1 1/3 cup milk (I used 2%)
1/4 cup freshly squeezed orange juice
1/4 cup vegetable oil
---
Instructions
Grease the bottom and sides of a 9x5x3-inch loaf pan. Alternately,  line the loaf pan with parchment paper and then spray with nonstick cooking spray.  Set aside.
Preheat the oven to 350ºF.
In a small bowl, combine the blueberries with 1 tablespoon of the flour and the orange zest. Toss lightly to combine.
In a large bowl, mix together the remaining 3 cups of flour, sugar, baking powder, baking soda and salt. Make a well in the center of the mix.
In another bowl, or in a large liquid measuring cup, combine the egg, milk, orange juice and oil.
Pour the liquid into the well in the center of the dry mixture. Stir just until moistened. (Do not worry about making the batter smooth – there should be some lumps left.) Fold in the blueberry mixture.
Pour the batter into the prepared loaf pan. Bake in the preheated oven until a tester inserted in the center comes out clean, about 60 minutes. If the bread starts to get too brown, cover with a piece of foil during the last 10-15 minutes.
Cool the bread in the pan on a wire rack for 10 minutes, then remove from the pan and allow to cool completely.
Bread can be eaten once cooled, or for best results, wrap in plastic wrap and store overnight before serving.
Nutrition
Serving Size: 1 slice
Calories: 208
Sugar: 17 g
Sodium: 160 mg
Fat: 5 g
Saturated Fat: 1 g
Unsaturated Fat: 4 g
Trans Fat: 0 g
Carbohydrates: 36 g
Fiber: 1 g
Protein: 4 g
Cholesterol: 15 mg
Keywords: blueberry orange bread, quick bread recipe, blueberry recipe