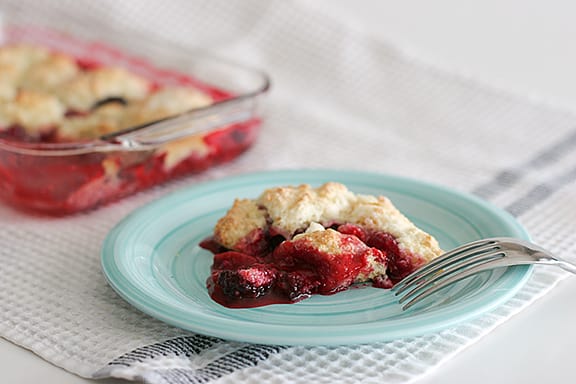 I am a blog it as you make it kind of blogger. I so admire those bloggers who can cook things ahead of time so they are prepared to blog for holidays or seasons ahead of time, so that other people can actually have the chance to make those recipes. One of these days, I hope to be that prepared and organized, but today, I am that blog as you make it blogger. Because yes, I am still blogging about the things of summer. Like this berry cobbler. But guess what? I just made this over the weekend. And the berries were all picked fresh, right off of the plants and then into this cobbler. So I guess I haven't completely missed the boat, as long as you all can still get some sort of fruit in your neck of the woods.
This is one of those recipes that will be used in my kitchen for years to come. I had a church function several weeks ago where I was asked to bring a dessert. I just kept thinking peach cobbler, so I went to my trusty family cookbook and made the cobbler based on my mom's recipe. I took the cobbler, and so many people kept asking me what it was that I put in the dough that made it so good. I seriously didn't put 2 and 2 together until I was almost ready to leave, when I realized that people were tasting the almond extract in the fruit. It's the secret ingredient! And believe me, once you use this cobbler recipe, you will not ever need to find another cobbler recipe!!
Since I didn't take pictures of the peach cobbler, I decided to make another cobbler, but trying out berries this time around. My husband brought in bowls full of raspberries, blackberries and strawberries from my in-laws garden, and I knew I would try the recipe with berries instead of peaches. And it was oh -so-good. You couldn't really taste the almond extract, (I'm guessing the tartness of the berries disguised it), but it didn't matter, because this was still amazing! I'm definitely sold on this recipe for life!
Fresh Fruit Cobbler
from my mom
Filling
1 1/2 pounds (about 3 cups) fresh fruit, pitted and cut into 1/2″ wedges if needed
7 tablespoons sugar (more if the fruit is tart)
1 tablespoon flour
1 1/2 teaspoons lemon juice
1/2 teaspoon almond extract
Topping
3/4 cup flour
3/4 teaspoon baking powder
1/4 teaspoon baking soda
1/4 teaspoon salt
5 teaspoons sugar
2 tablespoons cold butter, cut into bits
1/2 cup buttermilk
Toss the filling ingredients together in a 9″ glass or ceramic pie plate. Let stand until juicy, about 30 minutes. Preheat oven to 400F.
Sift flour, baking powder, baking soda, salt and 3 teaspoons of the sugar in a bowl. Blend in the butter with a pastry cutter or fork until mixture resembles coarse meal. Stir in buttermilk with a fork just until combined (do not overmix).
Drop rounded teaspoons of dough over filling. Sprinkle with the remaining 2 teaspoons sugar.
Bake until the fruit is tender and the topping is golden, about 30 minutes. Serve warm or cold.