Do you have an overloaded zucchini plant? These Zucchini Cobbler Bars are an unconventional zucchini dessert, but you will fall head over heels in love with them!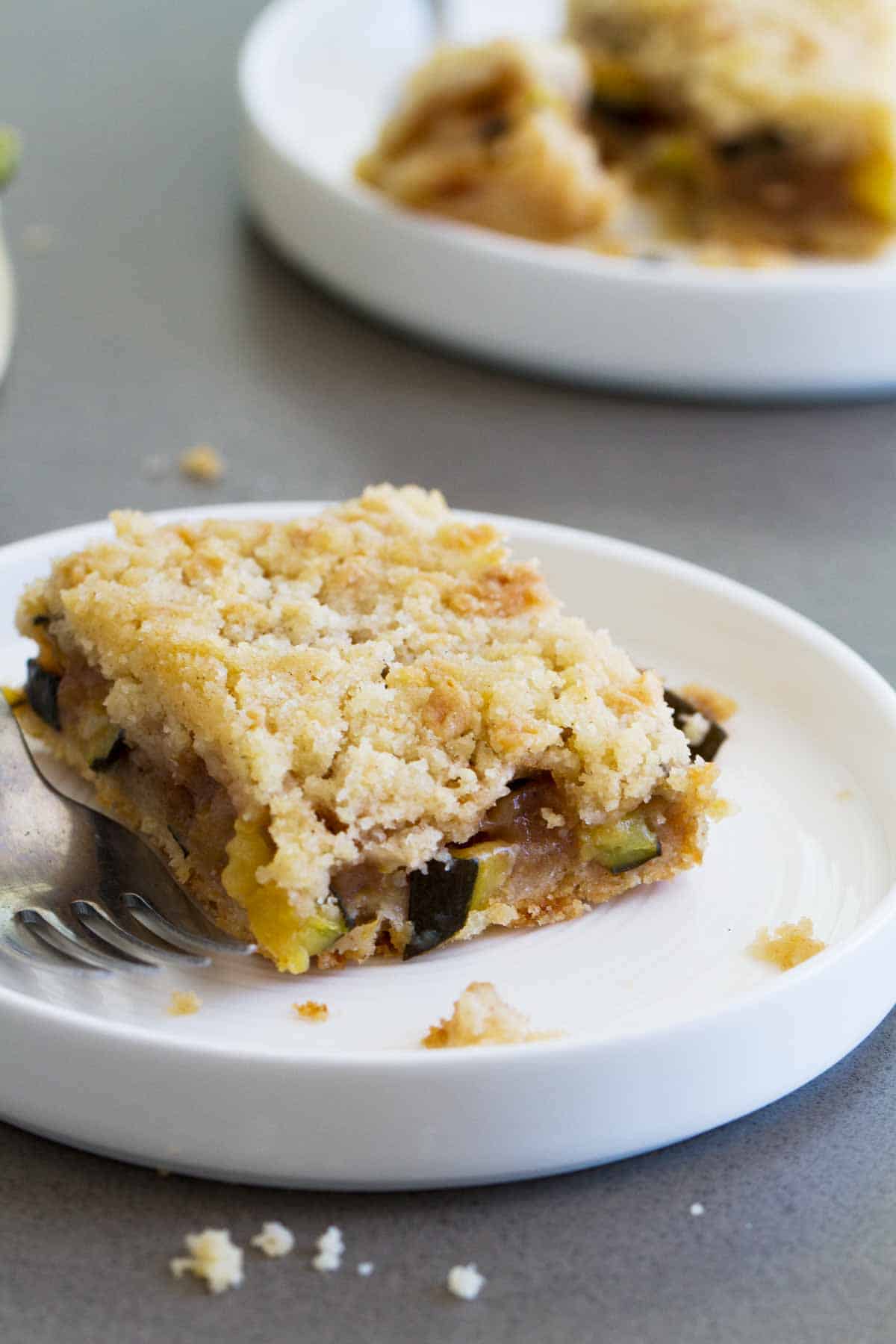 Originally posted September 6, 2011: We don't have our yard in yet, so no garden this year, but that hasn't stopped me from going crazy on the zucchini recipes already! I have actually been buying zucchini like crazy lately, which led to me making another batch of these Zucchini Cobbler Bars. I have been making them for years now, and really, really love them. When I first started making them, I always removed the skin from the zucchini, but I've gotten lazy, and these days I leave it on. I do like that the zucchini doesn't break down quite as much with the skin on. But this recipe totally works both ways, and if you do remove the skin, it's easy to fool people into thinking these are apple bars! I hope you fall in love with them as much as I have!
The original post from 2011 follows:
I've been through most of the tomatoes that were given to us. And most of the corn. But now, I'm finding zucchini after zucchini that I have stuffed into my refrigerator!! So I have been scouring the internet, looking for different ways to cook up zucchini. I started with cookies, but I didn't really care for them. And I still had tons of zucchini.
I was at my parent's house for dinner the other night, and I mentioned to my dad that I needed to use up some zucchini, and he said that my mom had made a zucchini cobbler before that was really good.
What?? What kind of cobbler??
I had never in my life heard of a zucchini cobbler. And it's not something I would have ever thought to try, either. I asked my mom about it, and she told me how she made it. That night when I got home, I googled it. Turns out quite a few people out there have heard of – and made – zucchini cobblers. Where have I been?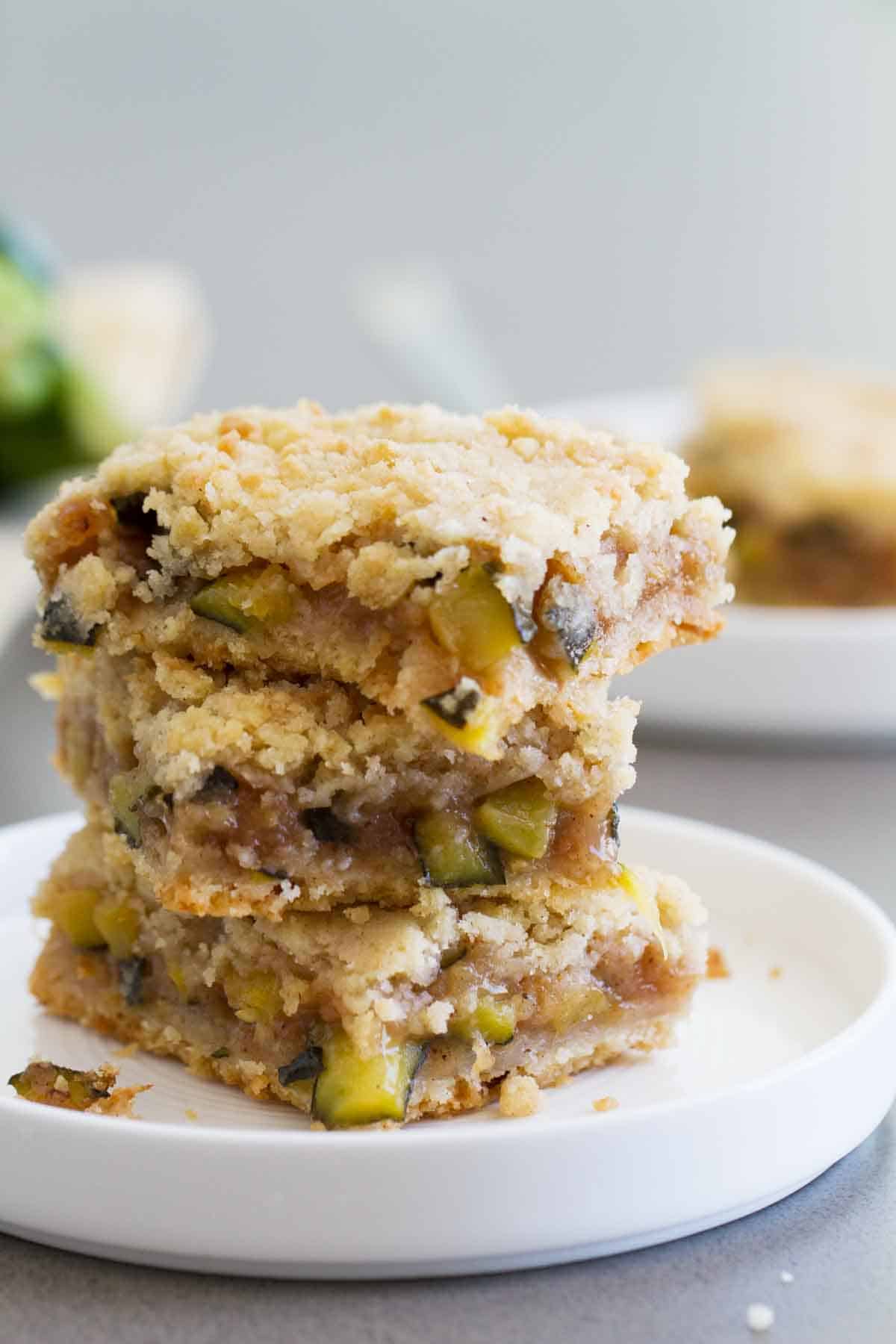 I looked through several recipes, and most were similar. I ended up with a version from Taste of Home that I adapted a bit. The end result wasn't really a cobbler to me, but more of a bar. I think that if you wanted more of a cobbler, you'd cut way back on the crust/crumble, but really, I wouldn't change a thing. These were perfect as bars.
And guess what?
They are delicious.
And you would never guess that these cobbler bars are made with zucchini. I would have totally guessed that these were apple bars. Maybe it's the cinnamon and nutmeg that trick you into thinking that it is an apple filling. These are the perfect late summer/early fall treat!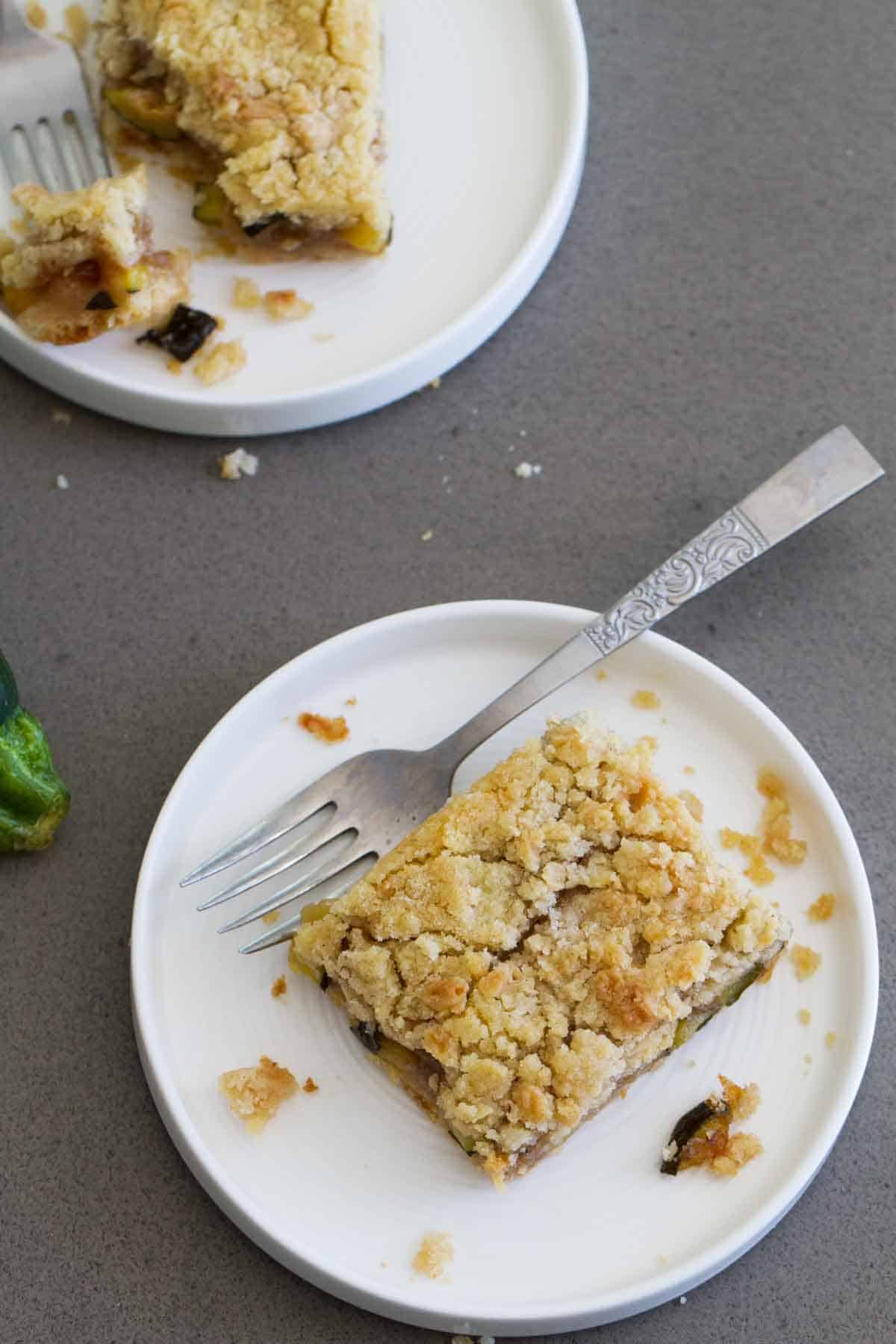 SEE HOW TO MAKE THESE ZUCCHINI COBBLER BARS HERE:
Looking for more zucchini desserts?
Zucchini Cake with Cream Cheese Frosting
Glazed Lemon Poppy Seed Zucchini Bread
Chocolate Wave Zucchini Bread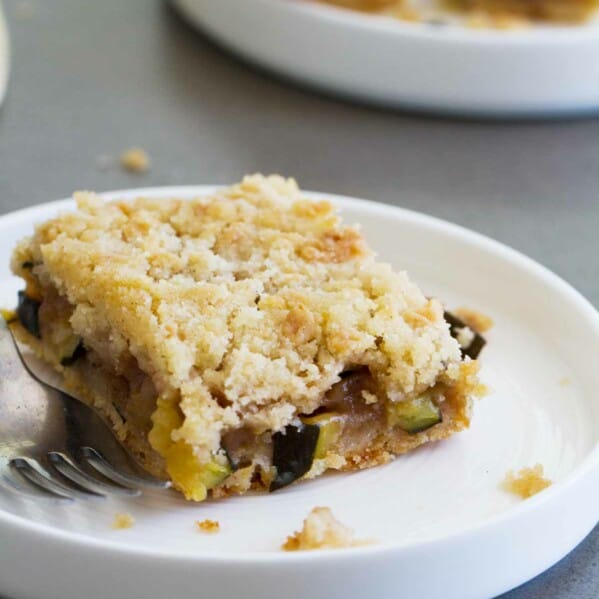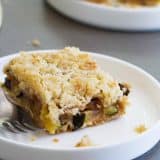 Zucchini Cobbler Bars
---
Author:
Prep Time: 15 minutes
Cook Time: 50 minutes
Total Time: 1 hour 5 minutes
Yield: 12 servings 1x
Category: Dessert
Method: Baked
Cuisine: American
Description
Do you have an overloaded zucchini plant? These Zucchini Cobbler Bars are an unconventional zucchini dessert, but you will fall head over heels in love with them!
---
Scale
Ingredients
Filling:
4 cups chopped zucchini*
1/3 cup lemon juice
1/2 cup granulated sugar
1/2 teaspoon cinnamon
1/4 teaspoon nutmeg
Crust and Topping
2 cups all-purpose flour
1 cup granulated sugar
1/2 teaspoon cinnamon
3/4 cup cold butter, cut into cubes
---
Instructions
Preheat the oven to 375ºF. Lightly grease a 7×11-inch baking dish**, or line with parchment paper.
In a large bowl, stir together the flour, 1 cup of sugar and the cinnamon. Using a pastry cutter or fork, cut the flour into the butter until the mixture resembles coarse crumbs.
Combine the zucchini and lemon juice in a large skillet over medium-high heat.  Cook, stirring often, until the zucchini is soft, about 10-15 minutes.  Stir in the 1/2 cup sugar, cinnamon and nutmeg. Cook for an additional minute.  Remove from the heat.  Stir in 1/2 cup of the crumb mixture.
Press half of the remaining crumb mixture evenly into the bottom of the prepared baking dish.  Pour the zucchini mixture on top, then sprinkle the remaining crumb mixture over the top.
Bake in the preheated oven for about 35 minutes, or until the top is golden brown.  Let the bars cool completely before cutting and serving.
Recipe Notes:
*You can choose whether or not to peel the zucchini. If you peel the zucchini, the filling looks just like apple filling, and most people won't be able to tell the difference. But I prefer to keep the peel on for a little texture.
**If you don't have a 7×11-inch baking dish, you can bake it in a 9" square dish. You will probably have to adjust the baking time.
adapted from Taste of Home
Nutrition information provided as an estimate only. Various brands and products can change the counts.
Nutrition
Serving Size: 1 bar
Calories: 283
Sugar: 26 g
Sodium: 5 mg
Fat: 12 g
Saturated Fat: 7 g
Unsaturated Fat: 3 g
Trans Fat: 0 lg
Carbohydrates: 43 g
Fiber: 2 g
Protein: 3 g
Cholesterol: 31 mg
Keywords: zucchini cobbler bars