Last week I mentioned that I would be having a little drawing, and today is the day!! Well, not the actual day for the drawing, but we'll get started today.
I love to blog about food. I get excited about it. And I really love the food blogging community. I wish I could find a way to make money from it, but that's most likely never going to happen. But I have been really lucky over the last few months, and although I haven't received any money from the blogging world, I have been the lucky recipient of 3 new cookbooks. I don't know where my luck came from, because normally, I am a very unlucky person. First was Pure Dessert won from Veronica at Veronica's Test Kitchen. Then there was The Great Scandinavian Baking Book from Ari at Baking and Books. And lastly, but not least, was Artisan Bread in Five Minutes a Day from Jaden at Jaden's Steamy Kitchen. How I won this one is beyond me, as there were over 300 entrants. See – talk about lucky!!
So I decided it was time to give back. I want to share the love!! I've been thinking about this for awhile, trying to come up with a good cookbook to give away, but then I came up with an idea to give away a one-year subscription to a food magazine. The good thing about this is that I will give the winner the choice of magazine, since I know many people already subscribe to some food magazines. The winner can choose from Cooking Light, Gourmet, Bon Appetit, or Every Day Food. It's easy to enter – just leave a comment on this post. The winner will be randomly chosen next Tuesday, February 12th at 6pm MST. The winner will be announced one week from today.
Now, onto the food!! Like I said above, I love the food blogging community. Not only are there some really nice people and amazing blogs out there, there is also a lot of yummy food!! I won't even begin to tell you how many recipes I have bookmarked right now. Let's just say that it's more than I will ever have time to make. If I didn't love to look through cookbooks so much, I wouldn't have a hard time choosing dinner from other blogs every night. And I make a lot of these recipes from other blogs. So I've decided to do a once a month feature where I will show you what I've made from other blogs. I really don't need to do a whole blog entry for each of these, because really – the blog that I got the recipe from does a much better job of talking up the recipe than I can!! So here it goes!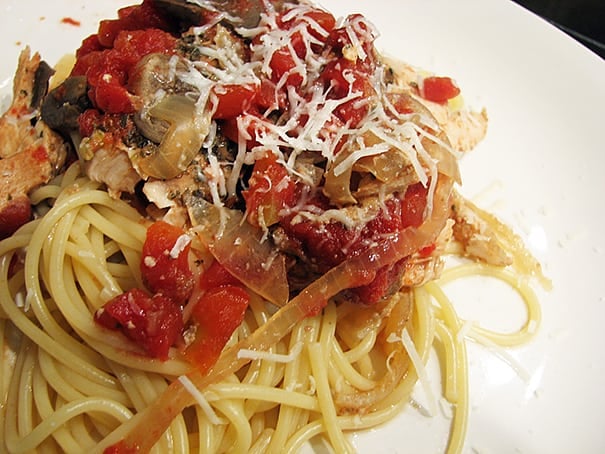 I've mentioned before that I have a hard time making crock pot dishes look appetizing, so don't let this picture turn you away from this Crock Pot Chicken Cacciatore from Mommy Cooks. This is one of those throw everything into the crock pot and forget it meals, which I love!! I did overcook mine a bit, since we got stuck at a doctor's appointment that took longer than expected, but it was a very satisfying weeknight meal.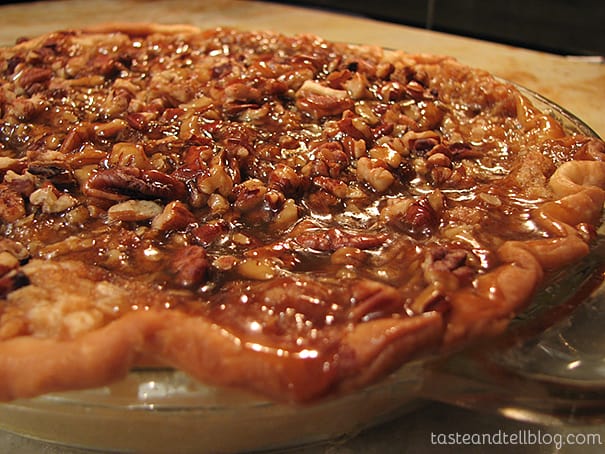 This Scrumptious Apple Pie from The Pioneer Woman Cooks! was exactly that – scrumptious!! If you remember the Cheater Chicken Pot Pie recipe I posted awhile back that used a store bought pie crust – this was the pie I made with the other pie crust. We loved this pie. The topping is amazing. We all know I love a crumb topping, but adding caramel just takes it over the top! I will be making this again, but I'm thinking that I would use the apple pie filling from the Sour Cream Apple Pie that I love, but top it with Pioneer Woman's crumb/caramel topping.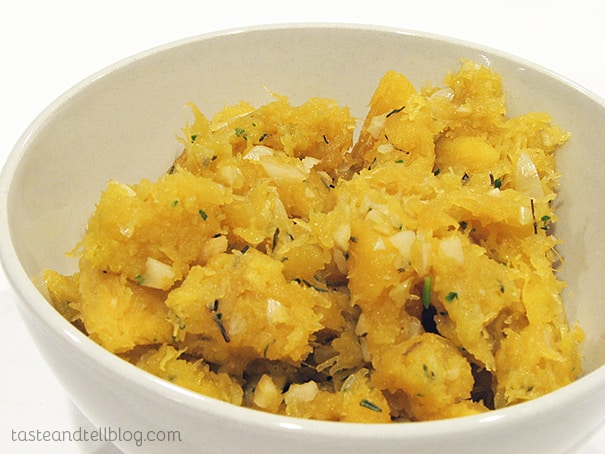 Squash is one thing that I have really been into this year. I had some acorn squash at home when I saw this recipe for Squashed Acorn Squash from Cooking from A to Z and gave it a try. I used regualr brown sugar instead of the muscavado sugar called for in the recipe, and I didn't quite cook my squash long enough, but this was a delicious and easy side dish!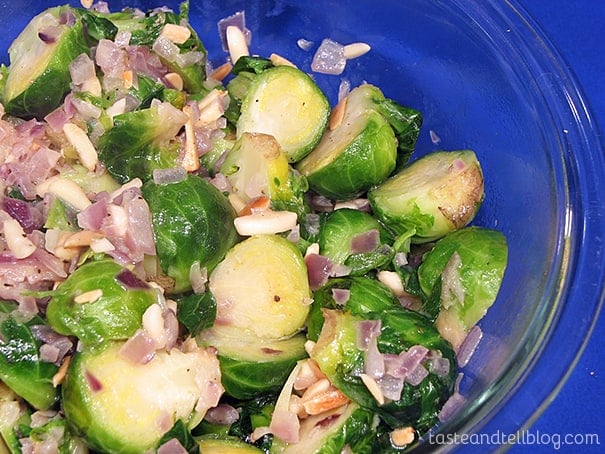 This was one of my favorite side dishes that I've had in awhile. I am a recent convert to Brussels sprouts – in the last 3 years I have really fallen in love with them. I usually have to buy them frozen because I don't see them fresh very often, so when I saw these fresh at the store awhile back, I scooped them up. A quick search through my bookmarked recipes turned up this recipe for Brussels Sprouts at Simply Recipes. This was delicious!
And this last recipe I've made not once, but twice because I liked it so much!! I saw this recipe for Butternut Squash Bread at Dine and Dish back in August of last year. I was intrigued from the beginning because I had never heard of a yeasted bread with butternut squash in it. I have had my share of potato bread, but not butternut squash bread! This is an extremely tender, delicious bread. You can only catch a hint of the butternut squash in the flavor, but the texture of the bread is wonderful, and it's a great way to get some extra veggies in!
So there is the February installment of blog food that I've made. Make sure you check out the original posts from the other blogs!
And don't forget to leave a comment to enter for a chance to win a year subscription to a great food magazine!!