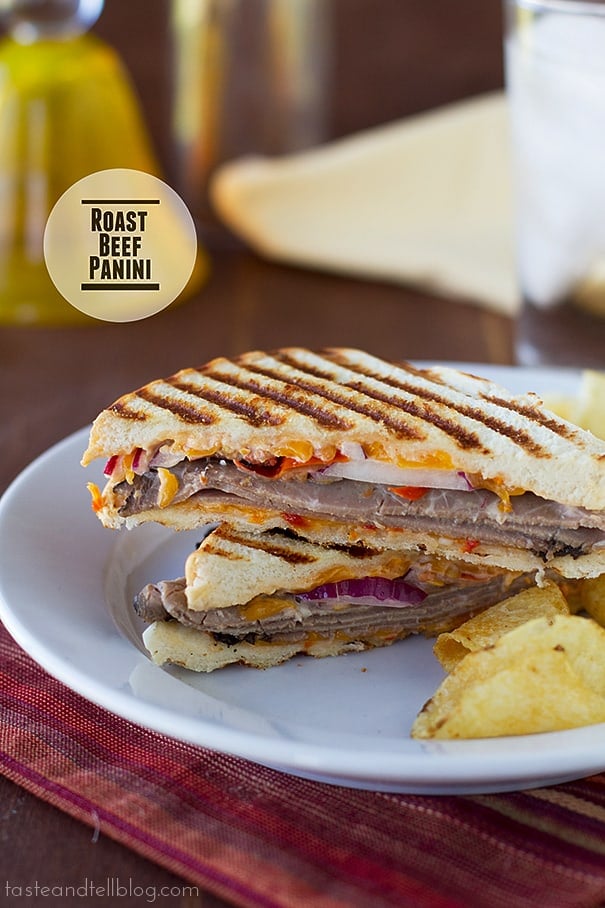 Photo Updated June 2013
From the archives – Originally posted September 4, 2009
How often do you cook for only yourself? And when you do, do you tend to keep it simple, or do you still go all out?
My husband has been having some stomach issues lately, so most nights, he doesn't really want any dinner. That leaves me to either eat cereal for dinner, or to cook for myself. I do admit that I eat cereal for dinner often, just because it's easier than cooking for one. But I still do cook, not only because I enjoy it, but because you can only have so many bowls of Apple Jacks before you just really need some real food.
So what I have been cooking has been quite simple food, for the most part. Like sandwiches. I've had lots of sandwiches. Which I'm totally ok with, because I love them. Like this one – delicious!! It was nothing fancy, but so much better than a bowl of cereal!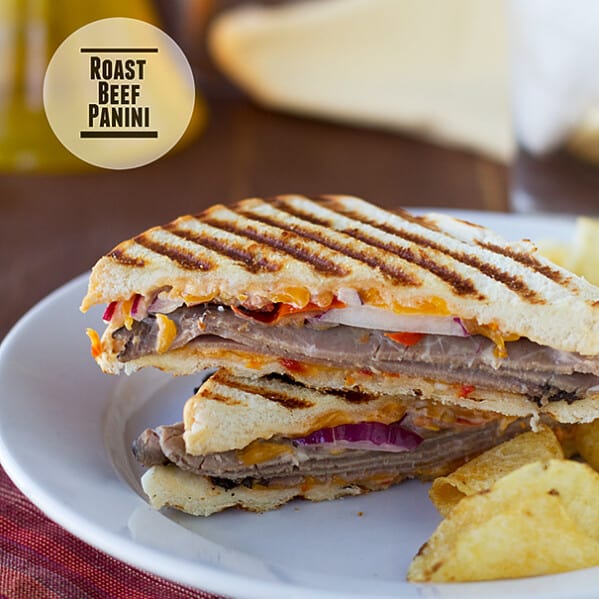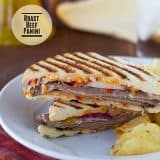 Roast Beef Panini
---
Prep Time: 10 minutes
Cook Time: 5 minutes
Total Time: 15 minutes
Yield: 2 sandwiches 1x
Description
An easy grilled sandwich made with deli roast beef.
---
Scale
Ingredients
1/4 cup mayonnaise
2 teaspoons minced oil-packed sun-dried tomatoes
1 teaspoon minced garlic
1 teaspoon prepared horseradish
1 teaspoon ketchup
pinch of cayenne pepper
1/3 cup slivered red onion
1/3 cup sliced pickled sweet cherry peppers
pinch of red pepper flakes
4 slices white or wheat sourdough bread (1/2-inch thick)
1/2 cup shredded cheddar cheese
4 oz. deli roast beef, thinly sliced
---
Instructions
Combine mayonnaise, tomatoes, garlic, horseradish, ketchup, and cayenne in a small bowl.
Toss onion, peppers, and pepper flakes together in another bowl. Drizzle with some of the pickling juice from the peppers; let salad stand for at least 5 minutes.
Spread butter on one side of each slice of bread; spread mayonnaise on the other side. Sprinkle cheese on two of the slices, arrange beef on the cheese, then top with pepper salad. Place the other slices of bread on the peppers, buttered side up.
Toast sandwiches on both sides or in a panini press.
Recipe Notes:
source: Cuisine at Home Magazine