I have turned into a planner.  When I first started this blog, I really just blogged as I cooked.  If I was cooking a lot, there were lots of new blog posts.  If I didn't feel like cooking, the blog posts slowed down.
But as time has gone by, and as I have had 1, 2 and then 3 children, planning has become essential.  Now, I like to have my posts planned out about a month in advance.  This worked perfectly toward the end of my pregnancy.  It felt good to have a month worth of posts planned and cooked.  And it was even nicer to not have to worry about cooking after the baby came.
I still have a few recipes that are waiting to be posted, but this past weekend, I sat down to make sure that I had December's posts at least planned out.  And what I realized is that December is going to be full of lots of treats.  And pizza.  While I know that we all are still eating dinner every night during the holiday season, it's just not as fun to talk about dinner when there are cookies to talk about!!
So in preparation for a month almost full of holiday treats, I bring you another super easy dinner idea.  Perfect for a cold night.  Perfect for a busy night.  And this is a soup I can usually whip up from what I have on hand.  Feel free to toss in extra vegetables – I used what we have on hand all of the time, but I'm sure this would be quite easy to customize.  It's an easy, no-fuss dinner for the crazy holiday season we are almost in the middle of!!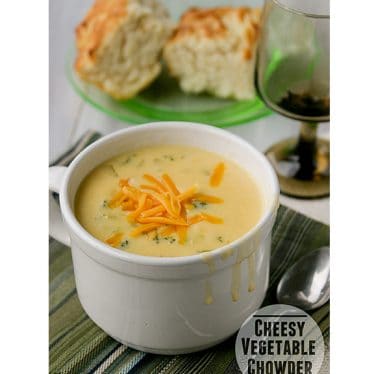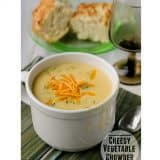 Cheesy Vegetable Chowder
---
Prep Time: 10 minutes
Cook Time: 20 minutes
Total Time: 30 minutes
Yield: 4 servings 1x
Description
Lots of veggies are cooked into a cheesy, creamy soup.
---
Scale
Ingredients
2 tablespoons butter
1/2 cup diced celery
1/2 cup diced onion
1/2 cup diced carrot
1 cup broccoli
2 cups chicken or vegetable broth
1/2 cup butter
2/3 cup flour
4 cups milk
8 oz. shredded cheddar cheese
---
Instructions
In a large soup pot over medium heat, melt the butter. Add the celery, onion and carrot.
Cook until softened, 5-7 minutes. Add in the broccoli and the chicken broth and cook over medium heat for 10 minutes.
Meanwhile, in another pan, melt the 1/2 cup butter. Whisk in the flour and cook for 1 minute. Whisk in the milk slowly. Cook until thickened, about 8 minutes. Stir into the vegetable mixture.
Stir in the shredded cheddar cheese and cook until melted.