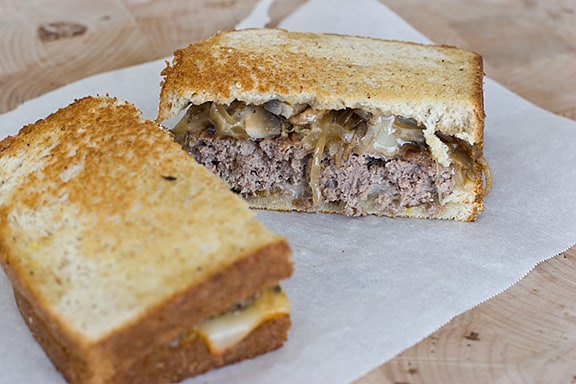 My husband had No Reservations on the tv the other day while I was in the kitchen. From the living room, my husband calls out – "did you know that Anthony Bourdain had never had a patty melt before?"Apparently, Anthony Bourdain was on a tour of the US Southwest, and experienced his first patty melt. I have to admit – I was surprised. Here I thought Mr. Bourdain had eaten just about everything there is to eat out there. But not a lowly little patty melt!!
Me, I've had my fair share of patty melts. Maybe it's because I live in the southwest, and I grew up in the southwest. But life would not be complete without a patty melt. So I'm bringing you one today!!
This one is made with ground turkey. I've said it before, but I'm not a huge fan of ground poultry. It's usually dry and flavorless to me. But this was good. It would have been great if I would have used ground beef instead of turkey, but I guess the turkey is a little healthier. Either way, though – if you've never had a patty melt, do yourself a favor and make some of these up for dinner tonight!
Patty Melts
from Food Network Magazine January/February 2010
Serves 4
Total time: 40 minutes
3 tablespoons extra-virgin olive oil
2 medium onions, thinly sliced
10 ounces button mushrooms, sliced
salt and pepper
2 teaspoons balsamic vinegar
2 tablespoons plus 2 teaspoons Worcestershire sauce
10 ounces lean ground turkey
6 ounces lean ground sirloin
8 slices multigrain bread
8 thin slices monterey jack or Swiss cheese
Heat 1 teaspoon olive oil in a large nonstick skillet over medium-high heat. Add the onions and cook, stirring, until soft, 2 to 3 minutes. Push to one side of the skillet; add the mushrooms and cook until browned, about 2 minutes. Season with salt and pepper, then mix the mushrooms and onions together and cook until the onions are golden, about 10 more minutes. Add the vinegar and 2 tablespoons Worcestershire sauce. Transfer the mixture to a bowl and keep warm.
Meanwhile, mix the turkey, beef and the remaining 2 teaspoons Worcestershire sauce in a bowl. Shape into 4 equal-size oval patties.
Wipe out the skillet, add 1 tablespoon olive oil and place over medium-high heat. Season the patties with salt and pepper and cook until browned on the bottom, about 4 minutes. Flip and cook through, 1 to 2 more minutes.
Divide the onions and mushrooms among 4 bread slices; top with a slice of cheese, a patty, another slice of cheese and another bread slice. Wipe out the skillet; add 1 tablespoon olive oil and place over medium heat. Cook the sandwiches in two batches until the bread is toasted and the cheese melts, 1 to 2 minutes per side, adding the remaining 2 teaspoons oil as needed.