A cookie base is topped with a thin layer of chocolate and a homemade caramel.
————————————
A bit of business first – I now have a weekly email newsletter!!  This is something that I've been wanting to do for months now, and I'm glad that I finally got it all together.  If you subscribe, every Saturday morning you will get an email with the week's posts, a few things I've seen around the web that have caught my eye, and occasionally, some new and exclusive content!  You can subscribe here.
————————————
Is there one thing that you have struggled with in the kitchen forever?  I know a lot of people struggle with yeast, others with making a perfectly risen cupcake.  Me – it's caramel.  We have a love/hate relationship.  I love homemade caramel.  And when it works for me, I'm on cloud 9.  But it is one of those things that is never very consistent for me.
But for some reason, when I saw this recipe, I knew I wanted to try these bars – even though the caramel is made from scratch.  Well, let me tell you – it really doesn't get much easier than this.  This caramel was probably the easiest I've made.  No thermometer.  No crazy ingredients.  And it all worked perfectly the first time!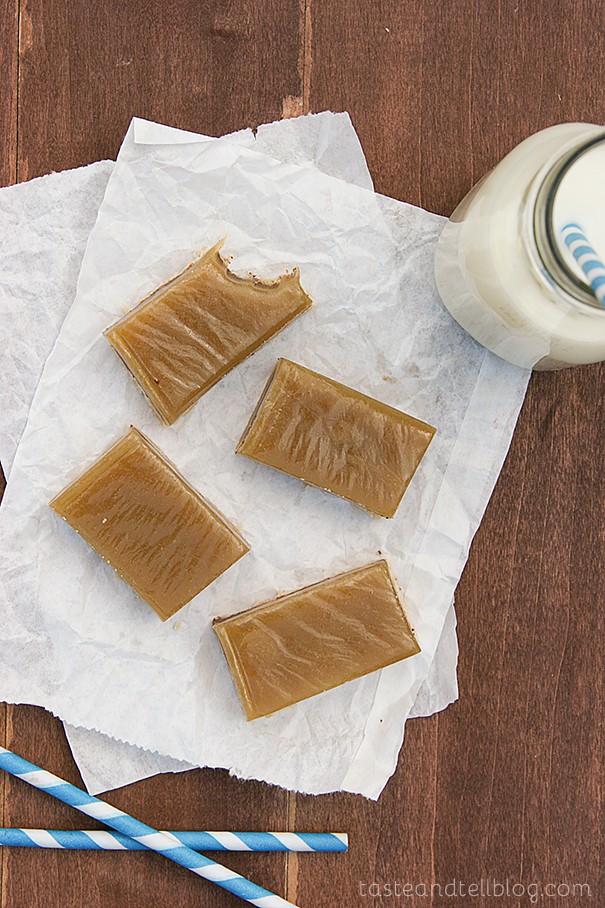 I took these bars to a family dinner and they were devoured – especially by the kids. They all thought they tasted like Twix candy bars – but better. In fact, when they were gone, a few of the kids came into the kitchen looking for more and then were very disappointed to find out that they were gone.
So I'm going to say that these were a huge success.  And maybe – just maybe – I have conquered my homemade caramel nemesis.  I do know that only time will tell, because there will always be more caramel!!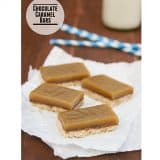 Chocolate Caramel Bars
---
Prep Time: 15 minutes
Cook Time: 15 minutes
Total Time: 2 hours
Yield: about 4 dozen bars 1x
Description
A cookie base is topped with a thin layer of chocolate and a homemade caramel.
---
Scale
Ingredients
Crust
2 cups all-purpose flour
3/4 cup butter, at room temperature
1/2 cup packed brown sugar
1/4 teaspoon salt
1 cup milk chocolate chips
Caramel
3/4 cup butter
1 cup packed brown sugar
1/3 cup light corn syrup
1 teaspoon vanilla
---
Instructions
Preheat the oven to 350F. Spray a 13×9-inch baking pan with non-stick cooking spray.
In the bowl of a mixer, combine the flour, butter, brown sugar and salt. Beat until it resembles coarse crumbs. Press into the prepared pan. Bake in the preheated oven for 15 minutes, or until golden brown. Sprinkle the chocolate chips over the hot crust immediately after removing from the oven. Let sit for 5 minutes, or until the chocolate chips turn glossy and soft. Use a spatula to spread the chocolate evenly. Set aside.
In a 2-quart saucepan, combine the butter, brown sugar, corn syrup and vanilla. Cook over medium heat, stirring frequently. Bring to a boil. Stop stirring and allow to boil for 4 minutes. Gently pour over the chocolate layer. Cool completely. Refrigerate until the chocolate and caramel are set, about 1 hour.
Bring to room temperature to cut into 2×1-inch bars.
————–
slightly adapted from Favorite Brand Name Best-Loved Recipes
More caramel love:
Homemade Caramel Apples from Clawson Live
Baked Apple Dumplings with Gooey Caramel Sauce from Tracey's Culinary Adventures
Pumpkin Cheesecake with Caramel Sauce from Taste and Tell