Last week, my husband was with me at the store. As we passed the Easter candy, he spotted some of those marshmallow eggs that come in the egg carton. I don't know if you've ever bought those before, but the idea of a marshmallow egg, combined with the $1 price tag make them quite alluring. I told him that I had had them before and didn't like them, but we still ended up with 2 cartons on them in our cart. Later that day, at home, he opened one up and tried them out. Let's just say that they are still sitting in our cabinet, barely eaten!! For $1, you really get what you pay for – cheap chocolate with a spongy, marshmallow filling.
Well, shortly after my husband bought those eggs, I ran across this post on Stephanie's Kitchen where she made Marshmallow Truffles. Immediately, I thought that it would be fun to make them and shape them as eggs. I knew they would be better than those cheap eggs at the grocery store!! Stephanie did not let me down. These truffles are delicious. The center is super creamy, and I got to control the quality of the chocolate on the outside!!
Not only are they quite tasty, but they are super cute as well. These would be a great Easter gift to give away, or a great filler for Easter baskets. But do make sure you have someone to share these with, because they are quite addictive. Believe me – I've eaten more than my fair share of them!! I ended up begging my in-laws to take some with them when they stopped by the other day. All this Easter candy is not helping me to lose the baby weight!!
What Easter candy do you have a hard time passing up at the store?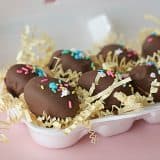 Easter Egg Marshmallow Truffles
---
Prep Time: 30 minutes
Total Time: 2 hours
Yield: 30 truffles 1x
Description
Forget the tasteless, store-bought marshmallow eggs. These homemade marshmallow truffles are sure to be a hit with everyone!
---
Scale
Ingredients
1 7-ounce jar marshmallow creme
6 tablespoons butter, at room temperature
1/4 teaspoon vanilla
dash of salt
3 cups powdered sugar
For the coating:
8 ounces chocolate
1 tablespoon shortening
assorted sprinkles, if desired
---
Instructions
In the bowl of a mixer, combine the marshmallow creme, butter, vanilla and salt. Mix until creamy. Gradually add the powdered sugar, mixing until smooth. Refrigerate for an hour.
Line a baking sheet with parchment paper or waxed paper. Use a small scoop to make small balls out of the marshmallow mixture. Form each ball into an egg shape. Freeze for about 15 minutes.
Melt the chocolate with the shortening. Dip the marshmallow eggs into the chocolate and place back onto the lined baking sheet. Sprinkle with topping, if desired. Refrigerate until the chocolate is set.