What We Ate at Disneyland – Part 2. Sweet, savory, and my recommendations for what to eat at Disneyland!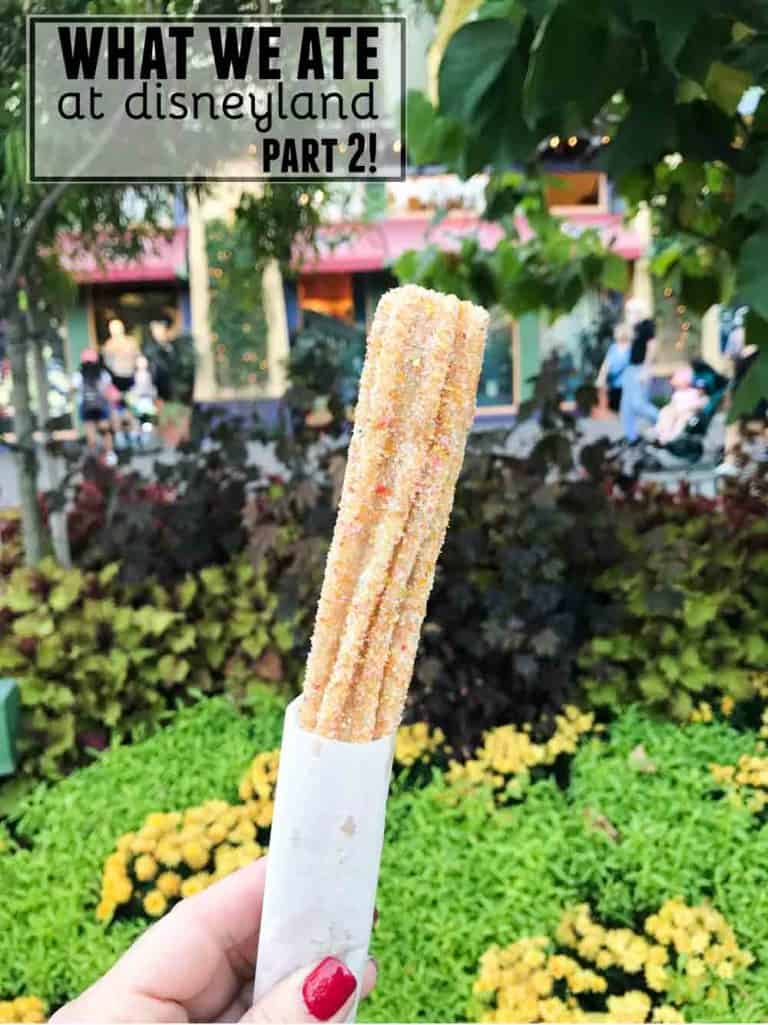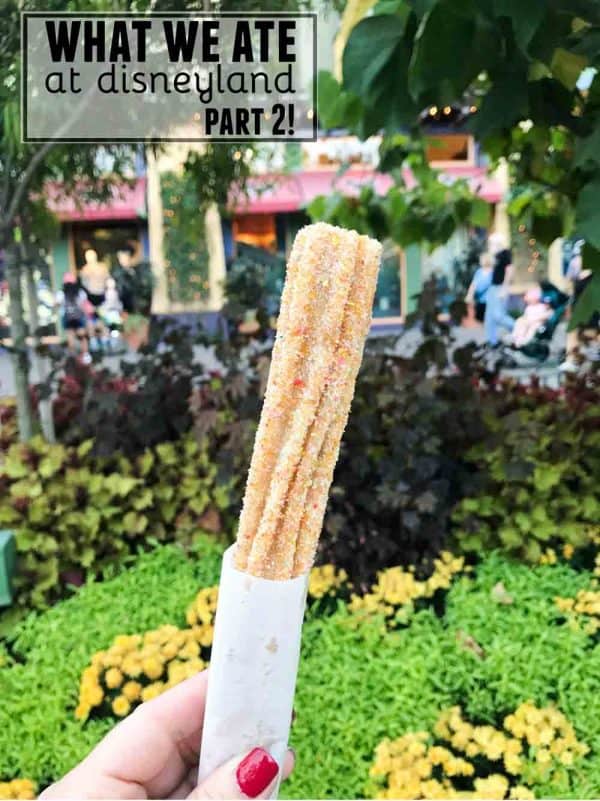 Oh, boy – how time flies! It's been over 3 months since my last Disneyland trip, and I've been meaning to share what we ate on our last trip. But I have another Disney trip coming up in just a few weeks, so I had the push I needed to share some more recommendations of what to eat at Disneyland with you!
Just like my first post, this list is not comprehensive – just what we ate and what we liked/loved/didn't care as much about. I tried not to post about any duplicates, but I did let a few sneak in that were worth mentioning again.
And also like before – please comment below and let me know your favorites. There is SO much food at Disneyland, I'm on a mission to try it all!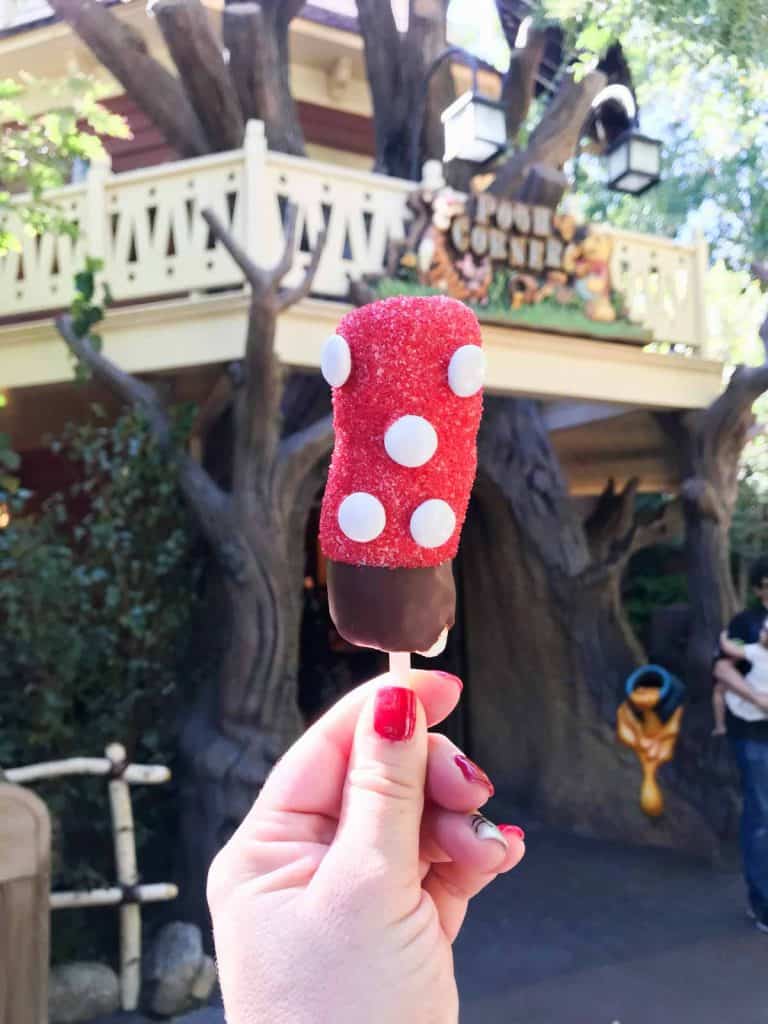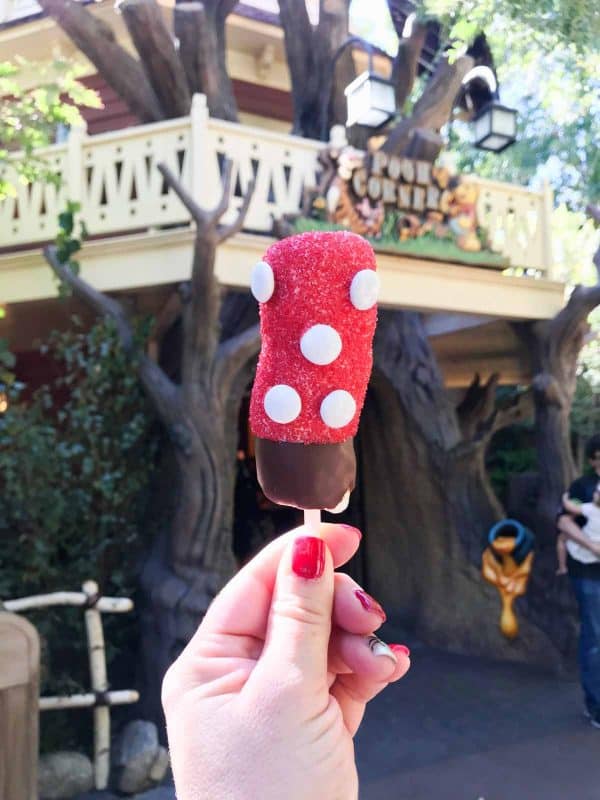 Chocolate Caramel Marshmallow Stick – Multiple Locations throughout Disneyland
I can't believe I had never had one of these until this trip. I actually bought it for my kids, but then proceeded to devour the whole thing by myself. Who would have ever guessed that marshmallows on a stick would taste so good? I'm not sure if it's because I didn't know about the layer of caramel, or maybe I thought they would be overly sweet because of the coarse sugar. But no matter what I thought, I was wrong. I have seriously been craving this simple snack the last 3 months.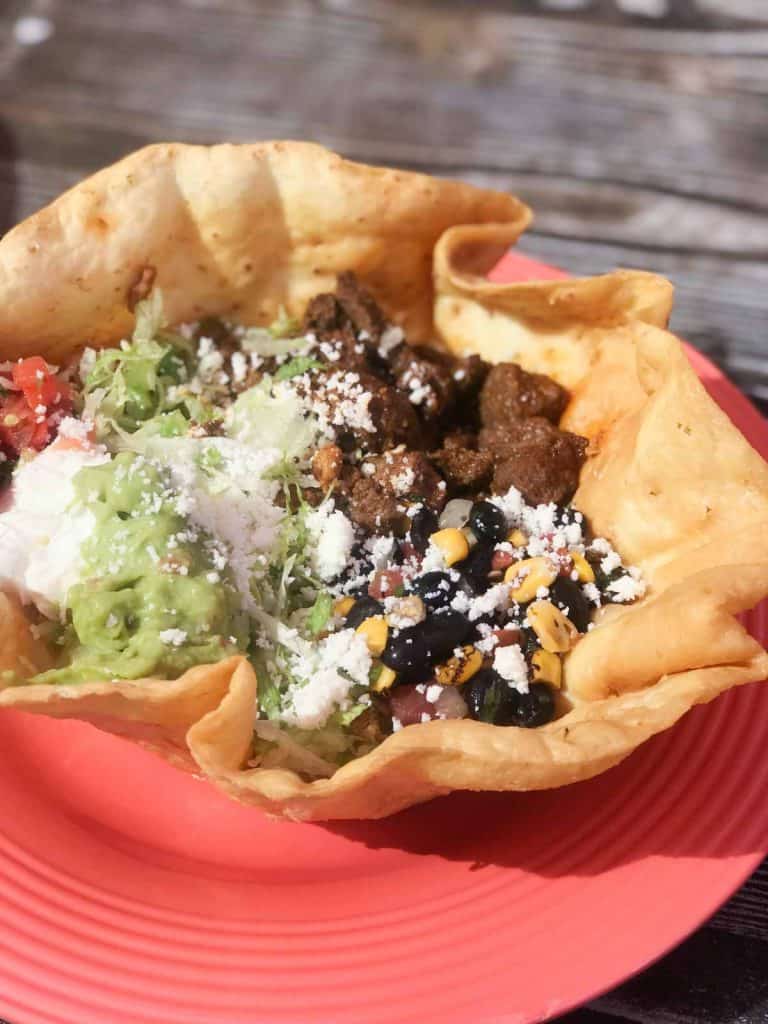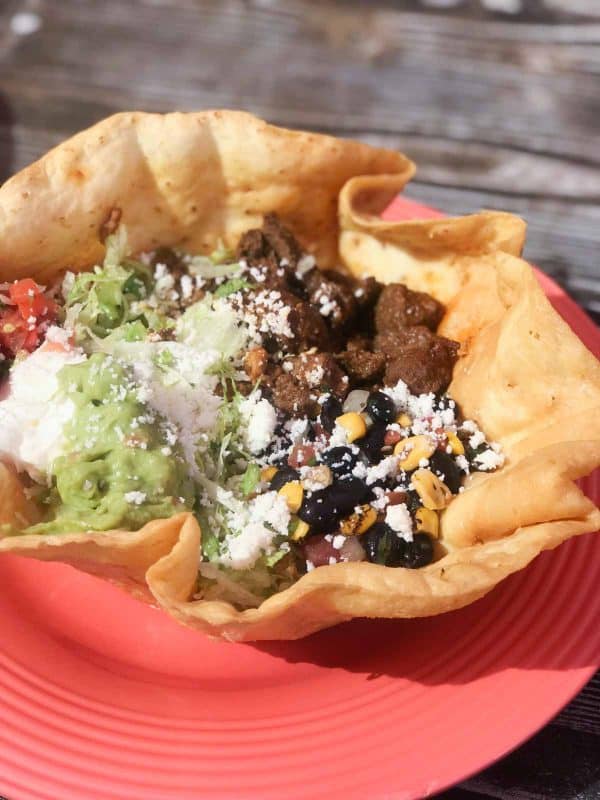 Tostada Salad with Marinated Beef from Rancho del Zocalo Restaurante in Frontierland – Disneyland
I didn't try a whole lot of new savory foods this trip, but this Tostada Salad was one thing I did try. And I'll admit that I wasn't blown away. I was a little annoyed before I even tried it because the service was suuuupppeeerrr slow, and by the time we actually got the salad, I wasn't even feeling it. My daughter and I got the salad to share, and neither of us loved it enough to even finish it. I heard better things about the burritos, so I might try that next time. Or opt for somewhere else entirely.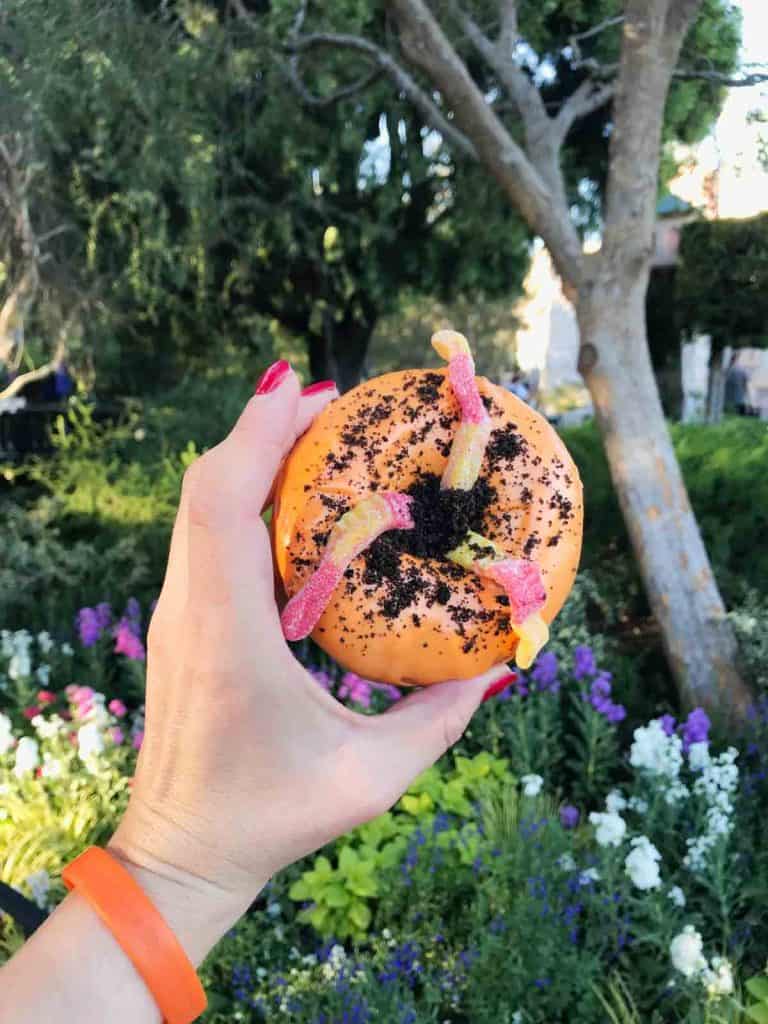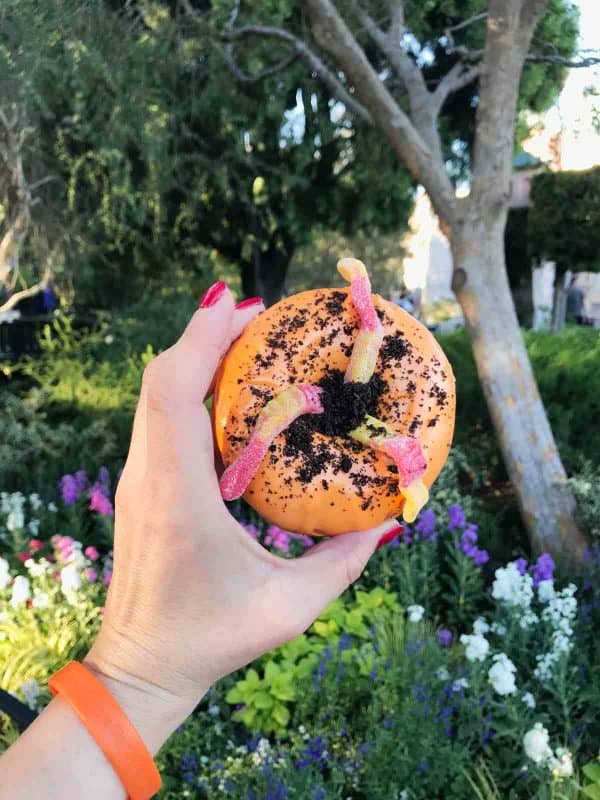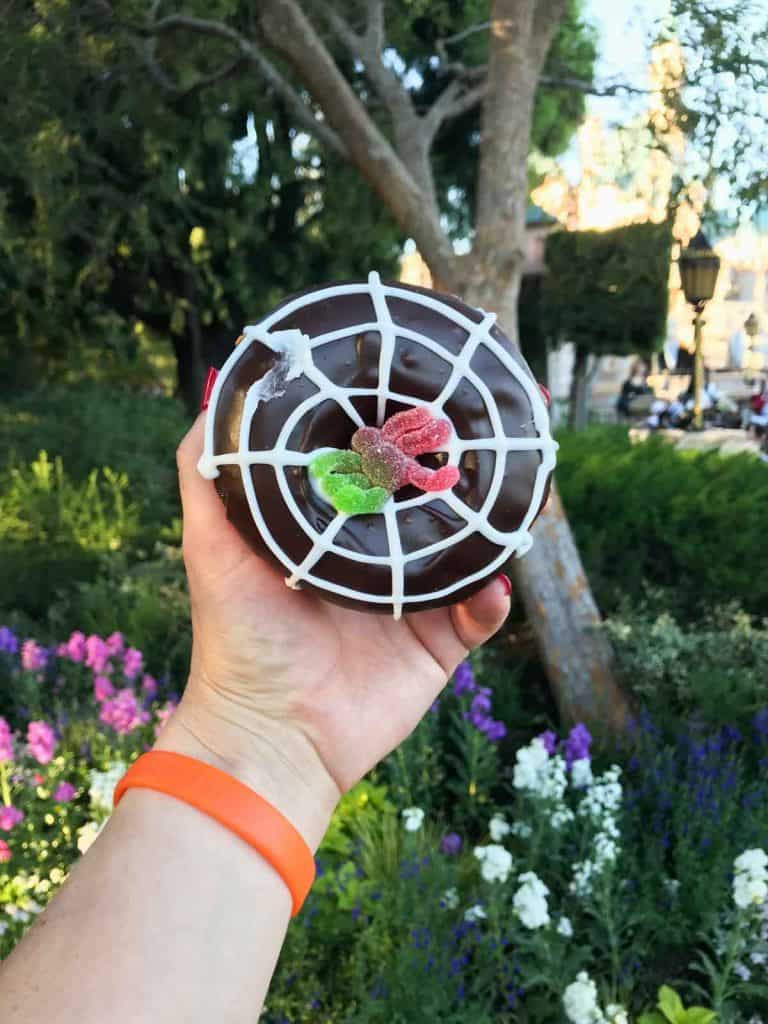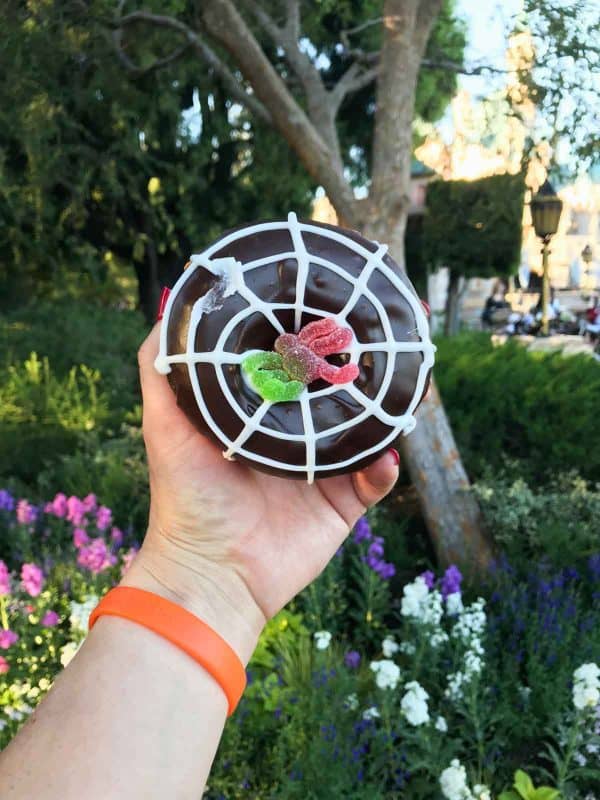 Disneyland Donuts from the Cappuccino Cart on Main Street – Disneyland
Yes, I mentioned the donuts before, and yes, I'm going to mention them again! The donuts this time around were a lot easier to find – maybe we just had good timing and always passed the Cappuccino cart at the right time of day. But we got donuts twice on this trip, and loved them all. We were at Disneyland for 3 days, and the same 3 donuts were there the whole time. I'm not sure how often they change out the flavors. But you can bet that I'll be buying donuts every trip to Disneyland!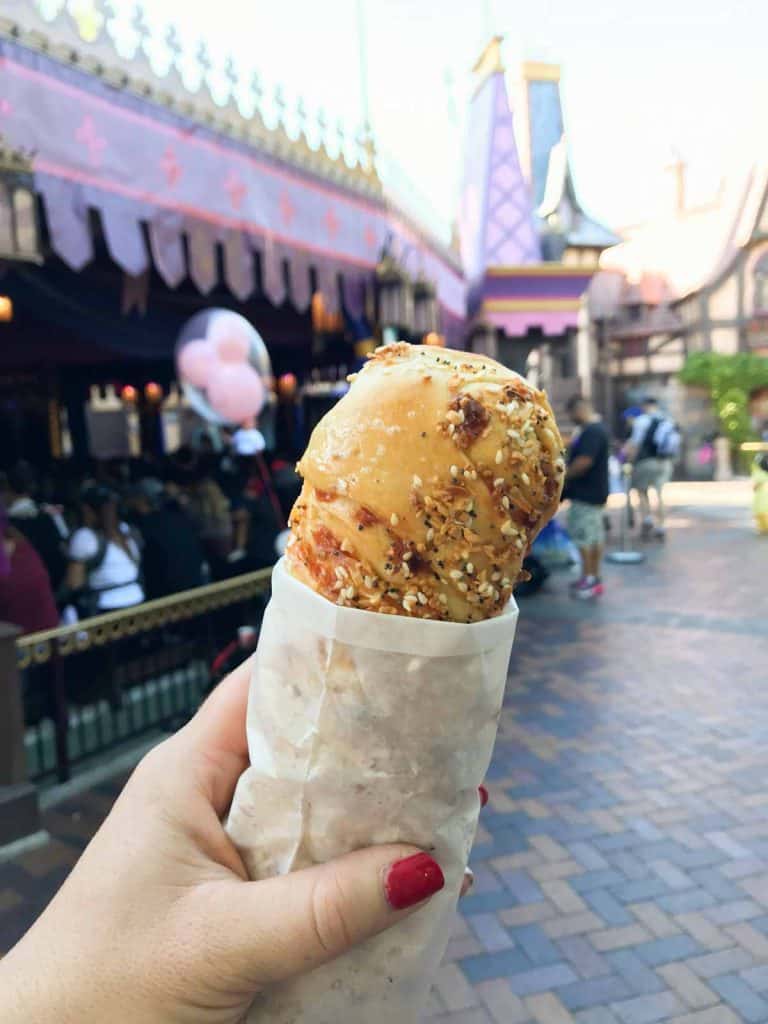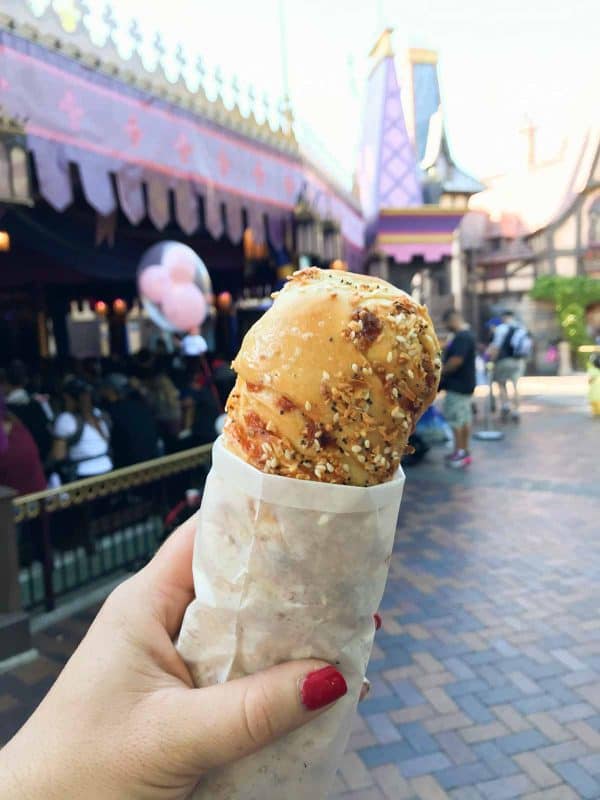 Cheddar Garlic Bagel Twist from Maurice's Treats – Disneyland
This is another item that I mentioned in my first post, but I think it's worth mentioning again. I don't know what it is about these, but I cannot get enough. I am a total carb lover, so maybe that's why. But if I could find these locally, it would be very dangerous.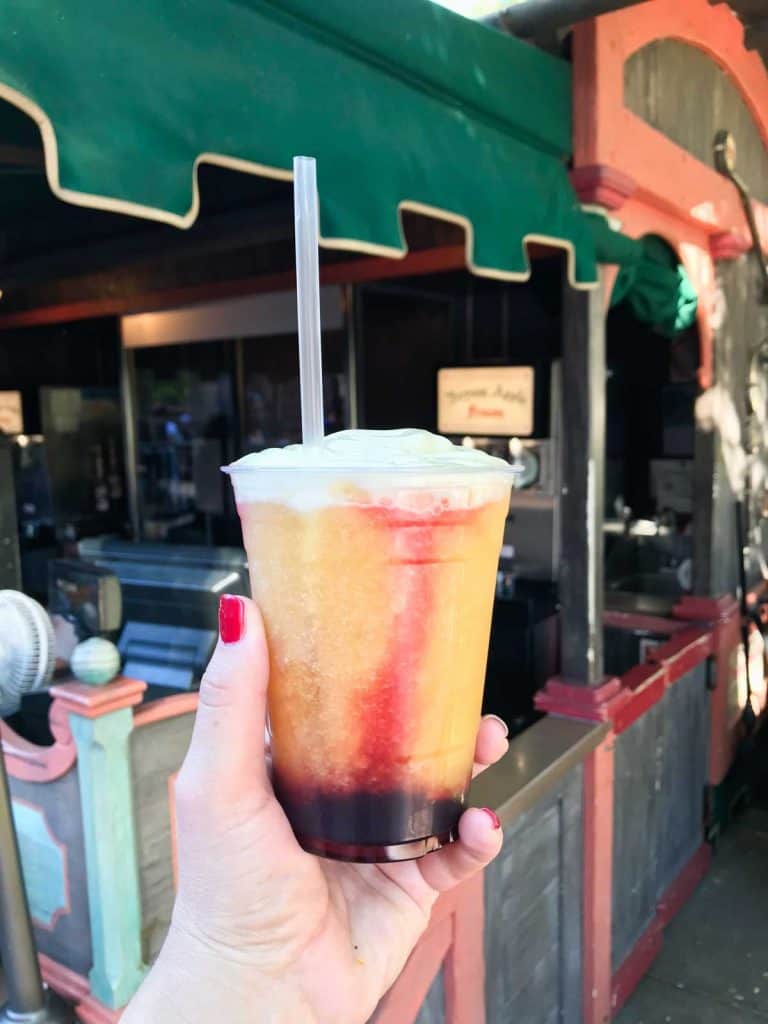 Boysen Apple Freeze from Maurice's Treats – Disneyland
I did mention this treat last time, but I didn't have a photo, so I had to mention it here. I remember the first time around thinking it was very sweet. But this time, it was pure heaven. That was probably because there was a heat wave and 100º+ temps. It was so hot, and this drink was SO refreshing. I probably could have even finished one myself, if it wasn't for my kids drinking half of it.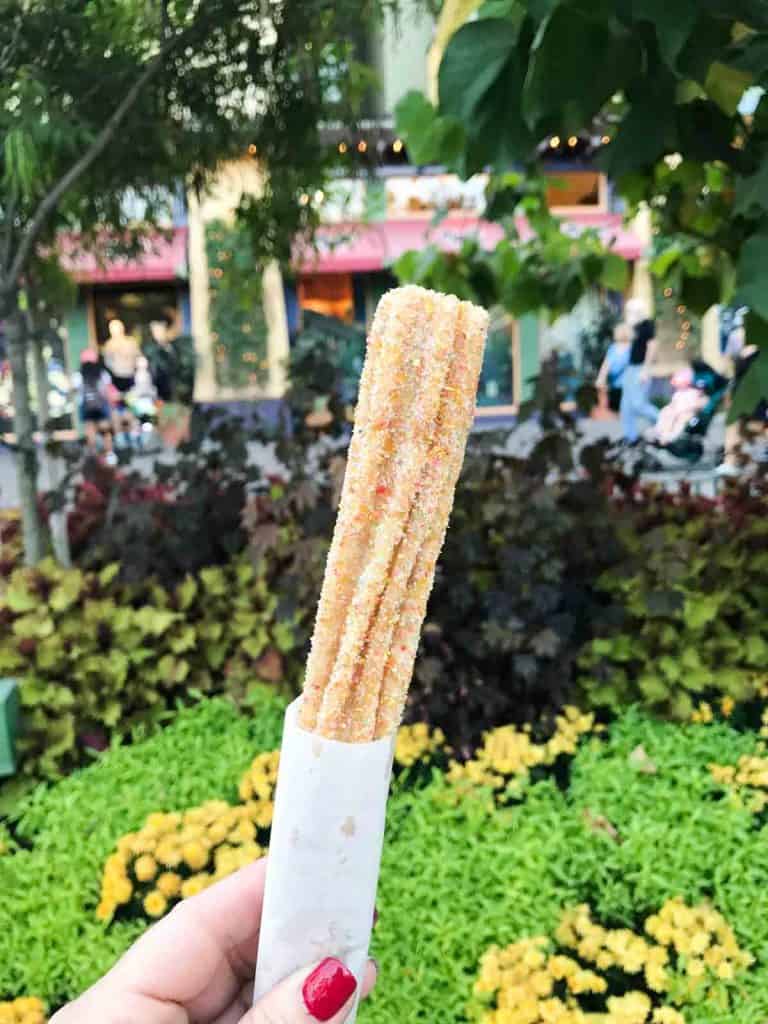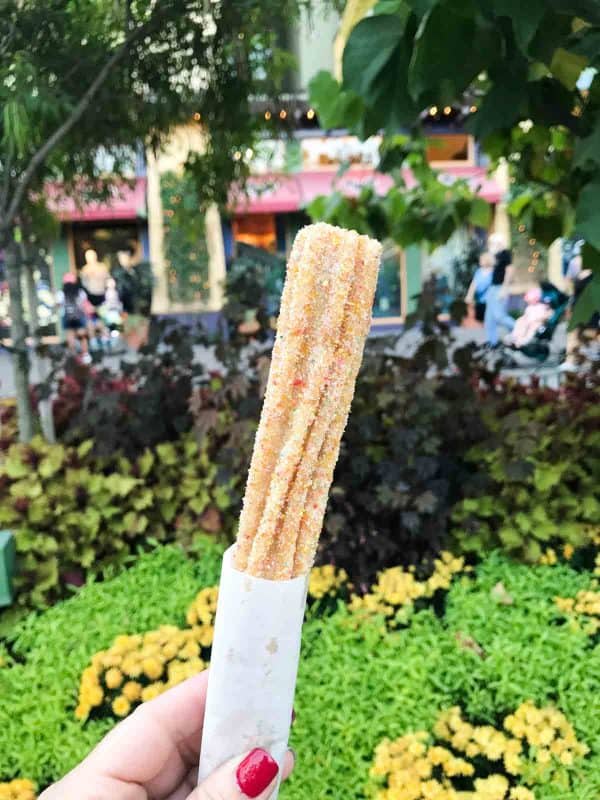 Fruity Pebbles Churro from the California Churro Cart – Downtown Disney
We were in Downtown Disney and passed the California Churro Cart and I knew I had to stop to get one of these Fruity Pebbles churros, because I had heard that they were life changing. Unfortunately, I was left disappointed. Maybe I got an old one, but it was not soft at all, and it was a stretch to say it tasted like Fruity Pebbles. We didn't even eat the whole thing. I love the concept, it just didn't work for me.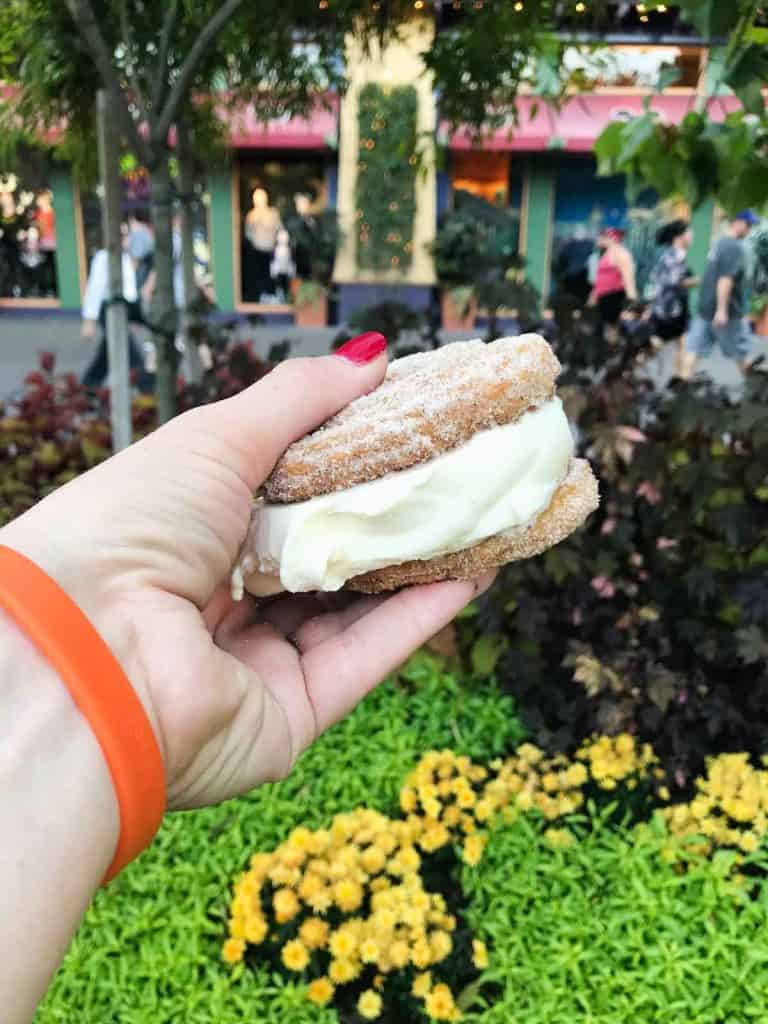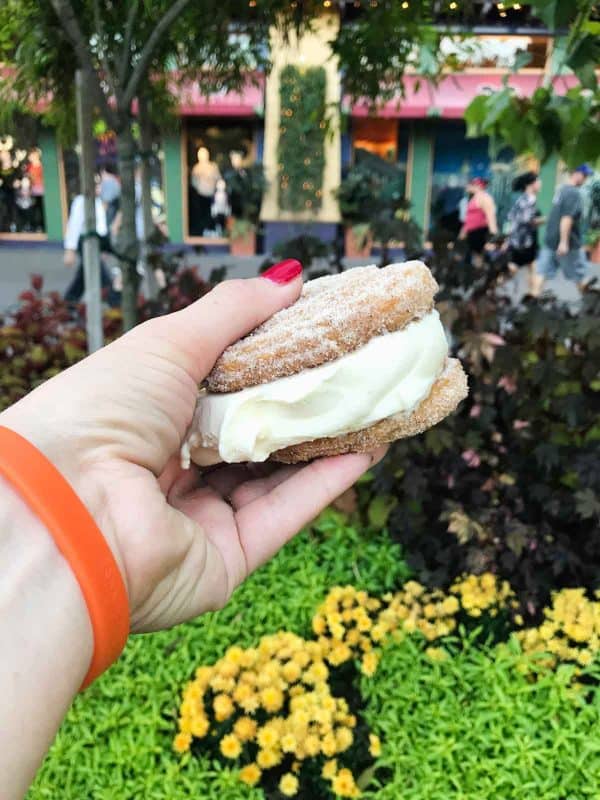 Churro Ice Cream Sandwich from the California Churro Cart – Downtown Disney
We had to get the ice cream sandwich, as well, because how good does ice cream in a churro sound? I hadn't done my research ahead of time, and didn't realize that the churros and the ice cream come separately. So you have to assemble it yourself. That's not a big deal to me, except that there isn't really anywhere to do this. We went to a patch of grass somewhat close, but a table definitely would have been easier. As far as taste goes, this was delicious. I loved the combination of the ice cream and the churro. But on the flip side, this was extremely messy. And very hard to share. The ice cream was pretty soft, and squished right out the sides whenever you would take a bite. I ended up just tearing off pieces of the churro and dipping it in the ice cream.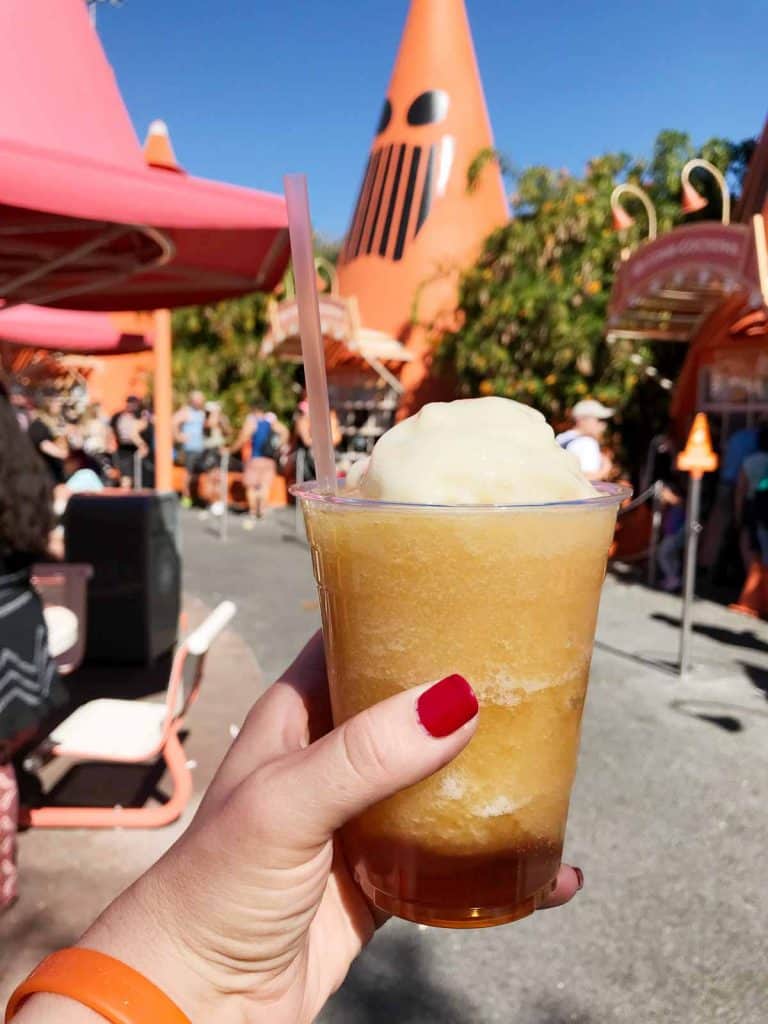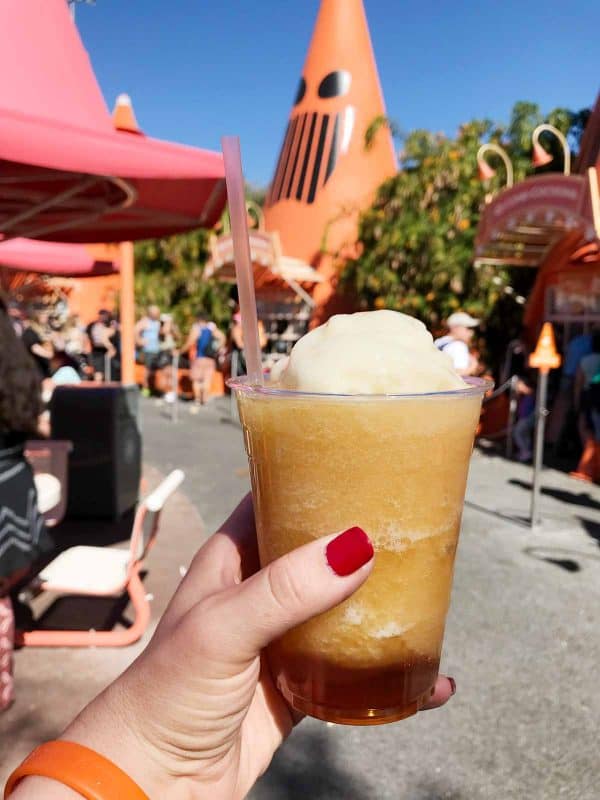 Red's Apple Freeze from Cozy Cone Motel – California Adventure
Again, with temps over 100º, this was pure heaven. I am pretty sure this is the same drink as the Boysen Apple Freeze, minus the boysenberry. And I think the foam on the top may be different. But regardless, it's very sweet and very refreshing.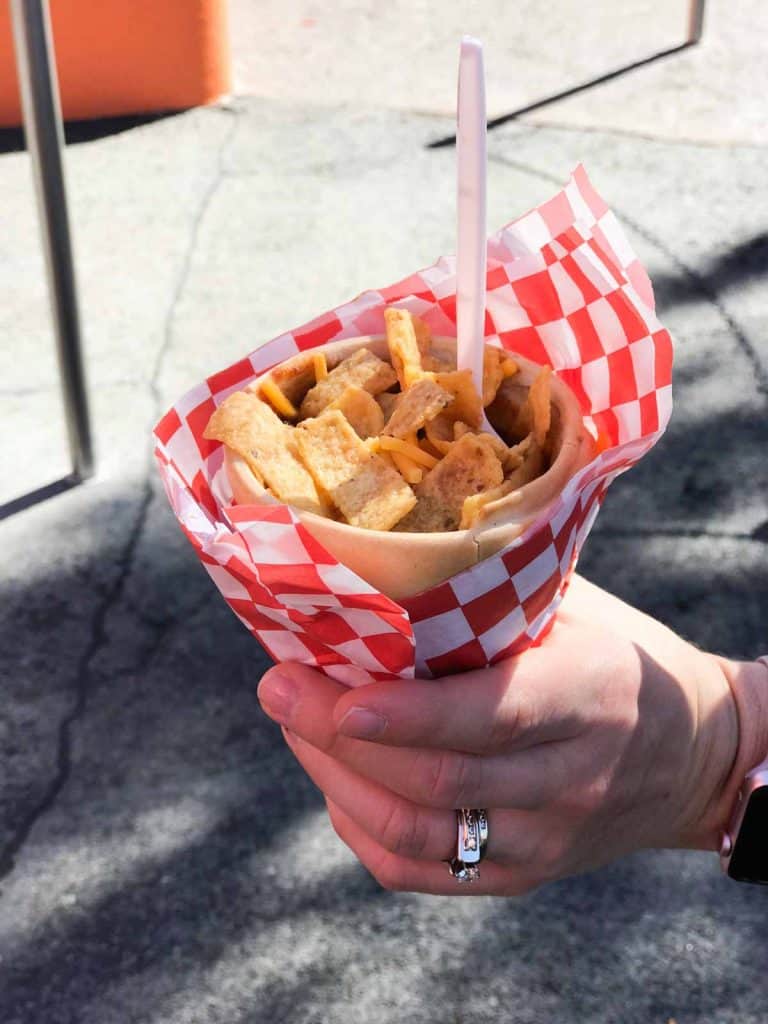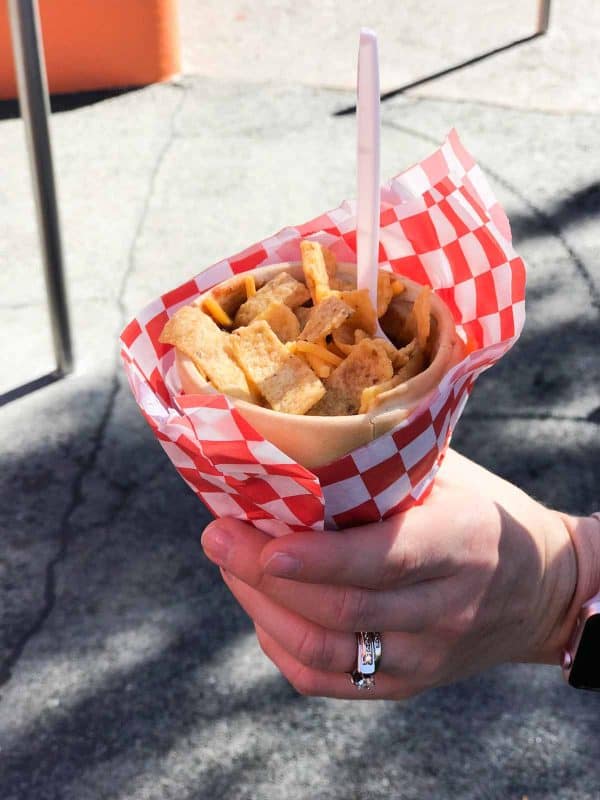 Chili Cone Queso from Cozy Cone Motel – California Adventure
My goal for this trip (food wise) was to try the "cones" from the Cozy Cone Motel. And of course, I wasn't even hungry, and it was so hot outside. But I couldn't pass them up. So I bought 2. 🙂 Even though I wasn't very hungry, I ended up eating my fair share. I really liked the chili and the Fritos were the perfect addition. This is a good choice for a more filling quick eat.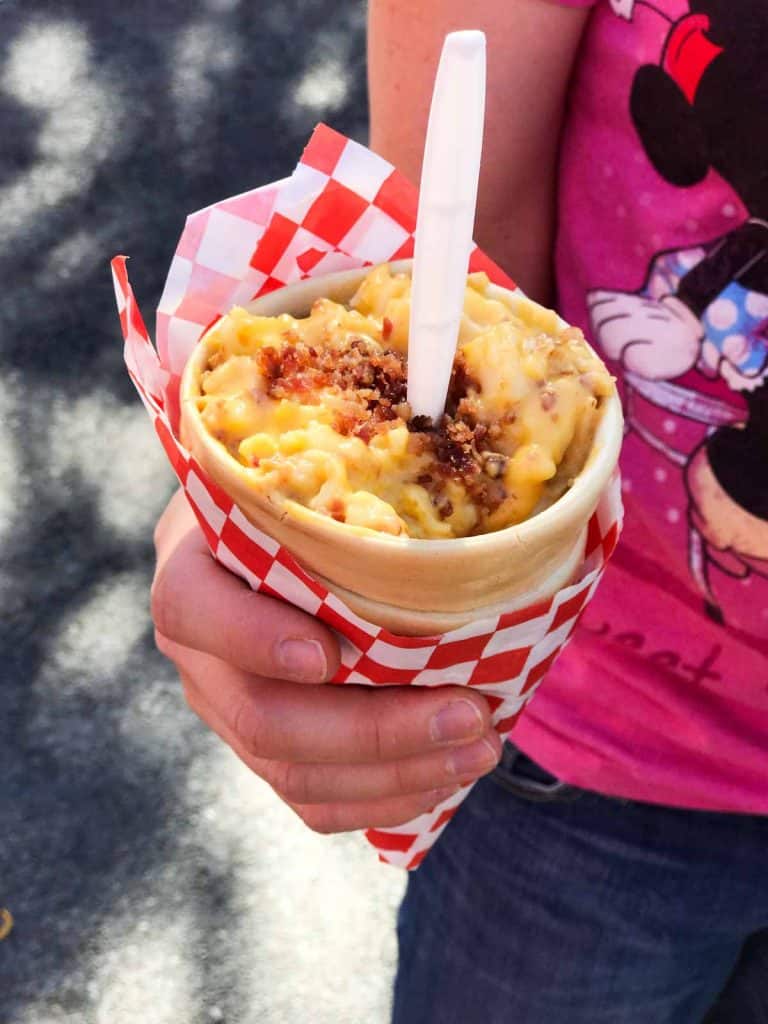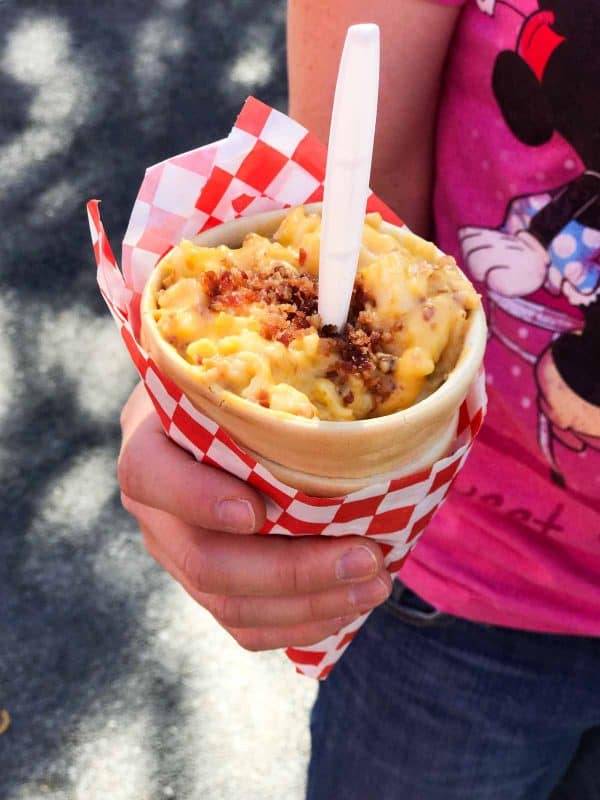 Bacon Mac 'n' Cheese Cone from Cozy Cone Motel – California Adventure
I honestly thought I'd love the chili the most, better than this mac and cheese. But as it turned out, the Mac and Cheese won out for me. It is super creamy, super cheesy, and the bacon is perfect.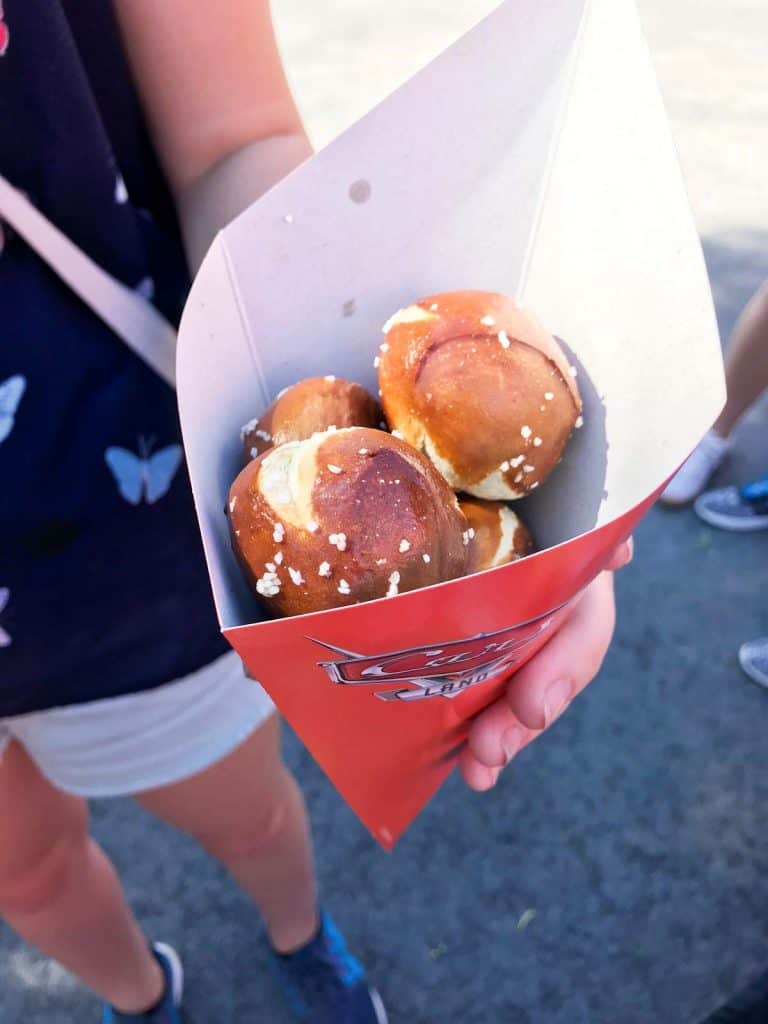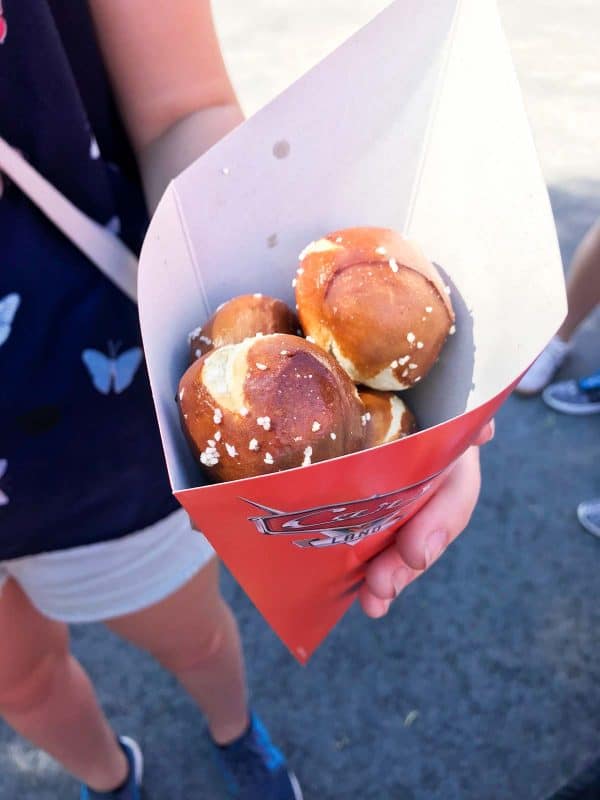 Pretzel Bites from Cozy Cone Motel – California Adventure
I'm cheating a bit by showing these, because I didn't actually order them – one of my nieces did. But they had rave reviews, so I thought I had to mention them here.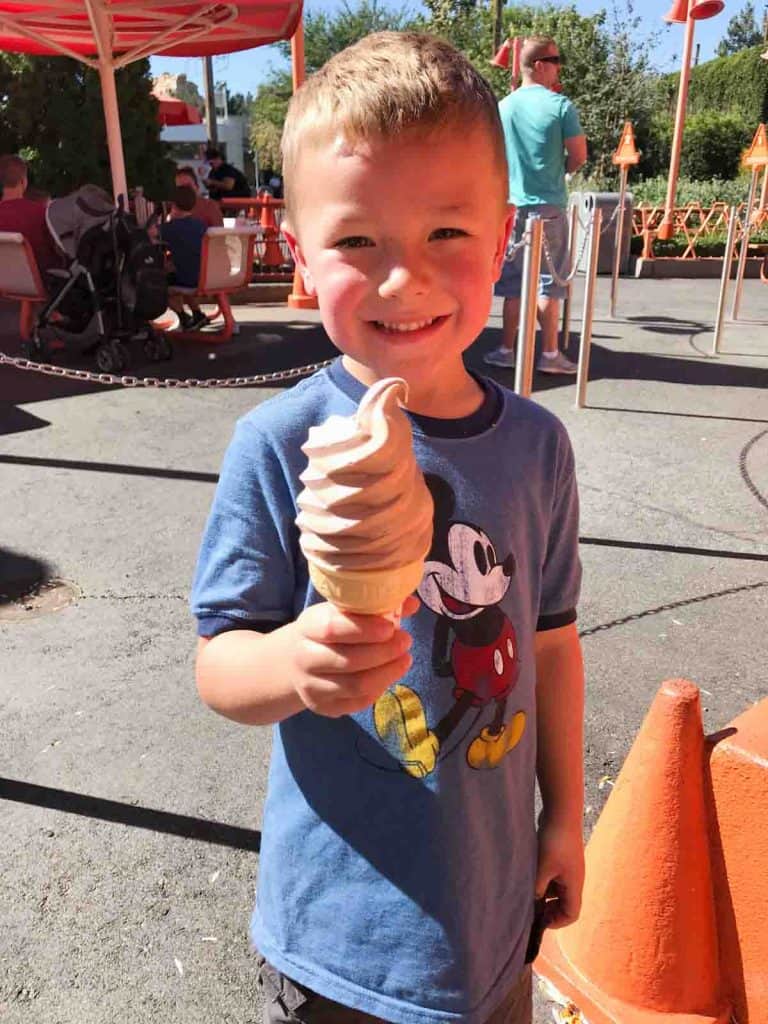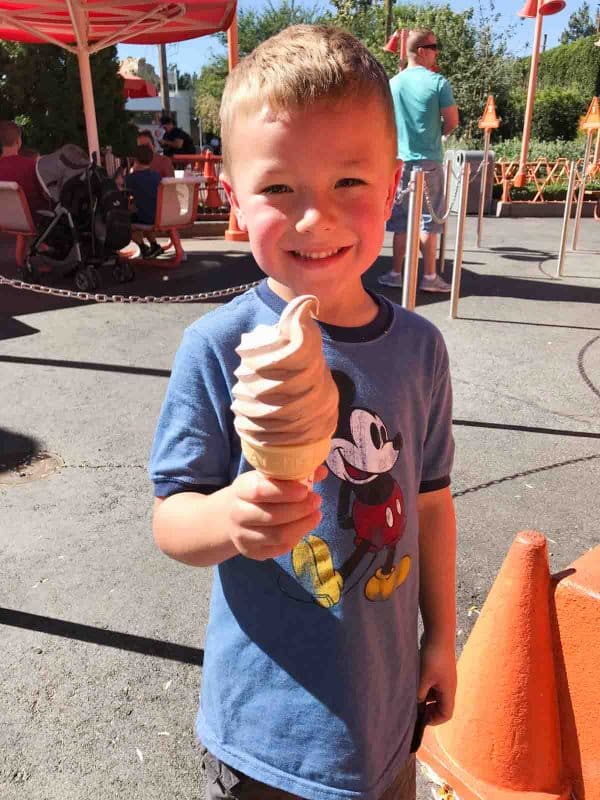 Chocolate-Vanilla Twist from Cozy Cone Motel – California Adventure
This is really just your basic soft serve, but it's perfect for a hot day, and the kids loved it.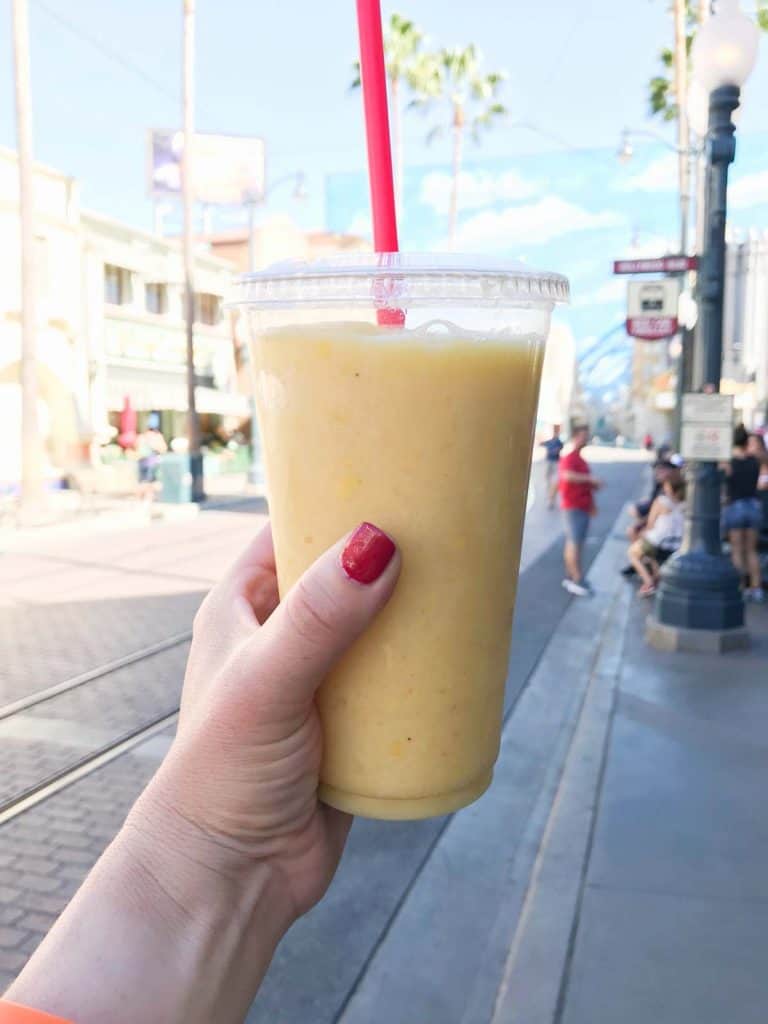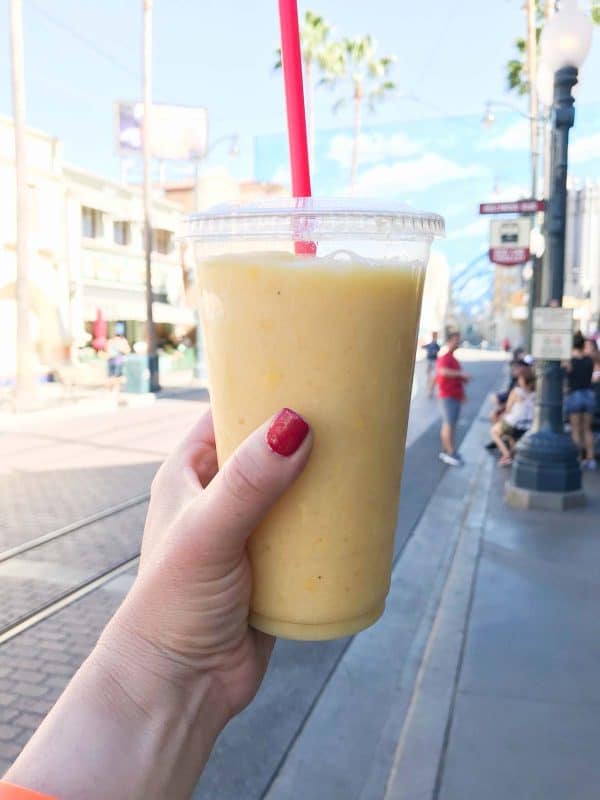 Mango Madness Smoothie from Schmoozies – California Adventure
I feel like I've mentioned the heat about a hundred times now, but I don't think I've ever bought as many drinks. Simply to keep hydrated and cooled down! My son begged for this (he loves smoothies) but didn't finish it. I had some of it, and while it is definitely a great healthier option, it wasn't my favorite. I didn't hate it by any means, but I guess it just wasn't anything super special.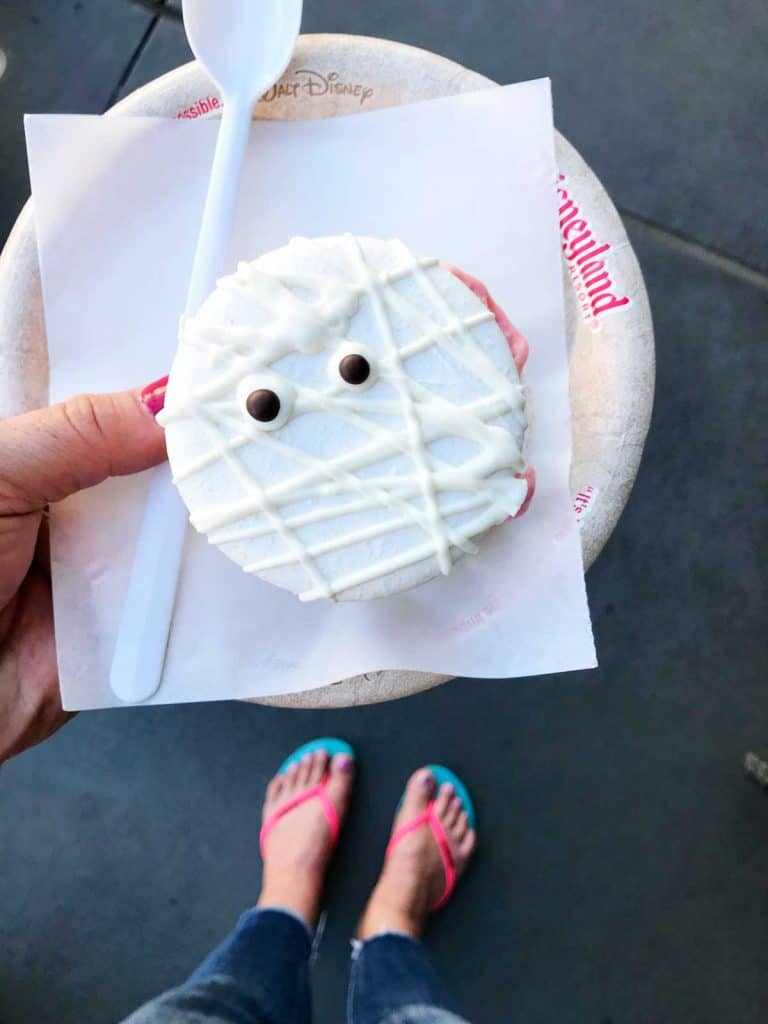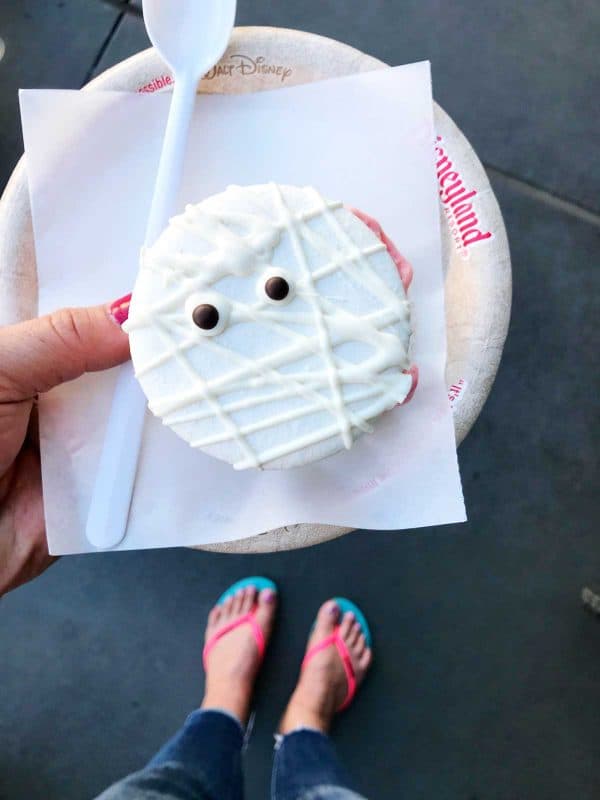 Macaron Ice Cream Sandwich from Schmoozies – California Adventure
I was trying to steer clear of food that you can only get seasonally, but I had to mention this ice cream sandwich because it was the best thing I ate this trip. It was simply 2 macarons filled with rainbow sherbet, but it was 100% delicious. I will even admit that I ate every bite of this by myself. And I have dreamed about it since!! I know they change out the seasonal treats, and my only hope is that there is something similar when I go again at the end of the month.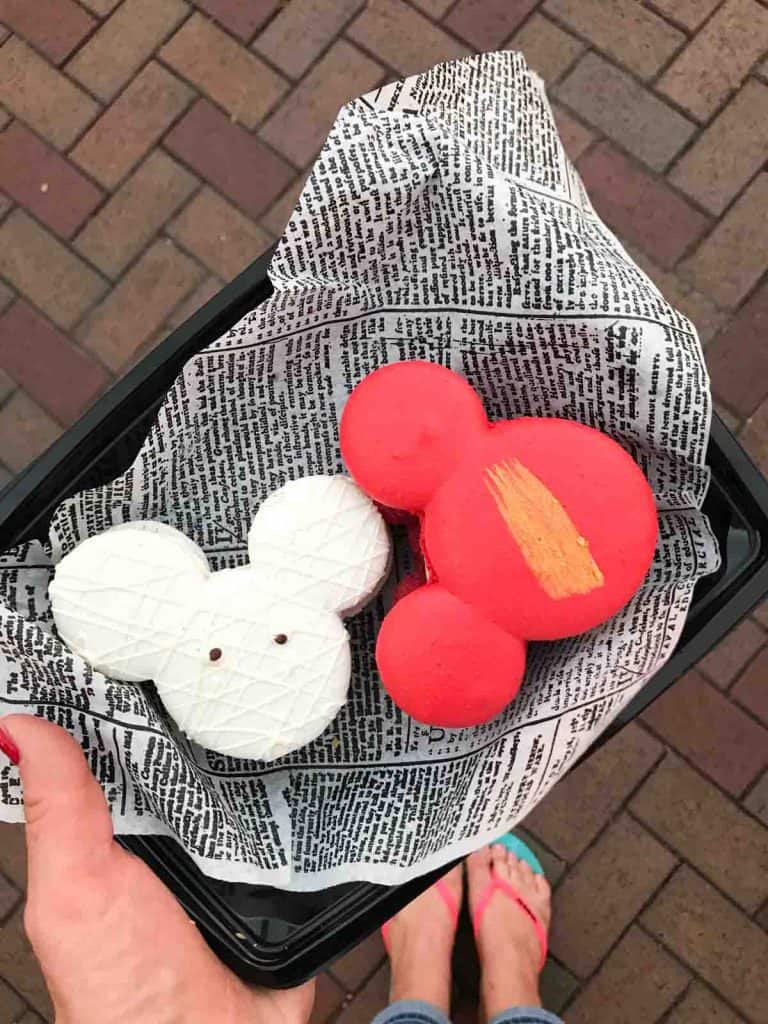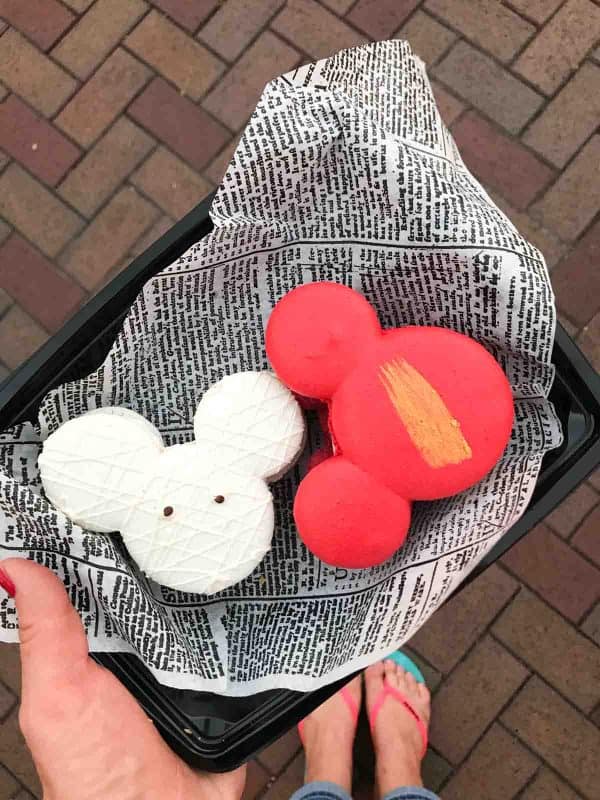 Disneyland Macarons from Jolly Holiday Bakery – Disneyland
Speaking of favorites. And of macarons. The Raspberry Rose Macaron is another I mentioned before, but will mention again and again and again because I love it that much. I think I just have a thing for Disneyland macarons because they are seriously my favorite!!
---
There you have it – eats and treats list #2. Is anyone else wanting to plan a Disney vacation now? I'm excited to head back again this month – so make sure you share your favorites with me!
Like what you see here? Make sure you are following Taste and Tell for more great recipes and ideas!!

Facebook ** Pinterest ** Twitter ** Instagram ** Google+
or you can subscribe to my newsletter