Baked apples are topped with a mixture of steel cut oats and coconut in this easy apple crumble. Top it off with homemade whipped cream for an easy dessert that everyone will love.
I went through a phase awhile back where I watched Chopped pretty much every night. It was my routine – after the kids went to bed, I'd sit down to work with the tv set to Chopped in the background. I seriously hit a point where I think I had seen every single episode.
I got to a point where I felt like I knew Aaron, Alex, Amanda, Chris, Geoffrey, Maneet, Marc, Marcus and Scott. Yes – in my head, we are all good friends. (Except for the fact that I'd be scared to death to ever serve any of them any food!!)
So when I saw this new cookbook – My Perfect Pantry – from Geoffrey Zakarian, I knew I needed it.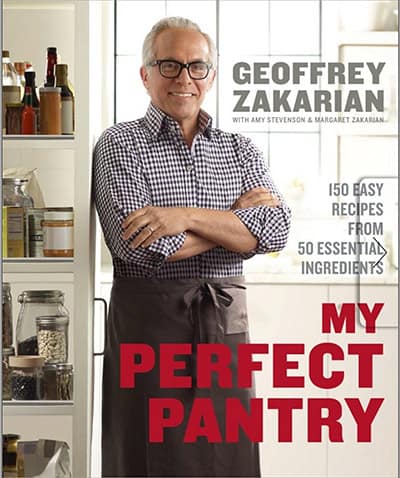 So – before I had a copy in my hands, all I could do was judge it by it's cover. 150 recipes from 50 essential ingredients. I was expecting a cookbook where all of the recipes were made using those 50 essential ingredients. As excited as I was to get the cookbook, I just wasn't sure I was going to be sold on the concept. Because 50 pantry staples would be a lot.
But I was pleasantly surprised. Instead of 150 recipes made from 50 ingredients, the book highlights the ingredients, one at a time, giving you 3 recipes you can make with each ingredient. It's kind of a fun resource, to see just how versatile some of these ingredients can be. I especially think this will come in handy when I have an ingredient that I need to use up. Notice you bought way too much vegetable stock and you need to use some up? Head to the recipes using vegetable stock. It is definitely set up differently than most cookbooks, but it's a fun change up.
Here are the details:
Number of Photos: Many. The photos are big and beautiful and accompany every recipe.
Difficulty Level of Recipes: Easy. Despite being a chef and a restaurant owner, Geoffrey Zakarian developed these recipes for the everyday home cook. There are a few recipes that might teeter on the medium difficultly level, but really, the majority of the recipes are easy enough for beginners.
Availability of Ingredients: Easy. Since this book is based on the concept of cooking from your pantry, the ingredients are all pretty basic. You should easily be able to find all of the ingredients in a regular grocery store.
Other Recipes I Want to Try:
Pork Adobo with Coconut
Grilled Maple Mustard Chicken Skewers
Coconut Custard Pie
Family Chicken Tenders
Blackberry Panna Cotta
Park's Ham and Biscuits
Buy it on Amazon.
Read more about it here.
Overall thoughts:
If I could think of one critique, it would be that because of the format of this book, it's hard to sit down and figure out what's for dinner simply because all of the dinner recipes aren't arranged together, or the desserts, or the appetizers. But on the other hand, the way the book is organized is part of it's charm. I am really loving the book overall, though, and I can't wait to try even more recipes!
And now the recipe. I actually wasn't planning on making this Easy Apple Crumble, but for some reason, I kept going back to it. I do have to say, though, that I think the original name was quite misleading. In the book, it's called an Oatmeal Coconut Crumble. But I thought the apples were the most prominent ingredient – definitely one of the stars of the dish. And it's easy, so I thought it deserved the title of Easy Apple Crumble.
This looks like a pretty humble dessert. And yeah – it's just a crumble, right? I was actually doubting the whole recipe when I pulled it out of the oven and I saw how much liquid was in the dish. I had this sinking feeling thinking that this easy apple crumble recipe wasn't going to be anything special.
And then I actually tasted it. I have been trying to be good about not having too many sweets, but I knew I needed to try this. After I took my first bite, I knew that this was a winner. And when I went back for seconds, I knew that I had officially found my favorite crumble recipe.
This easy apple crumble recipe came from the section about steel cut oats. I'm not a huge fan of oatmeal for breakfast, but my husband loves it and I usually have some steel cut oats on hand for him. The steel cut oats bring in some extra texture – Geoffrey calls it at "toothsome texture". I would have never thought to do steel cut oats, but the texture it brings is insane. I am definitely a fan!! If the rest of the recipes are as good as this one, I know I'm in for a treat!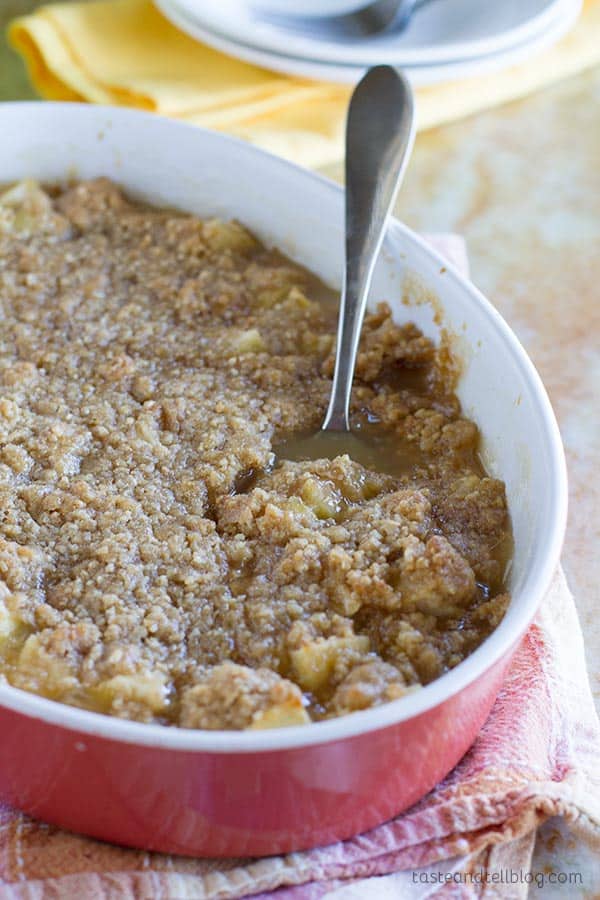 Like what you see here? Make sure you are following Taste and Tell for more great recipes and ideas!!

Facebook ** Pinterest ** Twitter ** Instagram ** Google+
or you can subscribe to my newsletter or Feedly or Bloglovin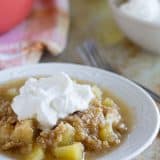 Easy Apple Crumble with Oatmeal and Coconut
---
Prep Time: 15 mins
Cook Time: 35 mins
Total Time: 50 mins
Yield: 6 servings 1x
Description
Baked apples are topped with a mixture of steel cut oats and coconut in this easy apple crumble. Top it off with homemade whipped cream for an easy dessert that everyone will love.
---
Scale
Ingredients
7 tablespoons cold butter, cut into small cubes, plus more for the baking dish
6 medium Golden Delicious apples, peeled, cored and cut into 1-inch cubes
1 cup sugar
zest and juice from 1 large lemon (about 3 tablespoons lemon juice)
1/2 cup steel cut oats
1/2 cup all-purpose flour
1/2 cup light brown sugar
1/4 cup sweetened coconut
1/4 teaspoon cinnamon
pinch of salt
whipped cream, for serving
---
Instructions
Preheat the oven to 375ºF. Butter a 2 quart baking dish.
In a medium saucepan, combine the apples, sugar, lemon zest and lemon juice. Cook over medium heat, stirring, until the sugar is dissolved. Pour into the prepared dish.
Combine the oats, flour and sugar in a food processor and process to break down the oats. Add in the coconut, cinnamon and salt and pulse to combine. Add 6 tablespoons of the butter to the food processor and pulse until the mixture becomes crumbly, with the biggest pieces about the size of a pea.
Sprinkle the crumble mixture over the top of the apple mixture. Dot the top of the crumble with the remaining 1 tablespoon of butter. Bake until the topping is golden brown, the apples are tender and the mixture is thickened and bubbly, about 35 minutes.
Serve warm, topped with fresh whipped cream.
**I received this book from Blogging for Books for this review, but all opinions are my own. This post contains affiliate links. If you purchase an item from Amazon from the link Taste and Tell receives a small commission. Thank you for supporting Taste and Tell through your purchases!**