Ground turkey is combined with vegetables and an easy gravy, then topped with cheesy mashed sweet potatoes in this Turkey Sweet Potato Shepherd's Pie. A great change up from the original!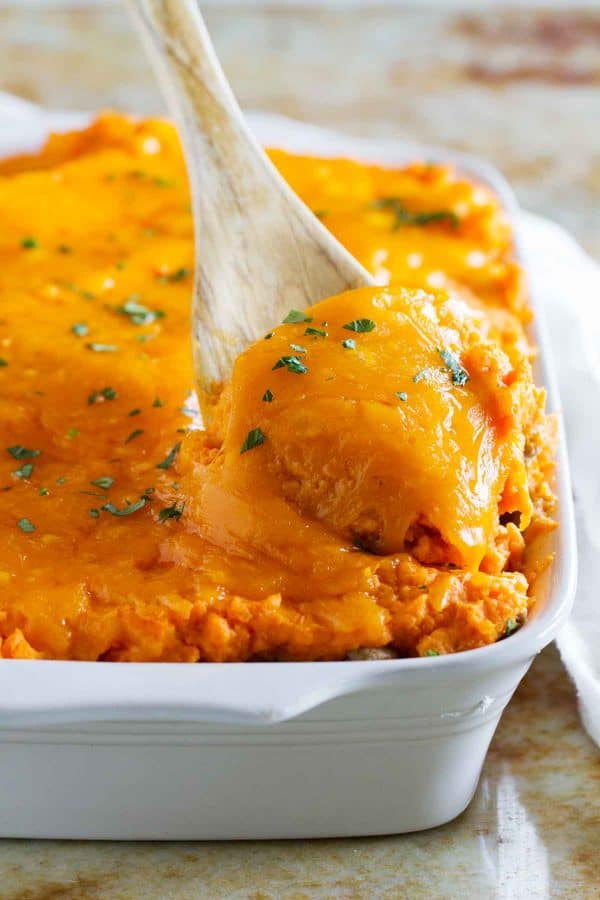 Originally posted January 4, 2010 – I know that it still feels like summer to a lot of people, but the cooler temps have hit here, which means I get to go crazy on the COMFORT FOOD! If you can't tell, comfort food is my favorite, and that is definitely one of the best parts of the cooler weather. I dug back into the archives and found this family favorite – a twist on a classic. I know this Turkey Sweet Potato Shepherd's Pie isn't actually shepherd's pie. Traditional shepherd's pie is made with lamb, and cottage pie is made with beef. So I'm actually not even sure what this would be called with turkey, but the name isn't all that important. All that matters is that this is good.

The original recipe had a banana in the mashed sweet potatoes, and the first time I made it, I did try the banana. (You can read that in the original post below.) But since I wasn't the biggest fan of it the first time around, I left the banana out this time. If you are interested in trying it with the banana, the original recipe is linked below.
The original post from 2010 follows: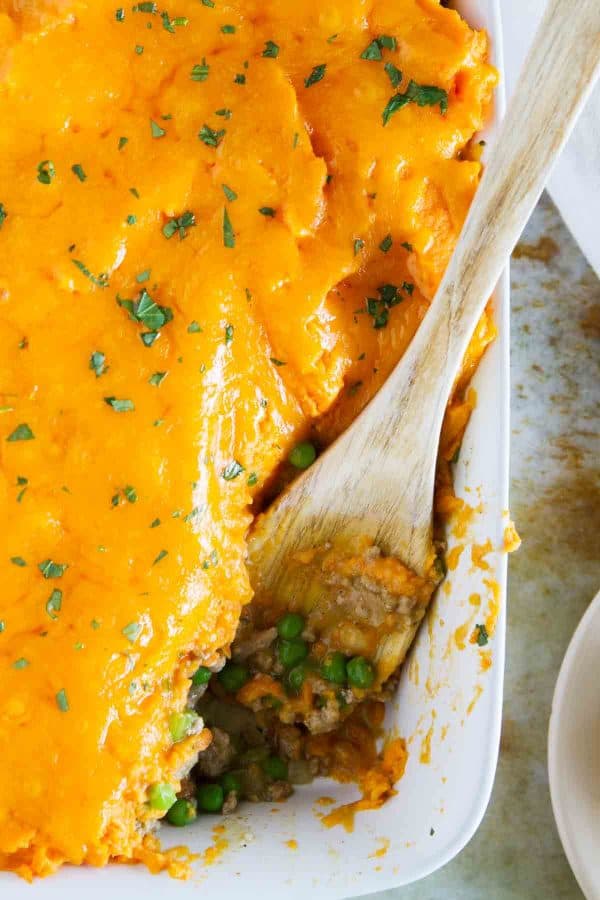 A new year, a new look!! Taste and Tell will be celebrating it's 3rd birthday in a few months, and since the beginning, I have basically had the same look. And I decided 2010 is the year for change! So please bear with me over the next week or so while I work through some kinks. And note on the top right hand corner – we now have a fan page! Click on the button above to become a fan and receive recipe updates and other information. I'm thinking of doing some giveaways over there just for Facebook fans!
I hope you all had a wonderful holiday. I know mine was just perfect. It's sad to see it all go, but at the same time, it feels good to get back into the normal swing of things. And it's going to feel good to get back to eating normal instead of stuffing my face with cookies every day!!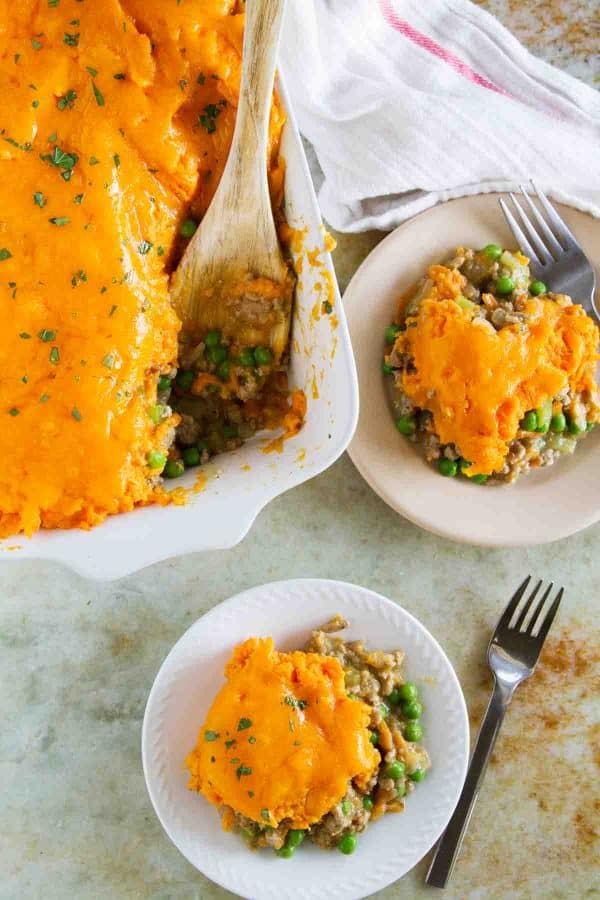 If you are missing the holidays already, this Turkey Sweet Potato Shepherd's Pie is a recipe with holiday flavors that you can have year round. And it's filled with veggies! I have seen many recipes that add a banana to mashed sweet potatoes as this one does, so I was really excited to try it out. But I have to admit that I'm not the biggest fan of it – a little too sweet for my tastes. Feel free to give it a try, I'm sure lots of people like it! But this was a tasty meal, full of holiday flavors but perfect for any night.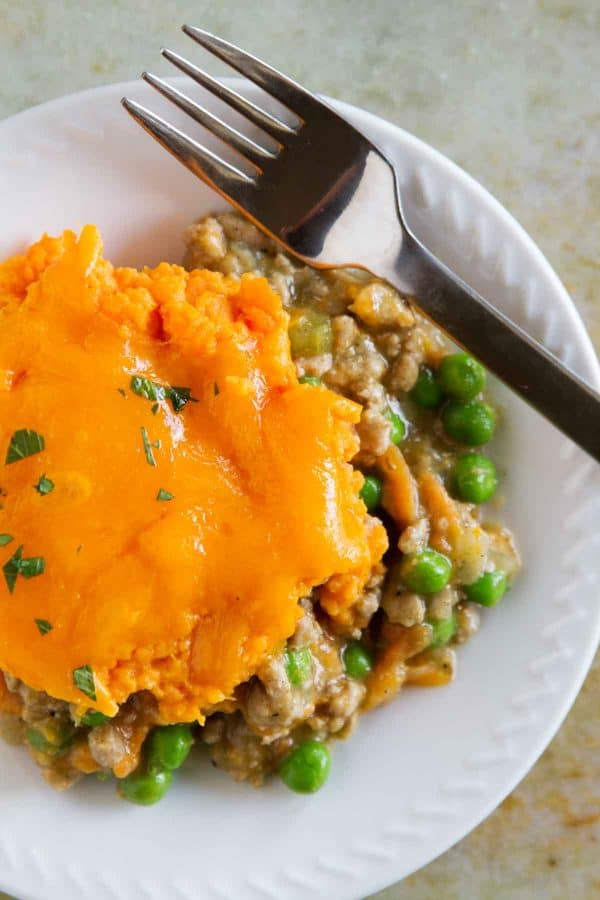 Want more comfort food?
Slow Cooker Turkey Meatloaf
Slow Simmered Short Rib Sauce with Pasta
New Mexican Red Pork Chili
Loaded Potato Meatloaf Casserole from This Is Not Diet Food
French Onion Chicken and Rice Bake from Plain Chicken
Loaded Mac and Cheese from Lemon Tree Dwelling
Like what you see here? Make sure you are following Taste and Tell for more recipes and ideas!
Facebook | Pinterest | Instagram | Twitter | Google+ | Weekly Newsletter | Feedly | Bloglovin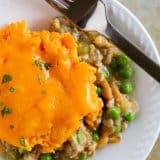 Turkey Sweet Potato Shepherd's Pie
---
Author:
Prep Time: 20 mins
Cook Time: 25 mins
Total Time: 45 minutes
Yield: 6 servings 1x
Category: Main Dish
Description
Ground turkey is combined with vegetables and an easy gravy, then topped with cheesy mashed sweet potatoes in this Turkey Sweet Potato Shepherd's Pie. A great change up from the original!
---
Scale
Ingredients
2 1/2 pound sweet potatoes, peeled and cut into 1-inch cubes
1 tablespoon extra virgin olive oil
2 pounds ground turkey
1 large onion, chopped
2 large carrots, grated
3 ribs celery, chopped
2 teaspoons poultry seasoning
5 tablespoons butter, divided
4 tablespoons all-purpose flour
2 cups chicken broth
few dashes Worcestershire sauce
8 oz frozen peas
1/4 cup sour cream
2 cups shredded sharp cheddar cheese
---
Instructions
Place the sweet potatoes in a large pan and add enough cold water to cover the potatoes by about an inch.  Bring to a boil, salt the water, and cook until tender, about 15 minutes.  Drain, then add the potatoes back to the pot.
Meanwhile, preheat the oven to 425ºF. 
In a large skillet or Dutch oven, heat the olive oil over medium-high heat.  Add the turkey and cook, breaking it up with your spoon.  When the turkey is almost cooked through, add the onion, carrots, celery and poultry seasoning.  Season with salt and pepper, and cook until the vegetables start to soften, about 5 minutes.
In a saucepan, melt 4 tablespoons of the butter.  Whisk in the flour, and allow to cook for a minute.  Slowly add the chicken broth, whisking the whole time to avoid clumps.  Season with salt and pepper and the Worcestershire sauce.  Simmer for a few minutes until thickened.  Stir in the frozen peas, then remove from the heat and stir into the turkey mixture.
Add the remaining tablespoon of butter and the sour cream to the cooked sweet potatoes.  Season with salt and pepper and mash until the potatoes are free of lumps.
Pour the turkey mixture into a 9×13-inch baking dish.  Top with the mashed sweet potatoes and smooth the top.  Sprinkle the cheese over the top.  Bake until the cheese is completely melted, about 5 minutes.
Let sit for 5-10 minutes before serving.
Nutrition
Calories: 691
Sugar: 13 g
Sodium: 779 mg
Fat: 28 g
Saturated Fat: 16 g
Unsaturated Fat: 2 g
Trans Fat: 0 g
Carbohydrates: 54 g
Fiber: 10 g
Protein: 53 g
Cholesterol: 206 mg
SHOP THIS POST:
Don't miss a thing! Follow me on Pinterest to see what I'm pinning!