Love coconut and chocolate? These Almond Joy Cupcakes have a chocolate and coconut cupcake that is topped with a coconut buttercream, more coconut, and almonds.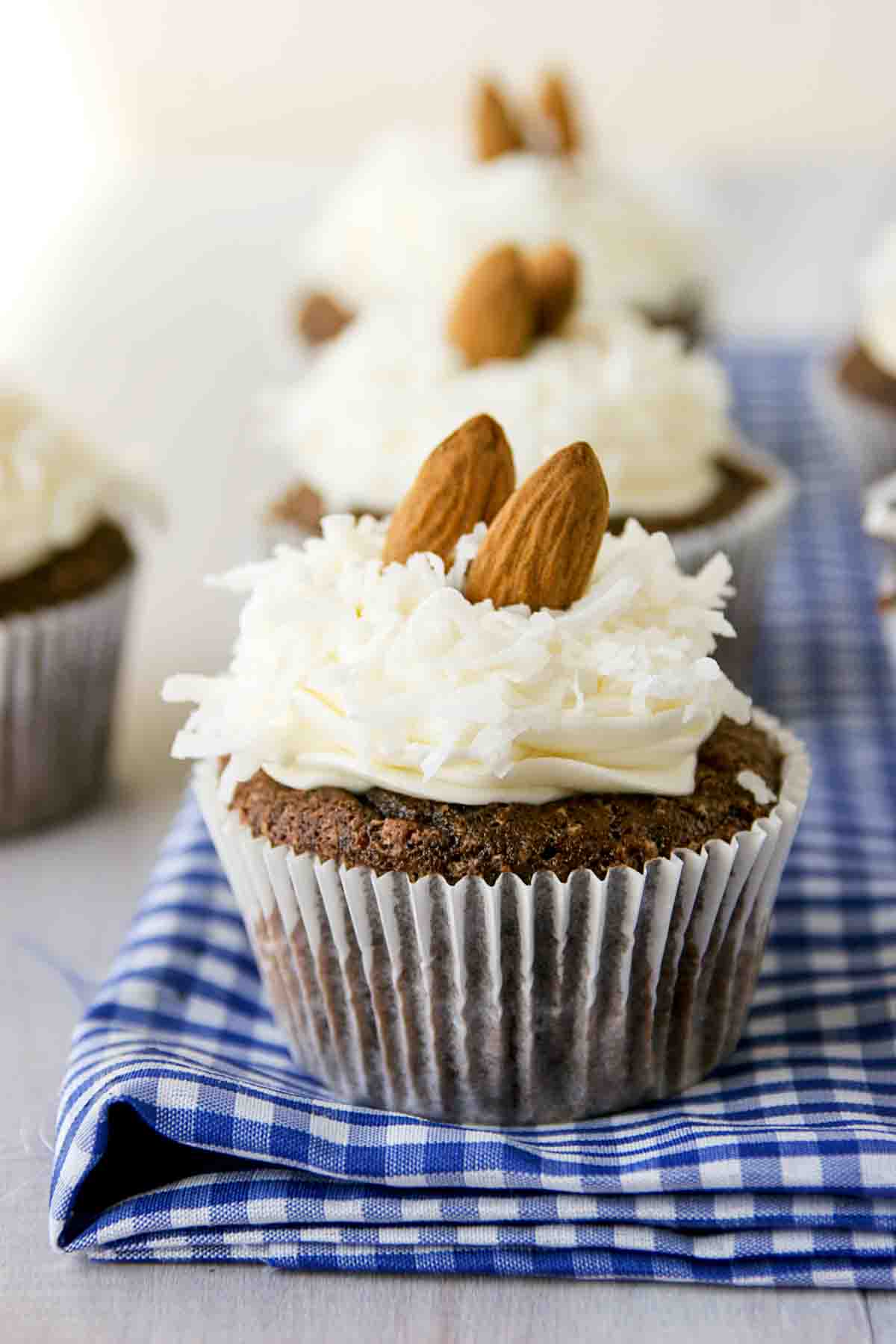 For Easter, I got together with my family. I volunteered to bring my Cheesy Ranch Potato Bake and a Coconut and Lemon Poke Cake. And then I realized that I needed to make the monthly cupcakes for April birthdays. There is only one April birthday in my family – my older sister – so I thought it would be easy to figure out what to make for her. But I was completely stuck. I texted her, but didn't get a response right away, so I did the next best thing – I called one of my other sisters!! After talking, she said that she knows that our older sister loves coconut, so she would go with coconut. But I was already bringing a coconut dessert for the whole family, and I wanted her cupcakes to be special, not something the same as what everyone else was getting.
So we came up with the idea to do an Almond Joy inspired cupcake. That way, there was still the coconut, but these were definitely different than the dessert I brought for the family.
Now, I haven't even shared March's cupcakes with you yet. But I had to fast forward to these, because I loved them that much. I was a little worried at first because I thought the cupcake was a little bit dry right out of the oven, but after they had been in a covered container for awhile, they were absolutely perfect. I honestly wouldn't change a thing. Just make sure you keep them in an airtight container, and they should be perfect!!

Love chocolate and coconut? Check out these recipes:
Coconut Brownies
Almond Joy Candy Bar Filled Chocolate Bundt Cake
Coconut Toffee Rocky Road Brownies
Mega Mallow Coconut Brownies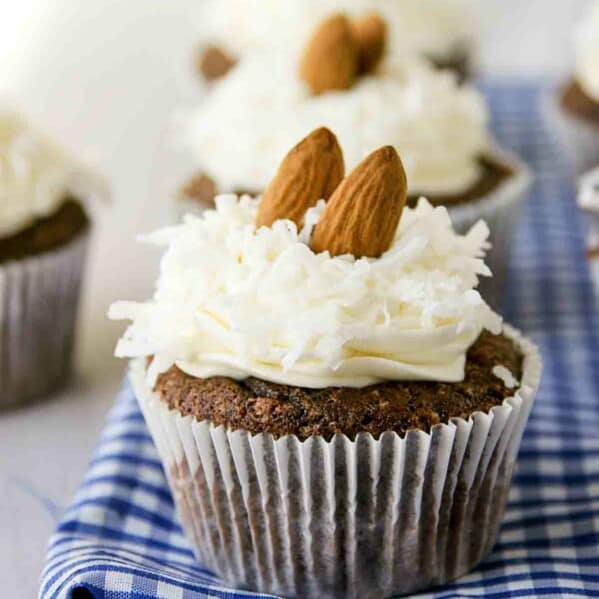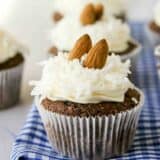 Almond Joy Cupcakes
---
Author:
Prep Time: 30 minutes
Cook Time: 18 minutes
Total Time: 1 hour 30 minutes
Yield: 24 cupcakes 1x
Category: Dessert
Method: Bake
Cuisine: American
Description
Almond Joys into cupcakes! A chocolate and coconut cupcake is topped with a coconut buttercream, more coconut, and almonds.
---
Scale
Ingredients
Cupcakes:
1 1/3 cups all-purpose flour
1/4 teaspoon baking soda
2 teaspoons baking powder
3/4 cup unsweetened cocoa
1/4 teaspoon salt
1/4 cup butter, at room temperature
1 1/2 cups sugar
2 eggs
1/2 teaspoon vanilla
1/2 teaspoon coconut extract
1 cup coconut milk
1 cup shredded, sweetened coconut
Frosting
1 cup butter, at room temperature
3 cups powdered sugar
1/3 cup reduced coconut milk, cooled completely**
1/8 teaspoon salt
1/4 teaspoon coconut extract
coconut and almonds for decorating
---
Instructions
Make the cupcakes:
Preheat the oven to 350F. Line 30 cupcake tins with liners. Set aside.
In a large bowl, mix together the flour, baking soda, baking powder, cocoa and salt. Mix until combined.
In the bowl of a stand mixer, cream together the butter and the sugar. Add the eggs, one at a time, mixing well between each addition. Mix in the vanilla and coconut extract.
Add in one third of the dry mixture to the creamed butter mixture and mix until combined. Add in half of the coconut milk and mix. Add in another third of the dry mixture, followed by the rest of the coconut milk, and then the remaining dry ingredients, mixing in between additions. Fold in the coconut.
Fill the prepared cupcake liners 2/3 full with the batter. Bake in the preheated oven until a tester comes out clean, 15-18 minutes.
Make the frosting:
In the bowl of a stand mixer, beat the butter until smooth. Add in the powdered sugar, 1/2 cup at a time, until completely incorporated. Mix in the coconut milk, salt and coconut extract. Beat until combined and smooth.
To decorate the cupcakes, pipe a couple of tablespoons of the frosting on top of each cupcake. If desired, roll the top in coconut and top with almonds.
**To make the reduced coconut milk: Empty one can of coconut milk into a small saucepan over medium heat. Reduce until you have about 1/2 cup of liquid left. You will only use 1/3 cup for this recipe.
Recipe Notes:
Frosting recipe adapted from A Cup of Sugar A Pinch of Salt
Keywords: almond joy cupcakes