Brownies taken to the extreme – these Mega Mallow Coconut Brownies have rich, fudgy coconut brownies filled with Mallow Cups and topped with lots of marshmallow and chocolate. Prepare to indulge!
I'm the online marketers dream come true. I am easily influenced with pretty pictures and sale prices.
Take Bath & Body Works for example. I love their candles. I get their emails. Which means I know every single time those darn candles go on sale. Which also means I have more candles than I need. Way more candles than I need.
And it's no secret that I am a hoarder of cookbooks. It's not a secret I've been able to keep from Amazon, either. So every time I am on Amazon, cookbook suggestions come up.
Today's cookbook review I blame completely on Amazon and it's uncanny way of getting me to add to my cookbook collection. Extreme Brownies, by Connie Weis, kept popping up on Amazon until one day, I could no longer resist that fudgy stack of deliciousness on the cover of the book. Into my cart it went, and thanks to Amazon Prime, 2 days later it was on my doorstep. Well played, Amazon, well played.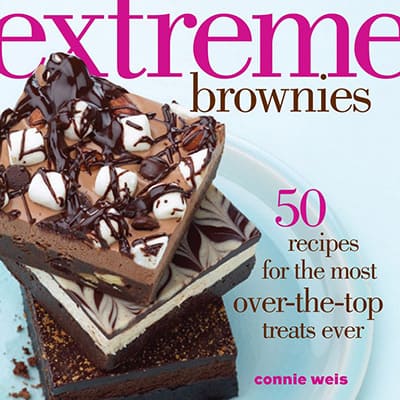 I am not complaining, though, because really, this cookbook belongs in my collection. A whole cookbook dedicated to brownies and blondies? Yes, please! But let me make this clear – these are not just brownies. They really are extreme. If you are expecting a recipe for a batch of brownies you can whip up in 5 minutes for a Sunday night dessert, well, you might be disappointed. These brownies are a little more labor intensive, some do call for a long list of ingredients, and they are definitely not light on the calories. But that is what makes this cookbook so unique. But the end result? All of your efforts will be worth it when you get extreme brownies like these!
Here are the details:
Number of Photos: many. I didn't go through the book and count, but from glancing through the book, it looks like there is about 1 for every 3 recipes. Which is a decent ratio. The photos that are there are large and styled simply, really giving the brownies center stage.
Difficulty Level of Recipes: medium. These aren't one bowl brownies. There are many steps and you'll probably get quite a few dishes dirty in the process. But these aren't your typical brownies. But it's worth it. I promise.
Availability of Ingredients: easy to medium. I think for the most part, you should be able to find the ingredients easily. But there are some (like the Mallow cups in this recipe) that may be a little bit harder to come by.
Other Recipes I Want to Make:
Kitty Kat Krunch Brownies
Tuxedo Brownies
Sea Salt Turtle Pecan Brownies
Pretty In Pink Cherry Marshmallow Blondies
Raspberry Ripple Cheesecake Brownies
Buy Extreme Brownies on Amazon.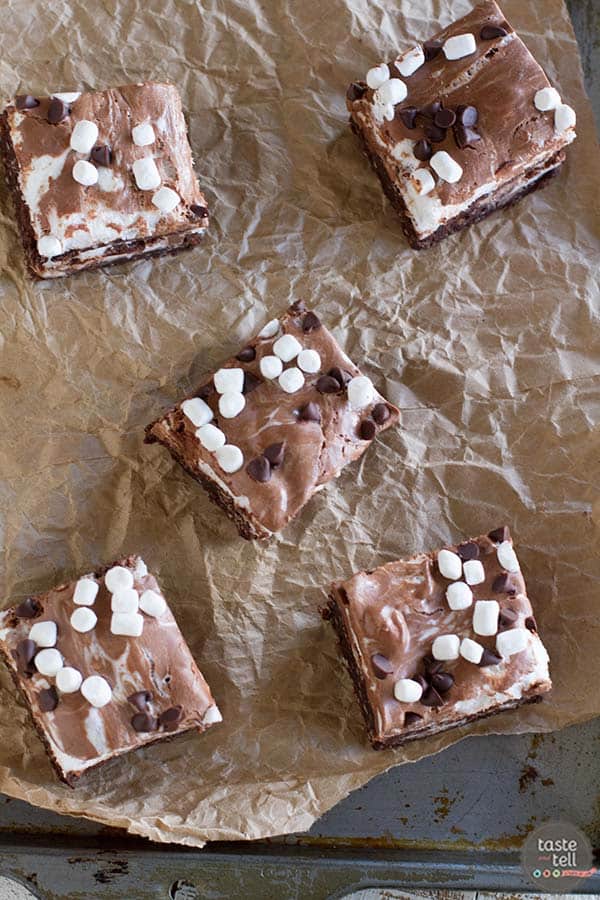 I seriously read through the pages of this cookbook for weeks before I finally decided on these Mega Mallow Coconut Brownies. Which it's funny that I chose these, because up until I made these brownies, I had never had a Mallow Cup. I wasn't even sure where to find them. So I went online and looked it up, and would have just ordered them off of Amazon (can we sense that I have an online shopping problem?) but I needed them right away, as I had decided to make the brownies for a family dinner. But on the Mallow website, several locations were listed. I ended up having to go to 3 stores to find them, so I really hoped that these would be worth it.
These brownies were so decadent and rich – a serious chocoholics dream. The brownie portion is fudgy and dense and everything a brownie is supposed to be. Then the glaze. Oh the glaze. I am a marshmallow lover, and I just wanted a big bowl full of the glaze.
At first, I though the brownies were just too rich, but then again, I'm not a die hard chocoholic. But then I couldn't keep myself away from them. Really. I kept going back and cutting one little sliver here and one little sliver there. And I've honestly been craving them since I made them, now.
Now I have a few dozen more recipes from this book that I need to make asap!!



Like what you see here? Make sure you are following Taste and Tell for more great recipes and ideas!!

Facebook ** Pinterest ** Twitter ** Instagram ** Google+
or you can subscribe to my newsletter or Feedly or Bloglovin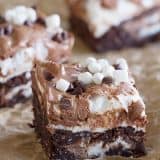 Mega Mallow Coconut Brownies
---
Author:
Prep Time: 20 mins
Cook Time: 45 mins
Total Time: 1 hour 5 mins
Yield: 24 small 1x
Description
Brownies taken to the extreme – these Mega Mallow Coconut Brownies have rich, fudgy coconut brownies filled with Mallow Cups and topped with lots of marshmallow and chocolate. Prepare to indulge!
---
Scale
Ingredients
Brownies:
1 cup (2.8 oz) unsweetened coconut
1 package (10 oz) snack size Mallo Cups, or 15 regular sized Mallo Cups*
1 cup (8 oz) unsalted butter
1 1/3 cups (8 oz) bittersweet chocolate**
4 large eggs, at room temperature
2 cups (14 oz) sugar
3/4 teaspoon salt
1 1/2 teaspoons vanilla extract
3/4 cup plus 1 tablespoon (3.3 oz) cake flour
3/4 cup plus 2 tablespoons (2.8 oz) Dutch-process unsweetened cocoa powder
1 (10 oz) bag miniature marshmallows
Chocolate Marshmallow Glaze:
1 1/4 cups (7.5 oz) semi sweet chocolate chips
1 cup plus 1 tablespoon (5 oz) marshmallow creme
2 tablespoon heavy whipping cream
Optional Garnish:
2 to 3 tablespoons Kraft vanilla Mallow Bits
2 to 3 tablespoons miniature chocolate chips
---
Instructions
Preheat the oven to 350ºF. Spread the coconut out on a baking sheet and bake for 4 minutes, or until lightly golden brown. While the coconut is toasting, unwrap the Mallow Cups. Place them in a bowl and set them aside. Transfer the coconut to a cooling rack.
Line a 9×13-inch baking dish with foil and lightly grease the foil, all of the way to the edges.
Cut the butter into 1-inch slices. Place the butter in a small, heavy pan and melt the butter over the lowest setting. Add the bittersweet chocolate and stir with a whisk until they are combined and the chocolate is melted and smooth. Turn off the heat.
Crack the eggs into a large bowl and whisk lightly. Add the sugar and the salt and whisk just until the eggs are incorporated. Whisk the melted chocolate, then gradually add it to the egg mixture, whisking just until combined. Whisk in the vanilla. (Note – no need to wash the saucepan or the whisk – you can use them for making the chocolate marshmallow glaze!)
Combine the flour and the cocoa powder in a small bowl. Sift the mixture over the batter and stir it all together with a spatula just until combined. Fold in the toasted coconut. Pour the batter into the prepared baking dish, spreading it evenly with a small offset spatula. Push the Mallow Cups into the batter, leaving a 1/2 inch border around the edges. Use the offset spatula to cover the Mallow Cups with the batter.
Bake the brownies for 24 minutes, then remove the pan from the oven and pour the miniature marshmallows over the top. Return to the oven and continue to bake for 5 minutes, or until the marshmallows are puffed and golden.
When the brownies have about 15 minutes left to bake, start the glaze. (It needs to be ready and still warm when the brownies come out of the oven.)
For the glaze, place the chocolate chips, marshmallow creme and the cream in the small saucepan. Place the pan over medium heat and cook, stirring constantly, until the chocolate chips are melted and the mixture is smooth. Turn off the heat.
As soon as the brownies come out of the oven, Dollop the chocolate marshmallow glaze over the top of the puffed marshmallows. Spread the glaze over the top with a small offset spatula, and then use it to swirl lightly through the marshmallows and the glaze to make a marbling effect. Sprinkle on the mini mallow bits and the miniature chocolate chips.
Let the brownies sit at room temperature for 30 minutes, the refrigerate for at least 7 to 8 hours. Cut the brownies into servings straight from the refrigerator.
Recipe Notes:
recipe source: Extreme Brownies 50 Recipes for the Most Over-the-Top Treats Ever by Connie Weis/Andrews McMeel Publishing, 2014
*since I have never had Mallow Cups, I didn't know if what I had were regular sized or mini. So I just went by weight and it worked out perfectly.
**the original recipe calls for bittersweet chocolate chips, but I couldn't find any, so I just used chopped bittersweet chocolate.
**This post contains affiliate links. If you purchase an item from Amazon from the link Taste and Tell receives a small commission. Thank you for supporting Taste and Tell through your purchases!**