I don't know if you know this, but going out to the grocery store with 3 kids is sometimes quite the chore. I think it would be easier if they were just a little bit older. Abbi – she's mostly good. She'll stick by my side and won't try to run off. Easton, though, is at that age where he's not quite old enough to walk by himself when we are in the store because he wanders too much. So I'll stick him in the front of the cart, but then I'll still have the baby. I have to put him (in his car seat) across the back of the cart, because if I put him all of the way in, there is no room for groceries.
And as a food blogger, I buy a lot of groceries.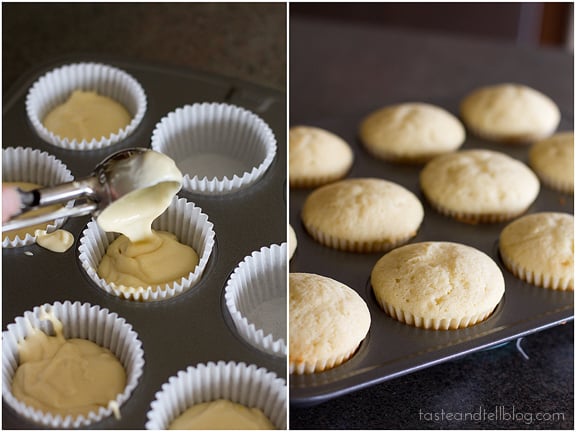 So he's across the back so that I can put things underneath, (still not a lot of room, but we make it work.)
Most of the time, this works for us. Unless one (or more) of the kids are in a mood. The other day, we were grocery shopping, and my daughter saw a toy that she decided that she needed. Needed as in I'm-not-leaving-this-store-until-I-get-this-toy. She was upset, and started crying, which in turn made Easton throw a fit and crying. I have a cart full of groceries, so I didn't want to just walk out, so I'm trying to calmly walk to the checkout so that we can get out of there.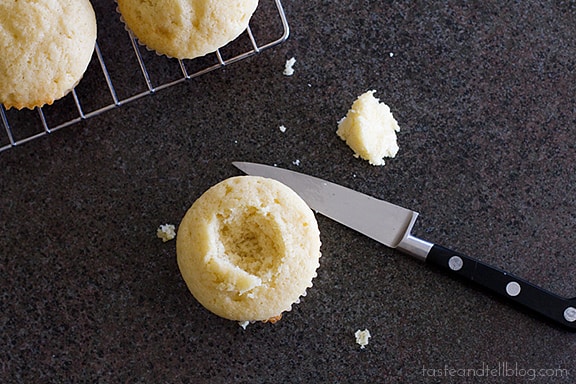 Half of the looks I got from people were the "can't you get your kids under control?" looks. And obviously, those people don't have kids. Because even the best behaved children will at one point have that breakdown in the middle of the grocery store kind of day. The other half of the looks I got were the looks of sympathy, the "I've been there, done that" or the "I'm so glad I got to come to the grocery store alone to avoid that" looks.
I was finally able to calm them down and check out. But after that, I was exhausted. And in need of some emotional eating.




So I drove over to The Sweet Tooth Fairy.  And there I bought a delicious cupcake – a seasonal Samoa cupcake.  It was divine.  And the perfect way to de-stress after that grocery shopping trip.
I bought one for my husband, too, and he was as enthusiastic about it as I was.  And I knew that I needed to recreate that cupcake at home.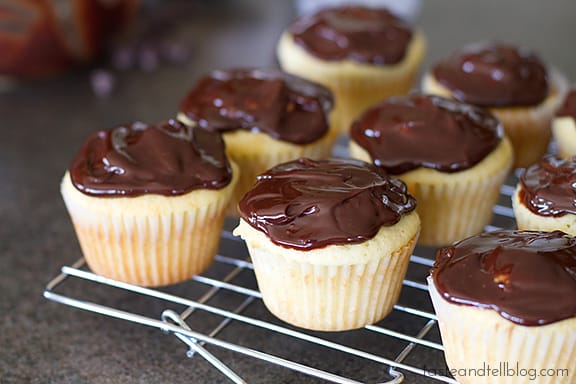 These cupcakes have quite a few steps, but if you aren't distracted by little ones at your feet, it should all go pretty quickly and smoothly.  Every component on it's own is pretty easy to prepare.  And I totally cheated on the caramel filling and bought a can of dulce de leche.  But I did make the cupcake from scratch – that counts for something, right?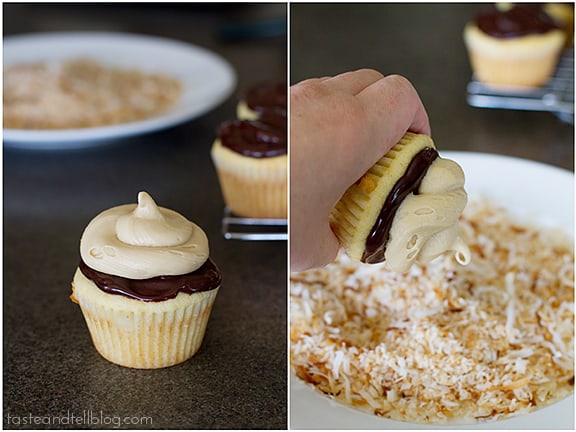 These cupcakes are rich and delicious.  And made up of (almost) all of my favorite flavors.  And it definitely beats having to get three kids out of the house – you just make these from home!!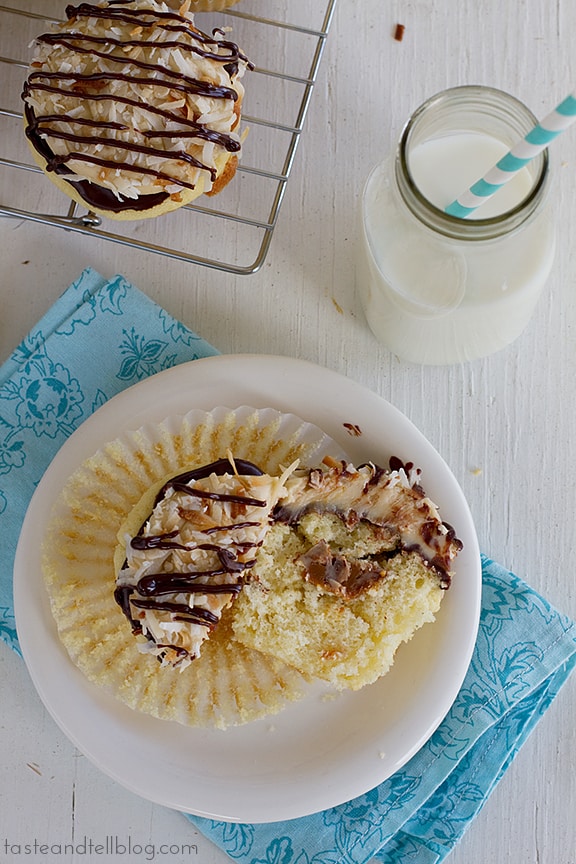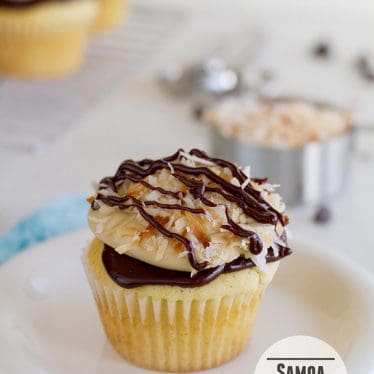 Samoa Cupcakes
---
Prep Time: 30 minutes
Cook Time: 20 minutes
Total Time: 1 hour 30 minutes
Yield: 12 cupcakes 1x
Description
Everyone's favorite Girl Scout cookie in cupcake form – a yellow cupcake is filled with caramel then topped with chocolate ganache, caramel buttercream and toasted coconut.
---
Scale
Ingredients
Cupcakes
1 1/2 cups flour
1 12/ teaspoons baking powder
1/2 teaspoon salt
1/2 cup milk
1 teaspoon vanilla
1/4 cup butter, at room temperature
1/4 cup vegetable oil
3/4 cup sugar
2 eggs
Caramel Filling
1/2 cup prepared dulce de leche (homemade or store bought)
Chocolate Ganache
1 cup semi sweet chocolate chips
1/2 cup heavy cream
Caramel Buttercream
1/2 cup butter
1/2 cup brown sugar
3 tablespoons heavy cream
2 1/3 cups powdered sugar
1/2 teaspoon vanilla
Toppings
1 cup toasted coconut
leftover chocolate ganache
---
Instructions
Make the cupcakes:
Preheat the oven to 350F. Line 12 muffin cups with cupcake liners.
In a large bowl, whisk together the flour, baking powder and salt. Set aside.
In another bowl or glass measuring cup, mix together the milk and vanilla.
In the bowl of a mixer, beat together the butter, oil and sugar until light and fluffy, 3-4 minutes. Beat in the eggs, one at a time, until incorporated. Add half of the flour mixture and mix just until combined, then add the milk, mixing just until combined. Add the remaining flour and mix.
Fill each cup 2/3 full. Bake for 20-25 minutes, or until a toothpick inserted in the center comes out clean. Cool completely.
Fill the cupcakes:
Cut a cone out of the center of each cupcake. Fill with a heaping teaspoon of dulce de leche then replace the top of the cupcake.
Make the ganache:
Put the chocolate chips and cream in a microwave safe bowl. Microwave on high for 45 seconds, then let the mixture sit for 1-2 minutes. Stir until all of the chocolate chips have melted and a smooth sauce is formed. Spread the ganache on top of each of the cupcakes. (You will have leftover ganache – use for the chocolate drizzle on top of the cupcakes.)
Make the caramel buttercream:
In a saucepan over medium heat, melt the butter. Add the brown sugar and cook for a few minutes until dissolved. Stir in the cream. Remove from the heat and add in half of the powdered sugar. Beat well then add the remaining powdered sugar. Add in the vanilla and beat until the icing is smooth and shiny. Place the buttercream in a piping bag and pipe the frosting on top of the ganache.
Dip each of the cupcakes into toasted coconut then drizzle with the remaining chocolate ganache.