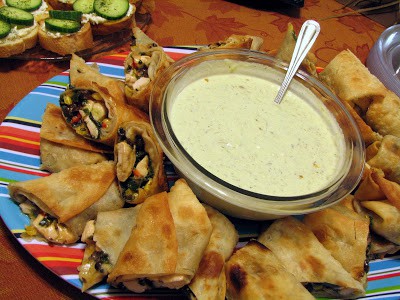 I've only been married just under 2 years. (Our anniversary is on the 11th!) I think back to my single days, and to dating, and to what I would do to win the heart of whatever boy it was that I was interested. I have always believed that the way to a man's heart is through his stomach. And I had my "special" meal I would serve when I was trying to win the heart of a suitor. Maybe for others, this would be Cider Glazed Lamb Chops, or Rib-Eye Steaks in Red-Wine Sauce. But not for me!! My go-to recipe – the one I knew would impress – was always Southwestern Egg Rolls. Yes, you read that correctly. Like the ones they serve at Chili's. No, ladies and gentlemen – this is not a gourmet meal by any means, but let me assure you – it worked every time. This recipe has never failed to impress for me. It's what I made for my husband the first time I cooked for him – so it obviously worked!!
This is really easy to put together, and the best part about it is that it can be assembled ahead of time and then just cooked before serving. In fact, they are even better if they spend some time in the refrigerator first.
I got this recipe from my sister, but if you do a google search, you will come up with hundreds of recipes. Most of them are basically the same, so you really can't go wrong. Don't skip on the dipping sauce, though, and don't think that some bottled dressing will substitute, because then you will really be missing out! The recipe says to fry these, but I like to fry them for only a minute or two on each side, put them on a baking sheet, and then let them spend 15-20 minutes in the oven. My other hint is about the tortillas. I used to always make these with the normal flour tortillas you buy at the grocery store, but then my husband introduced me to some tortillas (I find them at Costco) that are raw flour tortillas. You just cook them for a few minutes on each side and then you have fresh tortillas. I think I like these better for a few reasons. First, you can just under-cook them, which makes them easier to work with and they continue to cook during the fry/bake. Secondly, they are a lot thinner than the normal pre-made tortillas. And third – they just taste a whole lot better!!
I made these for a bridal shower a few weeks ago, and they passed with flying colors. In fact, my mother-in-law threw the shower and asked me to specifically bring these.
Southwestern Egg Rolls
3 chicken breast halves, cooked – either shred or cube
2 tablespoons red bell pepper, minced
2 tablespoons green onion, minced
1/2 cup frozen corn
1/4 cup canned black beans, drained and rinsed
2 tablespoons frozen spinach, thawed and drained
2 tablespoons diced jalepenos (I usually use the jarred ones)
1/2 tablespoon parsley, minced
1/2 teaspoon cumin
1/2 teaspoon chili powder
1/4 teaspoon salt
dash of cayenne
3/4 cup Monterey Jack cheese, shredded
5-8″ flour tortillas
Heat 1 tablespoon vegetable oil in a medium saucepan over medium heat. Stir in green onion and red pepper. Cook and stir 5 minutes, until tender
Mix chicken into the pan with onion and red pepper. Mix in corn, black beans, spinach, jalapeno peppers, parsley, cumin, chili powder, salt and cayenne pepper. Cook and stir 5 minutes, until well blended and tender. Remove from heat and stir in Monterey Jack cheese so that it melts.
Wrap tortillas with a clean, lightly moist cloth. Microwave on high approximately 1 minute, or until hot and pliable.
Spoon even amounts of the mixture into each tortilla. Fold ends of tortillas, then roll tightly around mixture. Secure with toothpicks. Arrange in a medium dish, cover with plastic, and place in the refrigerator. These are best if refrigerated for 24 hours.
In a large, deep skillet, heat oil for deep frying to 375 degrees F (190 degrees C). Deep fry frozen, stuffed tortillas 10 minutes each, or until dark golden brown. Drain on paper towels before serving.

OR
Fry each stuffed tortilla for about 2 minutes on each side, drain on a paper towel, then transfer to a baking sheet. Bake for 15 to 20 minutes or until heated through.
Avocado Ranch Dipping Sauce
1/4 cup smashed, fresh avocado (about half of an avocado)
1/4 cup mayonnaise
1/4 cup sour cream
1 tablespoon buttermilk
1 1/2 teaspoons white vinegar
1/8 teaspoon salt
1/8 teaspoon dried parsley
1/8 teaspoon onion powder
dash dried dill weed
dash garlic powder
dash pepper
Smash avocado. Combine all ingredients and mix well. Keep refrigerated.