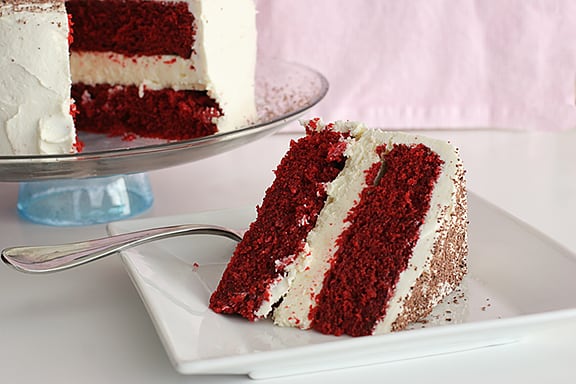 I think I am the queen of procrastination.  I used to belong to the Daring Bakers, but I would always procrastinate until the last minute – and it just became too much for me.  And here I am again, procrastinating until the last minute…
You see, I came up with the idea for this Red Velvet Week months ago.  You would think that I would have taken that time to make everything and have everything prepared.  But of course, I didn't.  I made one recipe a couple of weeks ago, then 2 last week.  And here I am, finishing the last 2 this week – this cake just getting finished yesterday.  It wouldn't have been a big deal, but I didn't read through the instructions completely until I started the cake, when I realized that the cheesecake was supposed to be frozen overnight.  Well, I managed to make this whole cake – start to finish – in one day, chasing the sunshine the whole time.  That's the other thing – I couldn't finish into the night, because I value my natural sunlight for pictures!!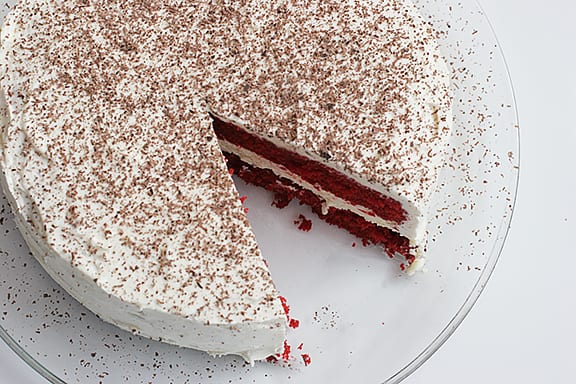 But regardless, it all worked out.  And what a stunner this cake is.  I knew I wanted to do one recipe that was a show-stopper.  I contemplated between this cake and this Red Velvet Cheesecake.  In the end, this cake/cheesecake won out – mostly because I discovered that I had bookmarked this twice – which means I must really want it!
I know it looks impressive, and complicated, but really, it was a lot easier than I anticipated.  It did take some time.  And I would suggest starting it a day before you need it.  But each step wasn't too difficult.  But the true test is how it tastes.  And it passed with flying colors.  The 3 components of this cake – each was completely perfect.  The cake was the perfect, moist red velvet cake.  The cheesecake was creamy and tangy and everything I look for in a cheesecake.  And the frosting was not too sweet, but it brought everything together perfectly.  I would definitely make this again – especially if I wanted to impress someone!!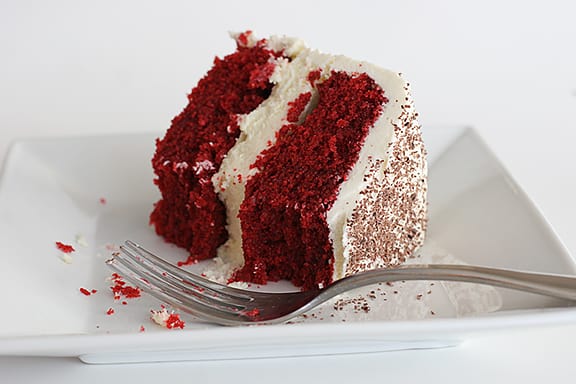 Red Velvet Cheesecake Cake
from Erin's Food Files (original recipes adapted from Apple a Day and Martha Stewart)
For the cheesecake:
1 1/4 pounds bar cream cheese (20 oz), room temperature
3/4 cups sugar
1/2 teaspoon finely grated lemon zest, plus 1/2 tablespoon fresh lemon juice
1/4 teaspoon coarse salt
2 large eggs
1/2 cup sour cream
For the cake:
2 1/2 c. cake flour
1 1/2 c. sugar
1 tsp. baking soda
1 TBSP cocoa powder
1 tsp. salt
2 eggs
1 1/2 c. vegetable oil
1 c. buttermilk
2 TBSP (1 oz.) red food coloring
1 tsp. vanilla extract
1 tsp. white distilled vinegar
For the frosting:
12 oz. cream cheese, softened
12 oz. butter, softened
1 1/2 tsp. vanilla extract
3 c. confectioners' sugar
1 bar white or dark chocolate
For cheesecake:
Preheat oven to 325 degrees. Set a kettle of water to boil. Using an electric mixer, beat cream cheese on medium until fluffy, scraping down side of bowl. Gradually add sugar, beating until fluffy. Beat in lemon zest and juice, and salt. Beat in eggs, one at a time, scraping down side of bowl after each addition. Beat in sour cream.
Cut parchment paper in a circle and line the bottom of the cheesecake pan. Wrap bottom half of pan in foil. Pour in filling; place in a roasting pan. Pour in boiling water to come halfway up side of springform. Bake until just set in center, about 45 minutes. Remove pan from water; let cool 20 minutes. Run a paring knife around edge; let cool completely. Cover; chill overnight, then wrap in plastic wrap and freeze.
For the cake:
Preheat oven to 350°. Sift together flour, sugar, baking soda, cocoa, and salt into a medium bowl.
Beat eggs, oil, buttermilk, food coloring, vanilla, and vinegar in a large bowl with an electric mixer until well combined. Add dry ingredients and beat until smooth, about 2 minutes.
Divide batter evenly between 2 greased and floured 9″ round cake pans and bake 25-30 minutes, rotating halfway through, until a toothpick inserted in the center of each cake comes out clean. Let cakes cool 5 minutes, then invert each onto a plate, then invert again onto a cooling rack. Let cakes cool completely, then level.
Frosting:
Beat cream cheese, butter, and vanilla together in a large bowl with an electric mixer until combined. Add sugar and beat until frosting is light and fluffy, 5–7 minutes.
Assembly:
Place bottom layer on cake stand. Remove cheesecake from freezer, unwrap, and remove from metal bottom, then peel off parchment paper. Place cheesecake layer on top of the bottom layer of the red velvet cake. If the cheesecake is wider than the cake, and it is necessary to to trim it, wait approximately 10 minutes for the cheesecake to soften, then trim it with a knife. Place top layer of cake on top of the cheesecake, and coat with a generous layer of the cream cheese frosting to act as the crumb coat. Be careful not to get any red velvet crumbs in the bowl of frosting! Refrigerate approximately 30 minutes, then frost with as much of the remaining frosting as necessary. Top with shaved white chocolate and/or shaved dark chocolate. Refrigerate until ready to serve. (This cake doesn't have to stay in the fridge until IMMEDIATELY before serving, so don't worry if you have a 30 minute lapse between the refrigerator and serving.)
&nbsp