Easton turns 1 year old next month. I can't hardly believe that a year has almost gone by already. He started walking about a month ago, and he is all over the place. And into everything. My kitchen looks like a war zone most days, with kitchen towels and measuring spoons and pots and pans strewn across the floor. I try to pick things up, but after putting something away for the 5th time in an hour, you start to not care anymore and just pick things up once at the end of the day.

One of his other favorite spots to make messes is on the bookcases where I keep my cookbooks. Most of them are wedged in pretty tight, so he can't get them out, but there are some things that he goes back to time and time again.
I have several recipe boxes that have random recipes stored in them. Lots of cut outs from magazines, hand written recipes, and random recipes taken from packages or newsletters. (I tell ya – I have a bit of a recipe hoarding problem.

) After having Easton pull out those boxes and dump their contents onto the floor for the 80th time one day, I decided to go through some of the recipes as I put them away. I ended up throwing many away – things that didn't sound good or recipes I thought I'd never make. But I came across so many that I wanted to try out – and right away.
The recipe I based this bread off of came from one of those boxes. I have no idea where it came from or who gave it to me – it was written on the back of a receipt, and only half of the recipe was written down. But I couldn't get the idea of a peanut/peanut buttter/chocolate chip banana bread out of my head after seeing the recipe. I found myself with some over-ripe bananas on the counter one day, and immediately went to that recipe box for this recipe!
This is definitely not your boring banana bread. I opted for mini chocolate chips, because I know they don't sink like regular chocolate chips sometimes do. And on a whim, I decided to add the glaze. It definitely takes this banana bread to a whole new indulgent level, but it was one of my favorite parts of this bread!! I loved that there wasn't one flavor that overpowered any of the other flavors, but they all melded together beautifully. I wouldn't change a thing next time!


Pin It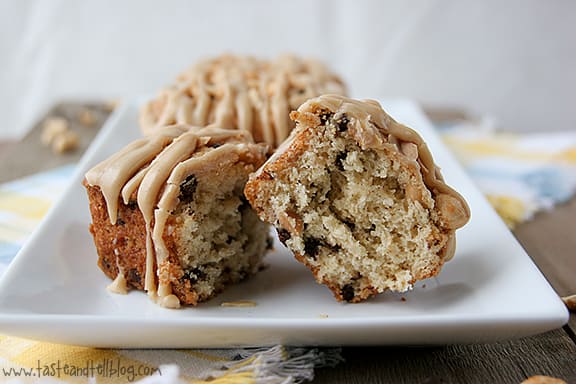 One year ago: Crescent Cristo Sandwich Loaf
Four years ago: Cooking 101