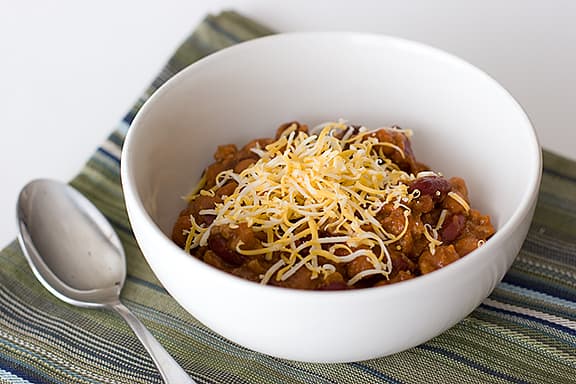 I laugh at myself because I claim that I'm not the biggest slow cooker fan, but I still find myself going back to it time and time again!! I guess I do have faith in it – and I love it's time-saving abilities!!
This recipe actually was perfect for the slow cooker. I realized on a Thursday night that I had not only signed up to bring cupcakes to a church party, but also chili. I had to work the next day, so I knew the only way I'd be able to have chili ready was to use the slow cooker. And I actually really loved the final product!
This chili is quite thick, so if you don't like your chili really thick, I would suggest adding more tomato sauce. It's not very spicy, so feel free to add in more chili powder to give it more kick. And like most chili recipes, it is much better the next day!


Crock Pot Chili
adapted from World Famous Nosh
serves 4-6
1 (16-oz) can pinto beans, drained and rinsed
1 (16-oz) can kidney beans, drained and rinsed
1 (16-oz) can tomato sauce
1 (16-oz) can diced tomatoes
1 pound ground beef
1/2 onion, chopped
2 cloves garlic, minced
1/2 tablespoon olive oil
1/2 teaspoon garlic powder
2 tablespoons chili powder
1/2 tablespoon oregano
1/2 teaspoon cumin
salt and pepper to taste
1 tablespoon Worcestershire
1 tablespoon Tabasco
1 tablespoon liquid from a jar of Pepporocini peppers
1/4 cup water
shredded cheese and sour cream, for serving
Saute the chopped onion and garlic in the oil until barely golden. Add the ground beef and cook until browned; drain if necessary.
Add all the ingredients (except cheese and sour cream) to the slow cooker and stir well. Cook on low for at least 4 hours, but it can cook all day long!
Serve with shredded cheese and sour cream, or any of your favorite chili toppings.
&nbsp
1 Flares
Tweet
Email to a friend
1 Flares
×