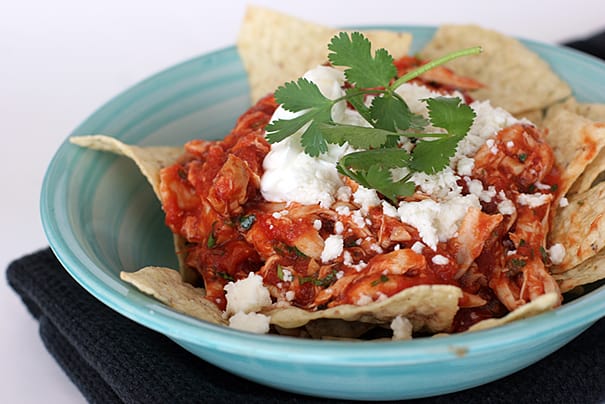 **Time is running out! Win a copy of this month's Cookbook of the Month. See the bottom of the post for details!**
Today's confession – I don't even know how to say the title of this recipe. My husband kept asking me what I was making for dinner, and I just kept saying "a chicken dish!" So if anyone can help me out, I'd love to know how to say this!
I usually try to make a wide range of recipes from each Cookbook of the Month, but looking back right now, realize that 3 of the 4 recipes I've made are all chicken recipes this month! But it's all good, because all of the recipes are good! This is probably my favorite of the 3 recipes. It's super easy, especially if you use a rotisserie chicken like I did. A friend of mine actually posted on her personal blog, wanting suggestions to make chicken dishes because she felt like she was in a rut. This recipe was the first one that came to my mind. You could easily use a whole chicken, a rotisserie chicken, or even chicken breasts that you have either roasted or poached. And the rest of the recipe comes together in no time flat.
This recipe rated high with both my husband and I, so I really think it would be a hit with your family!
Recipe Rating: 4.75 out of 5
Chicken Chilaquiles
adapted from Everyday Food: Great Food Fast
Serves 4
1 tablespoon olive oil
4 garlic cloves, chopped
1 28-ounce can whole peeled tomatoes in puree
2 chipotle chiles in adobo, finely chopped, plus 1 tablespoon adobo sauce
coarse salt
1 small roasted chicken, cooked rotisserie chicken, or about 1 3/4 pounds chicken breasts – cooked and shredded
1/2 cup lightly packed cilantro leaves, chopped
4 cups tortilla chips
1/4 cup reduced fat sour cream
1/4 cup crumbled feta cheese or queso fresco cheese
Combine oil and garlic in a large (3-to-4-quart) saucepan. Cook over medium heat, stirring occasionally, until fragrant and sizzling, 1 to 2 minutes.
Add tomatoes with their puree (breaking tomatoes up), chipotles and adobo, and 1 cup water. Bring to a boil; season with salt. Reduce heat and simmer rapidly until lightly thickened, 6 to 8 minutes.
Add chicken and cook, stirring, until hot, about 1 minute. Remove from heat; stir in chopped cilantro.
Divide chips among four shallow bowls; top with chicken mixture and sauce. Garnish with cilantro sprigs, sour cream, and feta. Serve.
**Win a copy of Everyday Food: Great Food Fast!!**
This month, I have decided to do a cookbook giveaway and will be giving away a copy of this month's book. You'll have 4 chances to enter. All you have to do is comment on the Cookbook of the Month's posts – you can still go back and comment on past week's posts. Every Friday, a new Cookbook of the Month post is posted, so make sure to comment on each post for more chances to win! The contest ends at 11:59pm MDT on Monday, March 30th and the winner will be announced on Tuesday, March 31st.