Forget the frying – these Mexican Shredded Beef Baked Taquitos are crisp and flavorful without the added calories. They freeze well, too!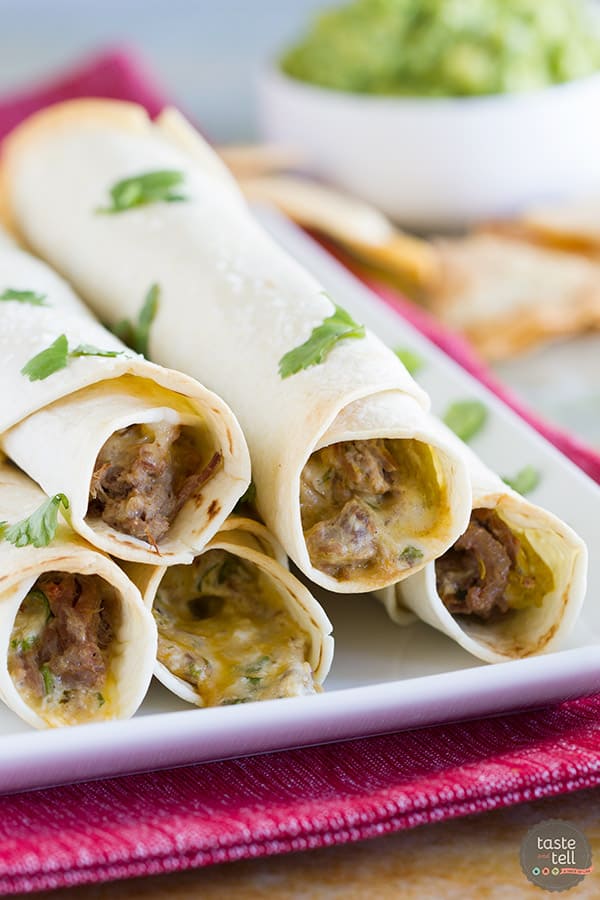 Yum


Food blogging is a strange occupation. I get asked all the time what happens with all of the food that I make. I guess people think that I'm making food 24/7. 😉
Really, though, I mostly just make dinner most nights. Sometimes I'll sneak another recipe in during the day for lunch, but most of the savory recipes that I make end up as dinner. I try to only make one dessert a week, although sometimes, depending on my schedule, I do make more than that. Luckily, I have lots of neighbors that are willing to take extras off of my hands. We definitely don't eat everything ourselves. 🙂
Not every recipe is a home run the first time I make it, though. And while I may sometimes want to make the same thing for dinner 3 nights in a row, trying to perfect the recipe, my family is not that keen on eating the same thing over and over again. Sometimes, I'll try to spread it out over a few weeks time so it's not so apparent that I'm trying to perfect that recipe. But sometimes, I get obsessed with a recipe, and can't help but make it over and over again.
Like the Instant Pot Chipotle Shredded Beef that I posted a couple of weeks ago. While my husband is a big meat eater, he's not a big roast fan. But I made that recipe 3 times in less than 2 weeks. I had shredded beef coming out my ears. Some of it was eaten as is, some of it was frozen. But I tried to repurpose a lot of it.
I immediately thought of the Chipotle Beef Baked Taquito Recipe that I made and posted years ago. The recipe needed new photos, so I made those one night (and doubled the recipe so I could freeze plenty of them!) But I still had lots of shredded beef on hand. And even after making that taquito recipe, I still had taquitos on the brain.
So I threw a few things together and came up with these Mexican Shredded Beef Taquitos. And I liked them so much that I had to snap a few photos and share them with you.
They are baked instead of fried, so they are not only easy, but you save some calories over frying. The filling is super creamy with just a little bit of a kick – aka just right. I prefer to make baked taquitos with flour tortillas over corn simply because corn tortillas have to be perfectly fresh or they crack really easily. So flour are a lot easier to work with.
These Mexican Shredded Beef Taquitos were a hit, and the perfect way to make a dent in my leftover beef. Now I'm wishing I had a stock of these in the freezer, as well!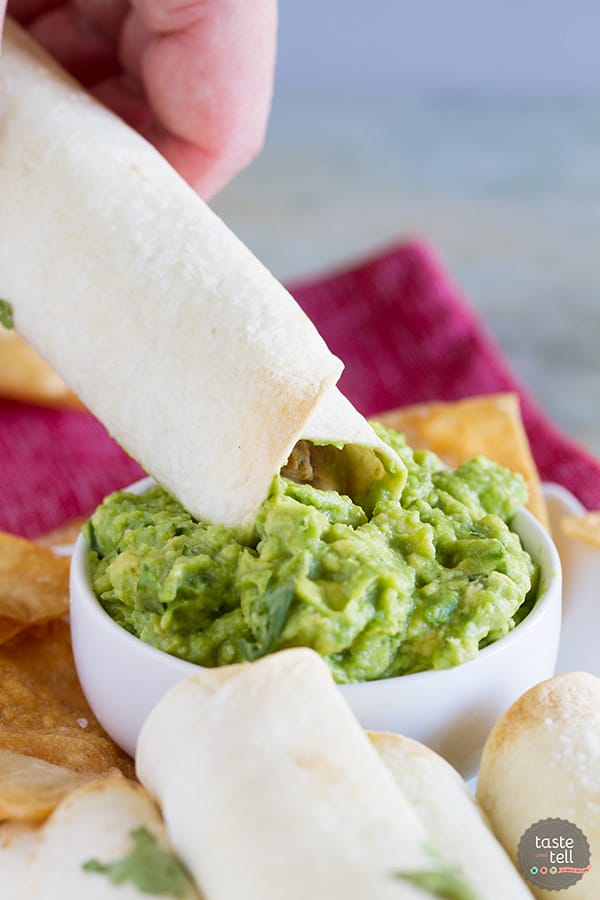 Like what you see here? Make sure you are following Taste and Tell for more recipes and ideas!
Facebook | Pinterest | Instagram | Twitter | Google+ | Weekly Newsletter | Feedly | Bloglovin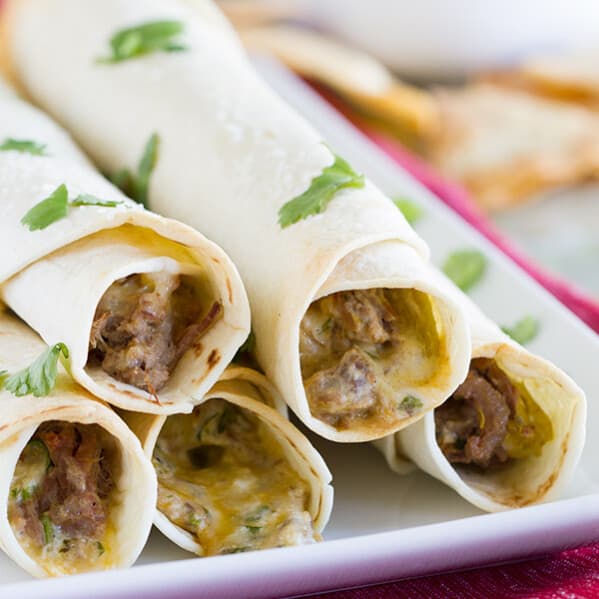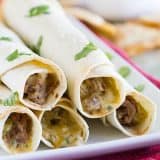 Mexican Shredded Beef Baked Taquitos
---
Author:
Prep Time: 15 mins
Cook Time: 10 mins
Total Time: 25 mins
Yield: 12 taquitos 1x
Description
Forget the frying – these Mexican Shredded Beef Baked Taquitos are crisp and flavorful without the added calories. They freeze well, too!
---
Scale
Ingredients
1 cup grated Monterey Jack cheese
4 oz cream cheese, at room temperature
3 cups Chipotle Shredded Beef
1 can (4 oz) diced green chiles
1/4 cup chopped cilantro
12 flour tortillas
---
Instructions
Preheat the oven to 400ºF. Line a baking sheet with foil and place a baking rack on top. Spray with nonstick cooking spray.
In a large bowl, mix the Monterey Jack cheese and the cream cheese together until blended. Add the shredded beef, green chiles and cilantro and stir to combine.
Heat the tortillas in the microwave for 30 seconds to soften them. Spread some of the beef mixture on the lower third of the tortilla, staying a little bit away from the edges. Roll the tortilla, then place on the baking rack, seam side down. Repeat with the remaining tortillas and filling.
Spray the rolled taquitos with nonstick cooking spray, then sprinkle with coarse salt. Bake in the preheated oven until browned and crisp, about 10 minutes. Remove from the oven and allow the taquitos to cool slightly before serving.
USEFUL PRODUCTS:
More Shredded Beef Recipes: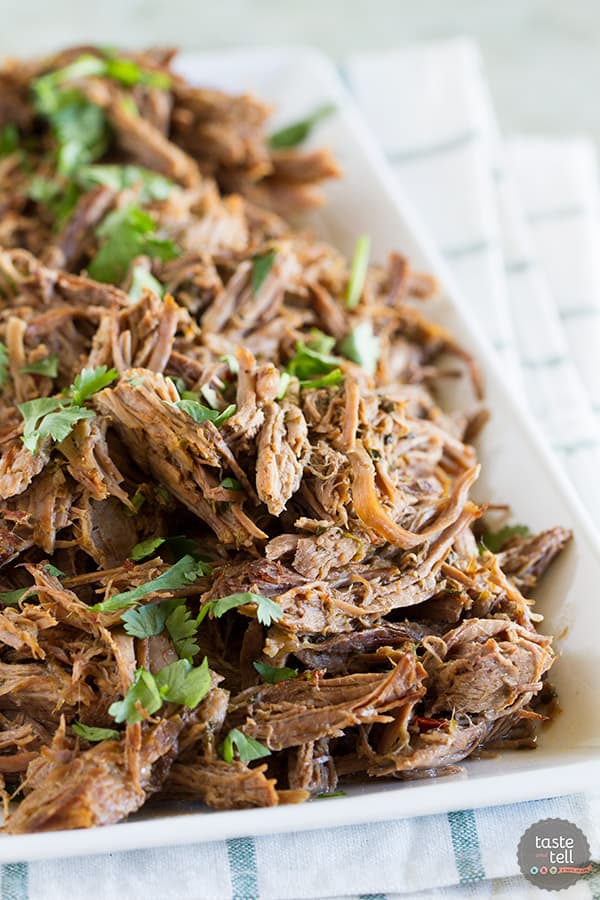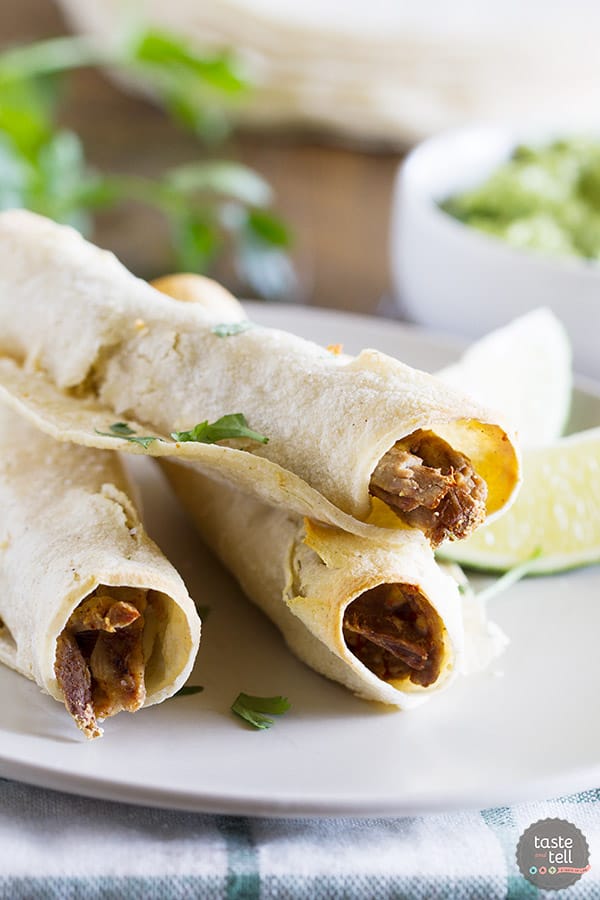 Chipotle Beef Baked Taquito Recipe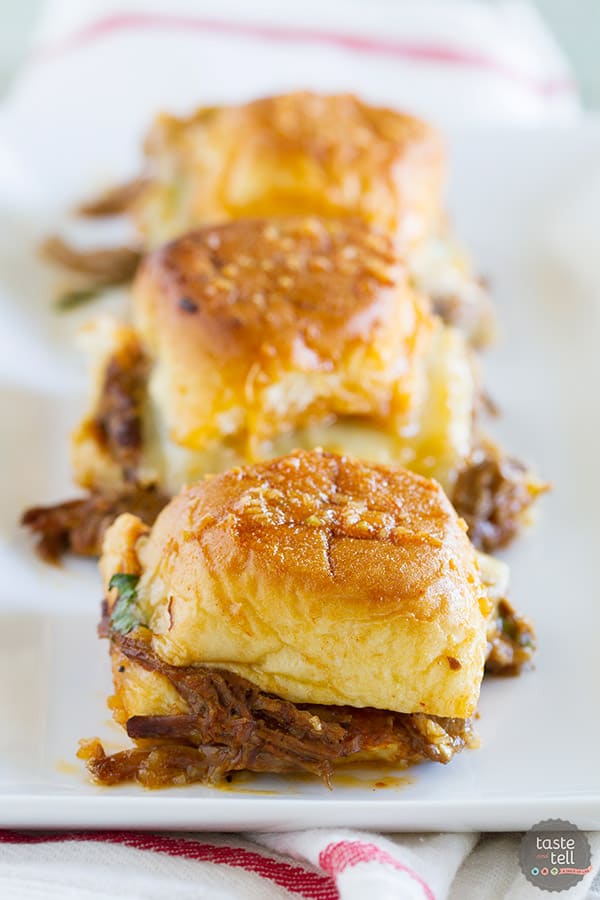 Around the Web:
Shepherd's Pie from Chef in Training
BBQ Beef and Cheddar Poutine from The Recipe Rebel
Leftover Shredded Roast Beef Pasta from Primavera Kitchen
Don't miss a thing! Follow me on Pinterest to see what I'm pinning!
Visit Taste and Tell's profile on Pinterest.