An easy dinner packed with flavor, these Steaks with Mexican Spices and Chipotle con Queso are sure to be a hit with any meat lover.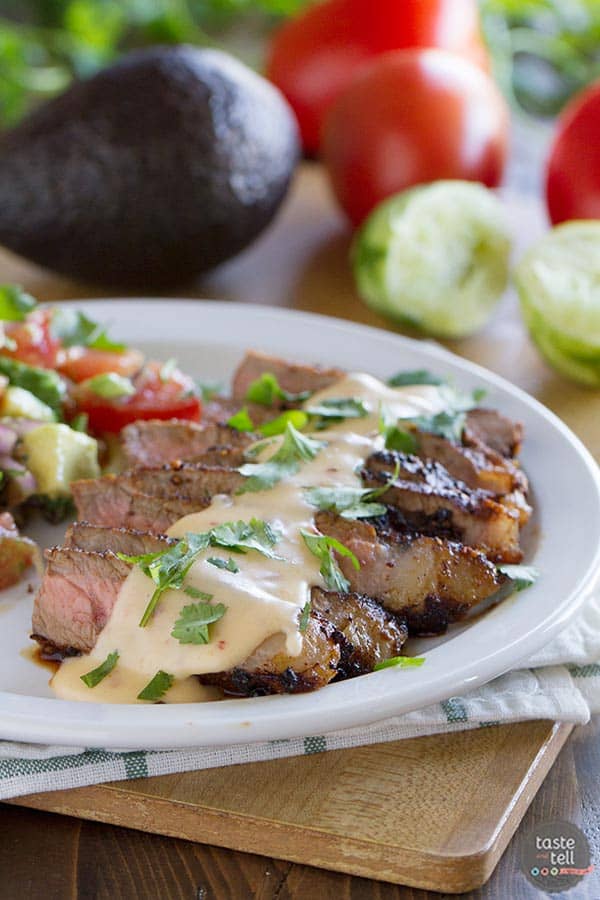 Photos Updated April 2015



Originally Posted June 25, 2008 – One of our favorite meals lately is a simple steak, grilled to perfection. These Steaks with Mexican Spices and Chile Con Queso take that simple up a notch, and give your tastebuds a treat. The Chile Con Queso really adds a special something – you can't go wrong when you cover anything in a cheese sauce!

I love the world we live in today. My mom is a great cook, and I grew up eating wonderful home cooked meals. She had a small collection of cookbooks, but it wasn't unusual to see the same rotation of meals in our house. I'm definitely not complaining, because some of the meals she made remain my favorite (I really need to make her enchiladas one of these days…) but I love that so many recipes are so easily accessible today. There are cookbooks galore, but along with that, you have an endless supply of recipes online, from television shows, and magazines. I tell you, I have to use every ounce of willpower that I have every time I go to the grocery store, or else I'd end up with a stack of foodie magazines taller than I am. But really, I never feel badly about buying a food magazine, because I know that it will get used. Maybe not this month, but one month down the road, I will pull that magazine out and find a fantastic meal out of it. I'm sure my future kids one day will claim that I am a pack rat, but then I will just have to remind them of the food they were able to eat growing up and where I found those recipes.
If you are a regular reader of my blog, you will know that there are 2 magazines that I cook from and post about on a regular basis. Cooking Light and Every Day with Rachael Ray. There are many others I love, like Gourmet and Bon Appetit, (along with many others), but Cooking Light and Every Day are right up my alley. Real, every day food for real, every day people. And here is yet another great recipe from one of these magazines.
When I found this recipe for Steaks with Mexican Spices, I thought it would be a good one, but I wasn't expecting anything extraordinary or stand out. But after eating, my husband claimed that he could eat this every day and be happy. Well, I know very well that he would not be happy eating the same meal every day, and neither would I, but I took that as a very good sign.
The Chile con Queso calls for smoked cheddar, but I had a hard time finding it. I ended up finding a smoked cheddar/swiss mix at the deli counter, and it worked just as well, in my opinion. We have been trying to pinch pennies lately, especially with the price of groceries today, so I went a little cheap and bought a cheap cut of steak, but it was still delicious and flavorful. And the salad – it is the definition of simplicity, but it is very refreshing and one of my favorite side dishes that I have made. And I can't wait to make it again when we get some fresh tomatoes from our garden.
So if you're like me and you like to keep a hold of your food magazines, maybe it's time to look in one of those back issues to see if you can find a winner like this hiding!
**UPDATE – the Avocado and Tomato Salad can now be found here.**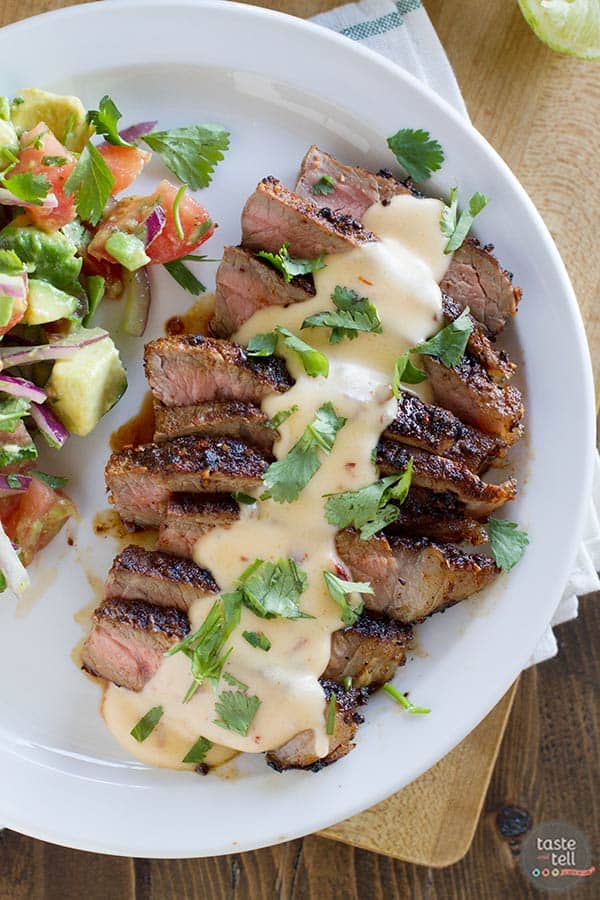 Like what you see here? Make sure you are following Taste and Tell for more great recipes and ideas!!

Facebook ** Pinterest ** Twitter ** Instagram ** Google+
or you can subscribe to my newsletter or Feedly or Bloglovin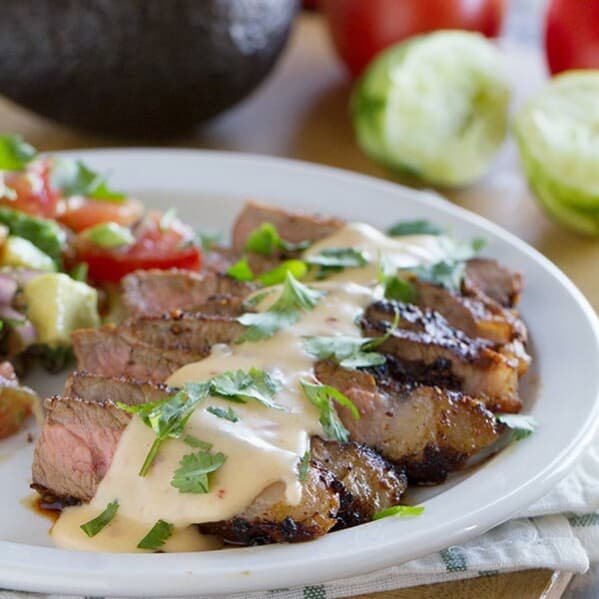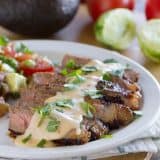 Steaks with Mexican Spices and Chile Con Queso
---
Prep Time: 20 mins
Cook Time: 10 mins
Total Time: 30 mins
Yield: 4 servings 1x
Description
An easy dinner packed with flavor, these Steaks with Mexican Spices and Chipotle con Queso are sure to be a hit with any meat lover.
---
Scale
Ingredients
Steaks
2 tablespoons grill seasoning
grated zest of 2 limes
1 1/2 teaspoons ground coriander
1 1/2 teaspoons ground cumin
1 1/2 teaspoons chili powder
1 1/2 teaspoons kosher salt
4 1-inch thick strip steaks (2 lbs total)
1 tablespoon butter
Chipotle Con Queso
2 tablespoons butter
2 tablespoons flour
1 1/2 cups milk
1 1/2 cups shredded smoked Cheddar cheese
1 chipotle in adobo, seeds removed, minced
1 teaspoon (or more if desired) adobo sauce
salt
cilantro
---
Instructions
In a small bowl, combine the grill seasoning, lime zest, coriander, cumin, chili powder and salt. Rub the seasoning onto both sides of the steaks. Let the steaks sit at room temperature for 15 minutes.
Melt the butter in a large cast iron pan or a heavy skillet over high heat. (You may have to cook the steaks in batches – you don't want to overcrowd them in the pan.) Add the steaks and cook for 5 minutes, then turn and cook the second side for 2-3 minutes for medium. Lower the heat while the steaks are cooking, if needed. Remove from the pan to a cutting board and let the steaks rest for 5 minutes before slicing.
Meanwhile, melt the butter in a sauce pan. Add the flour and whisk for a minute or two. Slowly whisk in the milk. Bring to a boil and let cook, whisking frequently, until it starts to thicken, 2-3 minutes. Stir in the cheese and the chipotle and sauce. Season to taste with salt. Turn the heat to low to keep warm.
Serve the steaks topped with the chipotle con queso and some fresh cilantro.
Don't miss a thing! Follow me on Pinterest to see what I'm pinning!
Visit Taste and Tell's profile on Pinterest.


More Awesome Steak Suppers: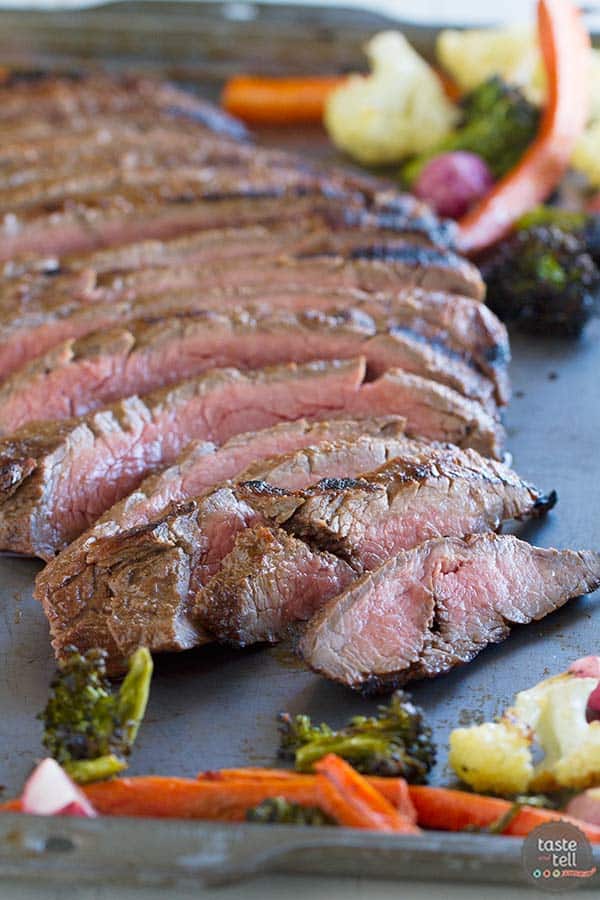 Balsamic Grilled Flank Steak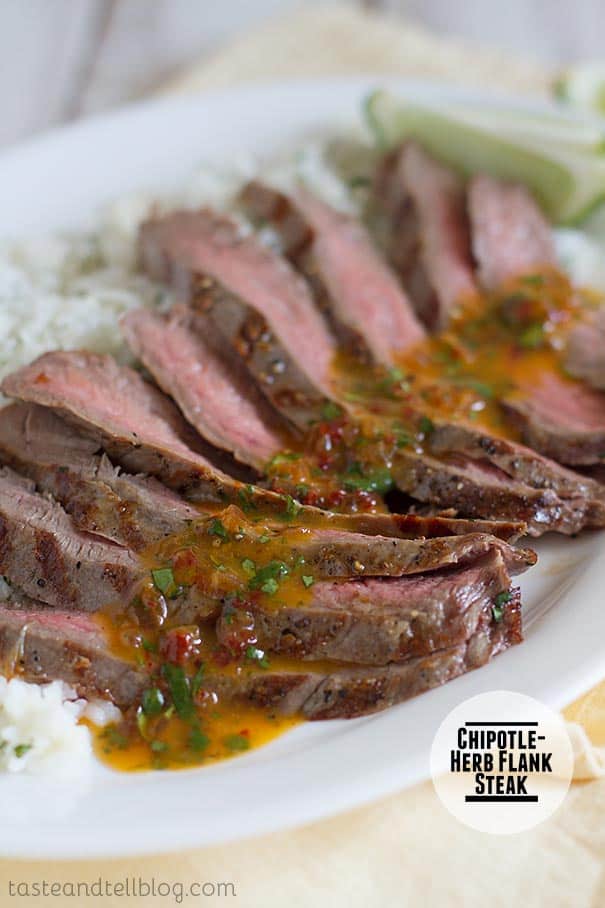 Chipotle-Herb Flank Steak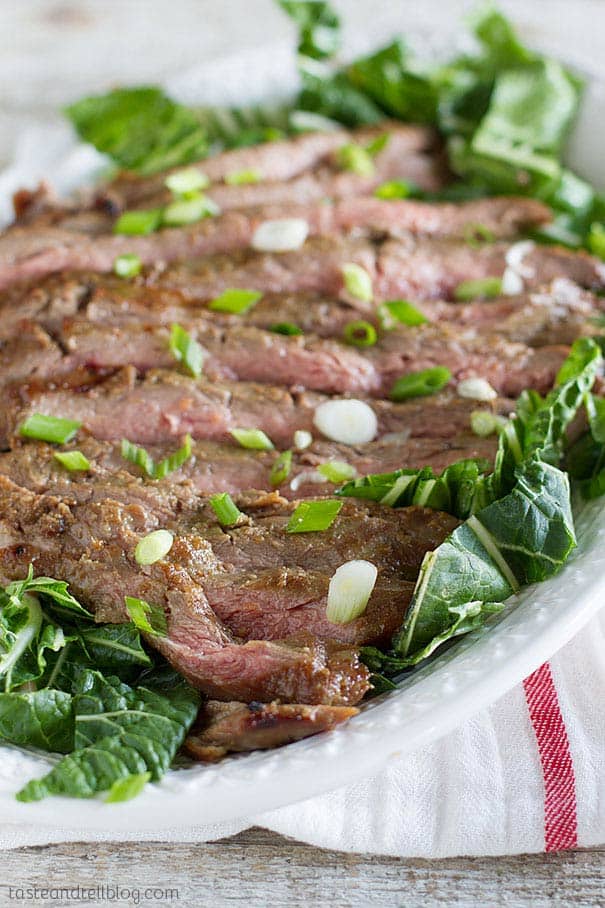 Korean Barbecue Flank Steak Recipe
Around the Web:
Sirloin Steak Sandwiches with Horseradish Sauce on Foodiecrush
Steak, Poblano and Mushroom Tacos from Gimme Some Oven
Easy Steak and Peppers from Cravings of a Lunatic