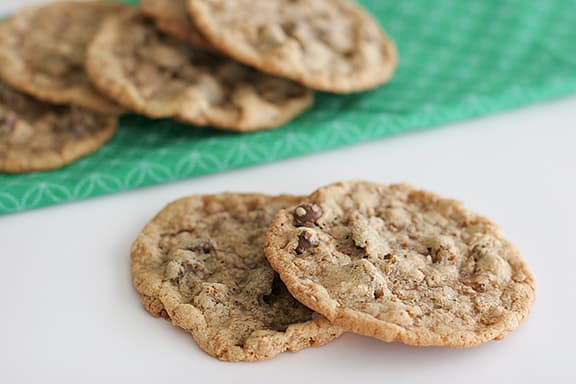 Happy Labor Day!!
I wasn't going to post today and take a blog holiday as well, but hey- I felt like I needed to leave you with something! I hope you are all having a fabulous and safe day and enjoying this last bit of summer.
In case you are wondering what to take to that backyard bbq tonight, these cookies would be a great choice! I have to admit – I usually like my cookies thick and soft, but even though these cookies are thin, they are still chewy and delicious. I can't believe how many of them I actually ate!!
Whatever you are doing today, I hope it's a wonderful day!
Chocolate Chip Crunch Cookies
from Chocolate Chip Cookie Murder
Makes about 5 dozen cookies
1 cup butter, melted
1 cup white sugar
1 cup brown sugar
2 teaspoons baking soda
1 teaspoon salt
2 teaspoons vanilla
2 beaten eggs
2 1/2 cups flour
2 cups crushed cornflakes
1-2 cups chocolate chips
Preheat the oven to 375F.
Mix together the melted butter and both sugars. Add the soda, salt, vanilla and beaten eggs. Mix well. Add the flour and mix in. Add in the corn flakes and the chocolate chips and mix thoroughly.
For the dough into walnut sized balls and place on a greased cookie sheet. Press them down with a floured or greased fork in a crisscross pattern, like you would with peanut butter cookies.
Bake in the preheated oven for 10 minutes. Cool on the cookie sheet for 2 minutes then remove to a cookie sheet until completely cool.