It's the end of October, and it's finally starting to feel like fall here in Utah.  The leaves are changing colors and there is frost on the grass in the mornings.  Fall in Utah always makes me laugh a little, though, because people seem to have a bit of weather-confusion.  I stopped at the gas station last night, and I was wearing short sleeves while the person in line in front of me was wearing a big, puffy coat.  But even if we can't quite figure out what we should be wearing, one thing I'm pretty sure most people can agree on is a big pot of soup to warm us up on these cool, fall nights.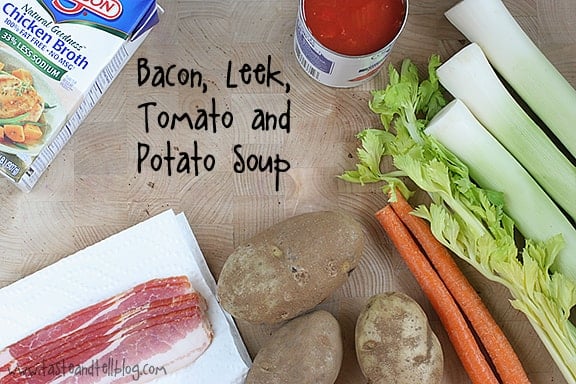 This soup is not only comforting, but it's quite healthy and full of veggies.  You could always leave the bacon out to make it a little bit more healthy, but I love the flavor and depth that it brings.  And if you think about it, each portion only has 1 slice of bacon in it.  And this soup can be easily changed up to use up any veggies that you may have in your vegetable drawer that need to be used up.  And I loved the addition of the potatoes, because potatoes seem to fill me up.  This was hearty and delicious, and a great way to warm up on a cool night!
————————————-
Looking for more delicious soup recipes?
Easy Shrimp, Mushroom & Soba Noodle Soup from Cookin' Canuck
Spicy Thai Pumpkin Soup from Nutmeg Nanny
Gingered Carrot & Apple Soup from With Style and Grace
Roasted Tomato Basil Soup from Two Peas and Their Pod
————————————-
Saturdays with Rachael Ray rules:
* You can link any blog post, present or past, as long as it is a Rachael Ray recipe.
* Your blog post must link back to this post, mentioning Saturdays with Rachael Ray.
That's it!! Simple, simple. Just make sure the recipe is a Rachael Ray recipe – it doesn't matter if it comes from her talk show, 30-Minute Meals, her magazine, or one of her cookbooks. But it must be from Rachael Ray. Any posts that don't follow these two rules will be deleted from the Mr. Linky.
I can't wait to see what you've made!