A rich and creamy cinnamon custard is topped with burnt sugar and dusted with cinnamon for a truly decadent dessert.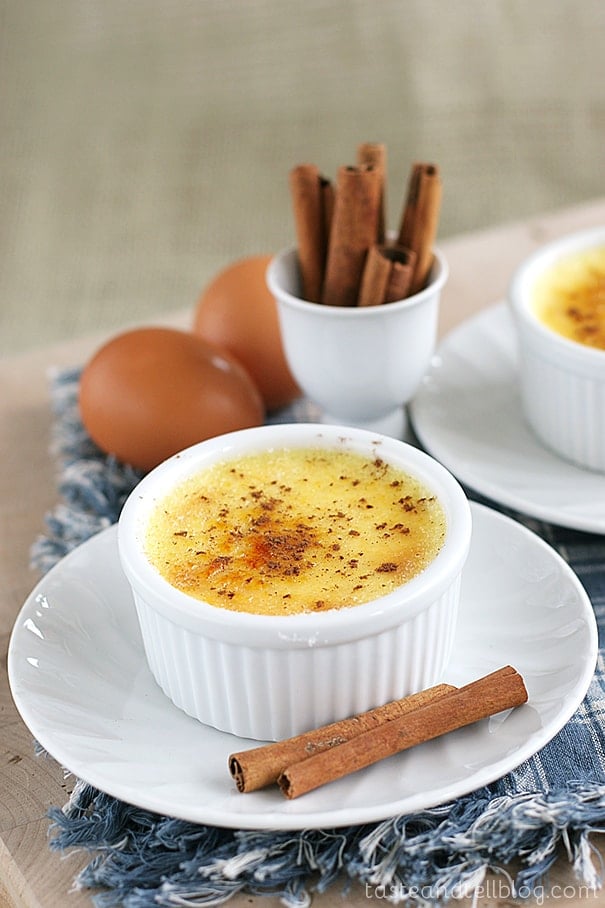 If you had to choose one favorite dessert, what would it be?
Ok, so that is a pretty hard question. I'd have a hard time answering it, as well. But after thinking long and hard, my mind always comes back to one dessert – Crème Brulee.
Crème Brulee is one of those desserts that seem difficult and fancy, but in reality, it's one of the easiest desserts to make. Very few ingredients, and very little hands on time – those are my favorite kinds of dessert!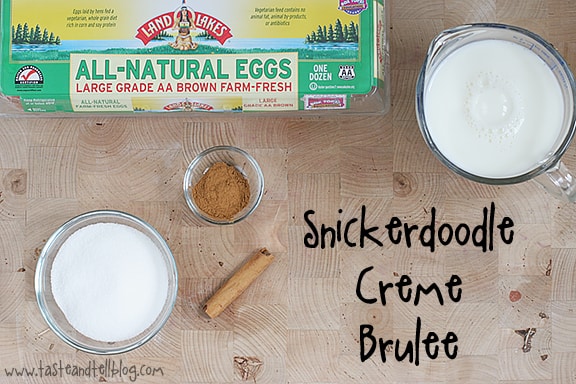 When you are making a recipe with so few ingredients, the quality of those ingredients is really important. Fresh cream, good quality cinnamon, and fresh, all-natural eggs are all essentials to make the best crème brulee. And when it comes to eggs, you can't go wrong with Land O Lake's all-natural eggs. In something like crème brulee, I can tell the difference between using a regular egg versus all-natural eggs, from chickens that have been fed a premium, whole grain diet.
When I started thinking crème brulee, I wanted to change it up just a little bit. And even though just plain crème brulee is amazing, I decided to put a cinnamon twist on mine. And since snickerdoodles are one of my favorite cookies, I thought – why not add a cinnamon-sugar twist to my crème brulee? The result was a crème brulee with a hint of cinnamon, topped with bruleed sugar and a dusting of cinnamon. Both my husband and I were truly in heaven!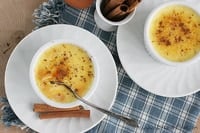 Snickerdoodle Creme Brulee
---
Prep Time: 10 minutes
Cook Time: 45 minutes
Total Time: 4 hours
Yield: 4 servings 1x
Description
A rich and creamy cinnamon custard is topped with burnt sugar and dusted with cinnamon for a truly decadent dessert.
---
Scale
Ingredients
1 1/2 cups heavy cream
1/4 cup sugar
pinch of salt
1 cinnamon stick
4 egg yolks
Topping
2 tablespoons sugar
1 teaspoon cinnamon
---
Instructions
In a medium saucepan over medium heat, combine the cream, sugar, salt and cinnamon stick. Stir and cook until it starts to bubble around the edges, then turn off the heat. Let sit and come to room temperature for 15 to 30 minutes.
Preheat the oven to 300F. Bring a kettle or a large pot of water to boil. Place a damp kitchen towel in the bottom of a large baking dish. Set aside.
In a medium bowl, whisk the egg yolks together. Remove the cinnamon stick from the cream mixture, and add the cream mixture to the egg yolks. Whisk completely. Pour into 4 ramekins. Place the ramekins in the prepared baking dish, and set the dish in the oven. Carefully pour the boiling water into the baking dish, careful not to splash on the custards. Fill the water about halfway up the sides of the ramekins. Bake the custards until just set in the middle, 40-45 minutes. Carefully remove from the oven and refrigerate for at least 2 hours, or overnight.
Just before serving, divide the sugar equally between the ramekins. Use a kitchen torch or oven broiler to brown the tops. Sprinkle on the cinnamon.
**Disclosure – this is a sponsored post, but all opinions are my own. Please check out Land O Lakes here:
Web
Facebook
Twitter
Here are some other great ideas using Land O Lakes eggs