It's the end of October, and it's finally starting to feel like fall here in Utah.  The leaves are changing colors and there is frost on the grass in the mornings.  Fall in Utah always makes me laugh a little, though, because people seem to have a bit of weather-confusion.  I stopped at the gas station last night, and I was wearing short sleeves while the person in line in front of me was wearing a big, puffy coat.  But even if we can't quite figure out what we should be wearing, one thing I'm pretty sure most people can agree on is a big pot of soup to warm us up on these cool, fall nights.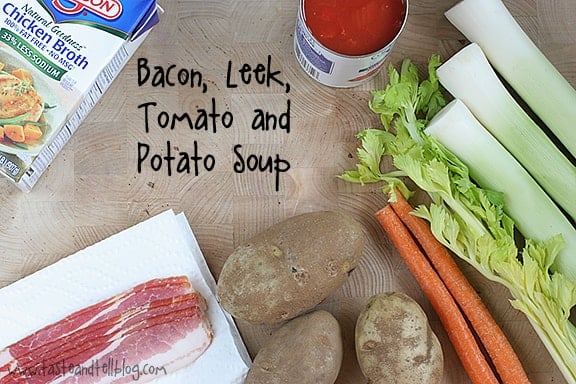 This soup is not only comforting, but it's quite healthy and full of veggies.  You could always leave the bacon out to make it a little bit more healthy, but I love the flavor and depth that it brings.  And if you think about it, each portion only has 1 slice of bacon in it.  And this soup can be easily changed up to use up any veggies that you may have in your vegetable drawer that need to be used up.  And I loved the addition of the potatoes, because potatoes seem to fill me up.  This was hearty and delicious, and a great way to warm up on a cool night!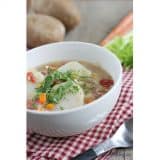 Bacon, Leek, Tomato and Potato Soup
---
Prep Time: 10 minutes
Cook Time: 25 minutes
Total Time: 30 minutes
Yield: 6 servings 1x
Description
A light and flavorful soup full of vegetables. A delicious way to warm up!
---
Scale
Ingredients
Extra-virgin olive oil, for drizzling
6 slices bacon, chopped into 1/2-inch pieces
3 small ribs celery from the heart of the stalk, finely chopped
2 small to medium carrots, chopped
3 leeks, trimmed of rough tops and roots, cut into half moons and chopped
1 bay leaf
Salt and pepper
3 medium starchy potatoes, such as Idaho, peeled
2 quarts chicken stock
1 (15-ounce) can petite diced tomatoes, drained
Handful flat-leaf parsley, finely chopped
---
Instructions
Heat a medium soup pot over medium-high heat. Add a drizzle of olive oil, then add the bacon and cook until crisp. Remove the bacon with a slotted spoon and set aside. Add the celery, carrots and leeks and cook until tender. While the vegetables are cooking, slice the potatoes. To slice, cut the potatoes into thirds, then thinly slice. Add the bay leaf to the vegetables and season with salt and pepper.
Add the chicken stock and bring to a boil. Add the potatoes and tomatoes then reduce the heat. Cook until the potatoes are tender. Add the parsley and salt and pepper to taste. Serve.
—————————-
Adapted from 30 Minute Meals
————————————-
Looking for more delicious soup recipes?
Easy Shrimp, Mushroom & Soba Noodle Soup from Cookin' Canuck
Spicy Thai Pumpkin Soup from Nutmeg Nanny
Gingered Carrot & Apple Soup from With Style and Grace
Roasted Tomato Basil Soup from Two Peas and Their Pod