Up until I made these, I had never had a beignet before.  It's not because I haven't wanted to try them, I just haven't had the opportunity.  And seeing that this cookbook is a fusion of Southern and French recipes, you have to have beignets!
I had never had a beignet before, but I had a pretty good idea of what they would taste like.  Pillowly and yeasty little balls of dough, covered in powdered sugar.  Bu then I read through this recipe, and I was completely thrown off!  Aparently, there are 2 different styles of beignets.  The Southern kind, that are made from a yeast dough and fried (kind of like a doughnut).  And then there are French beignets.  French beignets are made from the same dough you would use to make cream puffs or eclairs.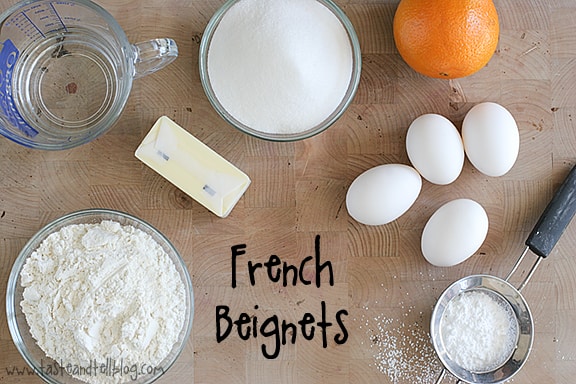 Honestly, I doubted this recipe at first.  I didn't think that they would be all that great.  But boy, was I wrong!  Let's just say that I am totally sold on the French way of making these!  (Recipe follows at the end of the post.)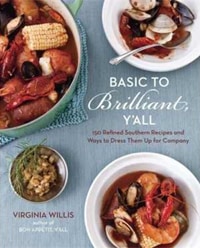 And since this is my last recipe from this month's Cookbook of the Month, it's time for a review!  I absolutely love the idea behind this cookbook.  Take Southern and French food, and make each recipe 2 ways – one simple, and one a little more dressed up.  I tended to gravitate towards the easier version, but sometimes, the "fancy" version was so easy and such a great idea!
I was super impressed with this cookbook.  It is filled with great recipes, and a huge variety of recipes.  This would be a really good cookbook to have on hand if you love to entertain, as well.
Prep Times and Total Recipe Times Listed:no
Number of Photos: lots
Not a photo for each dish, but these are the kinds of photos you are going to drool over.  If you are like me and like to just read through a cookbook for fun, this is the kind of cookbook you will love because the photos are so visually stunning.

Difficulty Level of Recipes: medium
There are a few recipes in this book that are a little bit intimidating, but you could definitely cook through this book if you cook often.
Availability of Ingredients: easy to medium

You should be able to find most of the ingredients, but there are a few that might be a little bit harder to track down, like quail or crawfish.
Here is what I made: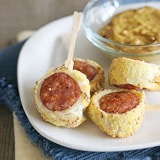 Pigs in a Blanket Bites – 9 out of 10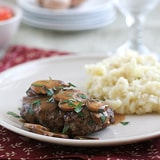 Salisbury Steak with Mushroom Gravy – 8 out of 10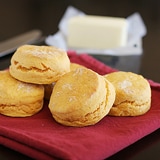 Sweet Potato Biscuits – 8.75 out of 10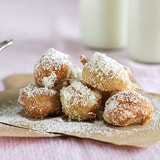 French Beignets – 9.5 out of 10
Overall Rating:  8.8125 out of 10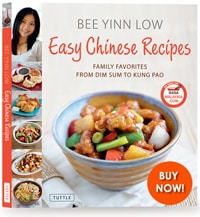 November is right around the corner, which means it's time for a new Cookbook of the Month!!  November's book is going to be Easy Chinese Recipes: Family Favorites From Dim Sum to Kung Pao by Bee  Yinn Low, author and creator of RasaMalaysia.  If you like Chinese food, you are really in for a treat.  I've already made the first recipe, and believe me, you are in for a treat!!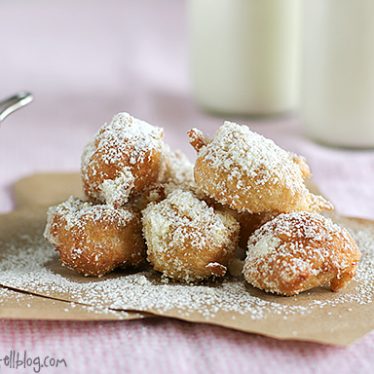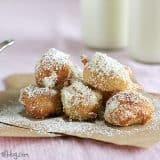 French Beignets
---
Prep Time: 20 minutes
Cook Time: 30 minutes
Total Time: 50 minutes
Yield: makes about 32 beignets 1x
Description
French-style beignets – cream puff dough is fried until light and fluffy, then rolled in sugar and dusted with powdered sugar. The ultimate French/Southern treat!
---
Scale
Ingredients
1 cup water
1/2 cup unsalted butter
1 teaspoon plus 1 cup granulated sugar
1/4 teaspoon fine sea salt
finely grated zest of 2 oranges
1 cup, plus 2 tablespoons all-purpose flour
4 large eggs
1 teaspoon vanilla extract
vegetable shortening, for frying
confectioners' sugar, for serving
---
Instructions
Line a baking sheet with paper towels and set aside.
In a medium saucepan, combine the water, butter, 1 teaspoon sugar, salt and half the zest. Bring to a rapid boil. Remove the pan from the heat and add the flour, stirring vigorously. Return to low heat and stir until completely combined and the dough pulls away from the sides of the pan and forms a ball. Remove from the heat.
Add the eggs, one at a time, mixing well after each addition. Beat until smooth and glossy. Add the vanilla extract.
Melt the shortening in a heavy bottomed skillet or deep fryer. Heat to 370F. Using an ice cream scoop or a spoon, drop the dough by teaspoonfuls, working in batches, into the hot oil. Cook until golden brown, turning once, 3 to 5 minutes. Remove with a slotted spoon to the prepared baking sheet.
Combine the remaining zest and sugar in a bowl. While the beignets are still warm, roll them in the sugar mixture. Just before serving, sprinkle with powdered sugar. Serve immediately.
————————–
From Basic to Brilliant, Y'all