Chocolatey with a hint of spice, these Chocolate Zucchini Muffins are a great way to use up that bountiful zucchini harvest.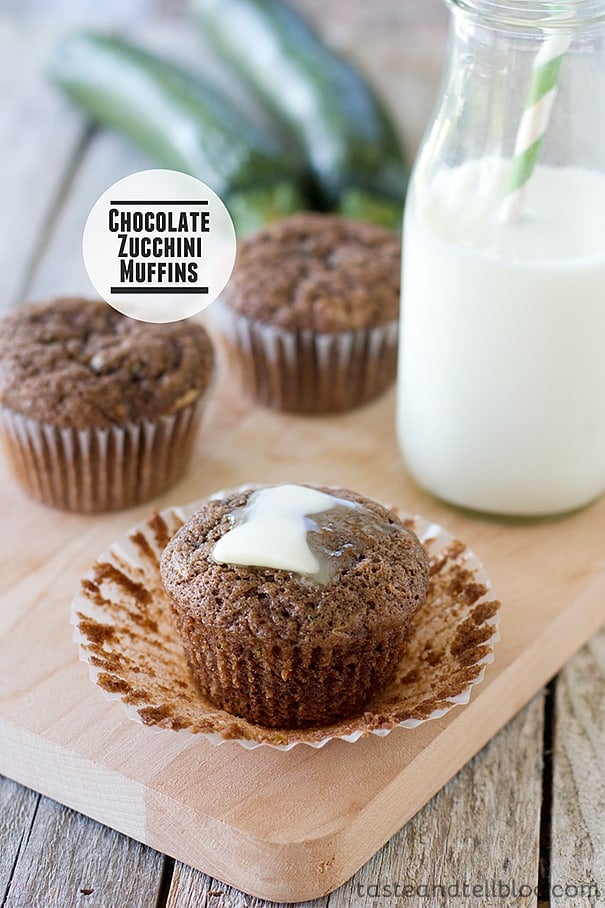 Photo Updated September 2013
Originally published August 17, 2010 – Tis the season for zucchini, so I thought I'd bring this one back to the front. It's another great way to get zucchini into a breakfast treat!
We considered not even having a garden this year. It really is a lot of work – and a lot of food for two and a half people. But last minute, we ended up with a few plants. Unfortunately, we lost some of them at the beginning, which is weird because we don't usually lose any plants. But we do have some tomatoes, zucchini and some strange hybrid squash that popped up – I'm guessing some summer squash and zucchini from last year decided to have some mutant baby plants that have literally taken over our garden. These two plants are probably at least 8 feet in diameter!
And although I'm feeling overwhelmed with zucchini, I really am glad that we ended up with a garden. I've been trying hard to not let any go to waste, but anyone who has ever had a zucchini plant knows how difficult that can be. But an overabundance of zucchini is a perfect excuse to make muffins for breakfast – especially chocolate ones!!
I kind of just grabbed a recipe online, not really taking the time to search for the perfect recipe. I grabbed a good one, though, because these were exactly what I was looking for. Chocolatey, with a hint of spices in the background. And we can pretend that they are healthy because they have zucchini in them!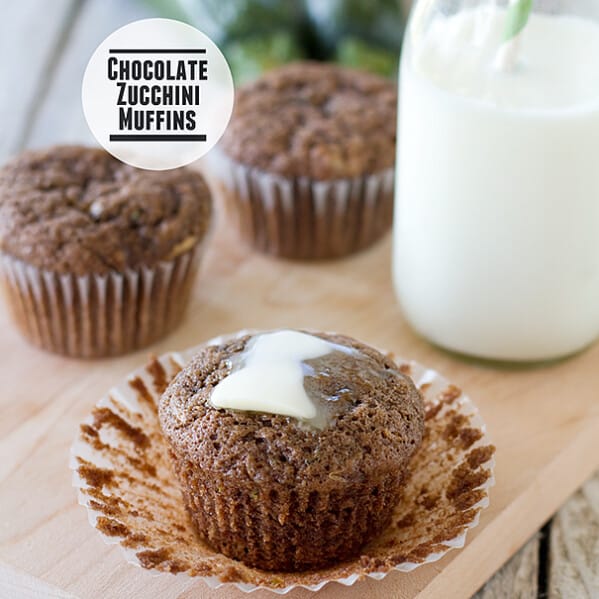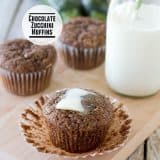 Chocolate Zucchini Muffins
---
Prep Time: 10 minutes
Cook Time: 25 minutes
Total Time: 35 minutes
Yield: 2 dozen muffins 1x
Description
Chocolatey with a hint of spice, these Chocolate Zucchini Muffins are a great way to use up that bountiful zucchini harvest.
---
Scale
Ingredients
3 eggs
2 cups sugar
1 cup vegetable oil
1/3 cup unsweetened cocoa powder
1 1/2 teaspoons vanilla
2 cups grated zucchini
3 cups all-purpose flour
1 teaspoon baking soda
1/2 teaspoon baking powder
1 teaspoon salt
1 teaspoon pumpkin pie spice
---
Instructions
Preheat the oven to 350F. Prepare two 12-cup muffin pans.
In a large bowl, beat together the eggs. Beat in the sugar and the oil. Add the cocoa, vanilla and zucchini and stir to mix.
Stir in the flour, baking soda, baking powder, salt and pumpkin pie spice. Mix just until moist – do not overmix.
Pour the batter evenly into the prepared muffin tins. Bake in the preheated oven for about 20 -25 minutes, or until a toothpick inserted in the middle comes out clean. Remove from pan and let cool on a wire rack.