What we ate at Disneyland – sweet and savory and everything in between!

I'm pretty sure I could take a trip to Disneyland just for the food.  Or maybe several trips.  Because, you guys – there is so much good food there.
A few weeks back, my sister, mom and I took a girl's trip to Disneyland.  I hadn't been in over 12 years, so needless to say, I was so excited.  Especially to have the time to spend with my mom and sisters, and to eat all. the. food.
(PS – if you have never taken a girls trip, or an adults only trip, to Disneyland, I highly recommend it.  It's a whole new experience!!)
But back to the food.  Let's just say we ate a lot. I knew we ate a lot, but once I actually went through all of my pictures and went to type this up, I didn't realize just how much there was. In our defense, though, there were 5 of us, and we shared everything.  But it was still amazing how much we were able to get through in 2 days.
So below is what we ate at Disneyland (minus a few that I didn't snap pictures of).  They are in no particular order, and I've tried to mention where we got each item. This is by no means a comprehensive list of what there is to eat at Disneyland – just what we tried this trip!
I'm ready for a second trip, now, because there is a lot we didn't make it to on my list!  Comment below to let me know what your favorite food at Disney is!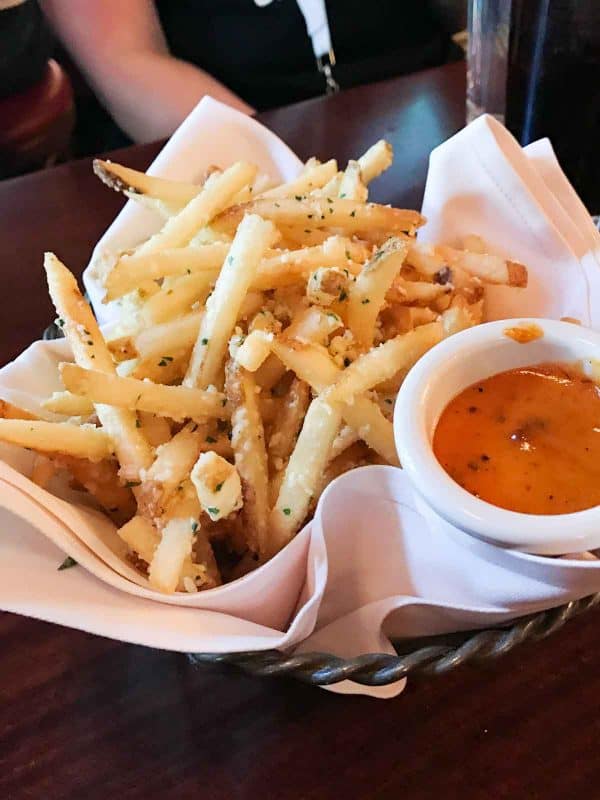 Pomme Frites from Cafe Orleans – Disneyland
These were amazing. The dipping sauce was amazing, too. I'm not always a fry kind of girl, but I could have eaten the whole basket myself.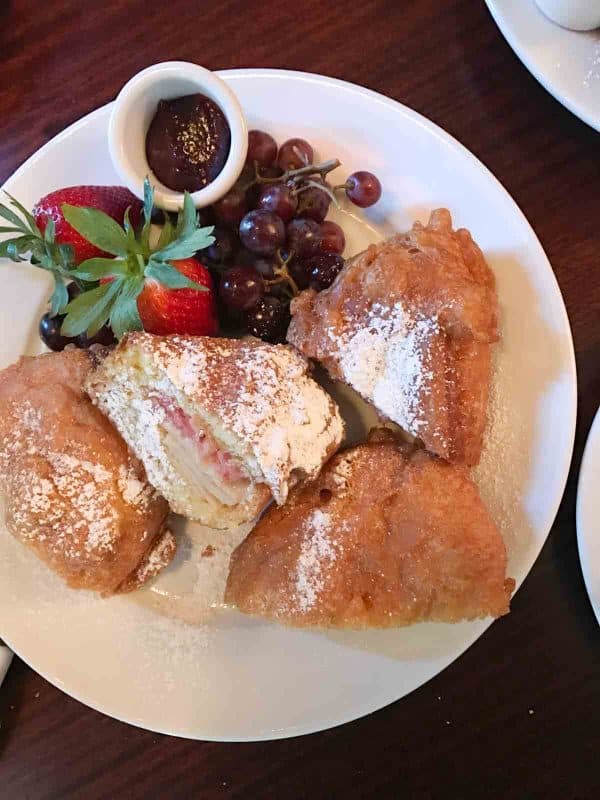 Monte Cristo from Cafe Orleans – Disneyland
The Monte Cristo was at the top of my list of the things that I wanted to try.  We ordered the traditional Monte Cristo and the Three-Cheese Monte Cristo.  Both of them were amazing, but the traditional beats out the three cheese.  But really, you can't go wrong with either.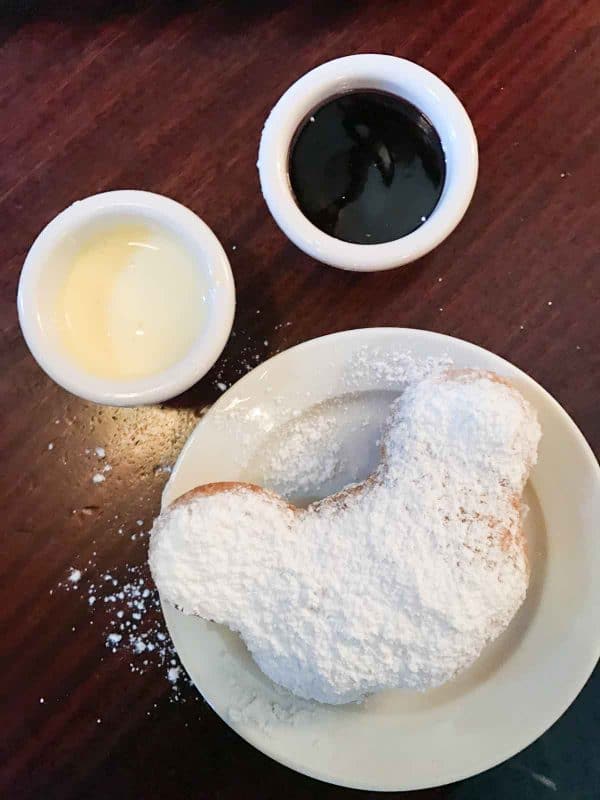 Beignets with Vanilla Bean Creme Anglaise and Fruit Coulis from Cafe Orleans – Disneyland
There are places you can buy beignets from a walk-up near Cafe Orleans, but if at all possible, I'd recommend sitting down at Cafe Orleans to order. Because at the restaurant, you get the vanilla bean creme anglaise and fruit coulis that totally take this beignet from good to amazing.  Seriously – so yummy.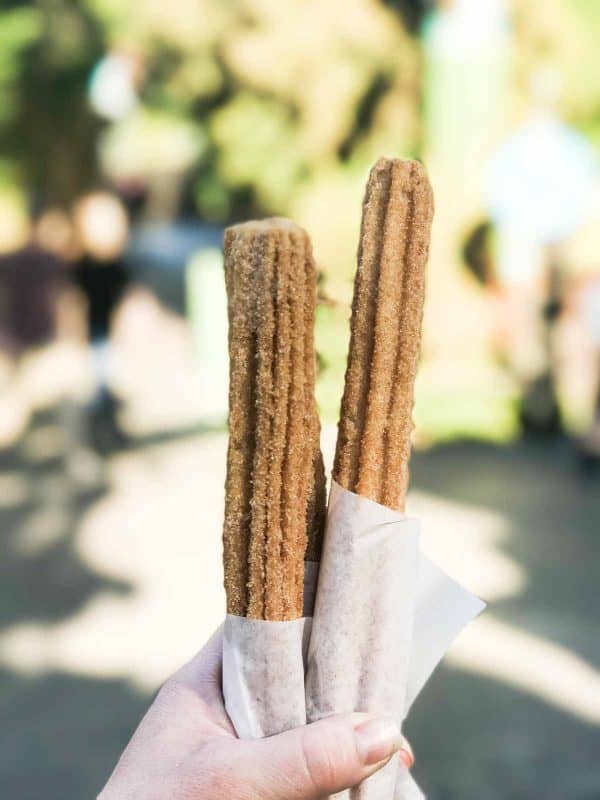 Churros – multiple locations throughout Disneyland and California Adventure
You can't go to Disneyland and not get a churro. Am I right?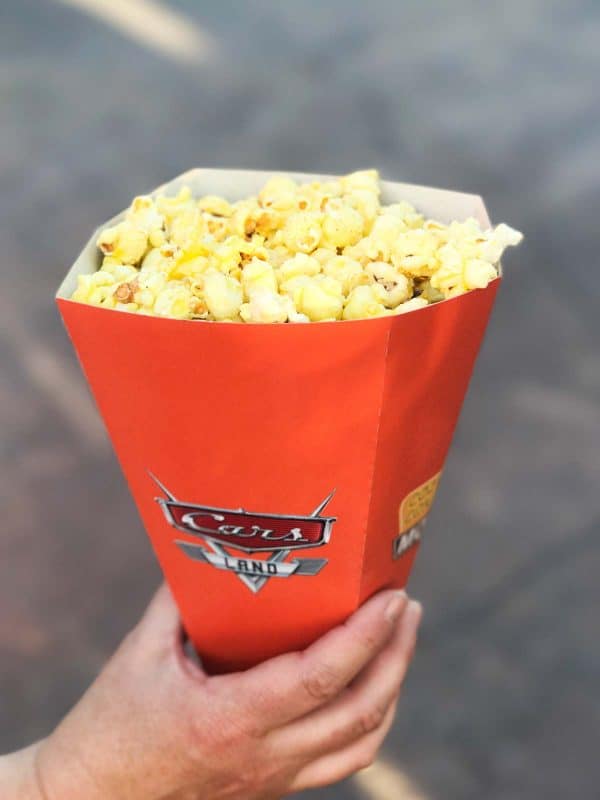 Dill Pickle Popcorn from the Cozy Cone Motel – California Adventure
You can buy several different flavors of popcorn at Cozy Cone #5.  This first one is dill pickle, and I wanted to sneak off with that popcorn all to myself. It was good.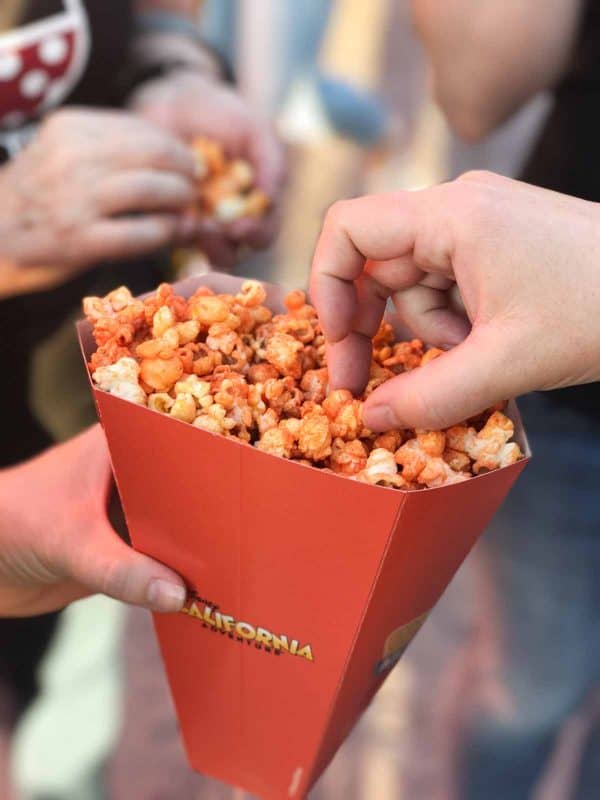 Pizza Popcorn from the Cozy Cone Motel – California Adventure
I think we ordered 3 different kinds of popcorn, but sadly, I can't even remember now! The pizza popcorn was good, but I'd still vote for the pickle popcorn.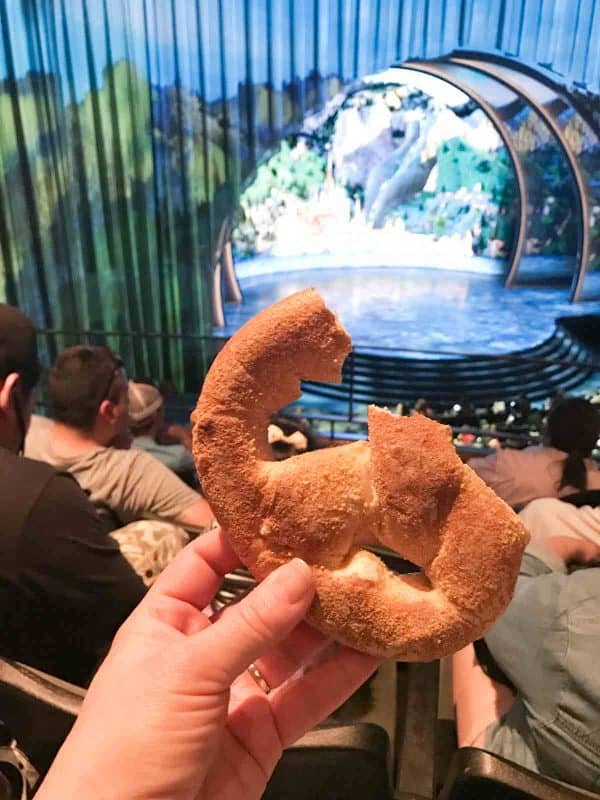 Cream Cheese Pretzel – from cart outside Hyperion Theater – California Adventure
A fresh soft pretzel, stuffed with a just sweet enough cream cheese.  This carb lover was in heaven.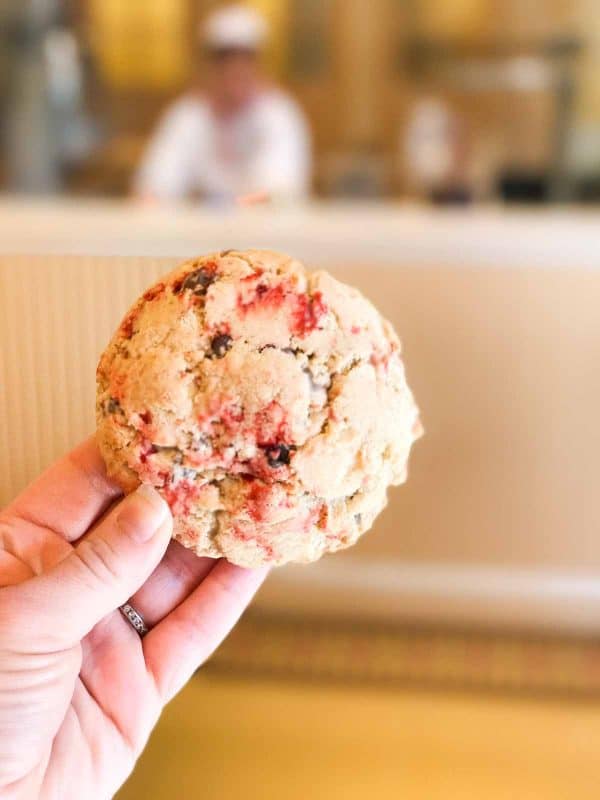 Raspberry White Chocolate Chip Cookie from Candy Palace – Disneyland
Sadly, this was probably the only thing that I didn't really care for. But I'm wondering if we got an old cookie.  We bought it very first thing in the morning, before we could even go in, so I do wonder if it was a leftover cookie from the night before.  Maybe I'll have to give it another try next time.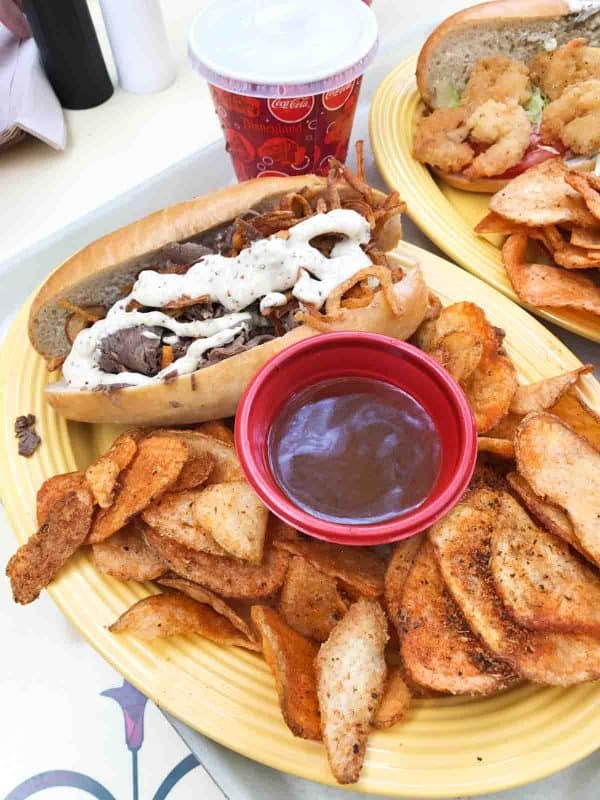 French Dip Sandwich from French Market  – Disneyland
I had heard so much hype around this French dip sandwich. While it was good, I will say that it's not the best French Dip I've ever had. So I was a little disappointed.  But we did manage to eat it all, and the house made chips were amazing!
Shrimp Po Boy from French Market – Disneyland
Same as the French Dip, I was slightly underwhelmed. I think this one just needed more sauce or something to unite everything a little better.  It was decent, just not my favorite.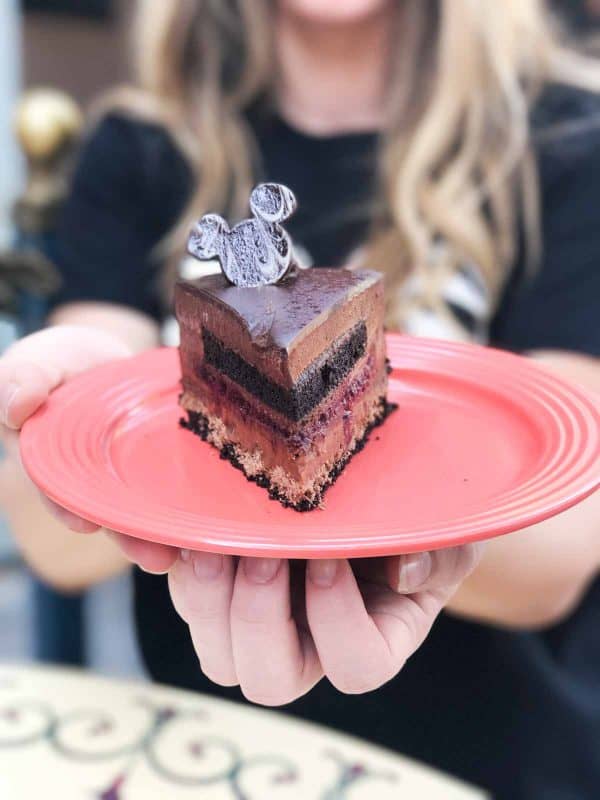 Chocolate Cake from French Market – Disneyland
My mom loved this one. It was very rich and full of chocolate flavor. The texture was great, too, and interesting because it had a few different things going.  If you are a chocolate lover, you'll definitely enjoy this one.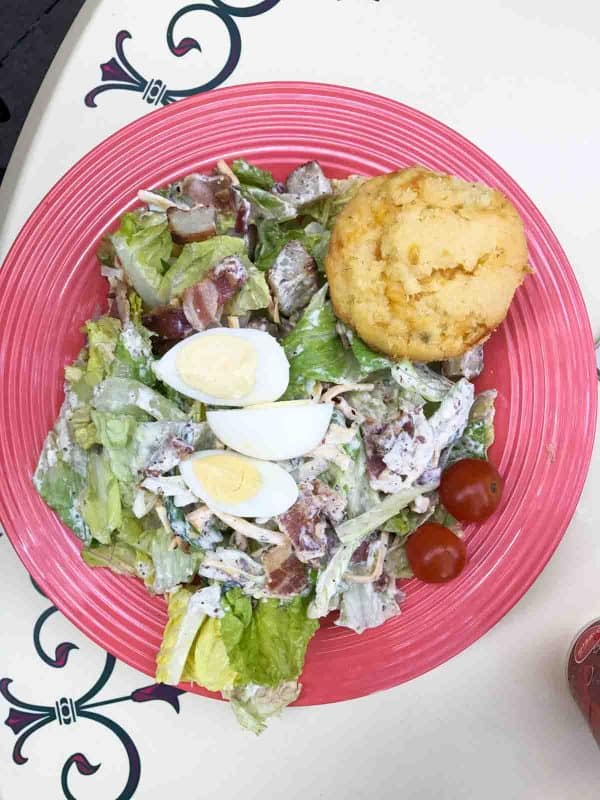 New Orleans Salad from French Market – Disneyland
I don't know if it's because we hadn't had any vegetables, but this was so good to me. The potatoes in the salad were a delicious addition that I would have never thought to add.  Definitely not healthy, even though it's a salad, but it was refreshing and full of flavor.  That dressing was amazing, and I wish I could have snuck a little container away to try to recreate it.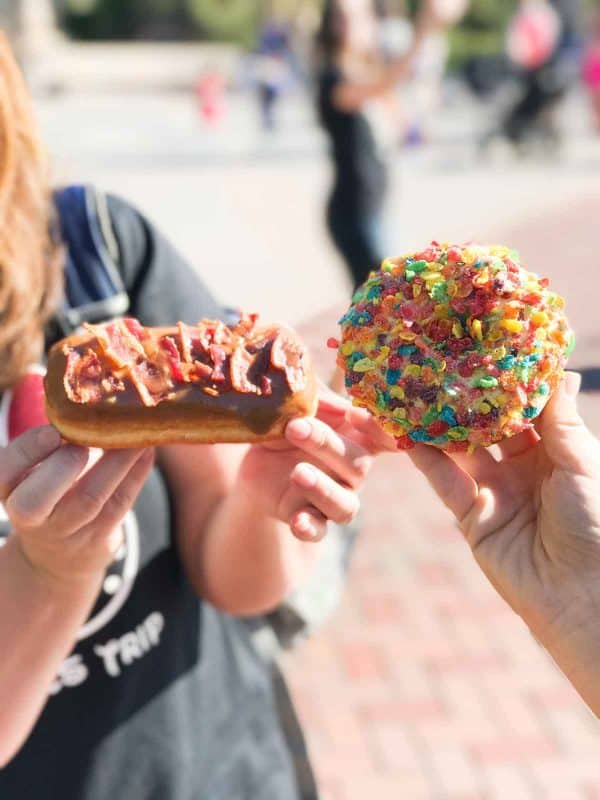 Disneyland Donuts from the Cappuccino Cart on Main Street – Disneyland
I heard about these from Jenny on disneyhungry and had to find one. She said they go fast, so we made sure to hit up the cart first thing in the morning.  We got a bacon maple bar and a Fruity Pebbles donut. I'll admit that I didn't have the highest hopes, because you can usually only get a really good donut at an actual donut shop.  But I was wrong.  The bacon maple donut was pretty much amazing.  The texture of the donut was spot on. The Fruity Pebble donut was pretty darn good as well.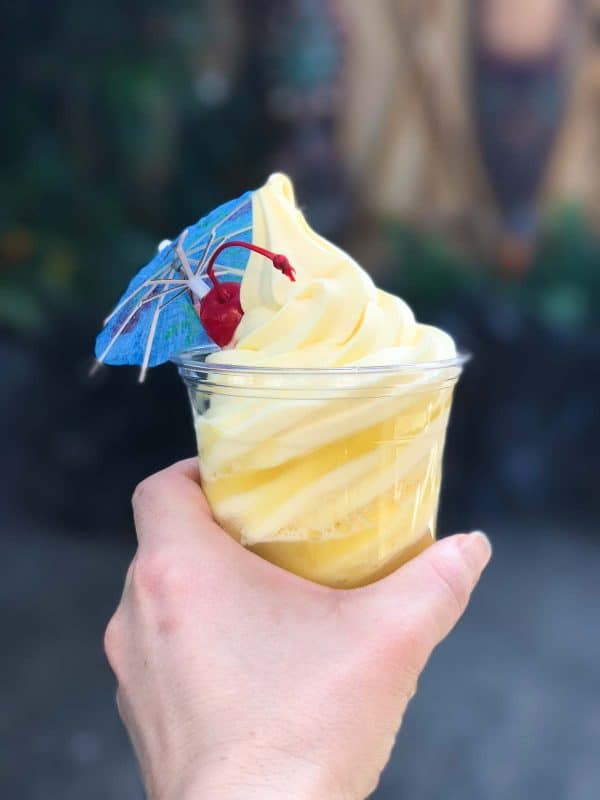 Dole Whip from the Tiki Juice Bar – Disneyland
Seeing that it had been so long since I had been to Disneyland, this was actually my first Dole Whip ever.  I know it's the must have for many people at Disneyland, and I can see why.  The lines are almost always long, but it was delicious and refreshing.  And while you are there, get the pineapple spear as well, because that was some of the best pineapple I think I've ever tasted.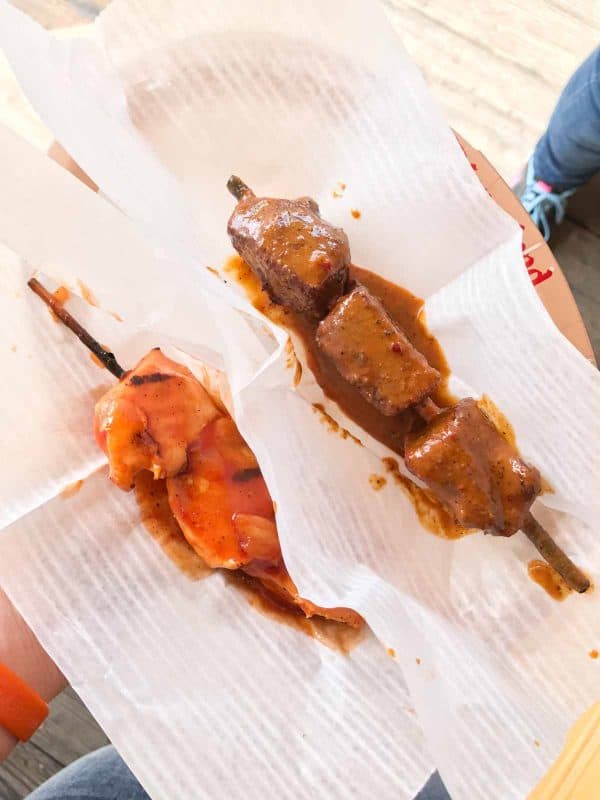 Banyan Beef Skewer and Chieftain Chicken Skewer from Bengal Barbecue – Disneyland
I love some good barbecue, and these kept calling to me every time we walked past and I could smell them.  These are great for a little snack.  They were both good, but I preferred the beef skewer to the chicken skewer.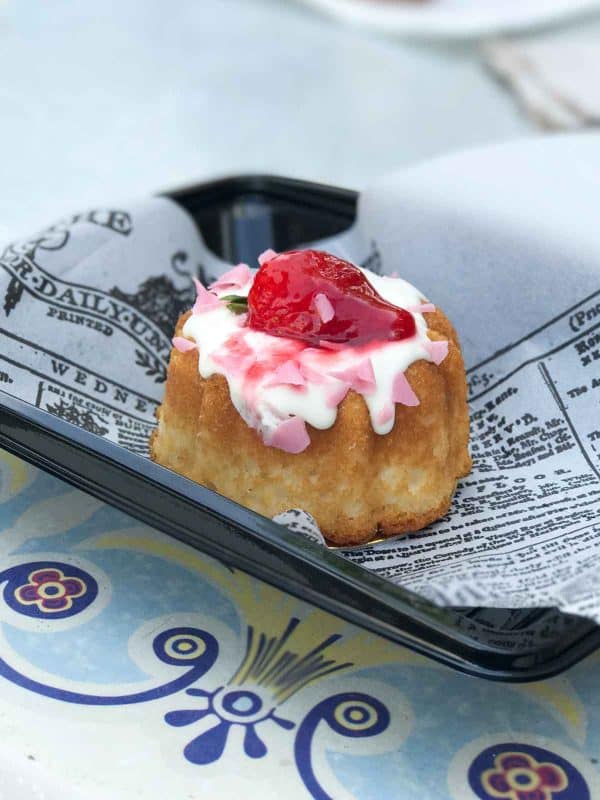 Strawberry Bundt Cake at Jolly Holiday Bakery – Disneyland
We tried a few of the desserts at the Jolly Holiday Bakery, and all of them were hits.  This Strawberry Bundt Cake was perfectly moist and sweet and delicious!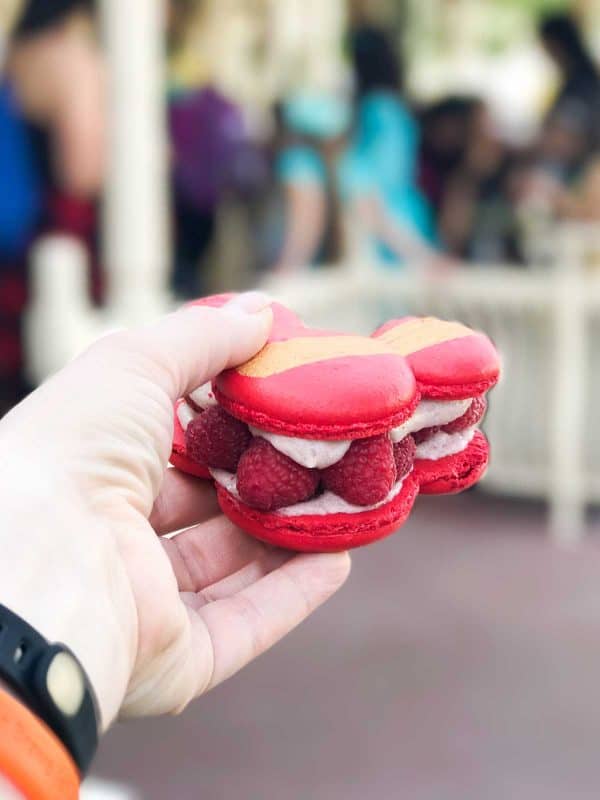 Raspberry Rose Macaron from Jolly Holiday Bakery – Disneyland
Hands down, my favorite thing I ate at Disneyland. Macarons can be hit or miss for me, but this was a home run. Don't let the rose turn you away (I'm not a fan of eating florals, either) because it doesn't taste rose-y at all.  But this was pure macaron perfection, in my opinion.  I will be buying my own next time and not sharing at all!!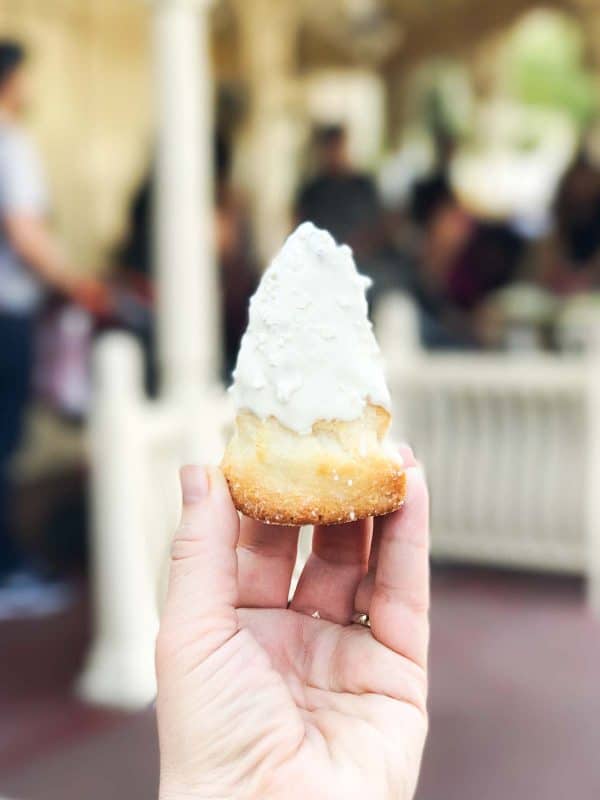 Matterhorn Macaroon from Jolly Holiday Bakery – Disneyland
This macaroon (not be confused with the macaron above) is perfect for coconut lovers. I actually really liked this one, too, and would definitely buy another. Not too sweet, and just moist enough, I really enjoyed this one!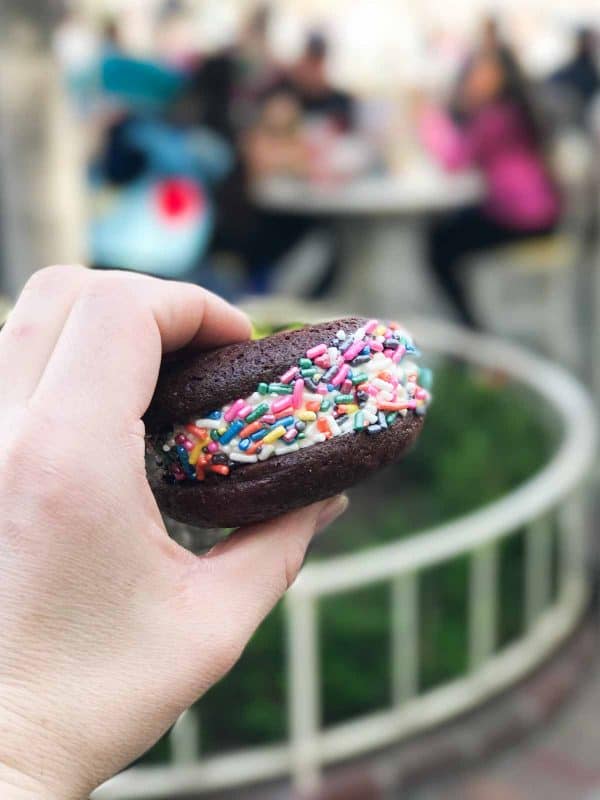 Whoopie Pie from Jolly Holiday Bakery – Disneyland
I love a good whoopie pie, and these are definitely good!  And the sprinkles are fun. 🙂 I'm sure my kids would go crazy for these!!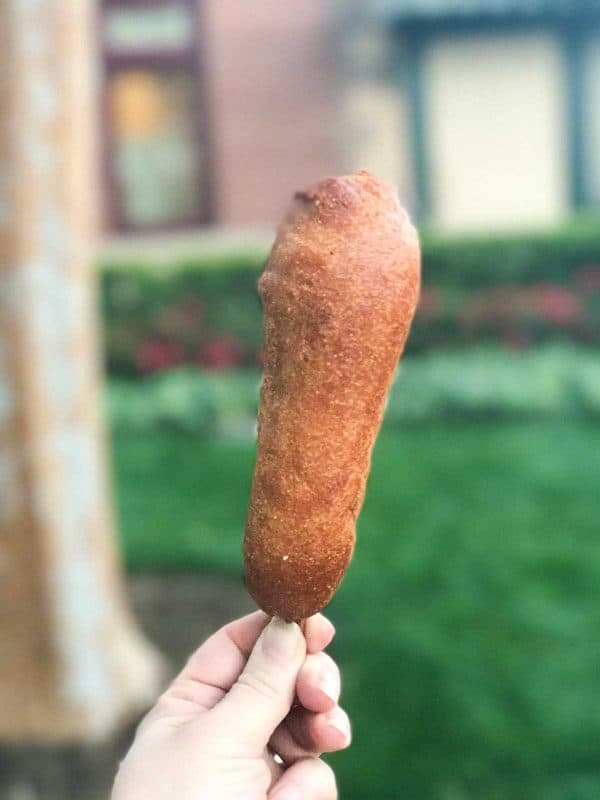 Hand Dipped Corn Dogs at the Little Red Wagon – Disneyland
When we first got to Disneyland, my sisters said there one request for food was a corndog. We almost didn't make it, squeezing them in at the end of the second day, but the trip wouldn't have been complete without this corndog. There is a reason these are such a popular treat at Disneyland – they are just that good.  You can also get corndogs at the Corn Dog Castle in California Adventure.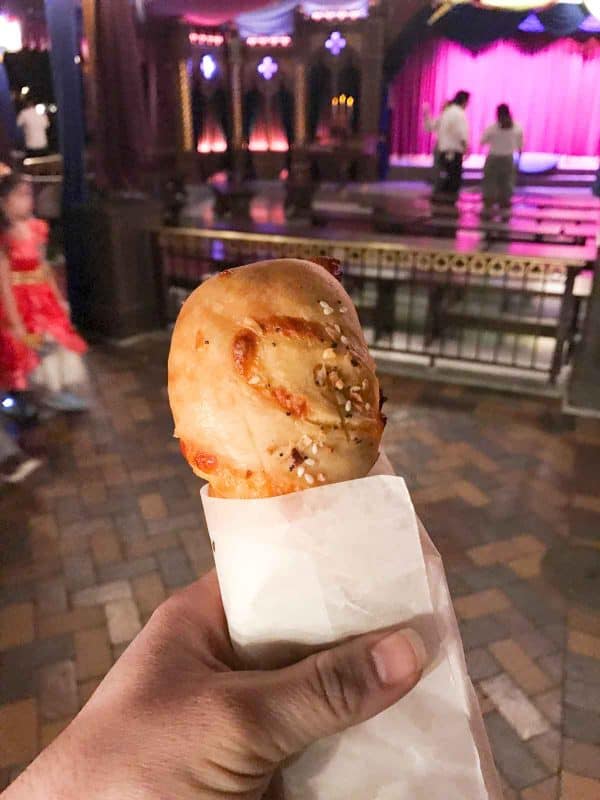 Cheddar Garlic Bagel Twist from Maurice's Treats – Disneyland
My sister bought one of these after we watched the cutest little Tangled show next door.  Oh, my. I'm a carb lover, so I should have known I'd love this one.  Bread, cheese, and garlic – how could you go wrong???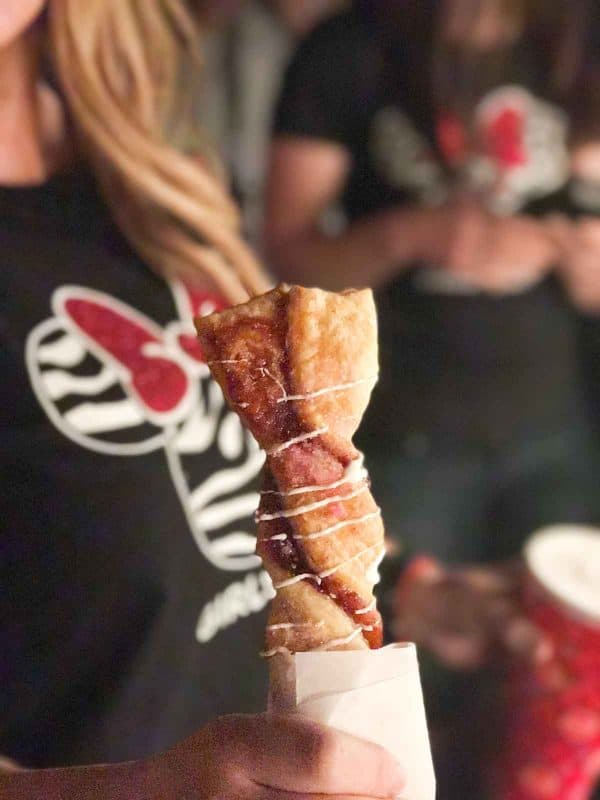 Strawberry Twist from Maurice's Treats – Disneyland
Sweet alongside our savory bagel twist – this strawberry twist was just sweet enough and nice and flaky.  I think I would have loved this more if it wasn't the very end of our second day of splurging, but it was really good.  We also had a Boysen Apple Freeze (no picture!) that was good but quite sweet.
Chocolate Peanut Butter Sandwich from Candy Palace – Disneyland
We stopped to grab a few sweets and souveniers for our families on the way out after a day of fun and eating, but I couldn't resist trying the peanut butter sandwich.  A sweet peanut butter filling is sandwiched between two graham crackers and covered in chocolate. It is really sweet, and really rich, but I liked it.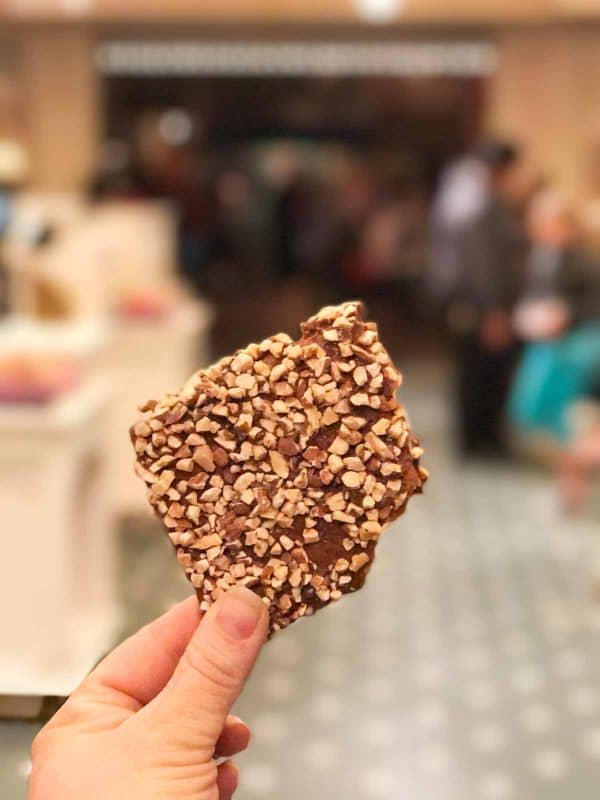 English Toffee from Candy Palace – Disneyland
I bought this to nibble on on my flight home the next day, but only half of it made it that long.  So good! I am an English toffee fan, though, and managed to have this gone by the time I got home. I almost bought a whole bag, which would have been dangerous!!
---
There you have it – what we ate at Disneyland. I'd say it was a successful 2 days of eating and fun!  And even though it looks like all we did was eat, we managed to ride just about every ride in those 2 days – it's amazing how much you can get through when it's just adults!
I'm determined to make it back sooner than later now so that I can try even more!
Like what you see here? Make sure you are following Taste and Tell for more recipes and ideas!

Facebook | Pinterest | Instagram | Twitter | Google+ | Weekly Newsletter | Feedly | Bloglovin
Don't miss a thing! Follow me on Pinterest to see what I'm pinning!