Sweet and salty, this Strawberry Pretzel Salad is as pretty as it is delicious. Serve it as a side dish or a dessert – either way, it's always a hit!
Looking for the best side dish for your holiday meal? This is the perfect dish to bring along for any holiday, potluck, bbq, and more!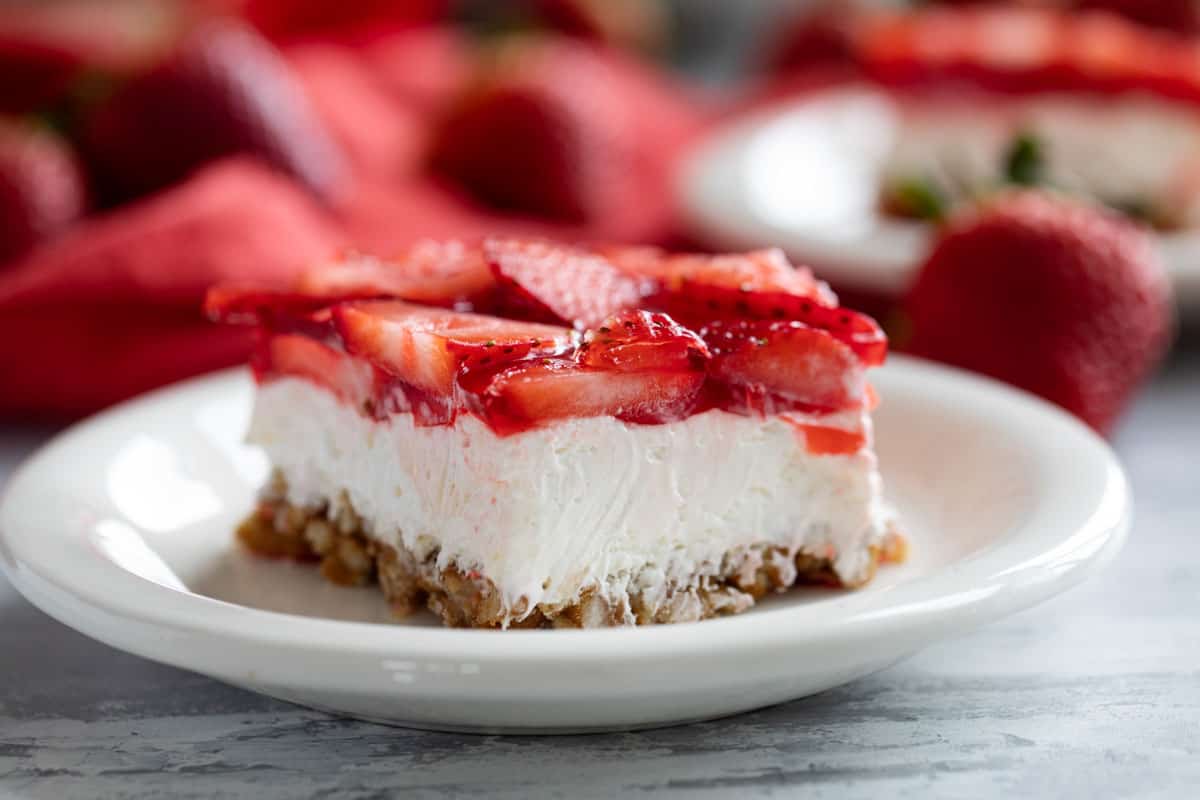 I've been really into all of the old school recipes lately. Green bean casserole, chicken pot pie, meatloaf… Sometimes the world seems to be caught up in what is new and exciting, but I always find myself going back to the classics.
If you've never heard of this Strawberry Pretzel Salad, you've been missing out. This is a recipe that goes back to the 1960s, and I've been eating it for as long as I can remember.
And yes – it is called a salad. And yes, I know it's not your typical "salad". I like to throw this into the classification of a sweet salad, like this Snickers Salad.
Some people serve it as a dessert, but in my family, we always served it as a side dish. I think it's perfect for a holiday meal, and we throw it together for part of Sunday supper quite often, as well!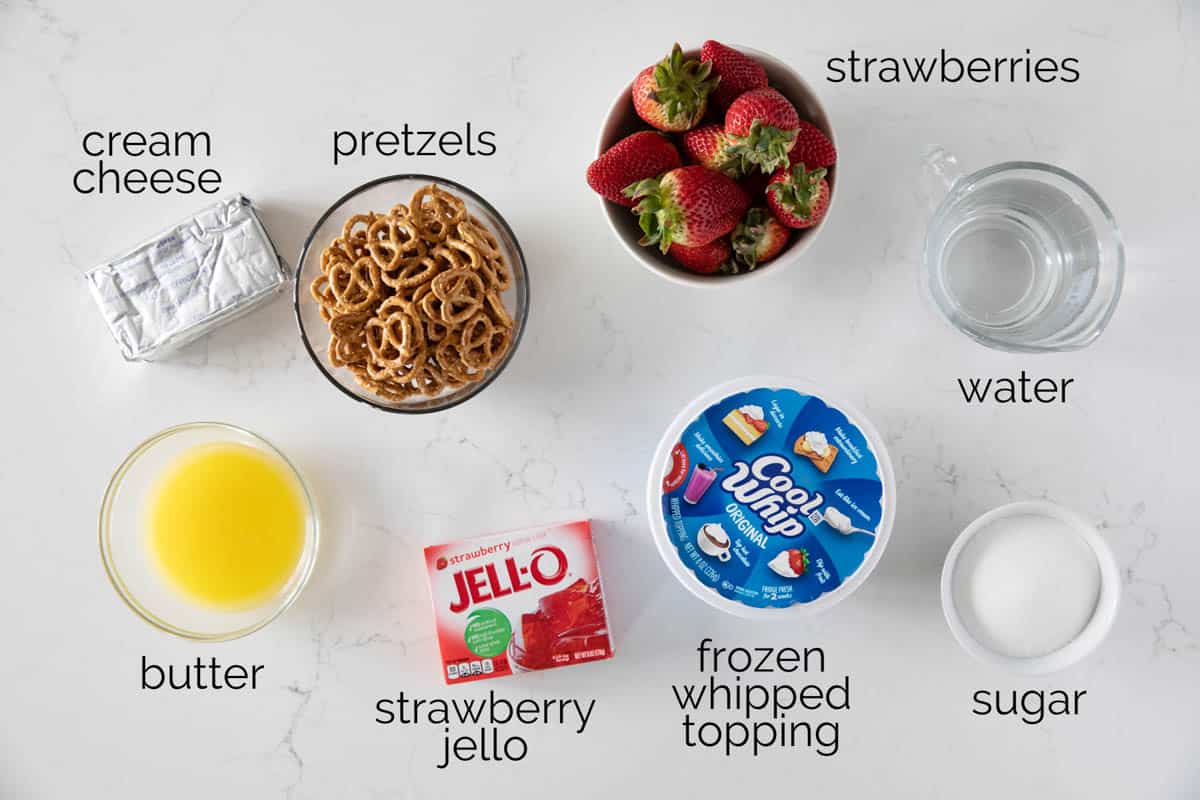 Ingredients
Make sure you check out the recipe card at the end of the post with full ingredients and amounts as well as instructions.
Pretzels: I like to use regular mini pretzels, although pretzel sticks would work as well. You just don't want pretzels that are too thick.
Butter: You can use salted or unsalted butter.
Sugar: You'll need sugar in both the pretzel crust and the filling.
Cream Cheese: I have only ever used full fat cream cheese, but low fat should work, as well. You do want to make sure it's a room temperature so that it will blend easily.
Frozen Whipped Topping: I like to use frozen whipped topping (aka Cool Whip) because not only is it easy, but it holds up much better then freshly whipped cream. You can always find healthier versions at places like Whole Foods. And yes, you can substitute freshly whipped cream but it won't hold up for as long.
Strawberry Jello: You need one big box or two small boxes.
Water: Make sure the water is boiling so that the jello dissolves easily.
Strawberries: I like to use fresh strawberries, but frozen strawberries would also work.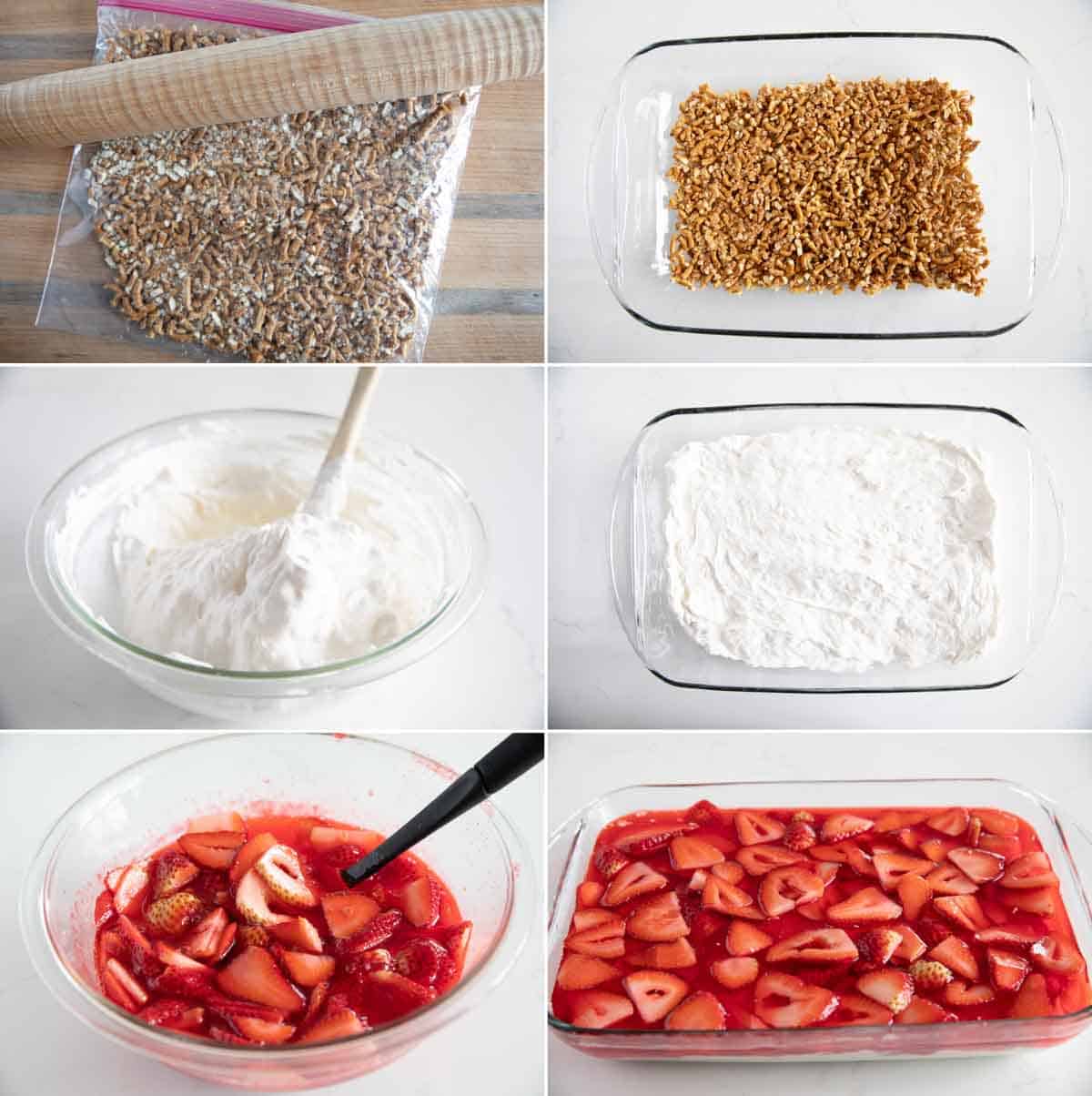 How to Make Strawberry Pretzel Salad
The first step is to crush your pretzels. I think the easiest way to do this is to put it in a large ziplock bag, then use a rolling pin to smash them. You could use a food processor, but you just want to make sure you don't take it too far – you still want chunks, not pretzel dust.
Mix the pretzel pieces with the melted butter and some of the sugar. Spread this in the bottom of a baking pan, and bake until it's set. Let the crust cool.
Combine the cream cheese with the remaining sugar. Beat this together well, then fold in the whipped topping.
Spread this mixture gently over the pretzel crust. I think it's easiest to drop big dollops over the crust, then gently smooth it out. Refrigerate this for at least 30 minutes. If you have more time, you can always let it set longer.
Mix together the boiling water and the Jello until the Jello is dissolved. Let it sit for a bit, until the mixture is not too hot. Stir in the strawberries.
Remove the dish from the refrigerator and carefully pour the mixture over the top. Make sure to pour it in very carefully.
Refrigerate until it has completely set up. Cut into squares to serve.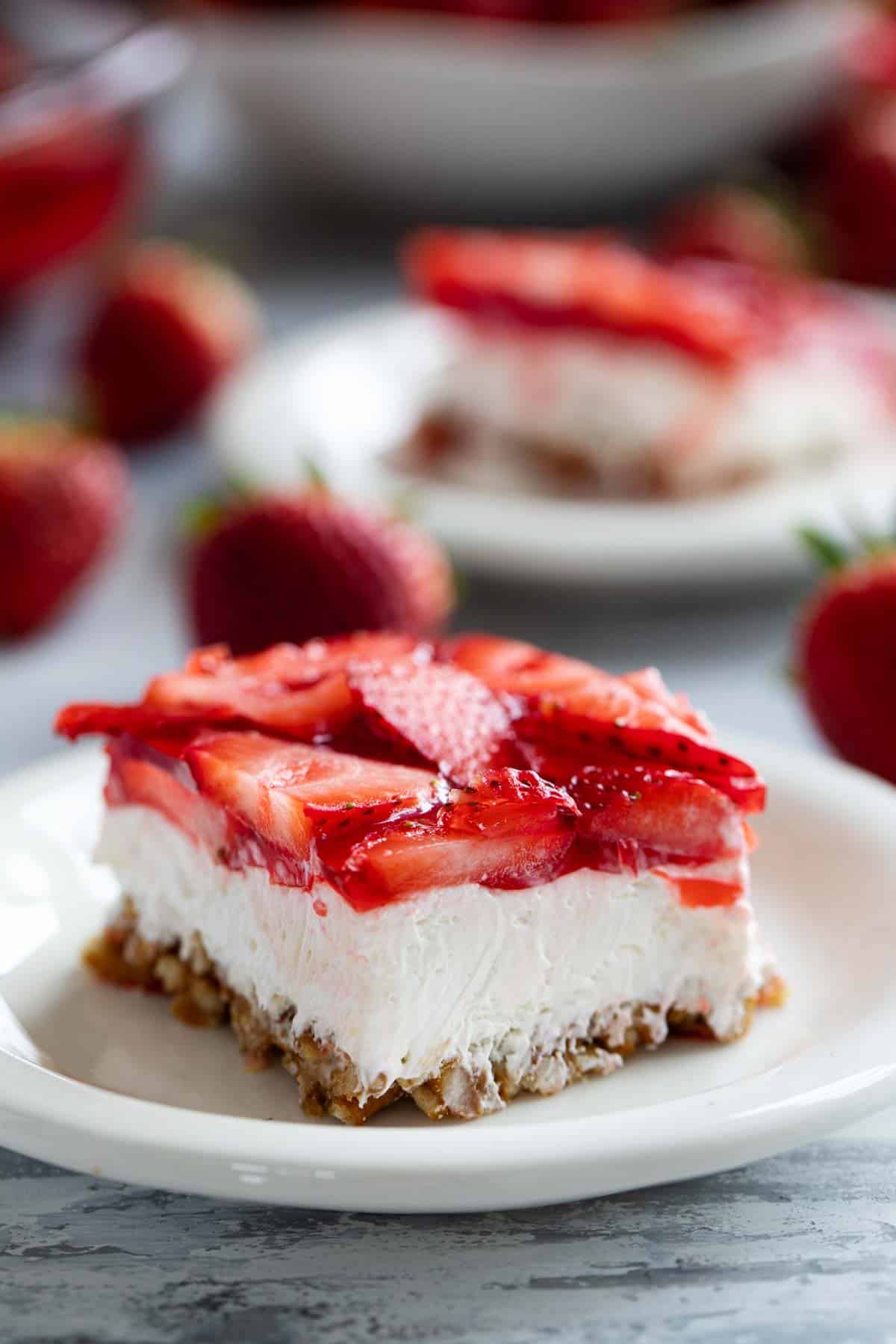 Tips and Tricks
The instructions say to refrigerate the strawberry pretzel salad for at least 4 hours. I have served it in as little as 2 hours, but that is the minimum I would go. But 4 hours really is ideal.
Change things up! While strawberry is probably the most popular version of this salad, you could also use raspberries and raspberry jello or mandarin oranges and orange jello.
I like to make this in a glass dish – it just makes the presentation pretty when you can see all the layers.
Make sure your cream cheese layer goes all the way to the edges of your dish so that none of the jello mixture seems down on the sides. If it does, it will still taste delicious, but the layers may not be as pretty.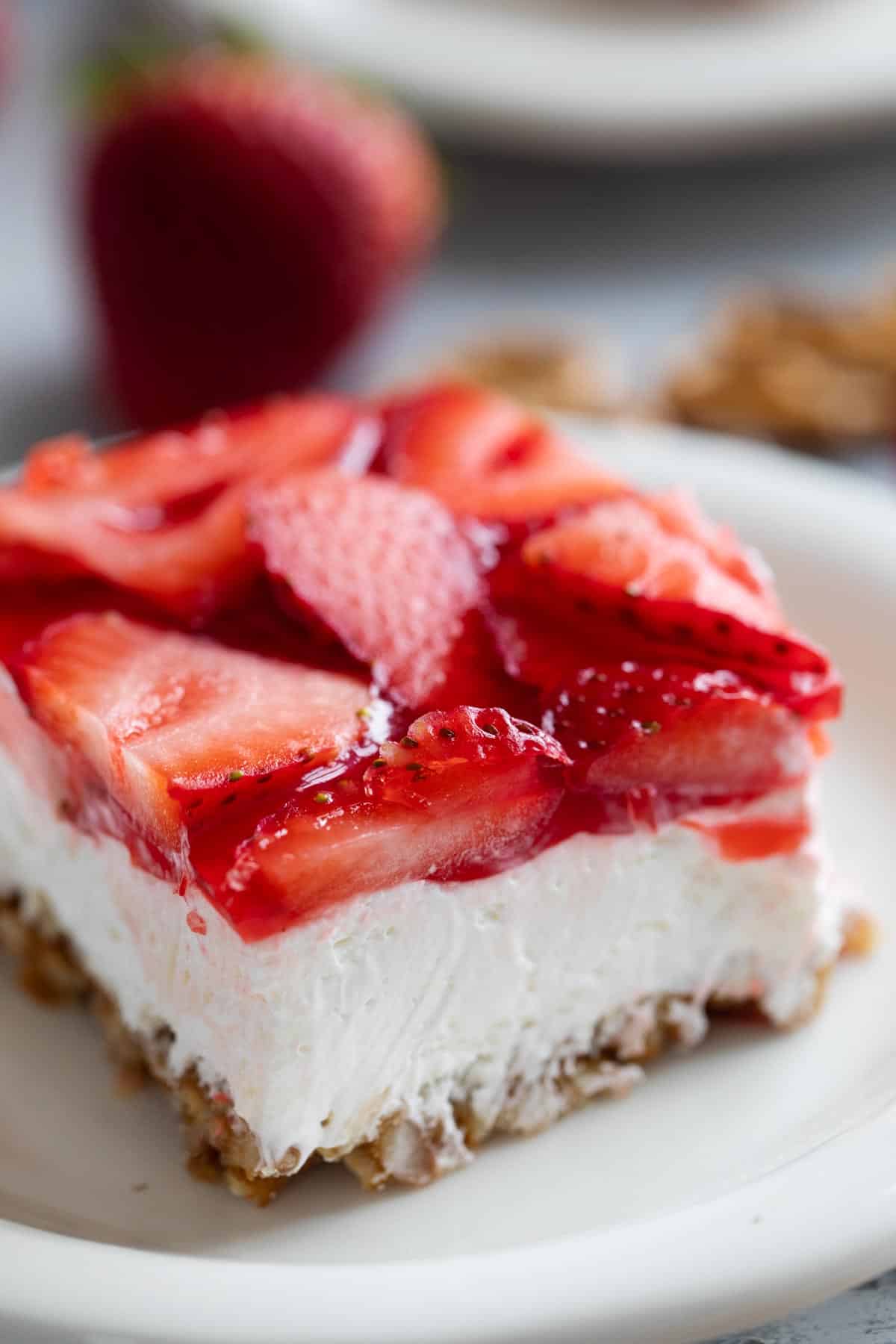 Make Ahead and Storage Instructions
One reason this makes such a great holiday dish is because it can be made ahead of time!
Because it needs to be refrigerated for several hours, I like to make this the day before. Just keep it refrigerated until you are ready to serve it. I don't like to make it more than a day or day and a half in advance, though, because the pretzels do start to get a little soggy.
Store any leftovers in the refrigerator covered. Like I mentioned above, the pretzels will soften up over time, but it is still delicious.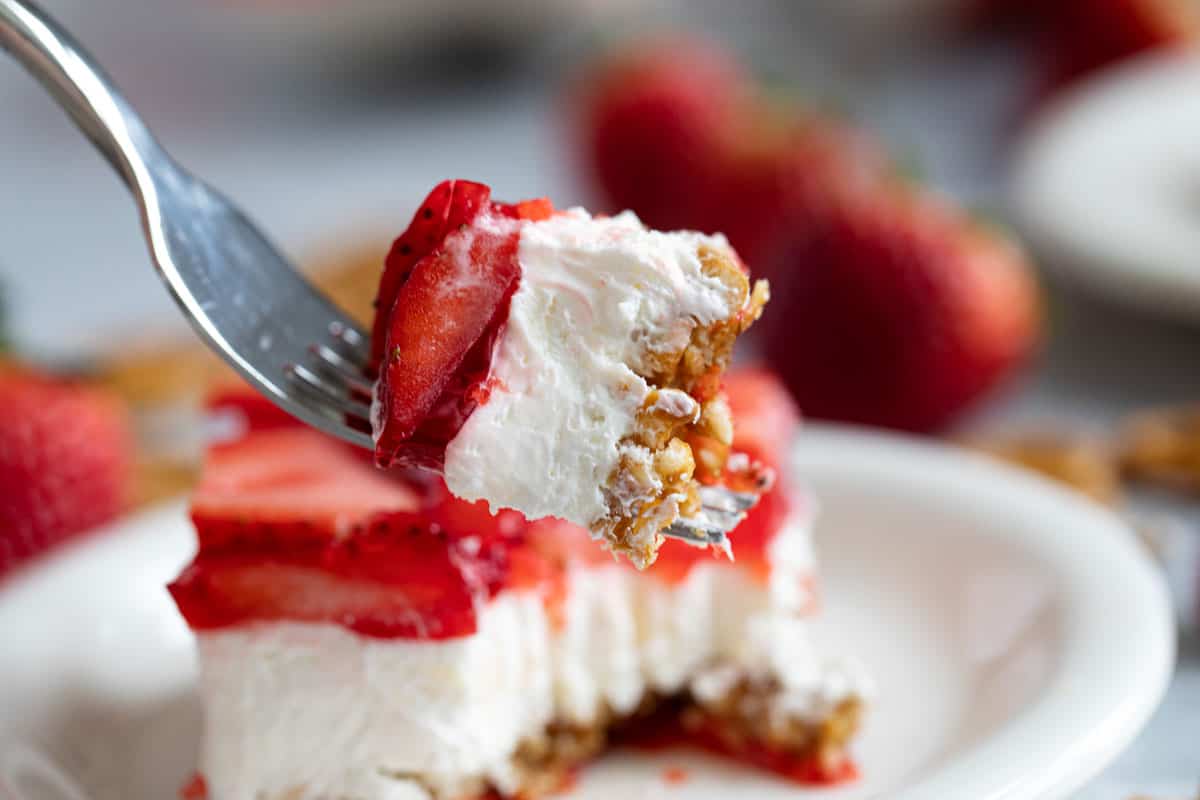 More Sweet Salads
Apple Pomegranate Salad
Cranberry Salad
Crown Ruby Fruit Salad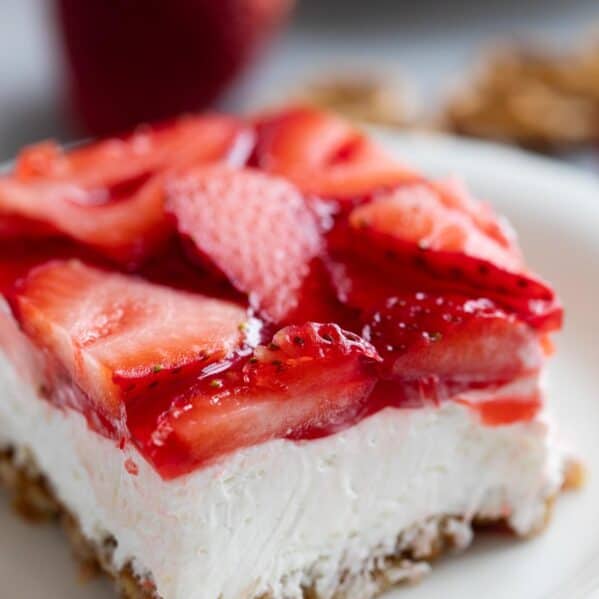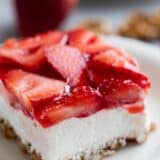 Strawberry Pretzel Salad
---
Author:
Prep Time: 20 minutes
Refrigeration Time: 4 hours 30 minutes
Cook Time: 10 minutes
Total Time: 5 hours
Yield: 12 servings 1x
Category: Side Dish
Method: Baked
Cuisine: American
Description
Sweet and salty, this Strawberry Pretzel Salad is as pretty as it is delicious. Serve it as a side dish or a dessert – either way, it's always a hit!
---
Scale
Ingredients
5 1/2 oz pretzels (about 3 1/2 cups of pretzels)
1/2 cup butter, melted
1/2 cup plus 3 tablespoons sugar, divided
1 (8 oz) package cream cheese, at room temperature
1 (8 oz) container frozen whipped topping, thawed
1 (6 oz) package strawberry Jello
2 cups boiling water
1 pound fresh strawberries, trimmed and sliced
---
Instructions
Preheat the oven to 400ºF.
Place the pretzels in a large ziplock bag. Using your hands or a rolling pin, gently break up the pretzels. You don't want to completely pulverize them, but you do want them to be in small pieces.
In a bowl, stir together the crushed pretzels with the melted butter and 3 tablespoons of the sugar. Press the mixture into a 9×13-inch baking dish. Bake in the preheated oven until set, 8-10 minutes. Remove from the oven and let it cool for at least 10 minutes.
In a large bowl, combine the cream cheese with the remaining 1/2 cup of sugar. Beat with an electric mixer until smooth. Fold in the whipped topping, then smooth the mixture over the pretzel crust. Transfer to the refrigerator for at least 30 minutes for the cream cheese layer to set up.
Combine the jello with the boiling water and stir until the jello is dissolved. Let the mixture set up and cool off for about 10 minutes. Stir in the sliced strawberries. Carefully pour the jello mixture over the top of the cream cheese layer.
Refrigerate until the set, at least 4 hours.
Recipe Notes:
Nutrition information provided as an estimate only. Various brands and products can change the counts. Any nutritional information should be used as a general guide.
Nutrition
Serving Size: 1 slice
Calories: 338
Sugar: 29 g
Sodium: 391 mg
Fat: 15 g
Saturated Fat: 9 g
Unsaturated Fat: 5 g
Trans Fat: 0 g
Carbohydrates: 45 g
Fiber: 1 g
Protein: 4 g
Cholesterol: 39 mg
Keywords: strawberry pretzel salad, pretzel jello salad, pretzel salad, sweet salad