This Hot Cocoa Chiffon Cake is a light chocolate flavored cake with cinnamon and vanilla flavors. Layered with a vanilla whipped cream, you are sure to love this cake!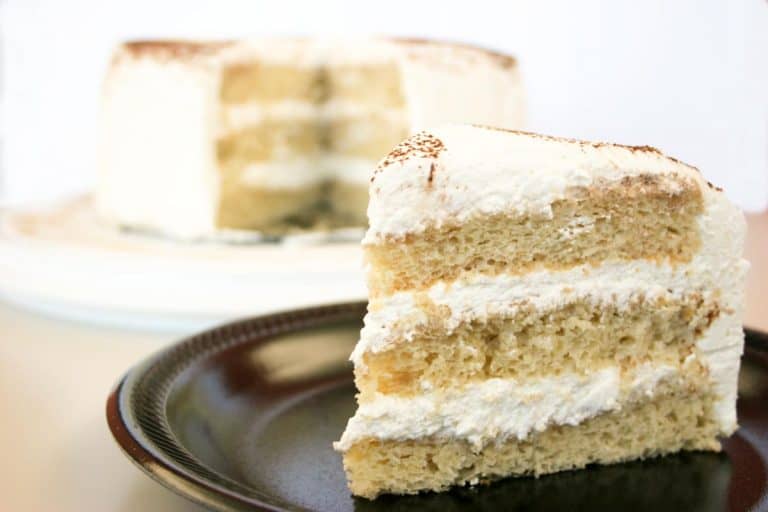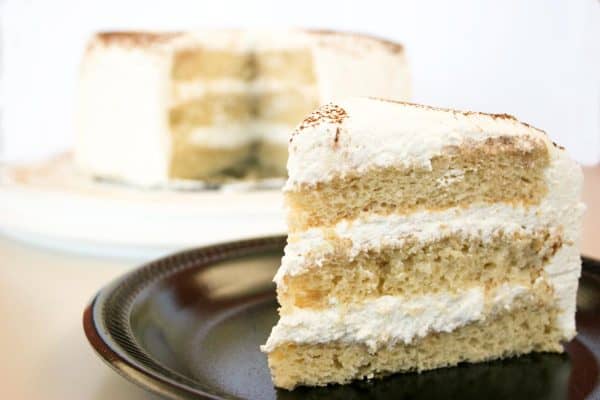 I am really excited to be a part of a new baking group – The Cake Slice Bakers. I heard about the group, just forming, about a month ago and joined right away. The idea of this group is to take one baking cookbook a year and bake a recipe from it each month for that year. Since I'm a cookbook fan, and a baking fan, I thought it would be a perfect fit!
The first choice from this year's cookbook – Sky High by Alisa Huntsman and Peter Wynne – was a Cappuccino Chiffon Cake. Since my husband and I aren't coffee drinkers, and I was taking this to work where most of the people at work aren't coffee drinkers, I decided to sub hot cocoa and leave out all of the alcohol elements. What I was left with was a delicious cake!!
I didn't think I'd be able to sample the cake, but there was a slice left over for me, plus one for me to take home to my husband. I loved the flavor of this cake. It didn't taste very much like hot cocoa, but more like cinnamon and vanilla flavor. It wasn't overpowering in any way, but the texture and taste were right up my alley! My husband ate his slice in about 2 seconds flat, and was mad that I didn't have more!
Below is the recipe as I made it.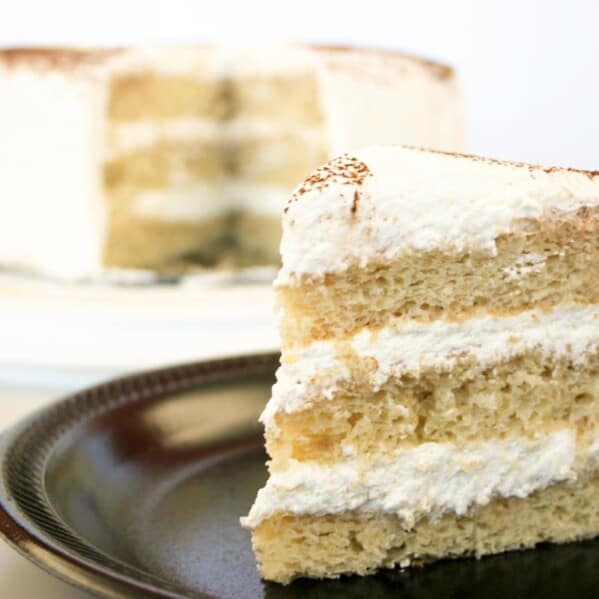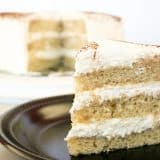 Hot Cocoa Chiffon Cake
---
Author:
Prep Time: 20 minutes
Cook Time: 18 minutes
Total Time: 1 hour 30 minutes
Yield: 1 8-inch triple layer cake 1x
Category: Dessert
Method: Baked
Description
This Hot Cocoa Chiffon Cake is a light chocolate flavored cake with cinnamon and vanilla flavors. Layered with a vanilla whipped cream, you are sure to love this cake!
---
Scale
Ingredients
Cake
1/4 cup of neutral oil (ie. vegetable, canola, or soybean)
6 eggs separated
6 tablespoons of prepared hot cocoa, cooled to room temperature
2 teaspoons of vanilla extract
1 and 1/3 cups of cake flour*
1 and 1/2 cups of sugar
1 teaspoon of baking powder
1/2 teaspoon of ground cinnamon
1/2 teaspoon of salt
1/2 teaspoon of cream of tartar
Cocoa powder or cinnamon for dusting
Hot Cocoa Syrup
1/3 cup hot freshly prepared hot cocoa
1/6 cup of sugar
Vanilla Whipped Cream
3 cups of heavy cream
1/3 cup of sugar
2 teaspoons of vanilla
---
Instructions
1. Preheat the oven to 350F degrees. Line the bottom s of three 8-inch round cake pans with parchment paper but do not grease.
2. In a medium bowl, combine the oil, egg yolks, hot cocoa, and vanilla; whisk lightly to blend. In a large mixing bowl, sift together the flour, 1 cup of sugar, the baking powder, cinnamon, and salt. Set aside.
3. In the large bowl of an electric mixer, whip the egg whites with the cream of tartar on medium-low speed until frothy. Raise the mixer to medium high and gradually add the remaining 1/2 cup of sugar. Continue to beat until soft peaks form. Do not whip to stiff peaks or the cake will shrink upon cooling.
4. Add the hot cocoa-egg mixture to the dry ingredients and fold together just until combined. Add one fourth of the egg whites and fold them gently into the batter. Fold in the remaining egg whites just until no streaks remain. Divide the batter among the pans.
5. Bake the cakes for 18 minutes or until a cake tester comes out clean. Allow the cakes to cool completely in the pans. Once cooled run a knife around the edge of the pans to release the cakes. Invert onto a wire rack and remove the parchment papers.
6. To assemble the cake, place one cake layer flat side up on a cake stand or platter. Soak the cake with 1/3 of the hot cocoa syrup. Spread 1 and 1/3 cups of whipped cream evenly over the top of the cake. Repeat with the next layer the same steps. Finally top with the third layer. Soak with syrup and frost the top and sides of the cake with the whipped cream.
7. To decorate the cake smooth out the whipped cream as much as possible on top. Lay a paper doily on top and sift cocoa powder or cinnamon over the doily to reveal a lacy detail.
Hot Cocoa Syrup
makes 1/2 cup
In a bowl, stir together the hot cocoa and sugar. Stir until the sugar dissolves. Let cool to room temperature.
Vanilla Whipped Cream
makes 6 cups
Place the cream, sugar, and vanilla in large chilled mixing bowl with chilled beaters. With the whip attachment, beat the cream until stiff peaks form.