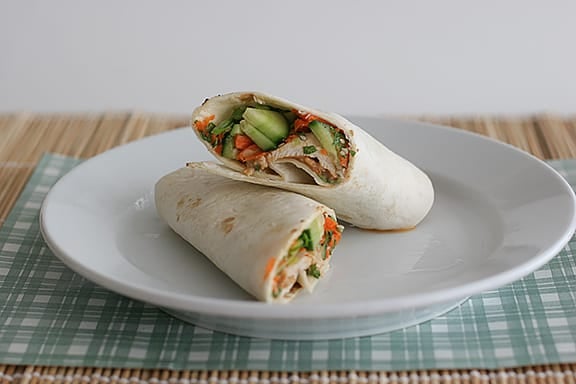 Pregnancy cravings are a funny thing.  I'm in my third trimester right now, so I don't get many of them anymore (I get the most during that first trimester), but still – when I get one, I have to fulfill it!!  The other day, I started having a craving for some sort of Thai flavored noodles with a peanut sauce.  Then I remembered this recipe, and I couldn't get it out of my head.  Well, since December was a month filled with not a lot of cooking on my part, and since I'm trying to build up my reserves of posts for when I have this baby, I didn't want to make a recipe that I've made before that I couldn't blog about.  (Yes, my blog runs my life!!)  So the first thought I had was that Rachael Ray certainly had a recipe with a peanut sauce that could curb my craving.
As I sat to do my menu for the week, I sat down at the computer to search for a RR recipe that would work.  I came across these chicken wraps at the beginning of my search, and since they had such a high rating, I thought I'd give them a try.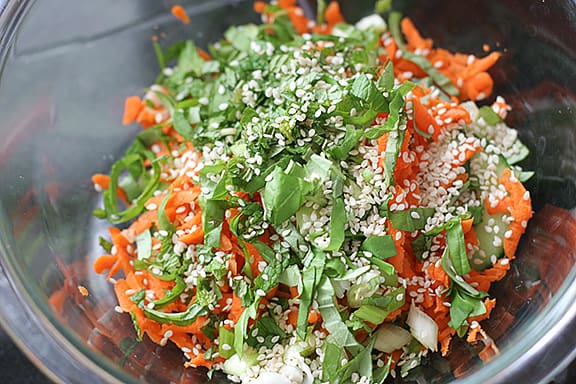 Well, they weren't exactly what I was looking for to curb that craving.  But that doesn't mean that they weren't delicious!!  I actually really enjoyed all the flavors and textures going on.  The biggest complaint about this recipe on the RR site was about the peanut sauce, but I liked it.  I didn't love it so much that I wanted to eat it with a spoon or anything, but on the wrap, I thought it was really good.  And – I think this would be a great recipe to use up some extra produce from your fridge.  I think the veggies would be interchangeable.  I followed the recipe, except I left out the bean sprouts.  But I think they would be great with some cabbage or broccoli – or anything you have on hand!!  And it's quick – which is always a plus in my book!
Thai Chicken Wraps with Spicy Peanut Sauce
from 30 Minute Meals
serves 4
total time:  25 minutes
3 (6-ounce) chicken breasts
1 tablespoon soy sauce
1 tablespoon vegetable oil
1 tablespoon grill seasoning
Salad
1/2 seedless cucumber, peeled, halved lengthwise and thinly sliced on an angle
2 cups fresh bean sprouts
1 cup shredded carrots
3 scallions, sliced on an angle
12 leaves basil, chopped or torn
3 tablespoons chopped mint leaves
1 tablespoon sesame seeds
2 teaspoons sugar
2 tablespoons rice wine vinegar
salt
Spicy Peanut Sauce
1/4 cup room temperature chunky peanut butter
2 tablespoons soy sauce
1 tablespoon rice wine vinegar
1/4 teaspoon cayenne pepper
2 tablespoons vegetable oil
4 (12-inch) flour tortillas
Heat a grill pan over high heat. Toss chicken with soy and oil and grill 6 minutes on each side.
Combine cucumber, sprouts, carrots, scallions, basil, mint and sesame with a generous sprinkle of sugar and vinegar. Season salad with salt, to taste.
Whisk peanut butter, soy sauce, vinegar and cayenne together. Stream in vegetable oil.
Slice cooked chicken on an angle. Toss with veggies and herbs.
In a very hot nonstick skillet or over a gas burner heat tortillas 15 seconds on each side.
Pile chicken and veggies in wraps and drizzle liberally with spicy peanut sauce before wrapping and rolling.