Hot dogs are topped with Thai-inspired slaw, peanut sauce, chopped peanuts and cilantro.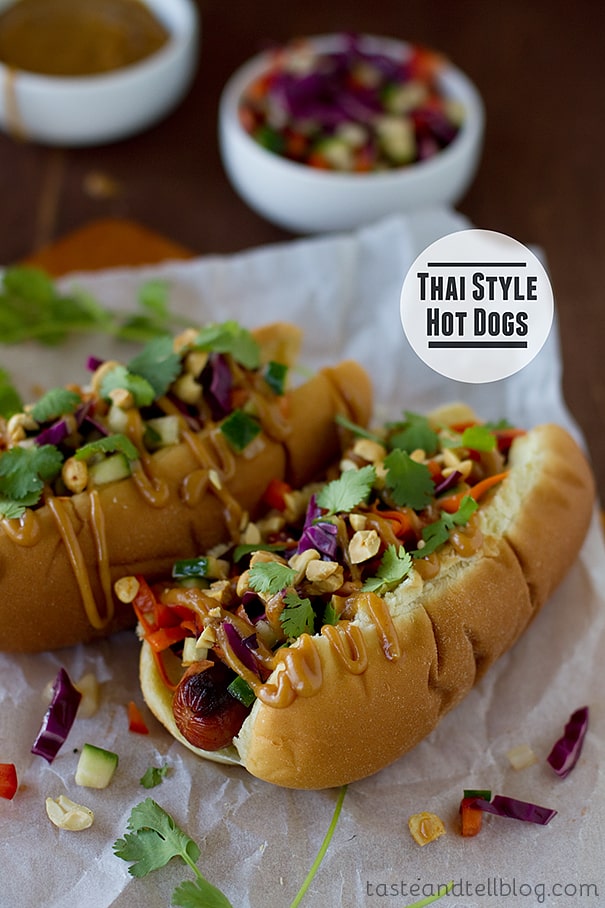 Are you sick of hot dogs yet? I sure hope you aren't! Honestly, when I decided to do the 2nd Annual Hot Dog Week, I intended to keep it at 3 recipes, since I've only been posting 3 recipes a week. But I couldn't stop myself.
I actually had been thinking up ideas, and was hitting a brick wall. For some reason, I was having a hard time even coming up with the 3 recipe concepts. But then I sat down one night to really hash it out. And what I ended up with was a list long enough to keep me busy into probably the 5th annual hot dog week. So yeah, I had to go with 5 days, and I'm already planning next year. 🙂
Today's hot dog was inspired by the Thai Chopped Chicken Salad I posted a couple months back. I couldn't stop thinking about how well it would translate into a hot dog. And I was right. Instead of a salad, I made a slaw of sorts, and then topped that with the peanut sauce (which is seriously one of my favorite things ever. I could eat that stuff with a spoon). Then of course, you need a little crunch from some chopped peanuts, and the cilantro just rounds the whole thing off. These were some messy dogs to eat, but it was totally worth it. They are quite mild – no spice to them – but if you love spice, I think you could totally add some chiles in there and it would be fabulous.
Now I think I need to figure out another recipe I can throw these Thai flavors into!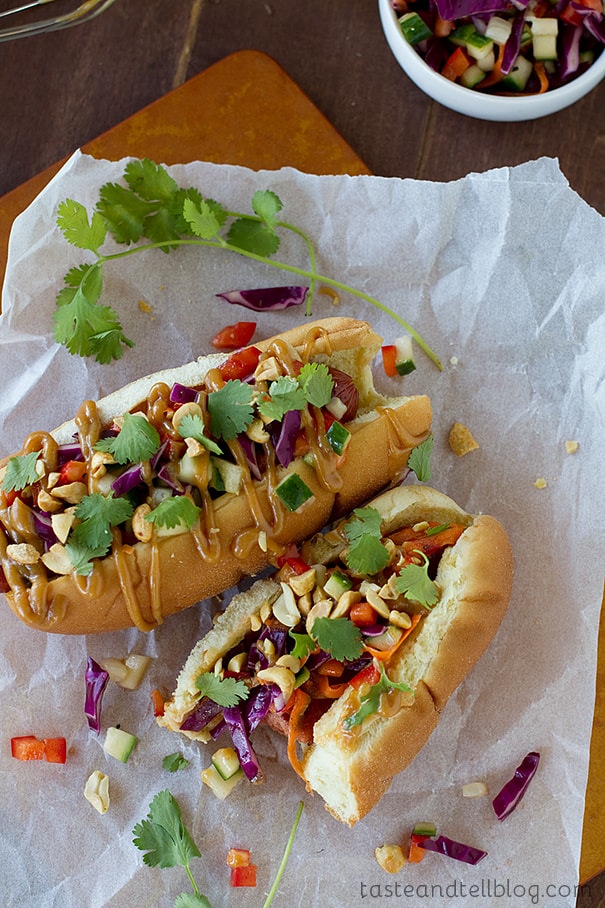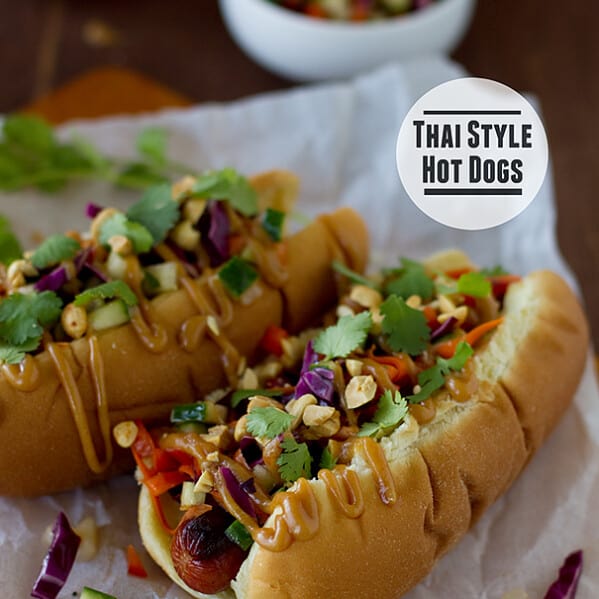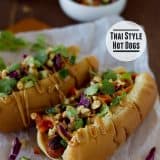 Thai-Style Hot Dogs
---
Prep Time: 15 minutes
Cook Time: 10 minutes
Total Time: 25 minutes
Yield: 4 hot dogs 1x
Description
Hot dogs are topped with Thai-inspired slaw, peanut sauce, chopped peanuts and cilantro.
---
Scale
Ingredients
Slaw
1 tablespoon rice vinegar
1 tablespoon Thai sweet red chili sauce
1/4 teaspoon sesame oil
1/8 teaspoon sugar
Salt and pepper, to taste
1/2 cup chopped red cabbage
1/2 cup diced cucumber
1/2 cup shredded carrots
1/2 cup chopped red bell pepper
Peanut Sauce
2 tablespoons peanut butter
1 tablespoon soy sauce
1/2 tablespoon rice vinegar
1/2 tablespoon Thai sweet red chili sauce
1 tablespoon vegetable oil
Hot Dogs
4 hot dogs
4 hot dog buns
Chopped peanuts
cilantro
---
Instructions
In a bowl, combine the rice vinegar, Thai sweet red chili sauce, sesame oil, and sugar. Season to taste with salt and pepper. Stir in the chopped cabbage, cucumber, carrots and red bell pepper. Let the mixture sit for a few minutes.
In a small bowl, combine the peanut butter, soy sauce, rice vinegar and Thai sweet red chili sauce. Whisk in the vegetable oil until smooth.
Cook the hot dogs. Place a hot dog on each bun, then top with some of the slaw mixture. Drizzle on the peanut sauce, then top with chopped peanuts and cilantro.
More hot dog favs: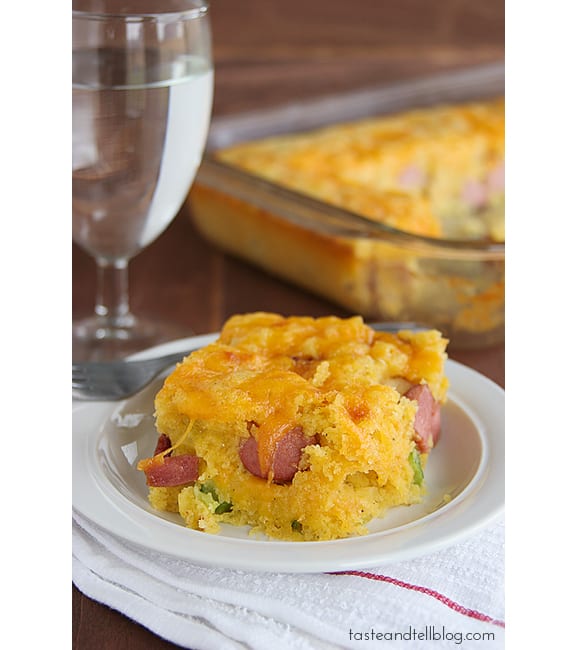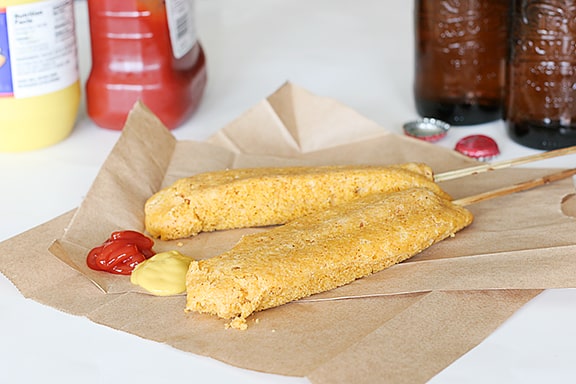 Around the Web:
Gourmet Chili Dogs from Bev Cooks
French Onion Hot Dogs from The Curvy Carrot
Crispy Dogs with Bacon-Jalapeno Dipping Sauce from Homesick Texan