Can't decide between pie or a cheesecake? This Taffy Apple Cheesecake Pie combines caramel apples with a caramel cheesecake mixture, all with a layer of chocolate and nuts. So many flavors in one!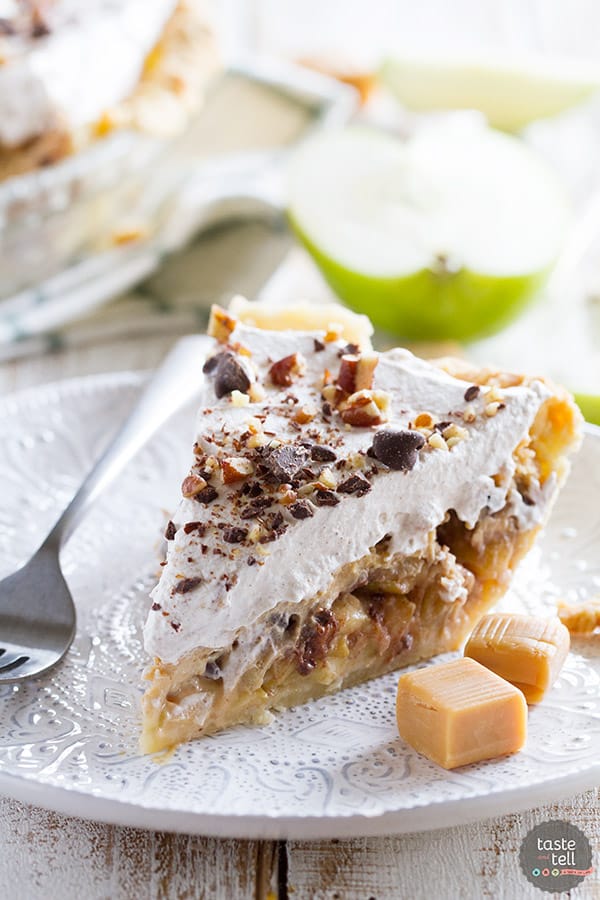 Photos Updated November 2015



Yum

My family is a pie family. Just last night, my husband and I were talking and I was telling him what pies I was planning on taking to my family for Thanksgiving. He mentioned that he loves that my family loves pies, because he'd rather have a slice of pie any day over a piece of cake. And really, I think I'd have to agree!! I think it is my dad who leads the pie obsession in our house. As long as I can remember, my mom has made him a chocolate meringue pie for his birthday. And just earlier this month, everyone made a pie and took it over to my parent's house to celebrate his birthday. I was so bummed that we had to miss out because we had a house full of sickies, but it has made me that much more eager for Thanksgiving. And from the sounds of it, we are going to have more pies there than people!!
I'm sure you all have your Thanksgiving menus down by now, but I wanted to share this Taffy Apple Cheesecake Pie with you – and just in case you haven't decided what you are going to make yet, you should seriously consider this one. You'll have to trust me that this pie is delicious. It's a caramel apple layer topped by a caramel cheesecake layer. And in between, just a little bit of chocolate. I have really been contemplating bringing this pie on Thanksgiving, and I just might end up adding another pie just so I can have another slice of this. This Taffy Apple Cheesecake Pie is delicious!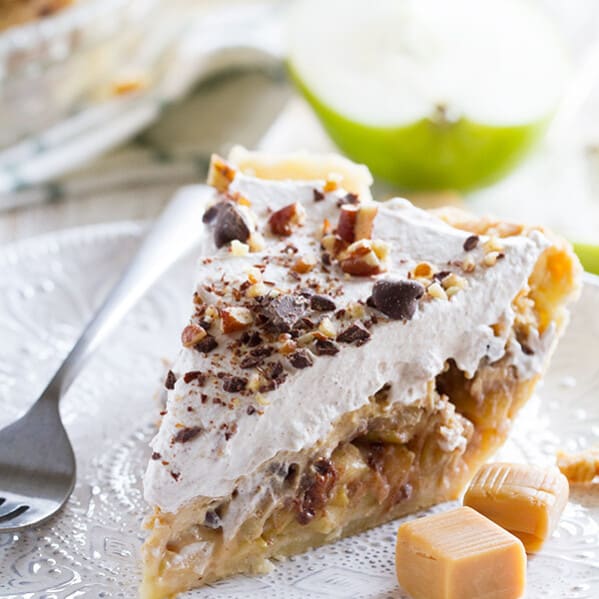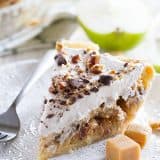 Taffy Apple Cheesecake Pie
---
Author:
Prep Time: 20 mins
Cook Time: 60 mins
Total Time: 1 hour 20 mins
Yield: 10 servings 1x
Description
Can't decide between pie or a cheesecake? This Taffy Apple Cheesecake Pie combines caramel apples with a caramel cheesecake mixture, all with a layer of chocolate and nuts. So many flavors in one!
---
Scale
Ingredients
2 tablespoons butter
1 cup firmly packed brown sugar, divided
5 cups of peeled, thinly sliced apples (about 4 apples)*
21 caramels, unwrapped (about 5.8 ounces of caramel)
1/2 cup half and half
1 (8-ounce) package cream cheese, softened
1 1/2 teaspoons pumpkin pie spice, divided
1 1/2 teaspoons vanilla
1 egg
1/2 cup milk chocolate chips, chopped
3/4 cup toasted pecans, chopped
1 cup heavy whipping cream
1/4 cup powdered sugar
---
Instructions
Preheat the oven to 350ºF. Roll out the pie crust and place in a 9-inch pie plate, crimping the edges as desired. Spray a piece of foil with nonstick cooking spray and place, sprayed side down, in the crust, covering as much of the crust as possible. Fill the inside with pie weights or dried beans. Place the dish on a baking sheet, then place in the oven and bake for 20 minutes. Remove the crust from the oven and remove the foil and the weights. Set aside.
Turn the oven up to 375ºF.
Place the butter in a large skillet over medium-high heat. Add 1/2 cup of the brown sugar and stir until the butter is melted. Add the apples, cooking and stirring until the apples are tender and caramel in color, about 12 minutes. Drain the apples and set aside.
Meanwhile, in a double boiler or a bowl set over a pan of simmering water, combine the caramels and the half and half. Cook, stirring often, until the caramels are melted and smooth. Keep warm.
In a small bowl, beat the cream cheese and the remaining 1/2 cup brown sugar until light and fluffy. Add 1/2 teaspoon of the pumpkin pie spice, the vanilla, and the egg. Beat until completely combined.
In a small bowl, combine the chopped chocolate chips and chopped pecans.
Fold half of the caramel mixture into the cream cheese mixture. Fold the remaining caramel into the apples. Spoon the caramel apple mixture into the pie crust. Reserve 2 to 3 tablespoons of the chocolate chip mixture for the topping, and sprinkle the remaining mixture over the apples. Spoon the cream cheese mixture over the top.
Place the pie dish on a baking sheet and bake in the preheated oven for 35 to 45 minutes, or until the top is a deep golden brown and the filling is set. Cool completely.
In a bowl, beat the cream until it starts to thicken. Add the remaining 1 tablespoon of pumpkin pie spice. Continue to beat, gradually adding the powdered sugar, until the cream has soft peaks. Spread the whipped cream over the top of the pie. Sprinkle with the remaining chocolate chip and nut mixture.
Store the pie in the refrigerator.
Useful Products For This Recipe:
Don't miss a thing! Follow me on Pinterest to see what I'm pinning!
Visit Taste and Tell's profile on Pinterest.



**This post contains affiliate links. If you purchase an item from Amazon from the link Taste and Tell receives a small commission. Thank you for supporting Taste and Tell through your purchases!**