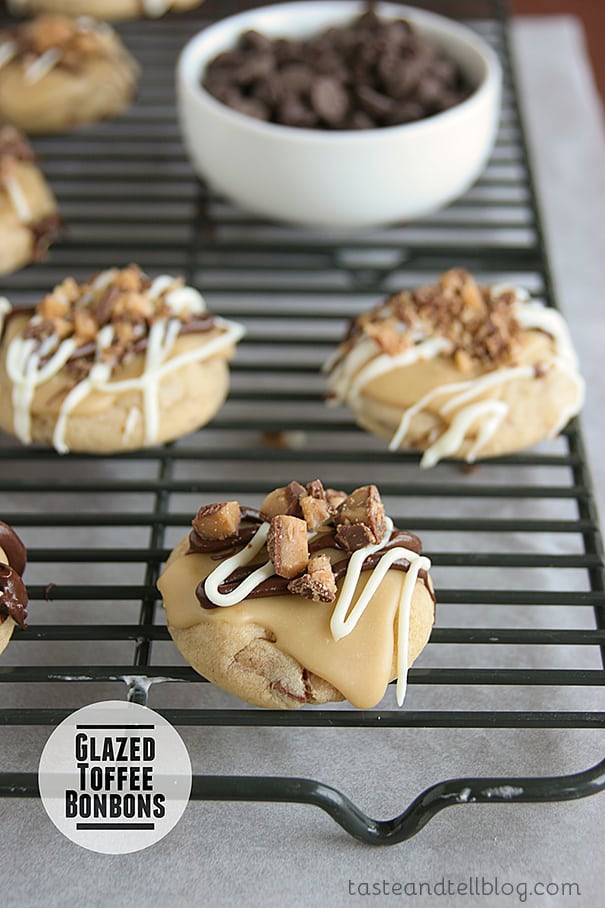 Photo updated December 2012
If I had to choose one favorite from the 12 days of treats that I've been making, these would have to be #1 – hands down. They were so delicious! But really, can you go wrong with cookies filled with bits of toffee, topped with a caramel icing, then throw on some more chocolate and toffee? These will for sure be making an appearance often in my kitchen. But beware – you might eat the whole plate without even realizing it!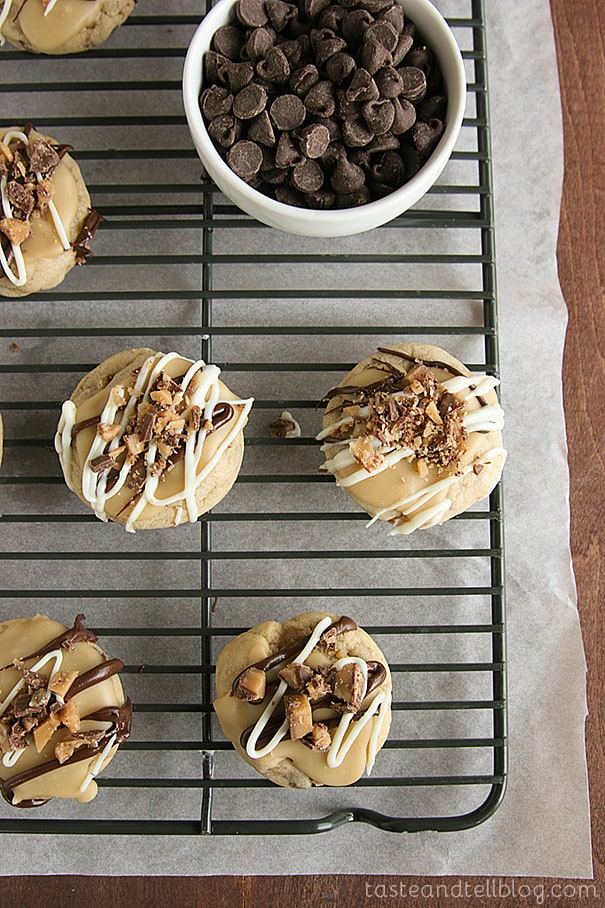 Photo updated December 2012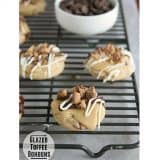 Glazed Toffee Bonbons
---
Prep Time: 30 minutes
Cook Time: 14 minutes
Total Time: 1 hour 30 minutes
Yield: 2 dozen cookies 1x
Description
Toffee filled cookies are topped with caramel icing, white and milk chocolate, and more toffee pieces!
---
Scale
Ingredients
Cookies
1/2 cup butter, softened
1/2 cup packed brown sugar
1/2 teaspoon vanilla
1 egg
1 3/4 cups all-purpose flour
1/4 teaspoon baking soda
1/4 teaspoon salt
3 bars (1.4 oz. each) chocolate covered English toffee candy, finely chopped
Glaze
1/4 cup butter
1/2 cup packed brown sugar
2–3 tablespoons milk
1 1/3 cups powdered sugar
1/3 cup milk chocolate chips
1/3 cup white chocolate chips
---
Instructions
Heat the oven to 325F. In a large bowl, beat 1/2 cup butter, 1/2 cup brown sugar, the vanilla and the egg with an electric mixer on medium speed until light and fluffy. On low speed, beat in the flour, baking soda and salt. Reserve 1/3 of the toffee pieces for garnish. Stir remaining chopped candy into the dough. Shape dough into 1-inch balls. On ungreased cookie sheets, place balls 1 inch apart.
Bake 11 to 14 minutes or until edges start to brown and tops of cookies feel set when tapped. Place cooling racks on waxed paper. Immediately remove cookies from cookie sheets to cooling racks.
Meanwhile, in a 1-quart saucepan, heat 1/4 cup butter, 1/2 cup brown sugar and 2 tablespoons of the milk over medium-low heat , stirring frequently, until mixture just comes to a boil and sugar is dissolved. Stir in powdered sugar; beat with a wire whisk if necessary to remove lumps. Immediately dip tops of cookies into glaze or spread on top of cookies. (Cookies don't need to be completely cooled, just firm and set.) Place on rack; let stand about 10 minutes until glaze is set. If glaze starts to set in saucepan, reheat over medium-low heat and beat with a wire whisk.
Place chocolate chips and vanilla chips in separate small microwaveable bowls. Microwave each on high for 1 1/2 to 2 minutes, stirring every 30 seconds until melted and smooth. Using the tip of a spoon, drizzle each flavor generously over cookies. Alternately, place the chips in a zip top bag, microwave until melted, and then cut off the corner and drizzle over cookies. Sprinkle with remaining candy. Refrigerate 20 minutes to set quickly.
——————————-
Adapted from Betty Crocker