This Chopped Cobb Salad has all of the flavors of the popular Cobb Salad, but mixed up making it more enjoyable to eat!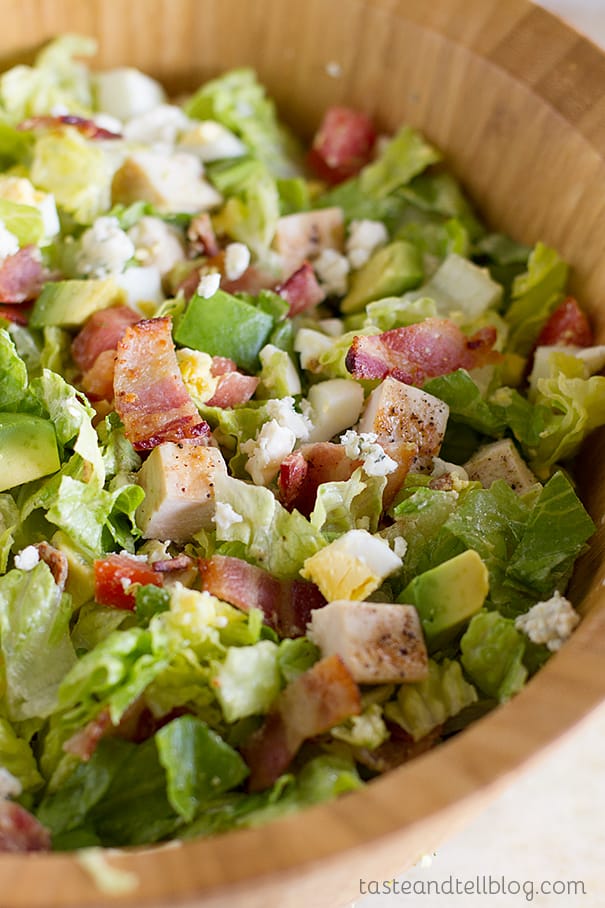 This post has been sponsored by Jones Dairy Farm.



Remember last year when I got all obsessed with chopped salads? Well, I know it's been awhile, but I'm back again. This time with chopped Cobb salad.
I will be the first to admit that I love the way a Cobb salad looks. All the pretty lines of ingredients, so colorful and fresh looking. But every time I go to eat one, I don't know where to start. I'm a girl that likes a little bit of everything in every bite of a salad. (But I'm the totally opposite with the food on my plate – I don't like to combine everything there!) If you have a single serving Cobb salad, it's a bit easier, but when it's a big salad served to a crowd? How do you go in there and make sure that you are getting everything without looking like the greedy one that is trying to hoard all the avocados? (Or is that just me? 😉 )
This is the reason I love chopped salads. No worrying about how to get everything in one bite, because it's already mixed up for you. Including the dressing!!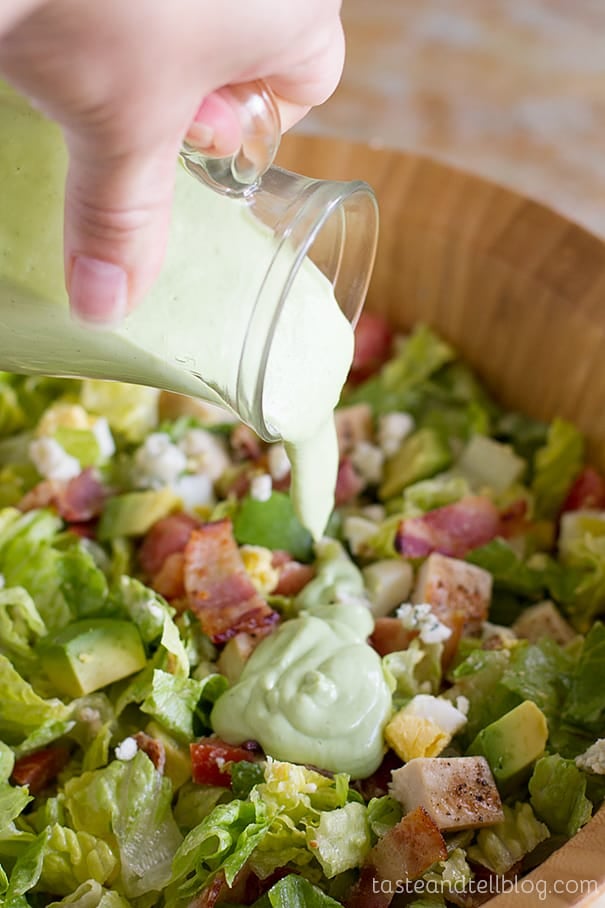 For this Chopped Cobb Salad, I included my favorite bacon – the Jones Dairy Farm Cherrywood Smoked Bacon that I have raved about probably 143,000 times on this blog. What can I say? I love it!! It goes perfectly with the crisp romaine, the grilled chicken, the avocados.
Did you know there is actually a mnemonic to remember what goes on a Cobb salad? EAT COBB – Eggs, avocados, tomatoes, chicken, onion, bacon, blue cheese.
I totally messed up and forgot the onion on my salad. Feel free to add that in if you want to get technical.
And do you remember that salad dressing I shared with you all on Friday? The Avocado Ranch Salad Dressing? Use that on this salad, and you won't be sorry. Creamy and herby – it compliments this salad perfectly.
Next time you are craving a salad, I'm telling you this Chopped Cobb Salad is the way to go!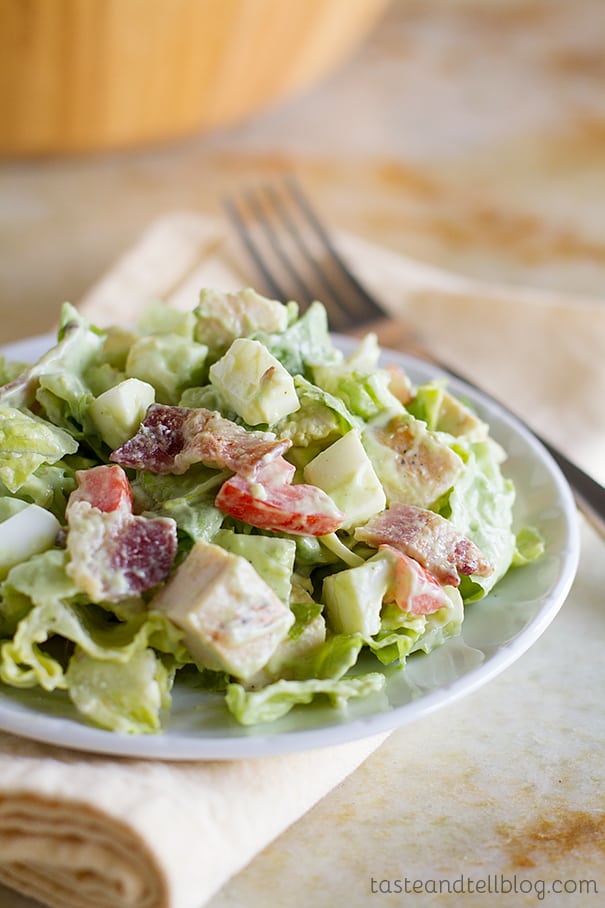 Like what you see here? Make sure you are following Taste and Tell for more great recipes and ideas!!

Facebook ** Pinterest ** Twitter ** Instagram ** Google+
or you can subscribe to my newsletter or Feedly or Bloglovin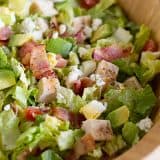 Chopped Cobb Salad Recipe
---
Prep Time: 20 minutes
Total Time: 20 minutes
Yield: 4 dinner servings 1x
Category: Salad
Description
All of the flavors of the popular Cobb Salad, but mixed up making it more enjoyable to eat!
---
---
Instructions
Place the romaine in a large bowl. Top with the bacon, chicken, eggs, tomatoes, avocado and blue cheese. Toss to combine. Pour the dressing on top and toss to coat the salad with the dressing. Serve immediately.
Chopped Salads Not to Be Missed:
Italian Chopped Salad
Summer Berry Chopped Salad
Chinese Chopped Salad
Thai Chopped Chicken Salad
Southwest Chicken Chop Salad from Lauren's Latest
Grilled Ginger-Sesame Chicken Chopped Salad from Cooking Classy
Barbecue Bacon Ranch Chopped Salad from Foodie with Family
**Thank you to Jones Dairy Farm for sponsoring this post. Because of sponsors like Jones Dairy Farm, I am able to bring you all of the recipes I feature here.**