If you love Chinese takeout, but don't love not knowing what goes into your food, you are in luck! This take-out fake out has all of the flavor, and you know exactly what goes into it!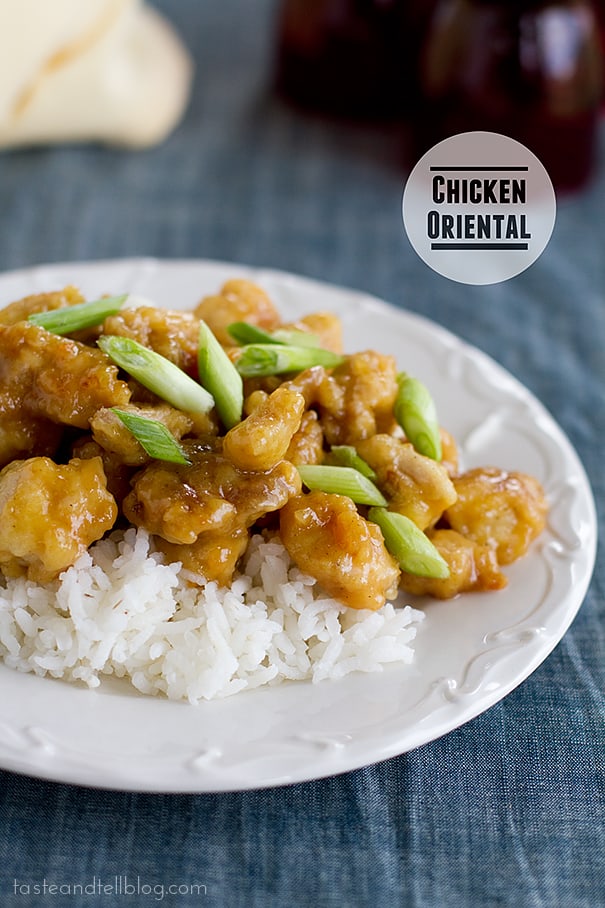 First up – a few items of business. 🙂
1 – If you are a Google Reader user, you should know by now that in just a few short days, it will be gone. Make sure you aren't a procrastinator and switch to a different feed service! The two I've heard the most about are Bloglovin' and Feedly. I have only tried Feedly, but I absolutely love it. I won't even miss Google Reader! If you are still undecided, here is an article from Nosh On It that explains some of the pros and cons of each. If you don't use a feed reader but still want to make sure you are up to date on everything I'm posting here, make sure you subscribe to my weekly newsletter.
2 – Among bloggers, one of the biggest frustrations with Facebook lately has been that Facebook chooses what you see in your feed. So even if you've liked me on Facebook, you may not be getting my updates. But there is finally a way to change that!! If you want to see all of the updates from everything you are subscribed to, this tutorial from Bell'alimento shows you how! (And ps – if you aren't following me, you should be! ;))
And now onto the food…
I have come a long way in the kitchen since I first started cooking. Even since I first started blogging. Just a few short years ago, I was a total follow-the-recipe-to-a-t kind of cook. And believe me – there is absolutely nothing wrong with that. Cooking can still totally be enjoyable when you are just following a recipe! But I am definitely a lot more comfortable. More confident.
Take this chicken, for example. I had seen a recipe in a church cookbook that looked promising. I wrote down the basic ingredients, but then when I went to get started with dinner, I felt like changing it up a little bit. What I ended up with was a far cry from that original recipe. But do you know what? This totally worked. I'll admit – I was a little bit worried at times, telling my husband that I didn't know if dinner was even going to be any good. But it ended up better than good! My husband went back for seconds and begged for the leftovers the next day. I'm pretty sure this one will become a regular in our house.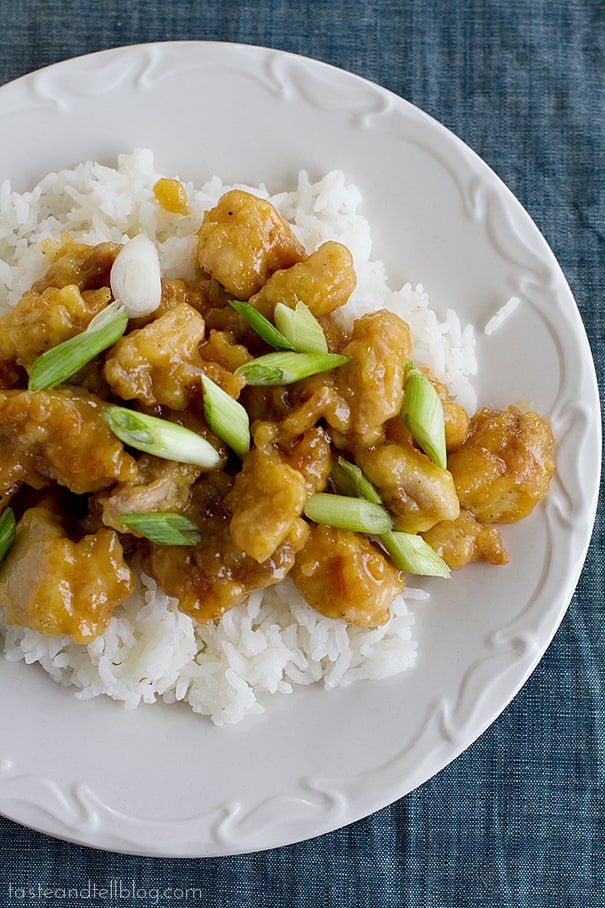 Like what you see here? Make sure you are following Taste and Tell for more great recipes and ideas!!

Facebook ** Pinterest ** Twitter ** Instagram ** Google+
or you can subscribe to my newsletter or Feedly or Bloglovin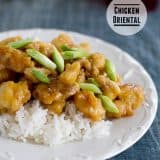 Chicken Oriental
---
Prep Time: 15 minutes
Cook Time: 15 minutes
Total Time: 30 minutes
Yield: 4 servings 1x
Description
If you love Chinese takeout, but don't love not knowing what goes into your food, you are in luck! This take-out fake out has all of the flavor, and you know exactly what goes into it!
---
Scale
Ingredients
Sauce
1/4 cup butter
1/4 cup chicken broth
4 tablespoons pineapple-orange juice
2 tablespoons soy sauce
1 tablespoon grated onion
1 tablespoon brown sugar
1/4 teaspoon ginger
dash of cardamom
salt and pepper
1 tablespoon cornstarch
1 tablespoon water
Chicken
1 1/4 lb boneless, skinless chicken thighs, cubed
1/2 cup all-purpose flour
salt and pepper, to taste
1 egg
vegetable oil
Rice, for serving
sliced green onions, for topping
---
Instructions
Melt the butter in a small saucepan. Stir in the chicken broth, juice, soy sauce, onion, brown sugar, ginger and cardamom. Season with salt and pepper. Cook over medium heat until it comes to a gentle boil. Let it cook for about 5 minutes.
In a small bowl, whisk together the cornstarch and the water. Add the cornstarch mixture to the sauce and cook just until the sauce starts to thicken up. (This will probably happen very quickly.) Remove the sauce from the heat.
Meanwhile, pour a layer of vegetable oil into a large saute pan and warm over medium heat. Add the flour to a shallow dish and season with salt and pepper. Add the egg to another shallow pan and add about a teaspoon of water. Lightly whisk.
Working in 3-4 batches, take some of the chicken and dip it in the egg mixture. Allow some of the egg to drip off, and put the chicken in the flour mixture to coat. Use tongs to transfer the chicken to the hot oil and pan fry, turning as necessary, until the chicken is golden brown and cooked through. Remove to a paper towel lined plate. Repeat with the remaining chicken, adding more oil as necessary.
Put all of the cooked chicken into a large bowl. Pour the sauce over the top and stir to coat the chicken. Serve over rice and top with sliced green onions.
Recipe Notes:
*feel free to use orange juice or pineapple juice. I had a mix of the two on hand, so that is what I used.
*I love chicken thighs (I think they have more flavor) but boneless, skinless chicken breasts will work here, too.
More Chinese Food Take-Out Fake-Outs:
Around the Web:
Asian Chicken Kebabs from My Baking Addiction
Dragon Roll from Just One Cookbook
Sausage Egg Rolls with Homemade Sweet and Sour Sauce from Favorite Family Recipes