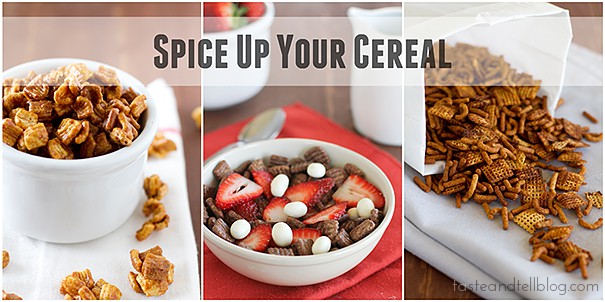 Growing up, the only time we would ever get cereal was on Saturday mornings. That was the morning my parents got to sleep in, so we got to get up and get ourselves cereal for breakfast. I have to admit – I can't wait until my kids are old enough to get themselves cereal in the morning. I've pretty much forgotten how it feels to sleep in!!

Today? Well, I'm not as good as my mom was at making breakfast every morning. Part of it is because my kids are just too impatient to wait for breakfast, and the other part is because I know my kids love cereal and will always eat it if it is given to them.
But cereal isn't just for breakfast. There are lots of ways to change up your cereal routine! Today, I'm teaming up with Fiber One to bring you 3 new mix-in ideas to spice up your cereal routine. Make sure you check out their Facebook page where they will be sharing 30 mix in ideas in 30 hours! No more regular old cereal!!
Here are 3 fun ways to spice up your cereal.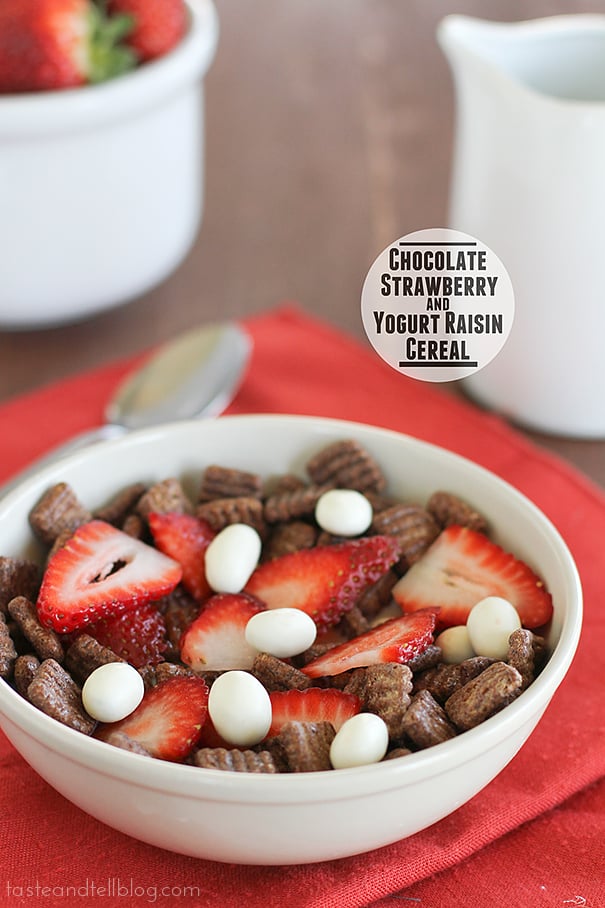 Up first, this mix in is an easy way to add to your breakfast cereal. But to be honest, this would make a great end of day dessert for me!!
Chocolate, Strawberry and Yogurt Raisin Cereal
Adding strawberries and yogurt covered raisins to chocolate Fiber One - a great breakfast or snack!
Ingredients
¾ cup Fiber One – 80 Calories Chocolate Squares
½ cup sliced strawberries
2 tablespoons chocolate covered raisins
½ cup skim milk
Instructions
Place the cereal, strawberries and raisins in a bowl. Pour the milk over.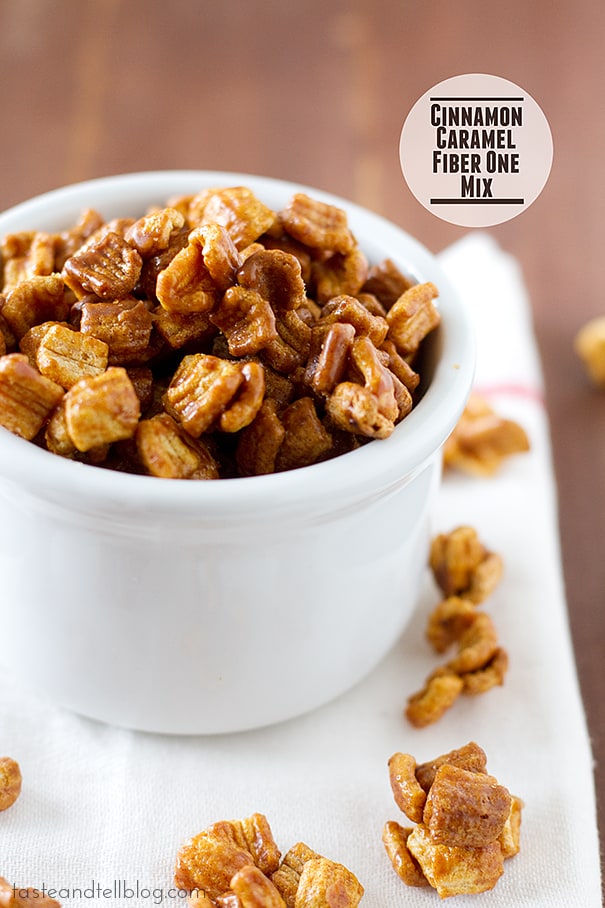 This mix, here, is dangerous. Seriously. I've already made it twice – it makes the perfect snack! It's kind of like caramel popcorn, but with cereal instead. And cinnamon. Don't forget the cinnamon!!
Cinnamon Caramel Fiber One Mix
A caramel mixture with a touch of cinnamon is baked onto honey cereal for a delicious snack.
Ingredients
4 tablespoons butter
2 tablespoons corn syrup
½ cup brown sugar
½ teaspoon salt
½ teaspoon vanilla
1 teaspoon cinnamon
5 cups Fiber One 80 Calorie Honey Squares
Instructions
Preheat oven to 350F.
In a medium saucepan, melt the butter. Stir in the corn syrup, brown sugar and salt. Bring to a boil. Once boiling, do not stir and let cook for 5 minutes. Remove from the heat and stir in the vanilla and the cinnamon.
Place the cereal on a parchment lined baking sheet. Pour the caramel over the cereal. Stir to combine.
Bake in the preheated oven for 8 minutes, then stir and cook an additional 5-8 minutes. Let cool and then break into bite-sized pieces.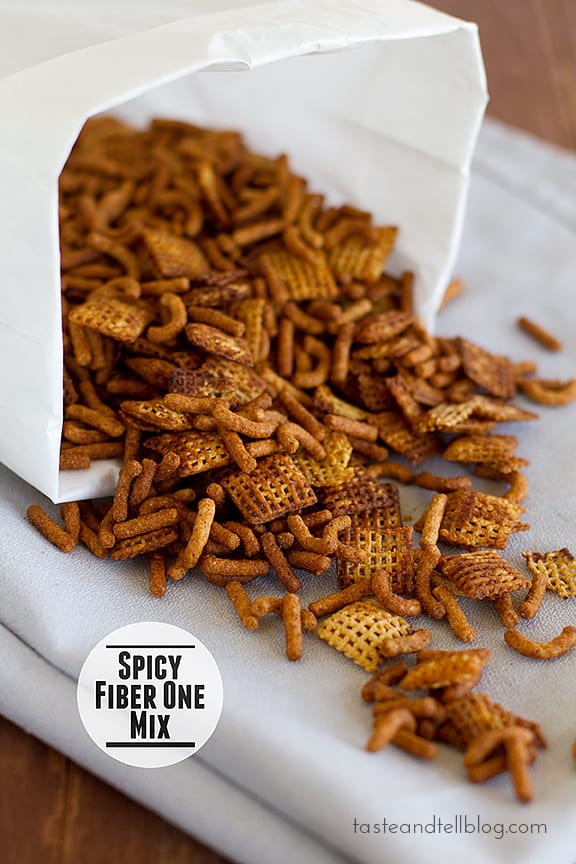 And last but not least is really a way to spice up your cereal. A lot of heat and just a bit of sweet, this snack mix is a spicy lover's best friend!
Spicy Fiber One Mix
Spicy, and just a little bit sweet, this cereal mix is perfect for snacking!
Ingredients
3 tablespoons olive oil
2 tablespoons Worcestershire sauce
2 tablespoons hot sauce
½ teaspoon garlic powder
1 teaspoon dry mustard
2 cups Fiber One Original cereal
2½ cups Corn Chex
Instructions
Preheat the oven to 350F.
In a small bowl, combine the olive oil, Worcestershire sauce, hot sauce, garlic powder and mustard. Whisk to combine.
Place the Fiber One cereal and Corn Chex in a large bowl. Pour the sauce over and mix to coat all the cereal. Spread out on a parchment lined baking sheet and bake for 20 minutes, stirring 1 to 2 times.
**This post is sponsored by Fiber One, but all opinions are my own – as always!