This vegetarian tostada is filled with roasted tomatoes and onions, spaghetti squash, and black beans.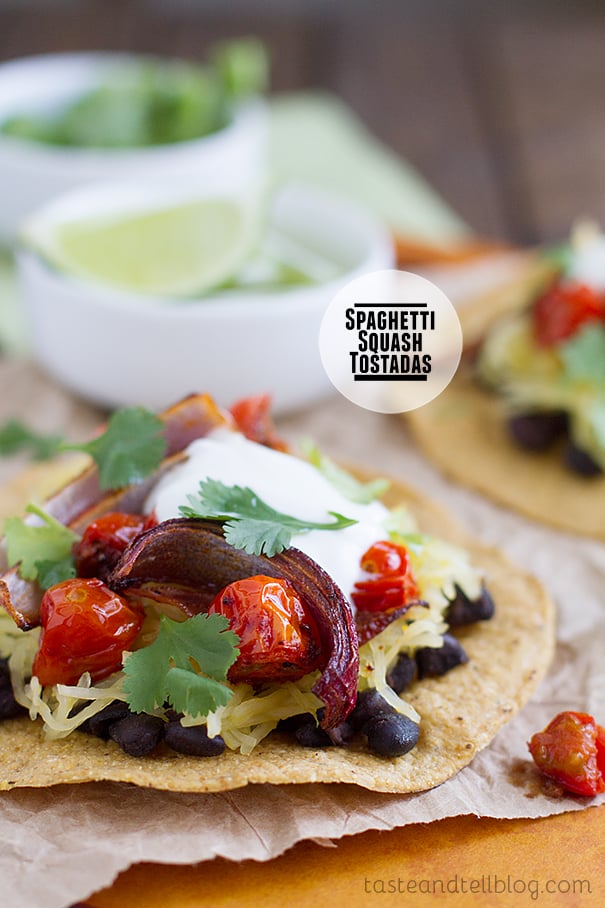 When I first got married, my husband had quite an appetite. He could out eat pretty much anyone I knew. I knew the basics of cooking, and I loved to cook, but I didn't have a lot of experience cooking for more than just myself. And while most newlyweds scour cookbooks and recipes for the perfect "cooking for two" recipes, I was making full recipes just for the two of us.
Along with having to feed a big appetite, he was also a big meat eater. A meat and potatoes kind of guy (except he's not a big potato lover – but you get my point.) I really don't think I made a meat-free meal that whole first year of marriage.

Well, a lot has changed since those first years of marriage. Maybe it's age, maybe it's metabolism, but my husband's appetite has slowed down. Which is a good thing because one day I'll have 2 teenage boys and I'm sure keeping up with them will be a challenge in and of itself. And where there was always meat on the table, now we try to go meat free once or twice a week. Sometimes my husband still asks where the meat is, but most of the time, he doesn't even notice anymore!
These Spaghetti Squash Tostadas were a recent meat free meal to grace our table, and they are going on my list as one of my favorites. I have been addicted to spaghetti squash lately, and this was such a unique and different way to serve it. Add in some roasted veggies, and I had a meal that I would happily eat on a regular basis.
For the spaghetti squash, I used a method where you microwave it. I had never cooked my spaghetti squash this way, but as it turns out, this is my new favorite method. I have the hardest time cooking it in the oven and not having it turn out like mush. In the microwave, the squash was perfectly cooked and the strands stayed a little bit firm and had the perfect texture. Feel free to cook the squash however is the best for you, but I've found my new favorite method!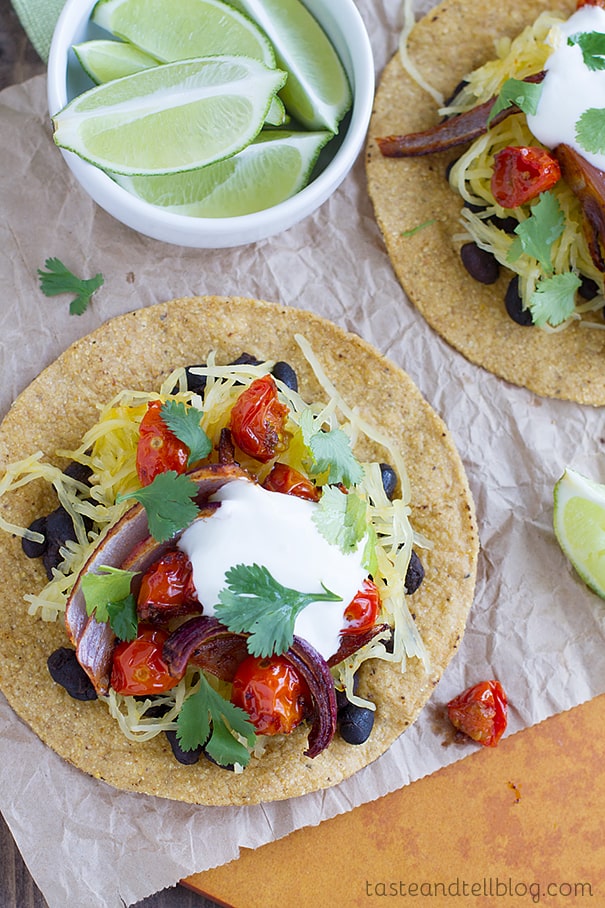 Like what you see here? Make sure you are following Taste and Tell for more great recipes and ideas!!

Facebook ** Pinterest ** Twitter ** Instagram ** Google+
or you can subscribe to my newsletter or Feedly or Bloglovin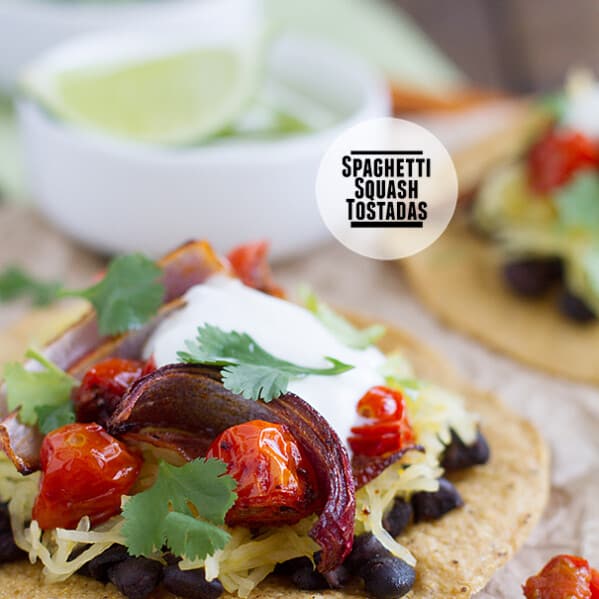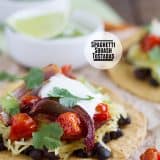 Spaghetti Squash Tostadas
---
Prep Time: 15 minutes
Cook Time: 25 minutes
Total Time: 40 minutes
Yield: 4 servings 1x
Description
This vegetarian tostada is filled with roasted tomatoes and onions, spaghetti squash, and black beans.
---
Scale
Ingredients
3 tablespoons vegetable oil, divided
2 1/2 teaspoons chili powder, divided
1 teaspoon chipotle chili powder
salt and pepper
1 pint cherry or grape tomatoes, halved
1 large red onion, cut into 1/2-inch wedges
1/2 spaghetti squash, seeded
1 (15-oz) can black beans, drained and rinsed
8 tostada shells
1/2 cup sour cream
fresh cilantro
lime wedges
---
Instructions
Preheat the oven to 425F. Line a baking sheet with foil.
In a medium bowl, whisk together 2 tablespoons of the vegetable oil, 2 teaspoons of the chili powder and chipotle chili powder. Season with salt and pepper. Add in the tomatoes and onion and stir to coat. Arrange on the baking sheet in a single layer. Roast, stirring once, until tender, about 25 minutes.
Meanwhile, place the spaghetti squash, cut side up, in a microwave safe dish. Add about 1/2 cup of water, then cover the dish with plastic wrap and microwave until tender, 10-15 minutes. Let sit until cool enough to handle, then using a fork, gently scrape the flesh into a bowl.
In a skillet, heat the remaining tablespoon of vegetable oil over medium heat. Add the beans and cook until heated, mashing as they warm up.
Spread the beans on the tostadas. Top with some of the spaghetti squash, some of the vegetables, and a dollop of sour cream. Top with fresh cilantro and squeeze lime juice over the top before serving.
More Meat-Free Favs: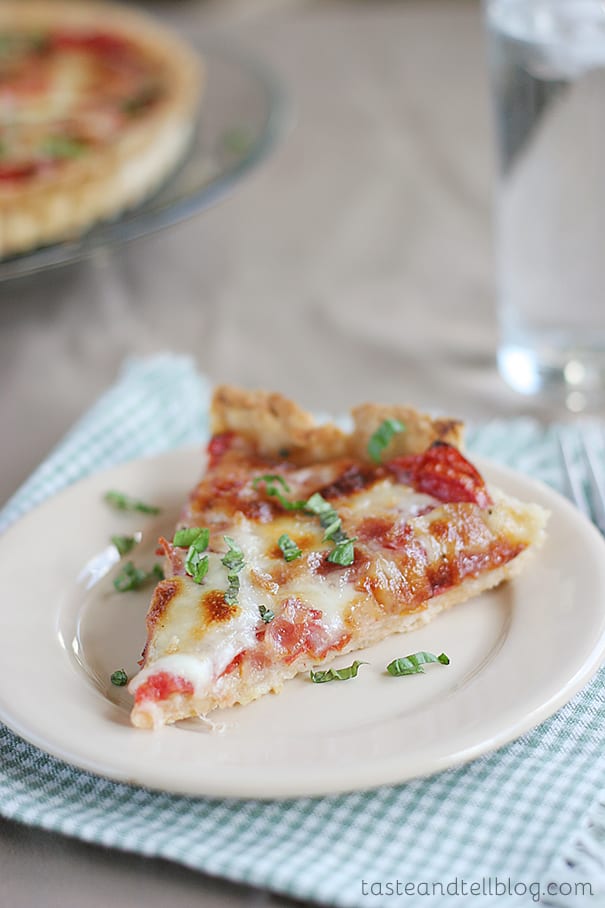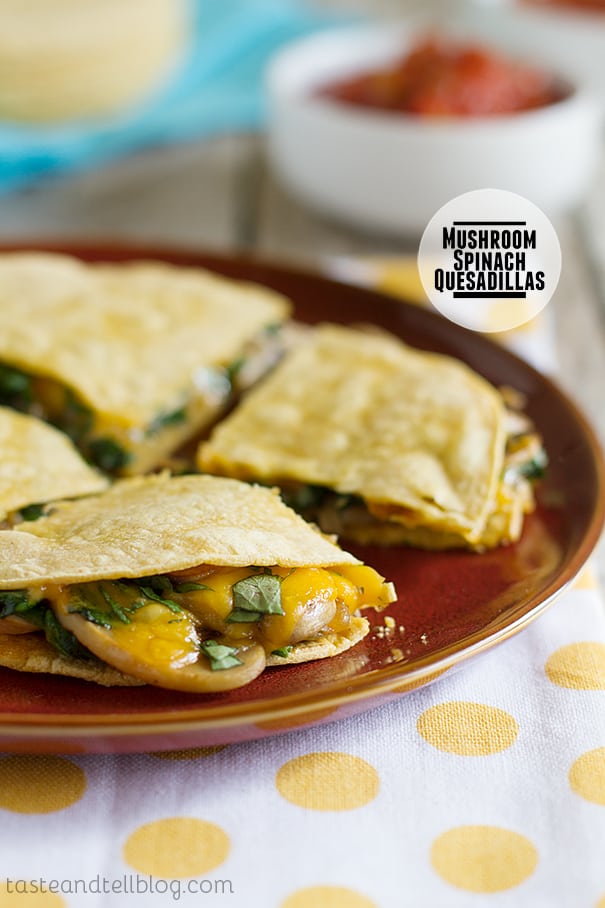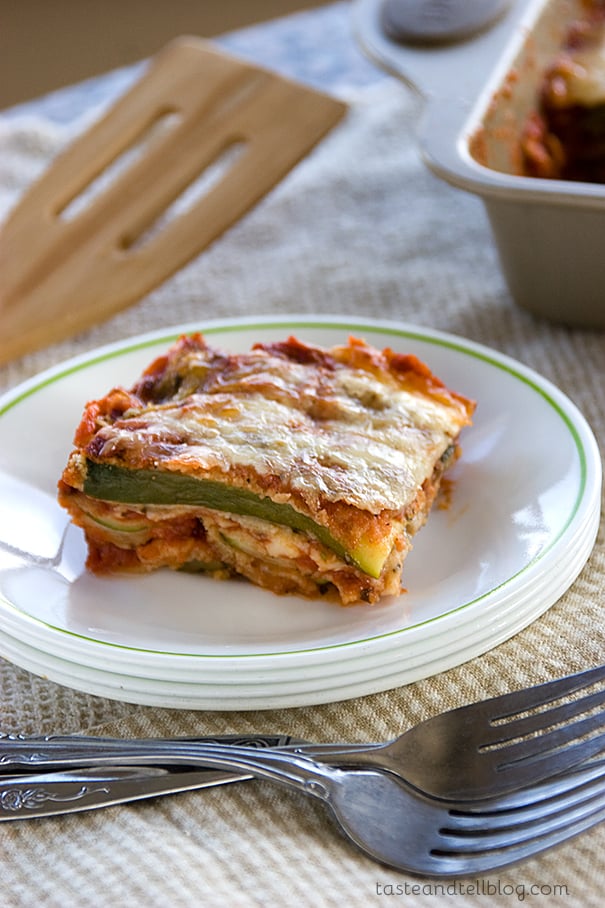 Around the Web:
Black Bean and Corn Quesadillas from Lil Luna
One Pot Cheesy Pasta with Broccoli from Dear Chrissy
Spicy Green Chili Mac and Cheese from A Spicy Perspective