Hearty and filling, you'll never miss the meat in these vegetarian Mushroom Spinach Quesadillas!
Can you believe that it's been almost a full year since my last cookbook review?
Blogging is continuously evolving and changing. I've been actually doing a lot of thinking lately, and remembering why I got started on this whole journey in the first place. I will be entering my 8th year of blogging at the end of this month. And to say that things have changed since I hit publish on that first post 7 years ago would be an understatement.
I have loved the journey, but lately, I've been missing the good ol' days. One of those things that I've been missing are my cookbook reviews. I used to do them regularly, but in the evolution of blogging, they are one thing that got cut. Well, hopefully they will become more regular around here, because this is one part of blogging that I truly do love. I love cookbooks. Reading them, cooking from them, getting inspired by them. And while these reviews are a little more work, I want to get back to what I really enjoy, and hopefully they are something that you all really enjoy as well.

Now this book – Bobby Deen's Everyday Eats. It was a total impulse buy. I needed a couple of things on Amazon, and they were small, so I figured that I needed something else because heaven forbid Amazon sends me something in a little tiny box. (Actually, I figured they'd still probably send me a big box with just a lot of filler – might as well find something else to fill it up!!) I was browsing through the cookbooks, and this book caught my eye.
All of the recipes in this book are under 350 calories, and take under 30 minutes to make. I've been trying to make things a little healthier, so I thought this would be a great one to add to my collection. I usually like to flip through the pages of a cookbook before I buy it, but luckily I think I have a good one on my hands!!
Number of Photos: Many
The photos are very well done. And while there isn't a photo of every recipe, there is probably one photo to every 3-5 recipes. There are also some personal photos sprinkled in throughout the book.
Difficulty Level of Recipes: Easy
With all of the recipes having a 30 minute time frame, you don't get into anything very difficult at all. The beauty of the recipes is that they are simple – both in technique and ingredients. Which I love.
Availability of Ingredients: Easy
Most of the recipes have simple, whole ingredients. I didn't notice any ingredients that you wouldn't be able to find in your regular grocery store.
I don't know what drew me to these Mushroom Spinach Quesadillas, but I knew I had to try it. And I'm so glad that I did, because both my husband and I fell in love with these. They are hearty and filling, and really, we didn't even miss the meat. I'm always on the lookout for meatless recipes that aren't pasta recipes, and this one will surely become a household favorite. I did add more mushrooms than the original recipe called for, simply because I had more, and I wish I would have added more spinach. My husband doesn't care for corn tortillas, so I made his with flour tortillas. I tried a bite, thinking that I would like the flour better, but surprisingly, I actually liked the corn tortillas better!! And bonus is that these are easy enough for lunch as well!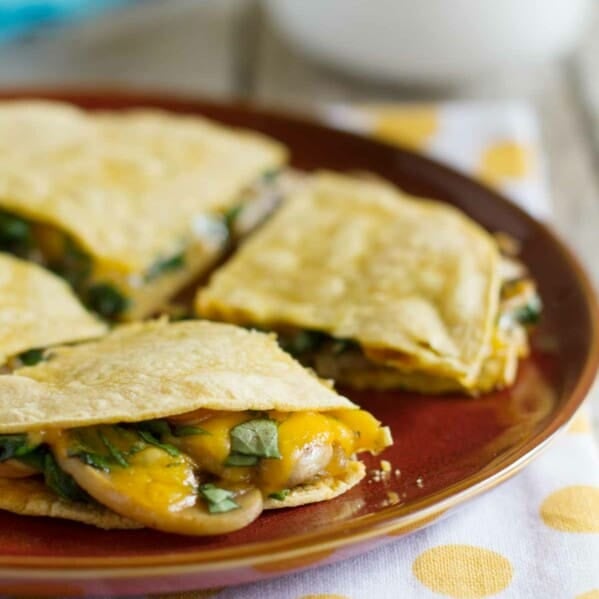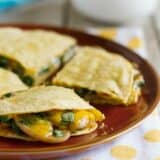 Mushroom Spinach Quesadillas
---
Author:
Prep Time: 10 minutes
Cook Time: 20 minutes
Total Time: 30 minutes
Yield: 4 servings 1x
Category: Main Dish
Method: Stove Top
Cuisine: American
Description
Hearty and filling, you'll never miss the meat in these vegetarian Mushroom Spinach Quesadillas!
---
Scale
Ingredients
2 teaspoons olive oil
1 small onion, thinly sliced
8 oz sliced button mushrooms
1/4 teaspoon crushed red pepper flakes, or to taste
1/2 teaspoon salt
1/4 teaspoon freshly ground pepper
3–4 cups baby spinach
8 (6-inch) corn tortillas
1 cup shredded Cheddar cheese
1/4 cup chopped cilantro
1/2 cup jarred salsa, for serving
---
Instructions
Heat the oil in a large skillet over medium heat. Add the onion and cook until softened, about 5 minutes. Add in the mushrooms and continue to cook until soft and tender, another 5-10 minutes. Add in the red pepper flakes, then season with salt and pepper. Stir in the spinach and cook until the spinach has wilted.
Place the oven rack 4-5 inches from the heat and preheat the oven broiler.
Place the tortillas in a single layer on a baking sheet. Place the sheet in the oven and bake until the tortillas are golden, 1 to 2 minutes. Remove from the oven. Remove 4 of the tortillas. Divide the mushroom mixture between the 4 tortillas on the baking sheet. Sprinkle with the cheese, then place back in the oven until the cheese has melted, 1 to 2 minutes. Remove and sprinkle on the cilantro, then top with the reserved tortillas. Serve with the salsa.
Nutrition
Calories: 269 calories per serving
Keywords: mushroom spinach quesadilla