Three cheeses are combined with a sweet, salty and tart bacon jam for the Ultimate Grilled Cheese sandwich.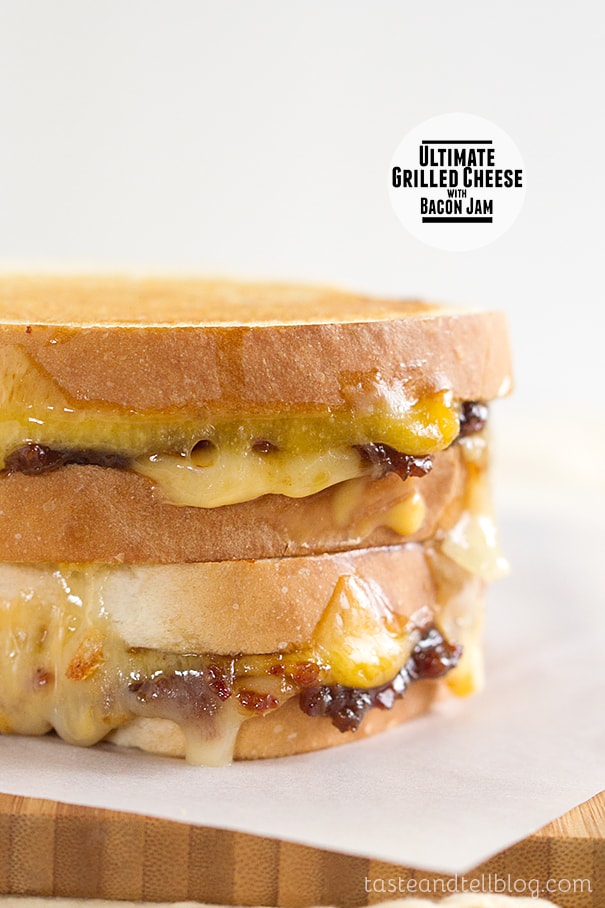 This post has been sponsored by Jones Dairy Farm.
When I talked about where we ate in Seattle a few weeks back, I failed to mention one of my favorite meals from the entire trip. Mostly because I didn't manage to get a single good picture. But don't you worry, because I'm sharing today.
While doing research on Seattle eats, I came across Skillet. Skillet originally started as a food truck, serving up American-style food from a vintage Airstream trailer. Today, they also have 3 locations. I wanted to hunt down the truck, but since we were heading to the Seattle Center to go to the Children's Museum, it was convenient to hit up Skillet Counter, located in the armory at the Seattle Center.

Now, if you haven't heard of Skillet, perhaps you have heard of the item that made Skillet famous. Bacon Jam. Yep, you read that right. Bacon Jam.
Really, I should stop talking now and you should skip below and just make the jam. Because it really is that good. I believe that Skillet first started serving this condiment on top of their burgers and it just took off from there. You can now even buy the bacon jam just on it's own!
I got their Ultimate Grilled Cheese with Bacon Jam, and this rivals for my top spot for the best grilled cheese sandwich ever. It was amazing. Super messy, with cheese oozing everywhere, and sweet bites of bacon jam in every bite. It was pure heaven.
I had to recreate this sandwich when I got home. No ifs, ands or buts about it. The sandwich itself was pretty straight forward. American, cheddar and brie. It's already off to a good start! And then the bacon jam. This takes a little bit of time to make, but it's not hard and hands on time is minimal. And believe me, bacon lovers will be just stealing spoonfuls of this from the bowl.
I used my all-time favorite bacon for this recipe – the Jones Dairy Farm Cherrywood Smoked Bacon. In a recipe like this, where the bacon is the star, you really do want to use a high quality bacon, and I think this is the best!!
This recipe makes more bacon jam than you will need for the sandwiches. But I've been eating it on toast with a sunny side up egg over the top for breakfast, and it's so good. You won't have a hard time using it up!!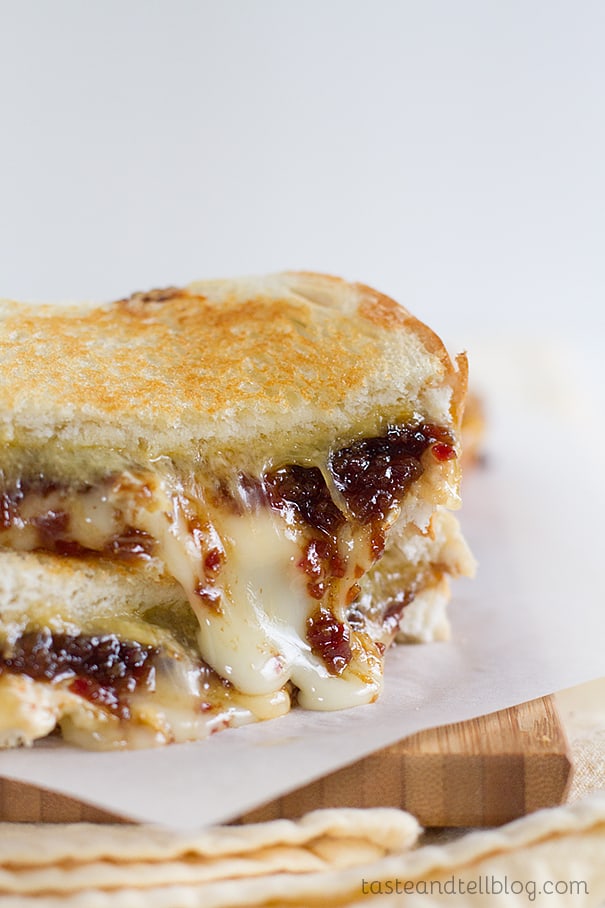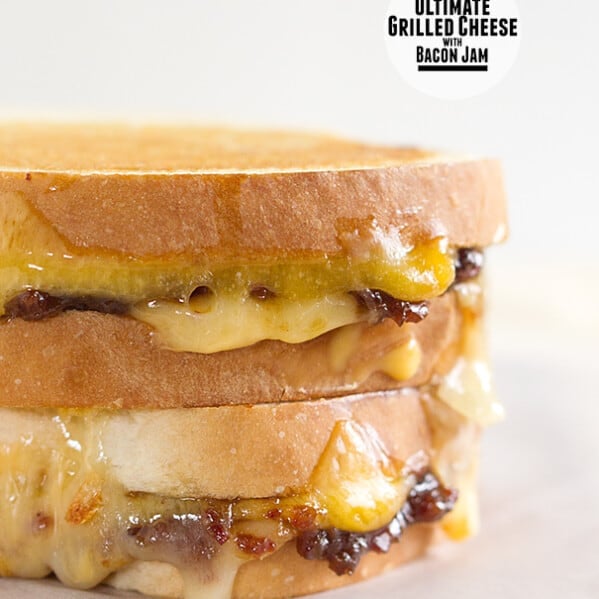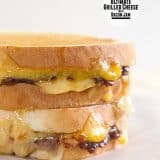 Ultimate Grilled Cheese with Bacon Jam
---
Prep Time: 15 minutes
Cook Time: 1 hour 30 minutes
Total Time: 1 hour 45 minutes
Yield: 4 servings 1x
Description
Three cheeses are combined with a sweet, salty and tart bacon jam for the Ultimate Grilled Cheese sandwich.
---
Scale
Ingredients
Bacon Jam*
Sandwiches
8 slices good quality white bread
butter
4 slices American cheese
4 slices Cheddar cheese
6 oz Brie cheese, sliced
---
Instructions
To make the Bacon Jam
In a large heavy pot or Dutch oven, cook the bacon until browned and crisp. Drain on a paper towel drained plate. Remove all but 1 tablespoon of the bacon grease from the pot. Add in the onion and cook until softened, about 8 minutes. Stir in the water, maple syrup, vinegar, brown sugar and Dijon mustard. Bring to a boil, then reduce the heat to a simmer. Add the bacon back in. Cook, stirring occasionally, until thickened, 1-2 hours. If it gets too thick, add in a little more water.
Transfer the mixture to a food processor. Pulse a few times to break it down into a spreadable consistency.
To make the Sandwiches
Butter the outsides of each of the pieces of bread. Place a slice of Cheddar cheese on the unbuttered side of 4 pieces of the bread. Spread some of the bacon jam on top of the cheese. Divide the Brie between the sandwiches and layer on top of the jam, followed by a slice of American cheese. Place the remaining bread on top of the cheese, buttered side out.
Heat a griddle over medium-low heat. Cook the sandwiches until golden brown and the cheese has melted.
Recipe Notes:
*This will make more bacon jam than you will need for these sandwiches. Save the remainder to top hamburgers or more grilled cheese sandwiches!
More Tempting Grilled Cheese Sandwiches: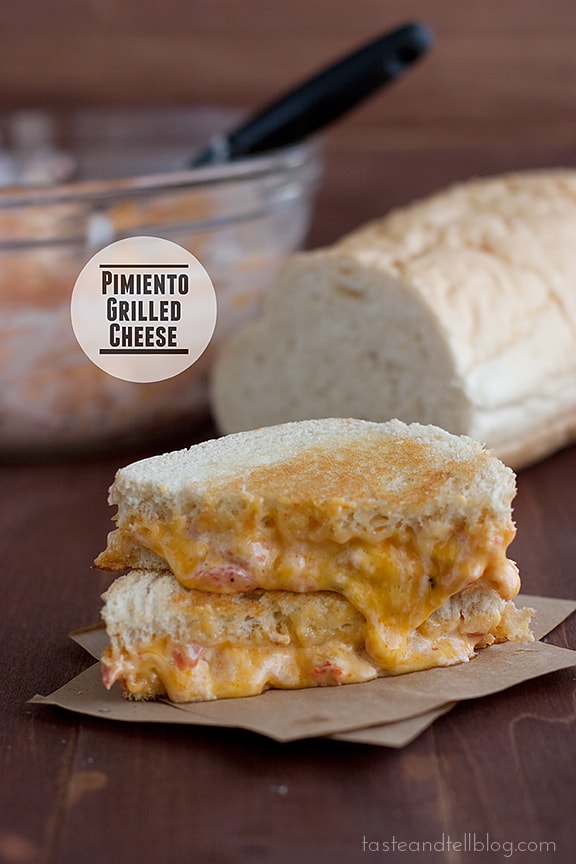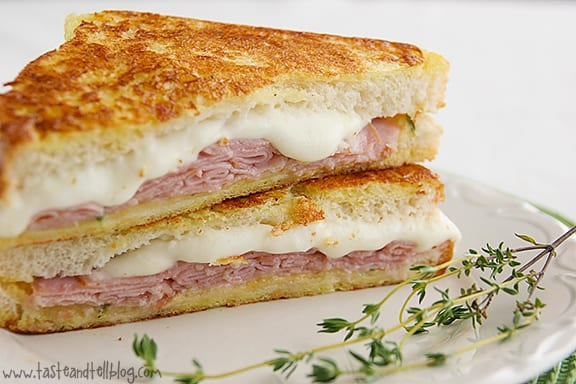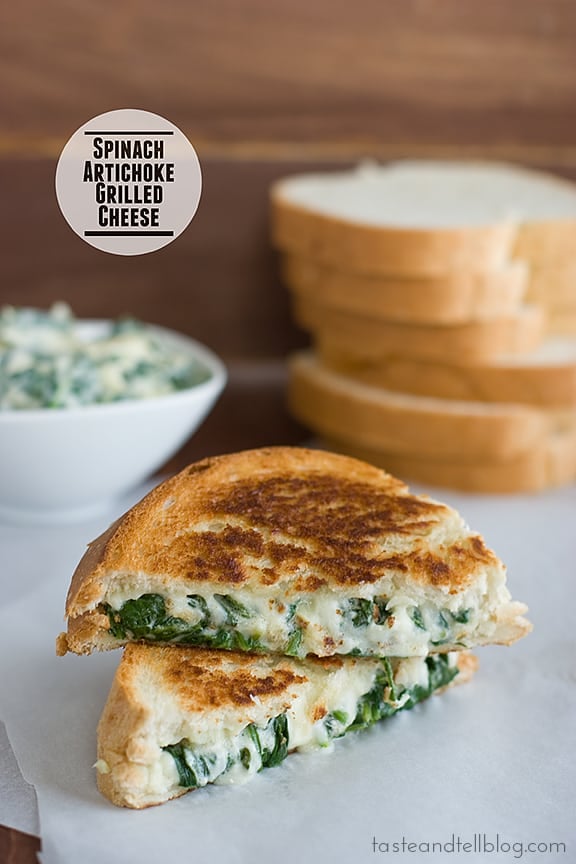 Spinach Artichoke Grilled Cheese
Around the Web:
Bacon, Apple, and Applewood Cheddar Grilled Cheese from Sweet Basil
Guacamole Grilled Cheese from What's Gaby Cooking
Garlicky Avocado Grilled Cheese with Tomato Pesto from FoodieCrush
**Thank you to Jones Dairy Farm for sponsoring this post. Because of sponsors like Jones Dairy Farm, I am able to bring you all of the recipes I feature here.**