This Southwestern inspired stuffed spaghetti squash is a great way to change things up for a meatless meal during the week. It's easy and fast and good for you!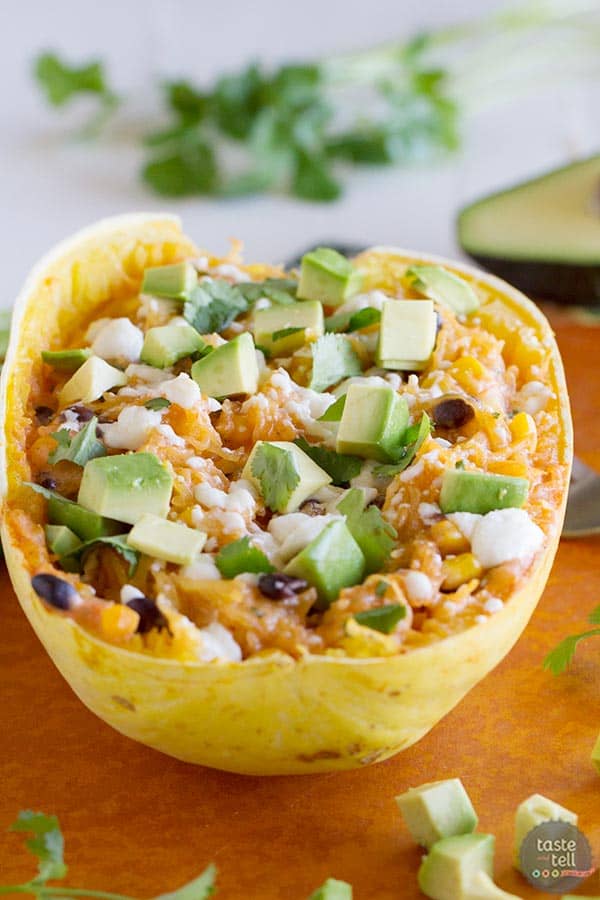 Over the last few years, I've been trying to add more meatless meals to our menu plan. When you are feeding a meat-loving husband, sometimes that's not always the easiest. And honestly, meatless to us usually means soup or pasta.
But I'm starting to discover that there is more than just soup or pasta!

I've been a spaghetti squash fan for some time now, but it's one of those things that I forget about when I sit down to make my menu plan. And when I do think of it, I tend to keep it as a side dish. But this delicious vegetable can be served as a main dish, as well!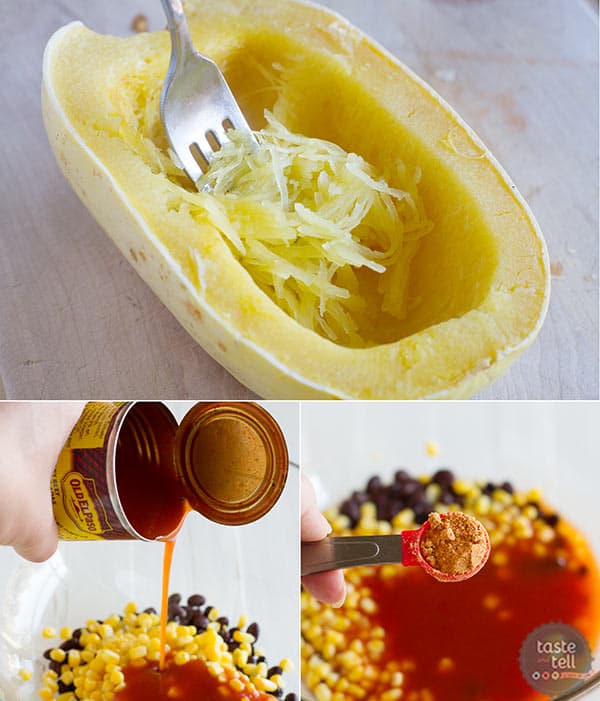 This is not my first time "stuffing" a spaghetti squash. I'm kind of in love with the whole idea. I will never be one of those people who claim that it is just the same as regular spaghetti. It's not. The only thing they have in common is their shape. But… they are delicious none the less. The shape of the squash is fun for both my kids and my husband, and really – can you ever go wrong when you are making a recipe with a southwestern twist??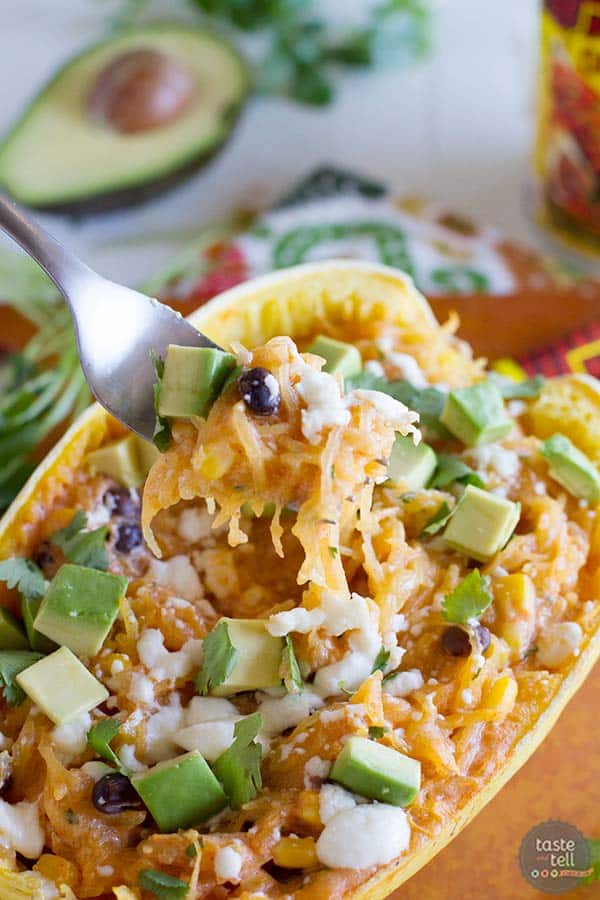 I have tried making the spaghetti squash in both the oven and the microwave. For the longest time, I only baked my squash in the oven. But the strands of the squash were always soggy and textureless. It was like they went from being raw to overcooked when I blinked. So one day, I decided to try microwaving them. And I got the exact result I was looking for!! The squash cooks, but still has a slight bite to it and it keeps it's shape. This is now my favorite way to cook spaghetti squash.
This stuffed spaghetti squash recipe is so easy, but so packed with flavor. It's easy to give the squash some southwestern flair with both enchilada sauce and taco seasoning from Old El Paso. I always have both on hand, and they are my go-tos!!
I love this fun way to serve up a meatless meal that is packed with flavor!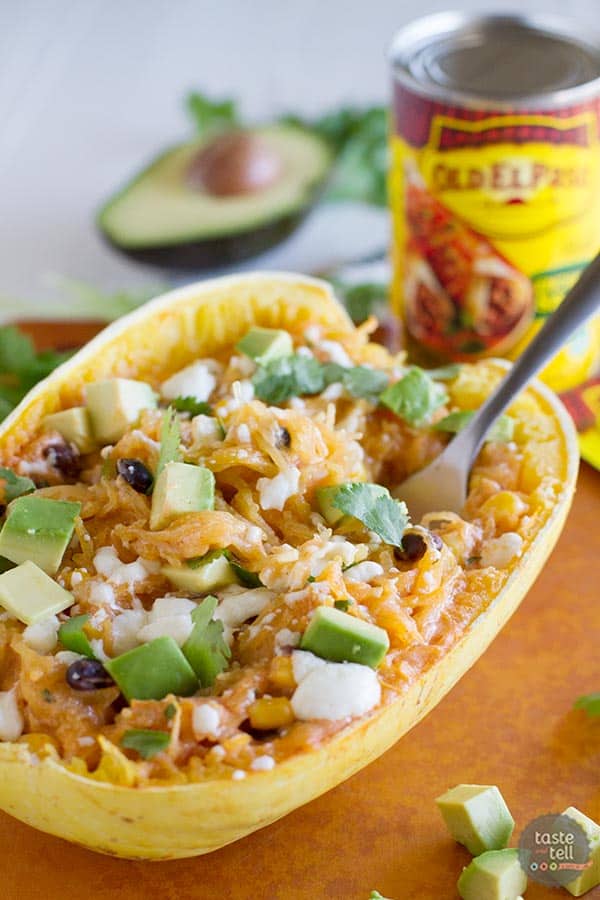 Like what you see here? Make sure you are following Taste and Tell for more great recipes and ideas!!

Facebook ** Pinterest ** Twitter ** Instagram ** Google+
or you can subscribe to my newsletter or Feedly or Bloglovin


Southwestern Stuffed Spaghetti Squash
---
Prep Time: 10 mins
Cook Time: 15 mins
Total Time: 25 mins
Yield: 4 servings 1x
Description
This Southwestern inspired stuffed spaghetti squash is a great way to change things up for a meatless meal during the week. It's easy and fast and good for you!
---
Scale
Ingredients
1 medium spaghetti squash
1/2 cup black beans, drained and rinsed
1/2 cup corn, defrosted if frozen
1 can (10 oz) mild Old El Paso™ enchilada sauce
1/2 cup sour cream (reduced fat ok)
1/2 cup shredded Monterey Jack cheese
1 tablespoon minced cilantro
2 teaspoons Old El Paso™ taco seasoning
1/4 cup crumbled Queso Fresco
additional cilantro and diced avocado, for topping
---
Instructions
Cut the squash in half lengthwise with a sharp knife. Scrape out the seeds and discard. Place the squash halves cut side up in a microwave safe dish. Add about 1/2 inch of water to the dish and cover with plastic wrap. Microwave on high until the squash is soft, about 10 minutes. Remove and let cool slightly, then with a fork, scrape up the strings from the flesh of the squash.
Preheat the broiler.
In a bowl, stir together the beans and the corn. Add in the enchilada sauce. Stir in the sour cream, cheese, cilantro and taco seasoning. Pour half of the mixture into each of the squash halves and gently pull up on the spaghetti squash strings to combine the sauce with the squash as much as possible. Divide the queso fresco between both squash halves. Place on a baking sheet and broil until heated through and the cheese is starting to melt, just a few minutes.
Serve the squash topped with additional cilantro and diced avocado.
I am in a working relationship with Old El Paso, and this post has been sponsored. I'm so glad to be able to work with companies and organizations that I truly believe in. Thank you for supporting them, too.