Forget the pasta – this healthy veggie filled Spaghetti Squash with Broccoli and Lemon Pepper will leave you satisfied. If you don't have lemon pepper on hand, substitute ½ teaspoon of black pepper and the zest from 1 lemon.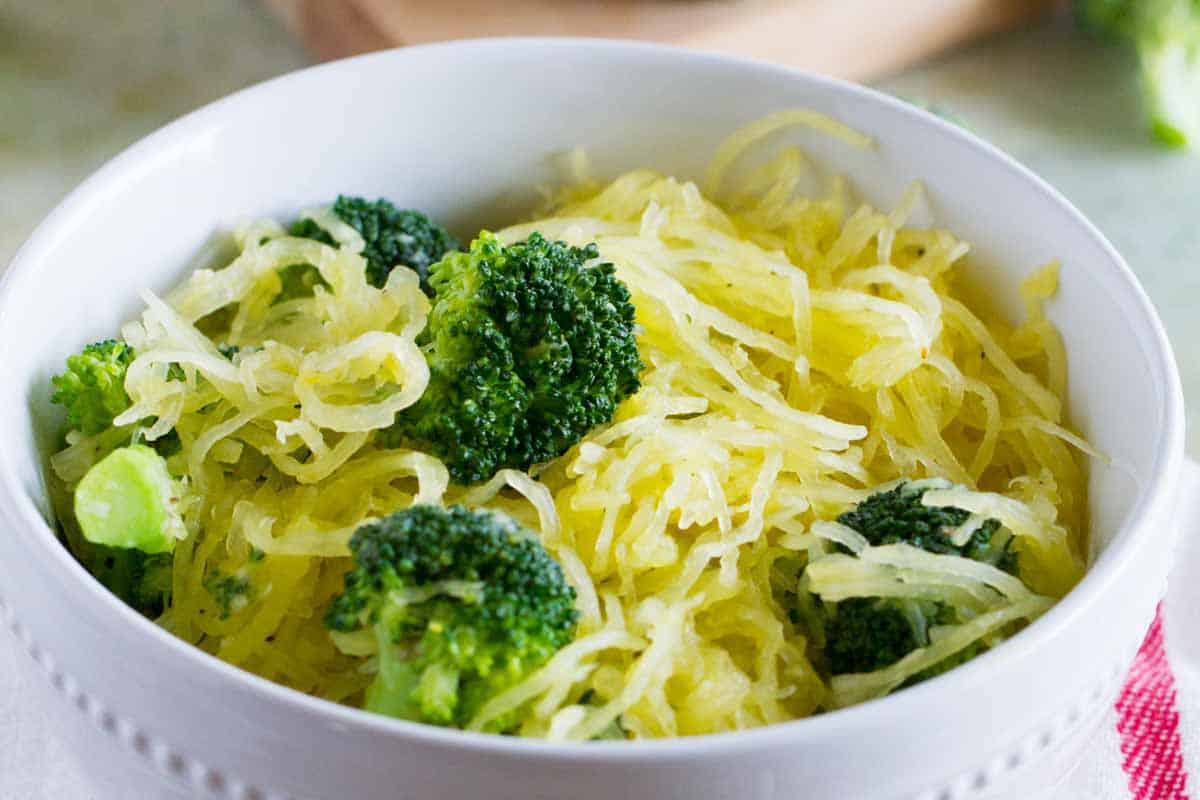 It is my first cookbook review of the year, and I'm super excited about this one. I actually received my copy last month, but purposely waited until January to highlight it, just because now is the time when people are on the lookout for healthy recipes, and this one is packed full of just that. I'm not a big "dieter", but I do believe in eating healthy and in portion control.
This cookbook – The Sparkpeople Cookbook: Love Your Food, Lose the Weight – is full of recipes that are not only healthy, but pretty darn delicious as well. In fact, from the recipes I tried, I can say that the recipes in this cookbook will make you forget that you are even eating healthy recipes – you'll just know that they taste good!
The first section of the book is full of lots of information. It talks about the benefits of eating "real" food, and talks about portion control. It gives you a crash course in basic cooking methods, and talks about ways to succeed in the kitchen.  There are also several real-life stories of people who have lost weight by eating healthy, sensible meals. But the second section of the book is the exciting part for me: the recipes!
In the book:
Breakfast: includes recipes like Tropical Smoothie, Skinny Eggs Florentine, Blueberry Flaxseed Muffins
Salads & Sandwiches: includes recipes like Roasted Beet and Apple Salad, Garlic Chicken Slaw in Lettuce Cups, Chef Meg's Beef and Blue Sandwich
Soups & Stews: includes recipes like Light and Creamy Crab Chowder, Bluegrass Jambalaya, Slow-Cooker White Bean Chicken Chili
Main Dishes with Poultry, Meat & Fish: includes recipes like Orange Chicken, Green Chicken Curry (featured below), Peppercorn Steak with Herbed Blue Cheese
Meatless Mains, Pasta & Pizza: includes recipes like Broccoli and Spaghetti Squash with Lemon Pepper (featured below), Weeknight Spaghetti, Quinoa-Flaxseed Pizza Dough
Whole Grains: includes recipes like Bruschetta with Cilantro Pesto and White Beans, Baked Lemon-Spiced Rice, Quinoa with Pea Pods and Peppers
Vegetables: includes recipes like Avocado Cherry-Tomato Salsa, Baked Sunburst Fries (featured below), Sauteed Cumin Carrots
Snacks and Desserts: includes recipes like Caramel Popcorn, Berry Oatmeal Bars, Raspberry Streusel Muffins
The book doesn't stop there. You still get herbs, spices and seasonings, tips on making your kids healthy eaters, weekly meal plans, a healthy pantry checklist, and so much more. To say that this cookbook is packed with all kinds of information is an understatement!
Number of Photos: Many
Definitely not a photo of every recipe, but there are a good amount of photos.
Difficulty Level of Recipes: Easy
The recipes in this cookbook were developed to be easy and accessible for everyday people. And everything looked super easy and super fast to me.
Availability of Ingredients: Easy
Meg Galvin, the author, stated that if she couldn't find an ingredient at her local grocery store, the recipe wasn't going into the cookbook. So everything should be very easy to find!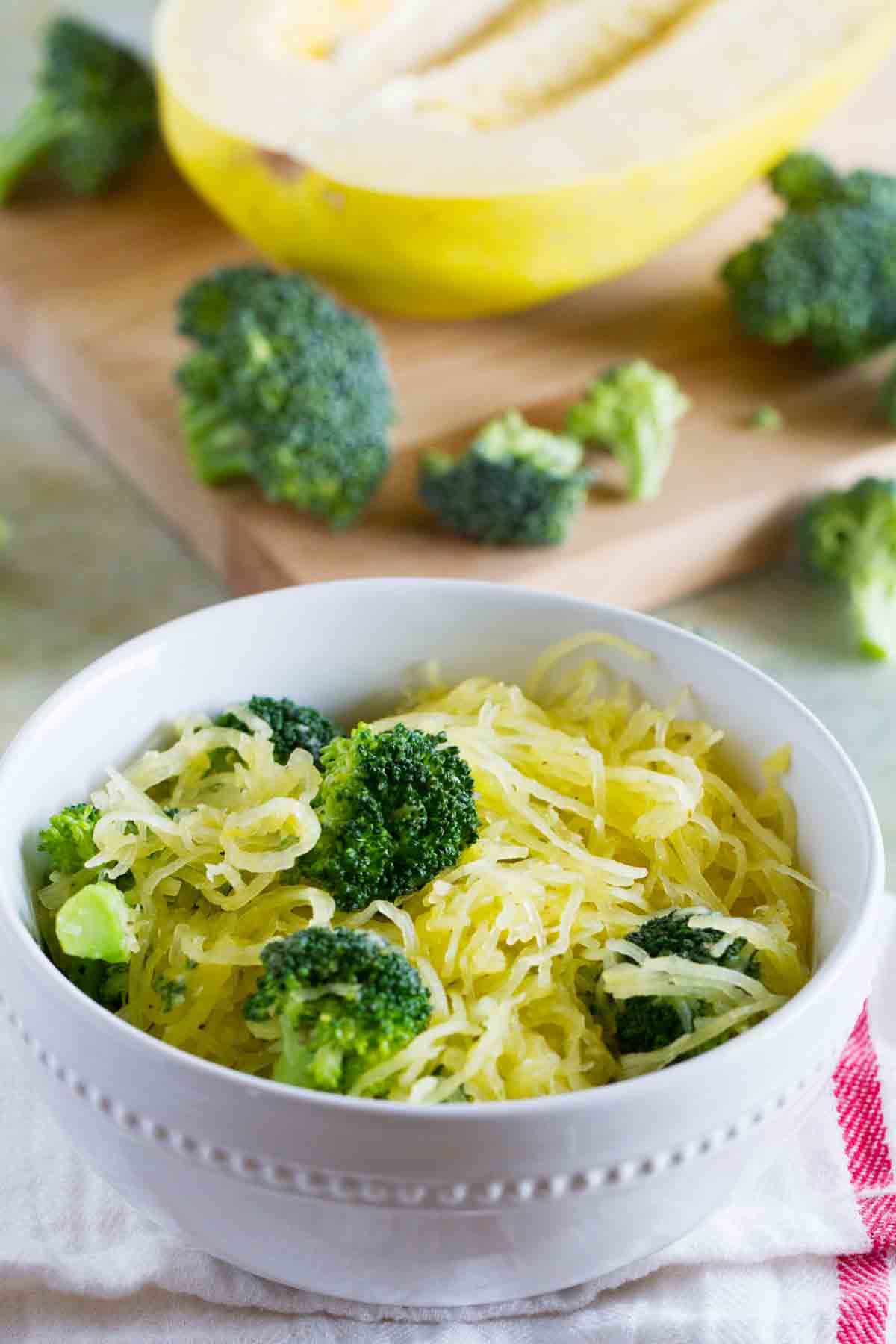 And here is what I made:
Baked Sunburst Fries
I love baked sweet potatoes.  In fact, I've been known to – on more than one occasion – just slice up a whole sweet potato into fries, bake them, and eat just that for a meal.  So when I saw this recipe that not only baked sweet potatoes into "fries", but also carrots and parsnips, I was intrigued.  And I loved them all – especially those carrot fries!  I would be happy to eat these on a weekly basis!
Green Chicken Curry
Once again, I was taking advantage of the fact that my husband is away and I can make whatever I want!  He is not a curry fan, but I actually think this recipe would win over even curry-haters.  The heat level is very mild, but there is tons of flavor.  The only problem I had with this recipe was that you are supposed to make a "sauce" from cilantro and lime juice in a food processor or blender.  My mom has a very nice blender, but this just wouldn't work because of the amount.  The cilantro would just get stuck under the blades and wouldn't puree.  I ended up just finely chopping everything as best as I could, and it worked.  I'm not sure how you'd be able to really get it to work as written unless you have a mini food processor.
Spaghetti Squash with Broccoli and Lemon Pepper
This was the surprising winner of the recipes I tried.  Honestly, the only reason I tried this recipe was because I had a spaghetti squash and didn't have a plan for it, and I always have broccoli on hand since it's the only vegetable that my daughter will eat.  And while I'm being honest, I'll admit that I did add a little bit of butter into the spaghetti squash as well.  But I gobbled this right down, and my mom ended up finishing it off and wanting more!
I'm going to say that this cookbook is a must have – especially if you are looking for healthy recipes or wanting to lose weight. There are plenty of recipes that I have bookmarked, and I know this cookbook is going to get a workout!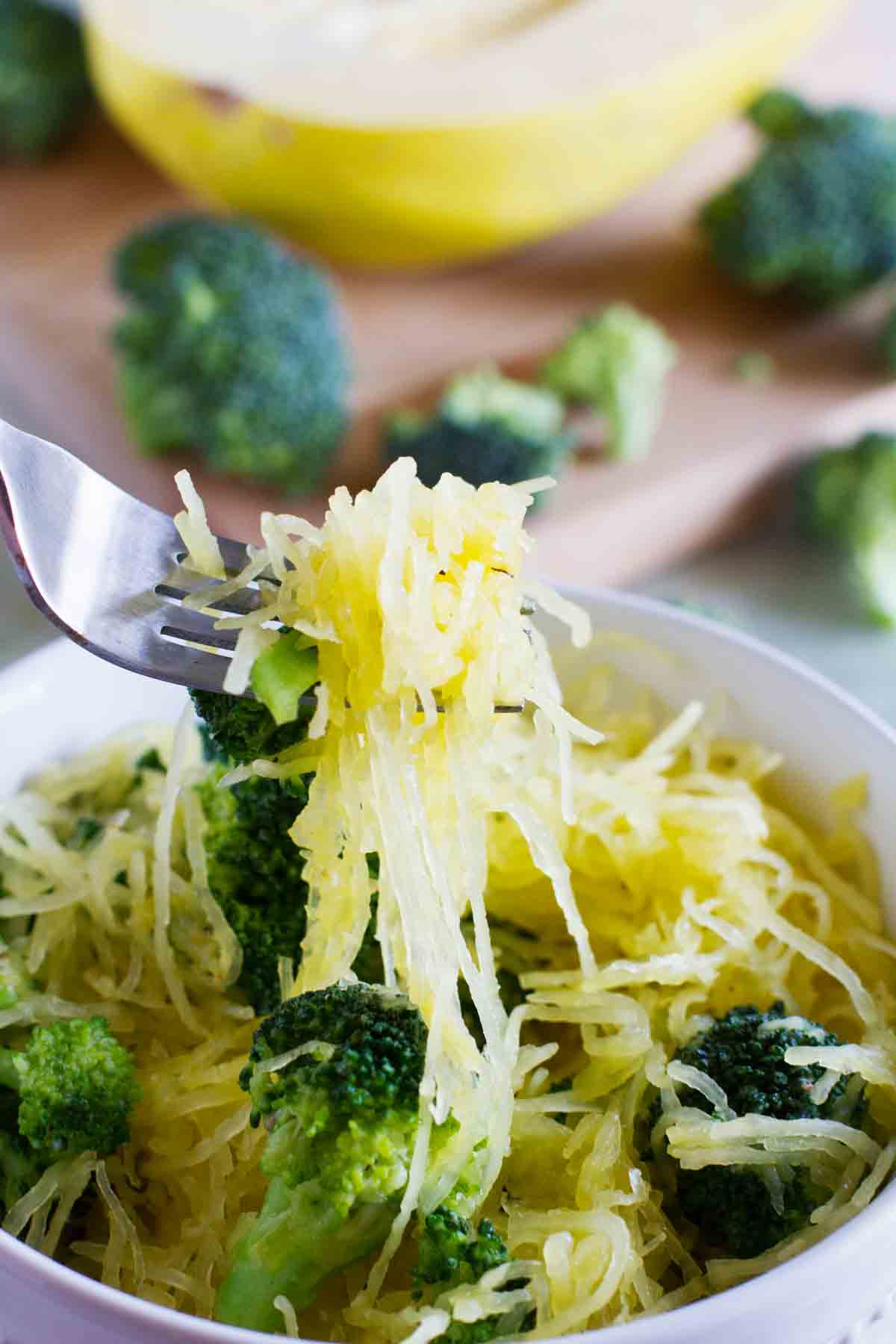 More Spaghetti Squash Recipes:
Spinach Artichoke Spaghetti Squash
Huevos Rancheros Inspired Spaghetti Squash
Southwestern Stuffed Spaghetti Squash
Spaghetti Squash Tostadas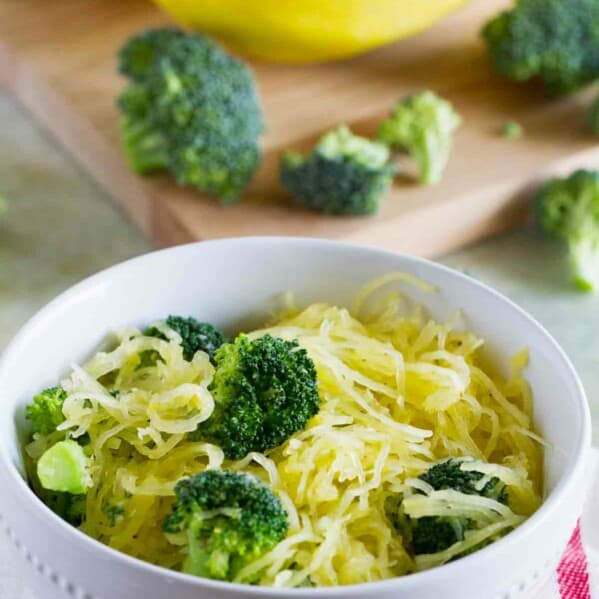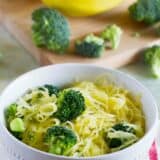 Spaghetti Squash with Broccoli and Lemon Pepper
---
Author:
Prep Time: 10 minutes
Cook Time: 10 minutes
Total Time: 20 minutes
Yield: 4 servings 1x
Category: Main Dish
Method: Baked
Cuisine: American
Description
Forget the pasta – this healthy veggie filled Spaghetti Squash with Broccoli and Lemon Pepper will leave you satisfied. If you don't have lemon pepper on hand, substitute ½ teaspoon of black pepper and the zest from 1 lemon.
---
Scale
Ingredients
1 spaghetti squash, stem end trimmed, halved lengthwise (about 2 1/2 – 3 pounds), seeds removed
1 head broccoli, large stalks removed, florets cut into bite-sized pieces, lightly steamed
1/4 cup grated Parmesan cheese
1 teaspoon lemon pepper
1 teaspoon butter (optional)
---
Instructions
Place the spaghetti squash in a microwave safe dish, cut side up. Pour about half an inch of water in the dish, then cover with plastic wrap and microwave until soft, about 10 minutes. Remove and let cool slightly, then with a fork, scrape up the strings from the squash.
Place the squash in a bowl. Add the broccoli, Parmesan cheese, lemon pepper and butter (if using) to the squash and stir until combined.
Serve warm.
Keywords: spaghetti squash with broccoli