A delicious and "fancy" dinner does not have to take all day! This Easy Chicken Cordon Bleu is ready in under 30 minutes.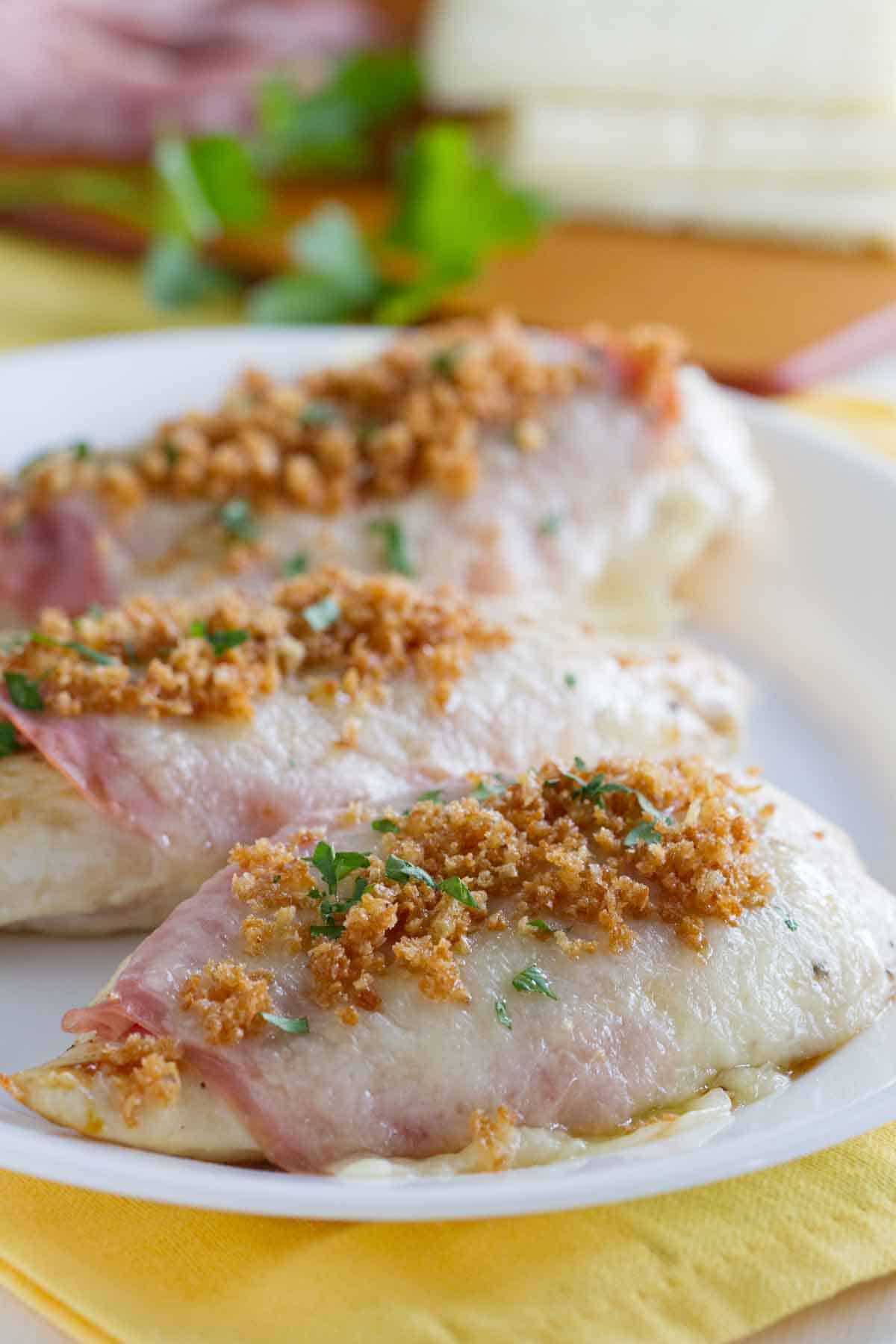 Sometimes I get really excited about cookbooks. Ok, all the time I do, let's be honest. But sometimes, I get so excited that I'm constantly looking out the front window, watching for the mailman or the UPS truck. Sometimes I know the release dates, and I'm one of those people first in line to order.
Today's cookbook review is one of those books. I have been looking forward to Melissa d'Arabian's newest book – Supermarket Healthy – ever since I first heard about it. And I eagerly waited for it to show up on my doorstep.

I've been a fan of Melissa's ever since she was on The Next Food Network Star. There is something about her that is very real and down to earth. I have made several of her recipes over the years, and have a ton more bookmarked.
I don't have her first cookbook (I think it came out when I was on my cookbook buying "diet"), but I wasn't going to pass this one up. Filled with recipes that are not only good for you, but won't break the bank as well, I can already tell that this will become a go-to book for me in 2015. The recipes are creative and inventive without being over the top. And I feel like there is a great variety of recipes in the book. But one of the things that I love the most is how fresh most of the recipes seem – filled with lots of produce, which isn't always seen when you are looking at recipes that are created with being budget friendly on the mind.
Here are the details:
Number of Photos: Many. There isn't a photo of each dish, but there is probably a photo of every other recipe. The photos are gorgeous and want to make me cook them as soon as possible.
Difficulty Level of Recipes: Easy. As a mom herself, I'm betting that these recipes were written with a busy family in mind, because they are all seriously such quick, easy recipes. There are gobs of recipes that are done in less than 30 minutes. I think any of the recipes that may even seem intimidating at first are explained so well that anyone could pull them off. (There is a large chapter of fish recipes, and I know people are intimidated by fish. But it's not hard – I promise!)
Availability of Ingredients: Easy Same as above, these recipes are not made to be rocket science. You should be able to easily find all of the ingredients in any grocery store.
Other Recipes I Want to Try:
Cinnamon Popovers with Cream Cheese Glaze
White Bean and Roasted Red Pepper Soup
Pomegrante, Squash, Apples and Arugula
Summer Squash and Mushroom Tacos
Cod and Coconut Curry over Cilantro Rice
Piri-Piri Barbecued Chicken Kebabs
Vanilla and Blueberry Cheesecake Pudding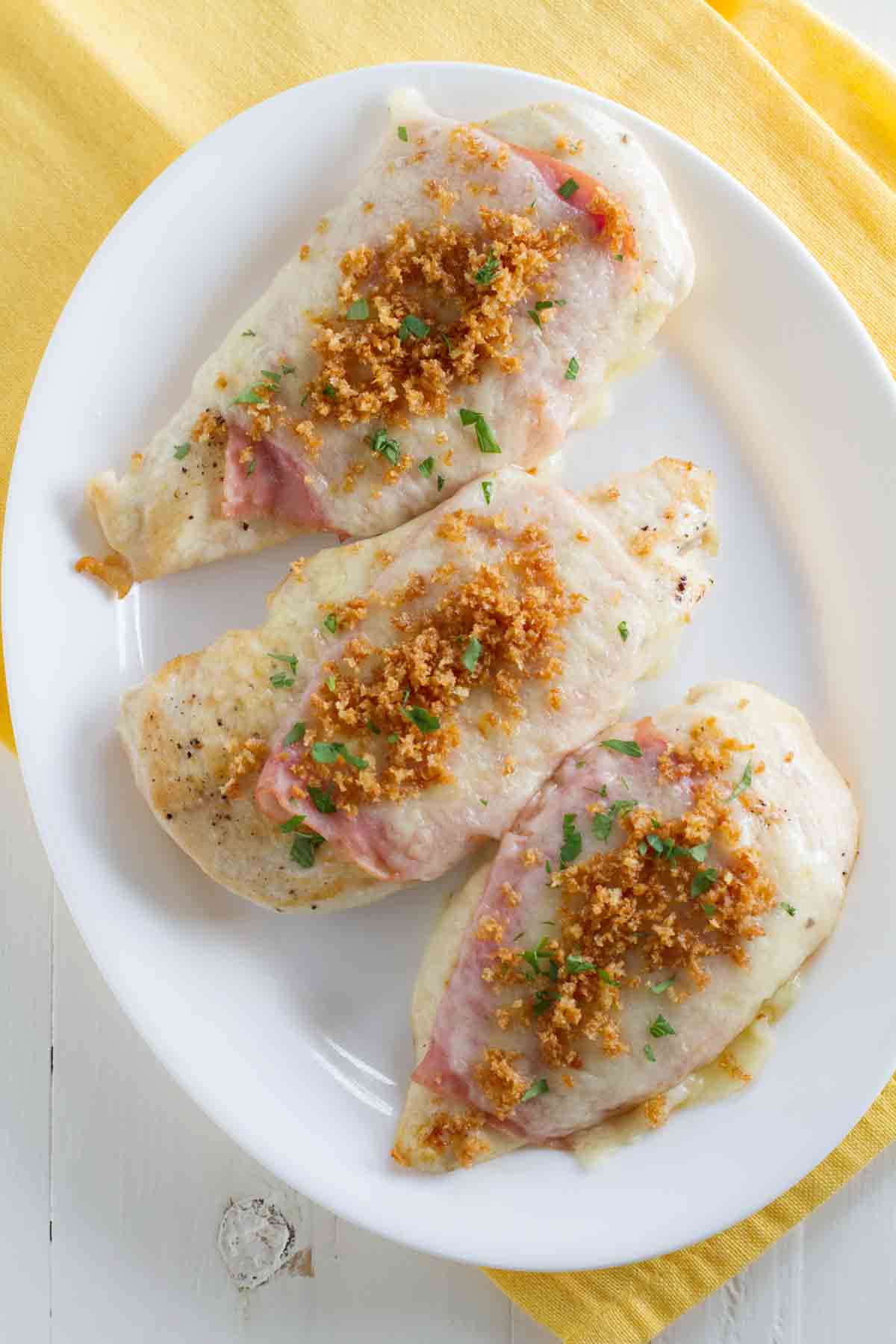 I honestly have so many recipes from this cookbook bookmarked to make. I was so close to making the Vanilla And Blueberry Cheesecake Pudding, but I usually don't like to review a cookbook with a dessert unless it is a dessert cookbook. And the Piri-Piri Barbecued Chicken Kebabs are totally calling my name, but it's been windy and cold and I didn't want to go outside to grill.
And then I spied this easy chicken cordon bleu. This was a recipe without a photo, so it didn't stand out for me at first (I'm always drawn to the recipes with the photos!) but I'm so glad I slowed down to read this recipe. It was a hit!!
I have always loved chicken cordon bleu, but it is normally a little time and labor intensive. But an easy chicken cordon bleu? One that carries the same flavors, yet can be done in under 30 minutes? Count me in!!
I do have to mention that this recipe did confuse me a little bit. If I was reading it correctly, you would only cook one side of the chicken in the pan before transferring it to the oven to melt the cheese. But my chicken was not even close to being cooked through at this point, and I wasn't comfortable with that. Maybe if I would have pounded the chicken out (but that would defeat the purpose of easy and fast) then it would have cooked that quickly. So I cooked both sides, which really only added on an additional 3-4 minutes. No big deal. And in the original recipe, she uses only 2 pieces of ham and 2 pieces of cheese, split between the 4 portions. My ham was quite thin, so I used a full piece on each, and I was willing to add the extra calories to use a full slice of cheese to each piece. It was pretty thin as well, in my defense. 🙂
The only other change I made was to decrease the amount of the breadcrumbs on top. I love, love, loved the breadcrumbs (and ate all of the extras myself!!) but I didn't feel like we needed the full amount.
I am so excited to have this cookbook in my collection, and I can't wait to continue to cook from it!!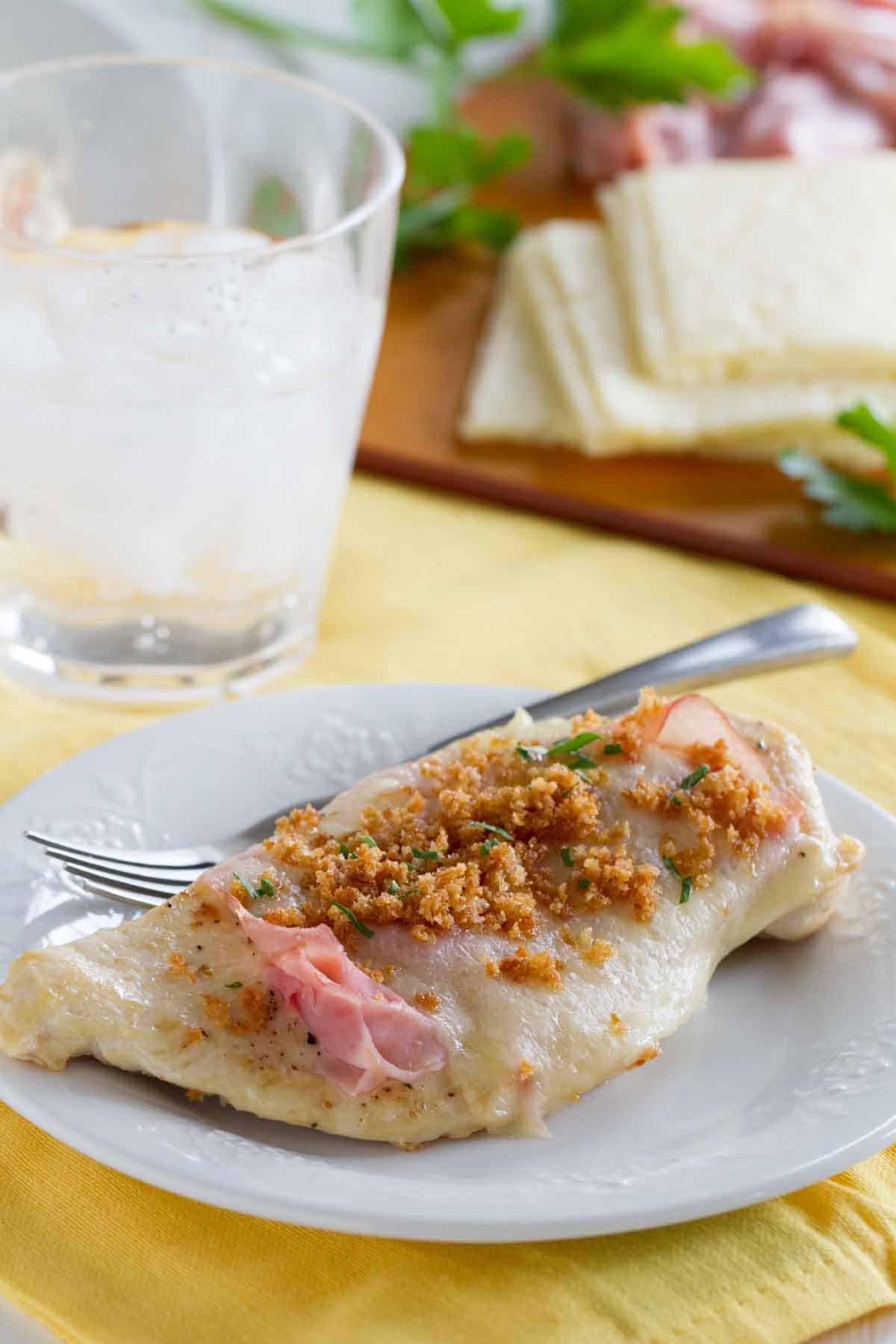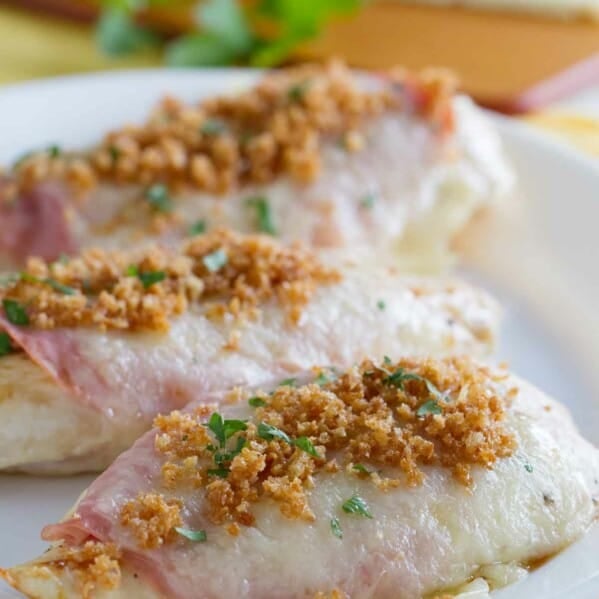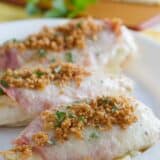 Easy Chicken Cordon Bleu
---
Author:
Prep Time: 10 minutes
Cook Time: 15 minutes
Total Time: 25 minutes
Yield: 4 servings 1x
Category: Main Dish
Method: Stove Top
Cuisine: French
Description
A delicious and "fancy" dinner does not have to take all day! This Easy Chicken Cordon Bleu is ready in under 30 minutes.
---
Scale
Ingredients
1/2 tablespoon unsalted butter
1 1/2 tablespoons panko bread crumbs
1/2 + teaspoon + a dash of kosher salt
1 pound boneless, skinless chicken breasts (about 2 large chicken breasts)
1/2 teaspoon ground black pepper
1 tablespoon vegetable oil
2 oz deli sliced ham
4 thin slices of Swiss cheese
---
Instructions
Melt the butter in a small skillet over medium heat. Add the panko breadcrumbs and cook, stirring constantly, until they are a deep, golden brown. Remove from the heat and stir in a dash of salt. Set aside.
Preheat the oven broiler to high. Line a rimmed baking sheet with foil.
Place the chicken breasts on a cutting board, and using a sharp knife, cut the breasts in half lengthwise, forming 4 thinner pieces. (Alternately, you can use 4 chicken cutlets.) Season both sides of the chicken with the remaining salt and the pepper.
Heat the vegetable oil in a large skillet over medium heat. Add the chicken and cook until browned, 3-4 minutes. Flip the chicken over and cook the second side until browned. (You may need to do this in 2 batches if your skillet isn't big enough.) Transfer the chicken to the prepared baking sheet. Top each piece of chicken with some of the ham and a slice of cheese.
Broil the chicken until the cheese is melted and bubbly, 3-4 minutes. Make sure to keep an eye on it as it goes quickly.
Serve the chicken sprinkled with the reserved breadcrumbs.
Keywords: chicken cordon bleu