They may not be the fanciest cookies around, but these Sour Cream Cookies won't last long in the cookie jar! They will quickly become a family favorite.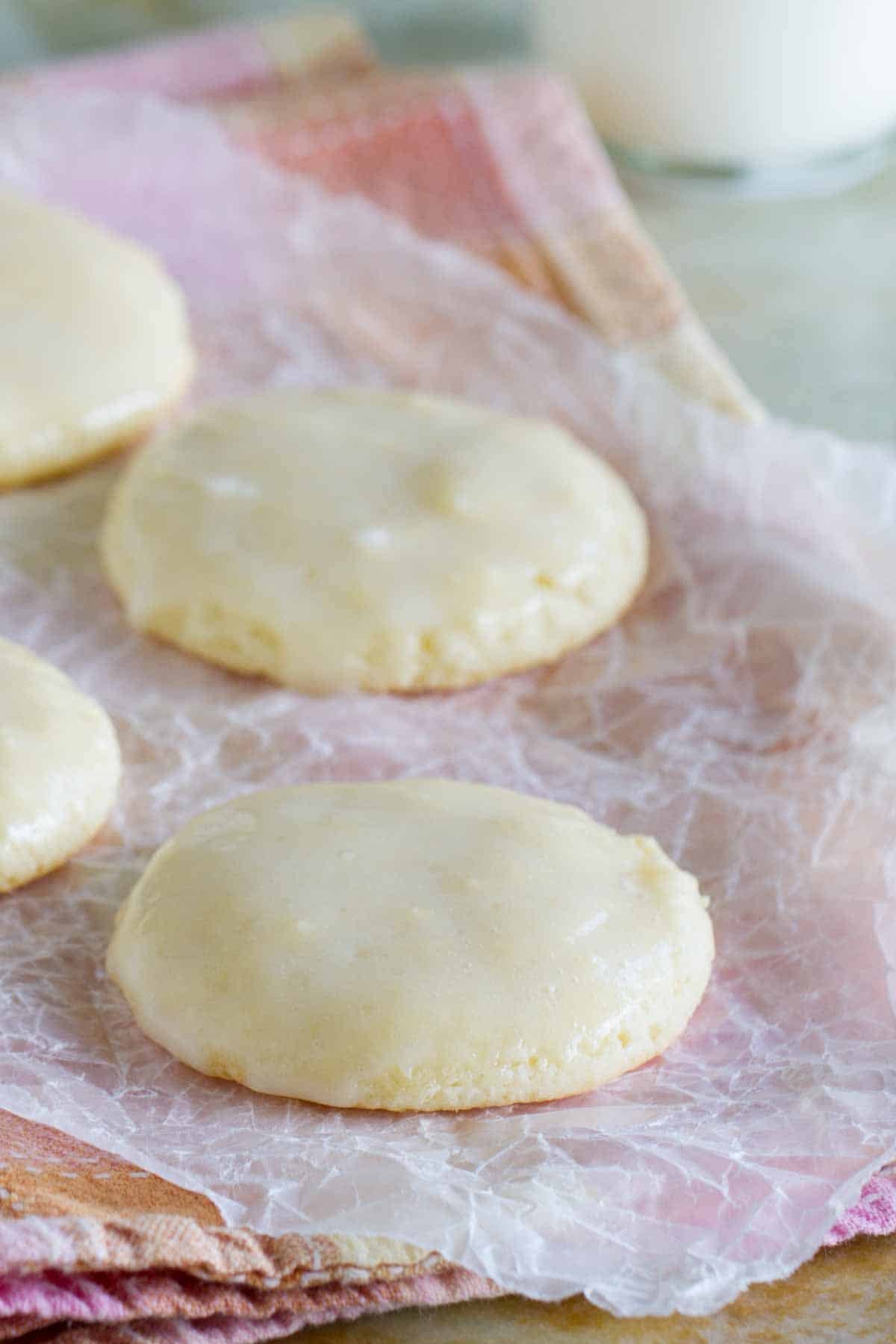 I was talking to another blogger a couple of weeks ago, and mentioned my #52Cookbooks project. She asked if it would be hard for me to find 52 cookbooks that I wanted to review throughout the year. I almost had to laugh, because if you know me, you'd know that I have a stack of cookbooks 8 deep right now that are waiting to be cooked from, and I could easily go onto Amazon right now and pick out at least another 50 that I would be super excited to own. Yeah, finding the cookbooks is not a problem for me – it's finding the time to cook from them all that I'm having a hard time with!!
So even though there are eleven million cookbooks I want, I have to try to reign it in and make sure that I actually am cooking from the cookbooks that I get.

So a few years ago, a cookbook came onto my radar – Momofuku Milk Bar by Christina Tosi. I still want that book, but it hasn't made its way into my collection yet. But when I saw that she recently released a second cookbook, Milk Bar Life, I knew I wanted it.
I first have to say that I think my view of the book will be completely different than someone who owns the first book. If you read the reviews on Amazon, you'll quickly see that the majority of the bad reviews come from people who own the first book and were expecting more of the same. And from what I can gather, this book is completely different.
I will admit, though, that I am still trying to form my opinion of this book. It is definitely different than any other cookbook that I own. I wouldn't say that I want to make every recipe in the book, but there is a list of recipes that I know would make the book worth it. But I almost feel like the book lacks some focus. I can't quite figure out who the audience for the book is. Because on one hand, there are a handful of kind of ridiculous recipes. Like Blue Cheese Pretzels, where you literally take mini pretzels and sprinkle them with blue cheese and bake to melt the cheese. But then on the other hand, she is talking about smoking a turkey. There are a lot of recipes in this book, but it feels a little all over the place for me. But maybe that was the purpose.
That being said, I honestly think this is more of a story than a cookbook, if that makes any sense at all. I don't know a lot about Christina Tosi, but I have a feeling that in real life, she is a little bit eclectic, a little bit all over the place. And maybe this book is just a representation of who she is. I do think this cookbook would make quite the coffee table book, and there is a list of recipes that I want to try from the book. If you are looking for a repeat of her first book, this one is probably not what you are looking for. But if you are looking for a cookbook that is a little different, a little eclectic, a little adventurous, you should definitely check it out!
Number of Photos: Many. There is not a photo of every recipe, but there a lot of photos, both of the food and lifestyle photos. This is definitely a book that would be a good conversation starter as a coffee table book! If you are not a fan of non-recipe photos in a book, this one isn't for you, but it definitely gives you a look into Tosi's life!
Difficulty Level of Recipes: Easy to Medium. There really is a wide variety of difficulty levels in this book. Everything from throwing together pretzels and blue cheese to making your own English muffins and hollandaise from scratch.
Availability of Ingredients: Easy. I guess Christina Tosi is known for being able to throw anything together from random grocery store ingredients, so I think you should be able to find all of these ingredients pretty easily.
Other Recipes I Want to Make:
Apple Dumplings
Pumpkin Gooey Butter Cake
Haute Dogs
Chicken Fat Biscuits
Cornbread Ice Cream
Tex-Mex Breakfast Casserole
Marky's Butter Burgers
Black-Pepper-Butter Mashed Potatoes
Buy Milk Bar Life on Amazon.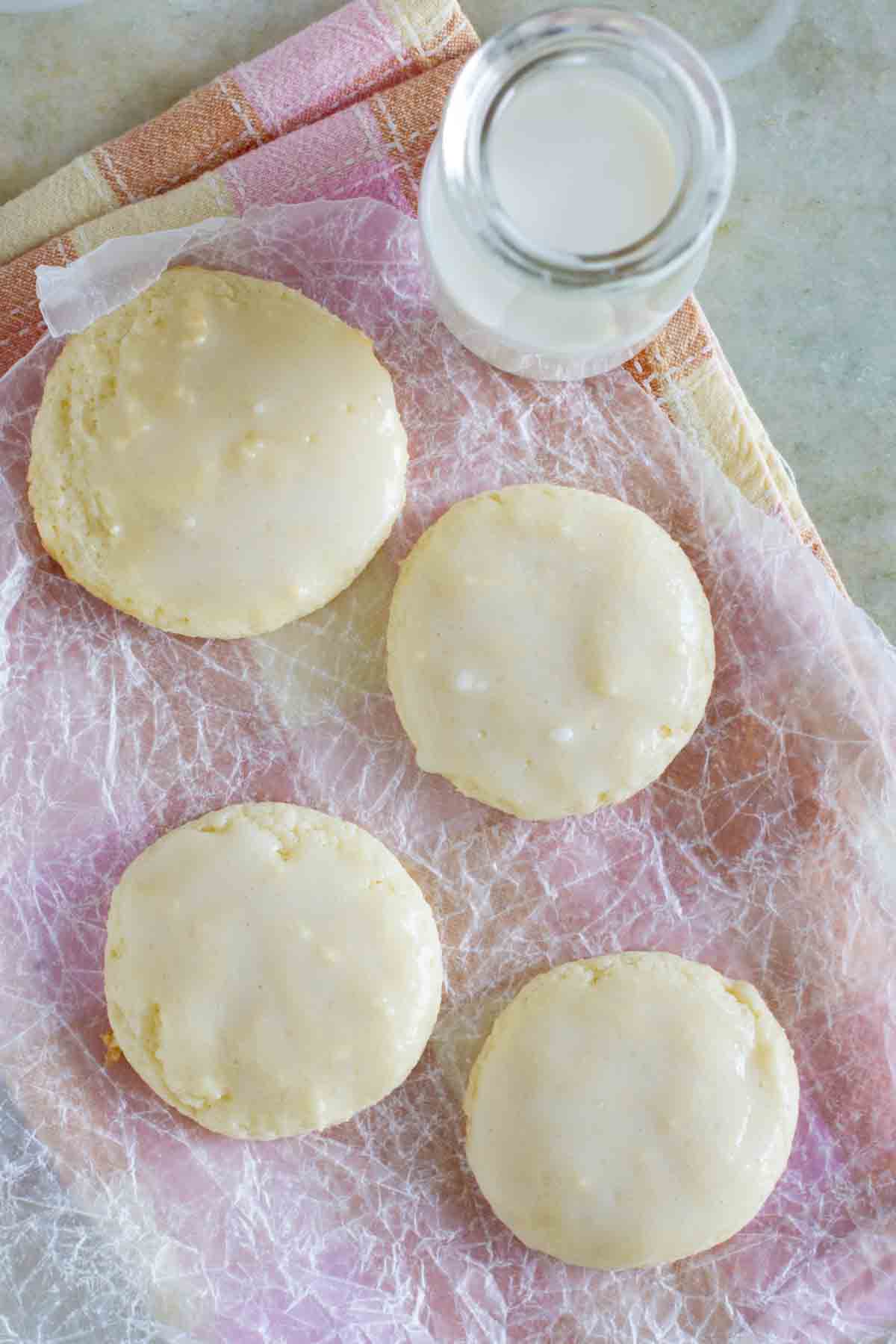 If you know me, you know I'm a sucker for those old fashioned, homely type recipes. So when I saw the recipe for these Sour Cream Cookies, I knew I needed to give them a try. In the book, Tosi mentions that these cookies would never be found in a high end bakery or fancy cookbook, but that they will be found in nearly every community cookbook. Sounds like my kind of recipe!!
I will admit that while simple, I did run into one problem. The first time I made these, they came out as flat as pancakes. They were delicious, and we managed to eat every single one of them, but I knew they weren't supposed to be flat like that. I do have to give the benefit of the doubt to the recipe, though, as I often have a problem with flat cookies (maybe altitude??) So the next time I made them, I added in an extra half cup of flour, and they turned out perfectly. So the recipe below has my addition of the extra flour. If you don't normally have a problem with flat cookies, you may not need that extra flour.
These are definitely not fancy cookies, and some may even call them "plain", but I thought they were completely addictive. They are almost like a super soft sugar cookie. You don't have to add the glaze – believe me, you will not have a problem finishing them off without it – but I absolutely loved the glaze. While you can't taste the sour cream in the cookies at all, with the glaze, you get that little bit of tang that gives these cookies that little something special. I seriously had to hide these Sour Cream Cookies away so I wouldn't eat the whole batch myself!!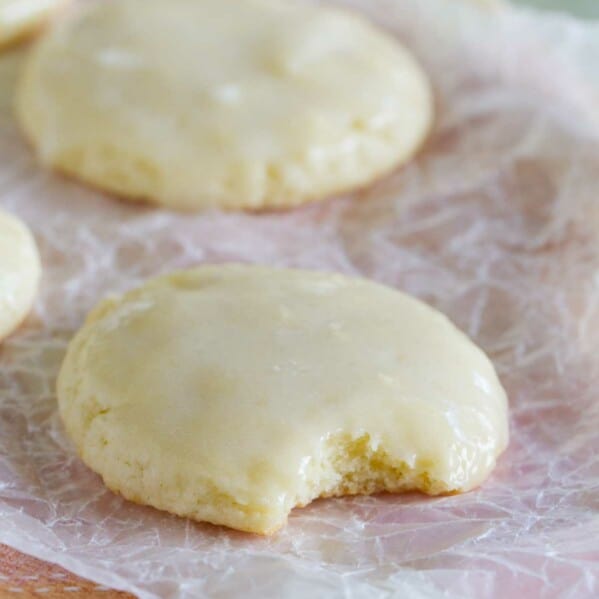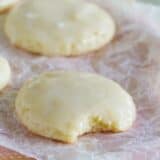 Sour Cream Cookies
---
Author:
Prep Time: 15 minutes
Cook Time: 11 minutes
Total Time: 26 minutes
Yield: 12 to 24 cookies 1x
Category: Dessert
Method: Baked
Cuisine: American
Description
They may not be the fanciest cookies around, but these Sour Cream Cookies won't last long in the cookie jar! They will quickly become a family favorite.
---
Scale
Ingredients
Cookies
6 tablespoons butter, at room temperature
1 cup sugar
1 large egg
1/2 cup sour cream
2 cups all purpose flour*
1/2 teaspoon kosher salt
1/2 teaspoon baking powder
1/4 teaspoon baking soda
Glaze
1/2 cup powdered sugar
1/4 cup sour cream
---
Instructions
Preheat the oven to 375ºF.
In the bowl of a stand mixer fitted with the paddle attachment, combine the butter and sugar until light and fluffy, about 2 minutes. Add in the egg and the sour cream and mix until combined, about 1 more minute. Add the flour, salt, baking powder and baking soda and mix just until combined. They dough will be wet – not like typical cookie dough.
Using a 1- to 2-tablespoon cookie scoop, scoop the dough onto greased or line baking sheets.
Bake the cookies in the preheated oven until brown around the edges, 7-9 minutes for smaller cookies or 9-11 minutes for larger cookies. Let the cookies cool completely on the baking sheet before removing.
Once the cookies are cool, combine the powdered sugar and sour cream. Dip the tops of the cookies in the glaze, or spread the glaze on top of the cooled cookies.
Recipe Notes:
adapted from Milk Bar Life
*The original recipe calls for only 1 1/2 cups of flour, but my cookies came out completely flat. I found that for me, 2 cups helped them keep their shape. It may be an altitude difference, so you may not need the full 2 cups of flour.
Keywords: sour cream cookies