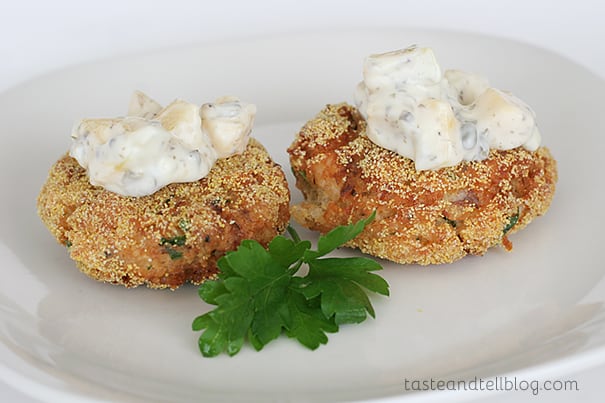 I love a good crab cake. I've eaten them when I've gone out on many occasions, and even tried them at home once. But a salmon cake? That's something I had never tried before. So when I saw this recipe for salmon cakes, I knew I had to give it a try!
First of all, I have never had canned salmon before. I've never had an occasion to buy it, so when I went to the store, I didn't really know what I was looking for. The particular grocery store I was at that day had only 2 brands. Of the brand I chose, there were two different cans, but I couldn't tell the difference between them besides the color of the label. I blindly chose one of them and went on my way. When I went to make these salmon cakes, I went and opened up the can. I did not expect to find what I found in that can. Instead of beautiful pink salmon, I found a kind of pink fish with skin and other parts of the fish – I don't really know what parts they were, but it was not very appetizing. I poured the contents of the can into a bowl and dug right in with my hands, separating the fish from "other" parts in the can. This would have not been for the squeamish!!
The rest of the process went smoothly. I have to admit that I didn't know if I could even eat these cakes after what I went through with the salmon, but I tried to put that at the back of my mind so I could give these an honest review – based on the recipe, not the salmon I had picked out.Thank goodness I decided to try them, because I really liked them. And the mango tartar sauce – that's what really makes this recipe special. Don't skip out on it!!
So if anyone has experience with canned salmon, please let me know what to choose next time!
Recipe rating: 4 out of 5
Spicy Salmon and Corn Cakes with Mango Tartar Sauce
from The Deen Family Cookbook
Makes 12 2-inch cakes and 1 1/2 cups sauce
Tartar Sauce
1 cup peeled, diced mango (about 1 large mango)
1/2 cup mayonnaise
2 tablespoons capers, drained and chopped
pinch of salt
pepper
Salmon Cakes
One 14.5-ounce can boneless pink salmon, drained
1 cup panko
2 eggs, slightly beaten
3 tablespoons chopped fresh parsley
2 tablespoons chopped red onion
1/2 teaspoon cayenne pepper – more or less to taste
1/4 teaspoon salt
pepper
1/3 cup cornmeal vegetable oil, for frying
Make the tartar sauce: mix together all the ingredients. Cover and refrigerate until ready to use.
Put the salmon in a bowl and break it up with a fork. Add the panko, eggs, parsley, onion, cayenne pepper, salt and pepper and mix to combine. Form the mixture into 12 patties and coat them in the cornmeal.
Heat 1/4-inch of oil in the bottom of a large skillet over medium-high heat. Place the cakes – 4 to 5 at a time – in the oil and cook until golden brown, about 3 to 4 minutes per side. Transfer to a paper towel lined plate to drain.
Serve immediately with the tartar sauce.