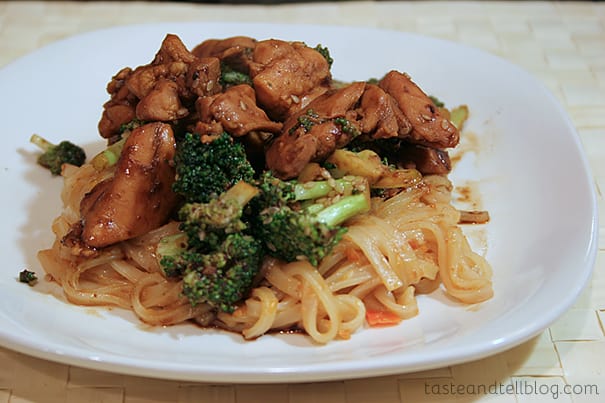 This will be quick today, since I have a fussy child in my arms and typing one handed just takes too long!! So to go along with a quick post is a quick dinner idea!
At the beginning of the year, I decided I wanted to try new ingredients, and this dish uses an ingredient that I've never used before – black bean sauce. I really enjoyed this dish and this new ingredient.
Have you ever used black bean sauce, and if so, do you have a good recipe so I can use the rest of my sauce?
Sesame Chicken Thighs with Garlicky Broccoli
from Quick Fix Meals
Serves 4
1 tablespoon toasted sesame oil
1 1/4 pounds boneless, skinless chicken thighs, cut into 1-inch pieces
2 tablespoons sesame seeds
1 cup reduced-sodium chicken broth
1/2 cup Chinese black bean sauce
1/2 teaspoon freshly ground pepper
1 to 2 teaspoons garlic powder, to taste
4 cups broccoli florets
Heat the sesame oil in a large pan over medium heat. Add the chicken and cook until browned on all sides. Add the sesame seeds and stir to coat the chicken. Cook until the sesame seeds are toasted, about 2 minutes. Add the chicken broth, black bean sauce and pepper; bring to a simmer. Cover the pan and cook until chicken is cooked through, about 5 minutes.
As the chicken is cooking, sprinkle the garlic powder over the broccoli. Place the broccoli over the simmering chicken mixture and cook until the broccoli is crisp tender, about 5 minutes. Serve over rice noodles, if desired.