Coleslaw does not have to be boring, and this Bacon Blue Cheese Coleslaw proves that!! Crunchy cabbage, salty bacon and bold blue cheese bring this coleslaw to a new level.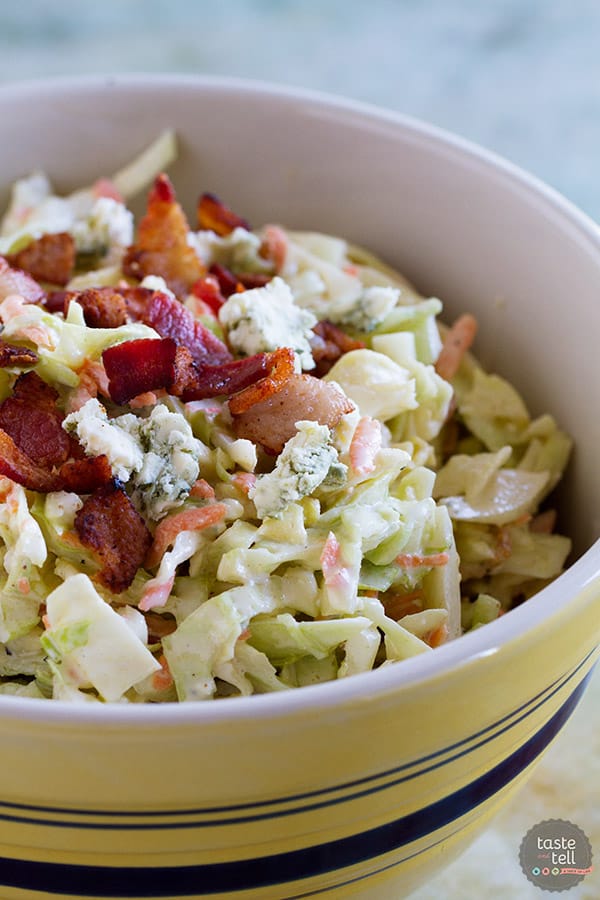 Yum


You all know that I love to travel. And while traveling, one of my favorite things to do is to visit local restaurants. I just feel like you can really get a sense of a city or town or place by the local joints. I try to skip over all the chain restaurants, and stick to only local.
But since my traveling is on hold for a bit, I know I have to get creative. Which is why I love it when one of those local restaurants has its own cookbook!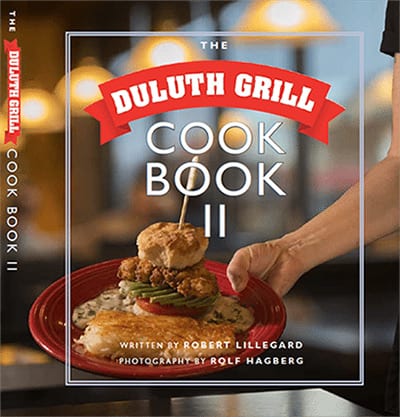 Enter the Duluth Grill Cookbook 2 – filled with all kinds of stories and recipes from the Duluth Grill in Duluth, Minnesota. The Duluth Grill is not your normal diner-style restaurant. Just because they are in Minnesota, where winter temperatures can drop to 20 degrees below zero, doesn't stop them from sourcing local, organic foods. In fact, they dug up part of their back parking lot to plant a garden that provides food for the restaurant.
I was excited to see a copy of this cookbook to see just what it contains.
Here are the details:
Number of Photos: Many. Just about every recipe has a photo, and there are a lot of photos of the family and the restaurant, as well.
Difficulty Level of Recipes: Easy to Medium. Most of the recipes are pretty simple. But the instructions are short and to the point, so if you need a lot of guidance and instruction, you might be wanting more. But if you are fairly comfortable in the kitchen, you shouldn't have any problems.
Availability of Ingredients: Easy to Medium. The majority of the ingredients should be easy to find, and the harder to find ingredients should be easily found in a well-stocked grocery store.
Other recipes I want to try:
Blueberry Syrup
Blueberry Muffins
Spring Rolls
Marinated Kale
Swedish Meatballs
Thai Pizza
Lemon Chicken
Velvet Pumpkin Cake
Layered Carrot Cake
Buy The Duluth Grill Cookbook 2.
Ok, now this Bacon Blue Cheese Coleslaw. Have you ever been drawn to a recipe, even though you know that food is not your favorite? Well, that's what happened with this Bacon Blue Cheese Coleslaw. I'm not even a big coleslaw fan in the first place. If it's ever one of the choices for a side when we are out, I never choose it. So it was pretty crazy to actually want to make coleslaw. I think it was the bacon and blue cheese that I was drawn to. 😉
This recipe is super simple. Besides having to sit in the refrigerator to marinate and let the flavors combine, this recipe is fast to throw together. And flavor? This definitely has that going on. I actually couldn't stop myself from eating this. It was dangerous to have on my kitchen counter. So that right there shows how much I like this. We had hamburgers for dinner that night, and my husband put some of this coleslaw on his, and claimed it to be one of the best burgers he had ever had.
This is a great recipe to have on hand since summer is just around the corner (even though it doesn't feel like it for many people right now!) But blue cheese and bacon lovers will fall in love with this Bacon Blue Cheese Coleslaw!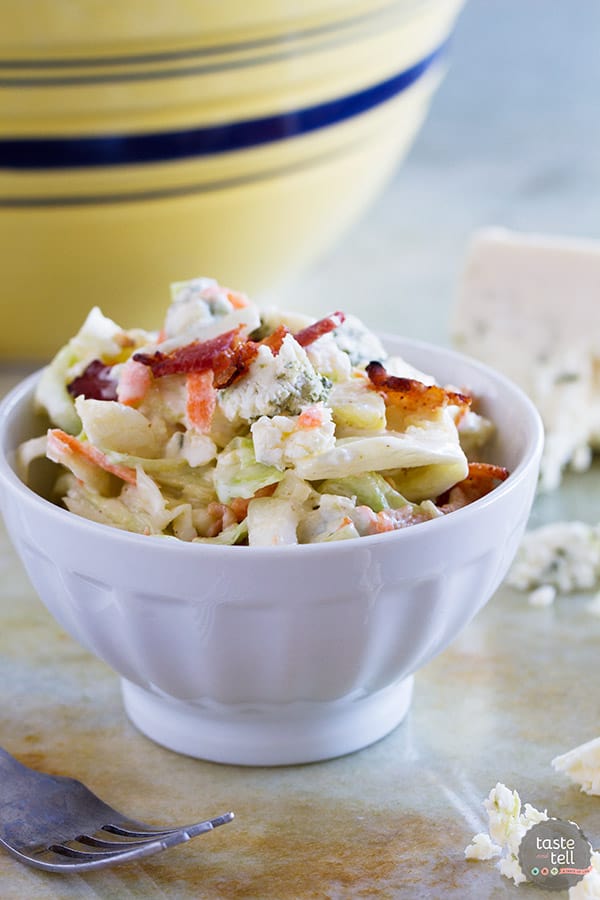 Like what you see here? Make sure you are following Taste and Tell for more recipes and ideas!
Facebook | Pinterest | Instagram | Twitter | Google+ | Weekly Newsletter | Feedly | Bloglovin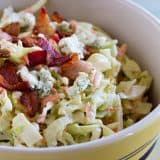 Bacon Blue Cheese Coleslaw
---
Author:
Prep Time: 15 mins
Cook Time: 5 mins
Total Time: 20 mins
Yield: 4-6 servings 1x
Description
Coleslaw does not have to be boring, and this Bacon Blue Cheese Coleslaw proves that!! Crunchy cabbage, salty bacon and bold blue cheese bring this coleslaw to a new level.
---
Scale
Ingredients
3 slices center cut bacon
1 small head cabbage (about 2 lbs)
3 medium carrots, peeled and shredded
1 cup mayonnaise
1/3 cup apple cider vinegar
2 tablespoons sugar
1 teaspoon salt
1/2 teaspoon celery salt
1/2 teaspoon pepper
4 oz blue cheese, crumbled
---
Instructions
Cut the bacon into pieces. Fry in a skillet until crisp. Remove with a slotted spoon to a paper towel lined plate. Reserve the bacon drippings.
In a large bowl, combine the mayonnaise, reserve bacon drippings, apple cider vinegar, sugar, salt, celery salt and pepper. Whisk to combine.
Cut the cabbage into quarters, then slice into thin strips. Add the cabbage and the carrots to the bowl with the dressing and toss to combine. Stir in the bacon and the blue cheese.
Chill for at least 4-8 hours before serving for best results.
Recipe Notes:
adapted from The Duluth Grill Cookbook 2
Don't miss a thing! Follow me on Pinterest to see what I'm pinning!
Visit Taste and Tell's profile on Pinterest.



I was sent a copy of this cookbook for review purposes, but this is not a sponsored post. All opinions are my own, as always!