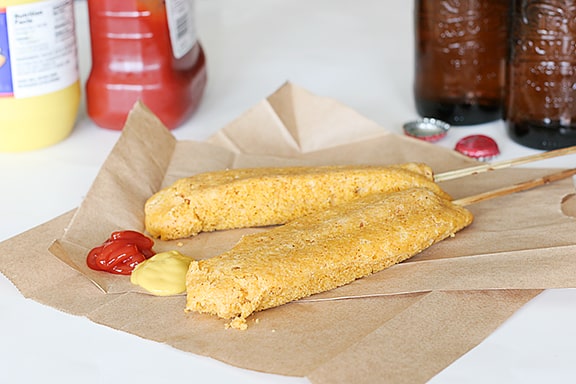 Or this should be titled – "If at first you don't succeed, try, try again."
This was one of the first recipes that caught my attention when I picked this cookbook up. But as I kept thinking about it, I kept wondering how it actually worked. How in the world would the batter stay on the hog dog if you are baking it? I decided that even though it didn't work logically in my head, I still wanted to give it a try.
And now is when I say that I am grateful for the internet and for reviews. Before making these, I did a little search, and found out that this recipe is actually on the Food Network website, and that it was made on 30-minute meals. The reviews were very mixed. It looked like people either loved the recipe or they hated it. The online recipe did have some extra flour in it, but I decided to stick with the book version.
Since some of the reviewers had luck with the recipe, I decided to try it out as is. I was only going to make a half recipe, but there was so much batter that I decided to do 6 hot dogs. I battered them up and stuck the in the oven, and then I crossed my fingers. And what came out of the oven?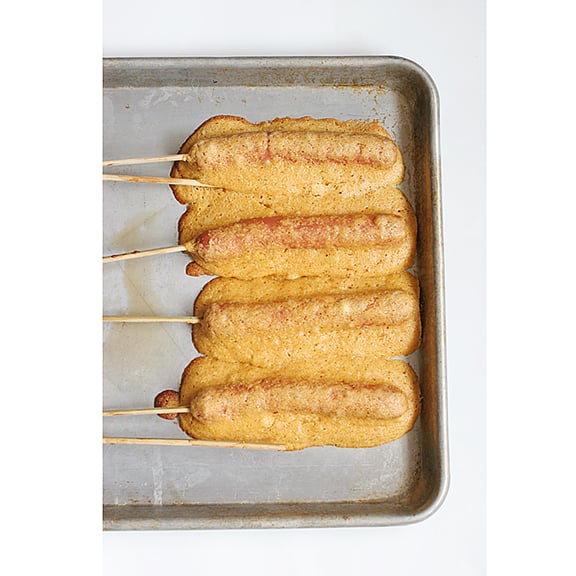 It turned out that the batter really doesn't stay on these dogs!! But, I wasn't ready to give up on them. One of the most helpful hints that I read in the comments online was to make a "boat" out of foil: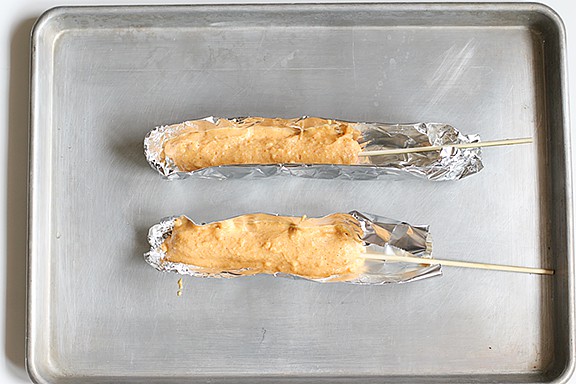 What a brilliant idea!! I still had 2 hot dogs left, and there was plenty of batter, so I decided to give it a try. It worked like a charm! Do these look the same as fried corn dogs? No. Do they taste as good as fried corn dogs? No – but really, what food does taste better baked than fried?? But were these a delicious way to give a wink and a nod to one of my favorite fried foods? YES!! They were still quite crumbly, even using the foil "boats", but I thought they tasted great and really did help me to get that corn dog flavor without quite so much of the fat and calories. These are a great lightened up version!
Oh – and there was also a recipe for an oil and vinegar slaw. I totally forgot to include it in the picture, but I'm including the recipe below.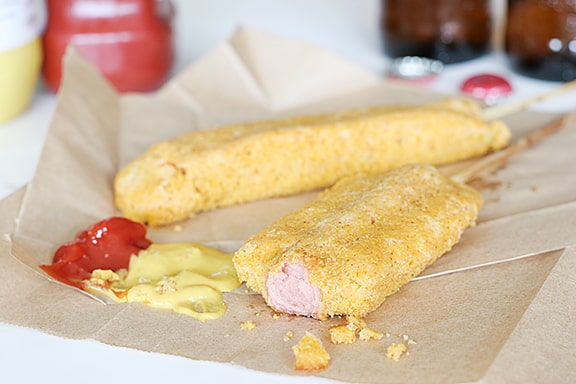 Baked Corn Dogs
adapted from Rachael Ray 365: No Repeats
makes 8 corn dogs
total time: 30 minutes
1 8.5-ounce box corn muffin mix (such as Jiffy)
1 egg
1/2 – 3/4 cup milk
2 tablespoons unsalted butter, melted
1/2 tablespoon chili powder
1 teaspoon ground cumin
1 teaspoon hot sauce (such as Tabasco or Frank's Red Hot)
8 beef hot dogs
Preheat the oven to 400F.
In a shallow dish, combine the corn muffin mix, egg, milk and butter. Stir in the chili powder, cumin and hot sauce.
Put a skewer or Popsicle stick into each hot dog. If using, prepare the foil "boats" and place on a baking sheet.
Place a hot dog in the bowlful of batter, swish it around to coat it, and place the dog in the boat. Repeat until all dogs are coated.
Bake in the preheated oven for 12 minutes, or until evenly browned.
O&V Slaw
1/2 cup pickle relish
3 tablespoons vegetable oil
2 tablespoons red wine vinegar
1 sack (16 ounces) shredded cabbage mix for slaw
salt and pepper
Mix the relish with the oil and the vinegar. Stir in the shredded cabbage and season with salt and pepper.